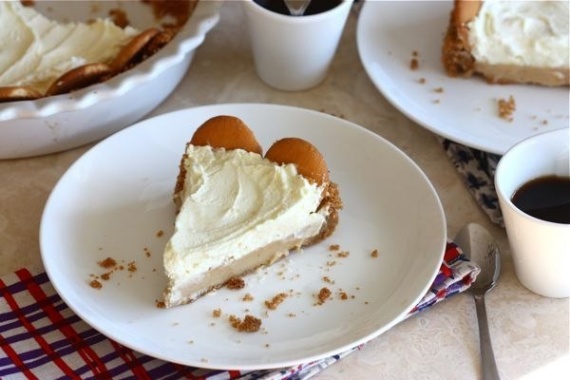 Ingredients:
Graham crackers (crumbled) - 2 cups (12 crackers)
Butter (melted) - 7 tablespoons
Sugar - 4 tbsp
Condensed milk - 400 gr
Egg yolks (large) - 4 pcs
Fresh red orange juice - 1/2 cup + 2 tablespoons (3-4 orange)
Chilled cream - 1 cup 25
Waffles «Nilla» - 10 pcs
Preheat oven to 180 C. Crush graham cracker. In a food processor, mix them with the melted butter and sugar. Put the mixture on a baking sheet and spread evenly over the bottom and sides of it.
Send in the oven on the middle shelf. Bake for 10 minutes and let cool completely. Squeeze the juice of blood oranges.
Whisk the egg yolks with the condensed milk until the mixture is smooth. Add the orange juice and stir until the mixture thickens slightly. Pour the filling on the dough and send it in the oven for 15 minutes. Let cool, cover and leave for 8:00.
Before serving, place the wafer at the edge of the cake, lightly pushing them into the stuffing. Whip the cream and spread them on top of the filling.