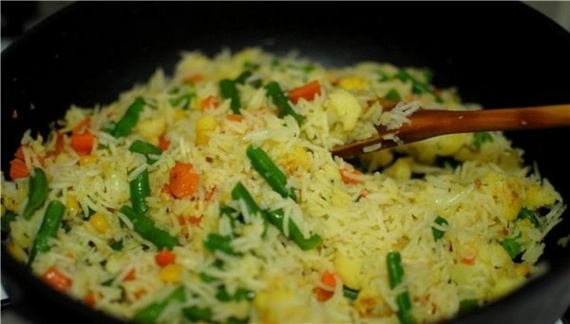 Ingredients:
• 1 \ 2 cups basmati rice or brown
• 1 large carrot
• 1 \ 4 red peppers
• 3 large cabbage leaf (kale, savoy or similar)
• 50 grams of mushrooms
• 2 onions
• a handful of pumpkin seeds
• a small handful of sesame seeds
• 1 clove garlic
• a small piece of ginger
• hot chili pepper to taste
• Soy sauce to taste
• 1 tablespoon olive oil
Instructions:
Figure 1. Prepare 1: 5 cups of water at 0, 5 cups of rice. Cook until the water is absorbed, then remove from heat and set aside for the moment the.
2. Clean the carrots and cut into small cubes, cut the same way and pepper. Preheat 1/2 tbsp olive oil in a pan and add the carrots, pepper, a little chilli, pour soy sauce and cook a few minutes.
3. Crush the garlic, chop the ginger. Add all to the pan and lightly fry a few minutes.
4. Cut the cabbage leaves, add to the pan and drizzle with a little oil. Stir and cook somewhere 10 minutes.
5. Chop the mushrooms and add to the pan. Cook a few minutes.
6. Chop the onion and add to the pan along with the pumpkin and sesame seeds. Cook for a few minutes and add the rice, then a little soy sauce. Simmer until the rice has absorbed all the juices, add herbs to taste.