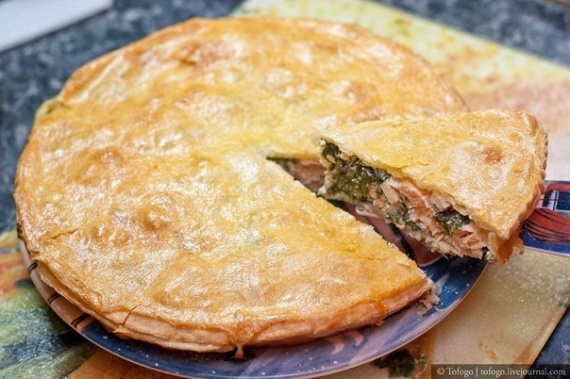 Ingredients:
For the dough:
Flour - 250 g
Oil - 125 g (from the freezer)
Egg - 1 pc + 1 pc grease pie
Pinch of salt
Ice water ~ 3-6 tablespoons
For the filling:
Fish (salmon) ~ 600 g
~ 250 g feta cheese
Frozen spinach - 400 g
3-4 tablespoons sour cream ~ "Heaped»
salt (do not need much ... keep in mind that cheese is salty)
Preparation:
1. The oven - 200, then 180 degrees.
2. grate 125g butter from the freezer. Delay the process of preparation of the test is not necessary. The faster you can do - the "puff" out. For reliability grated oil can be put into the freezer for a "couple of minutes».
3. Cover 250g of flour and a pinch of salt. Stir with a spoon to flour enveloped pieces of butter. Make a well, break an egg. Add a couple of tablespoons of ice water and quickly knead the dough. May have to add water.
4. The dough is wrapped in foil and put into the fridge for half an hour (so delicious, but you can roll out and immediately).
(To the next step should begin when filling is ready, or you see that you have left about 15-20 minutes ... in general, and so need to do it)
5. The dough is divided into two portions: 2/3 and 1/3. Less put into the refrigerator, large roll and put into shape. Cover with foil, pour the load put in the oven ... 200 degrees for 15 minutes. Cargo lift and bake more minutes 10.
6. Roll out the smaller piece of dough. Put the stuffing, cover, pin, brush egg. Such a piece of cake on took two. So, the fish should be cut ... But Sew prepare the dough. Dough recipe by ingredients.
7. Thus, a relatively coarsely chopped fish. Diced cheese. Thaw spinach. Mix in a pan fish, cheese, and spinach. Add sour cream (3-4 tablespoons with slide). A little salt.
8. When will be prepared by the lower layer of the test (ie, it has been in the oven with and without load) - put the stuffing.
9. Cover the top layer, chop. Put in the oven. ~ 180 degrees, about 80 minutes. Toward the end - to grease the cake egg. And almost one and a half hours, the cake is ready.