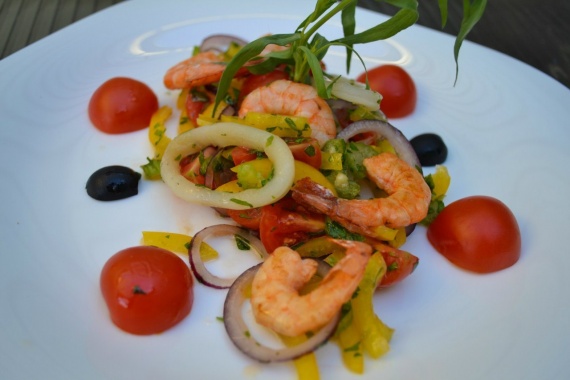 Ingredients (1 serving)
Shrimp 31-40 - 5 pcs.
Squid cleaned - 30 oz.
Celery - 20 gr.
Cherry tomatoes - 40 gr.
Parsley - to taste
Yellow bell pepper - 30 gr.
Red onion - 20 gr.
For the marinade shrimp:
Honey mountain - 3 gr.
Lemon zest - to taste.
Tabasco sauce - to taste.
For the filling:
Vegetable oil - 20 ml.
Garlic - 1 tooth.
Lemon - to taste.
Salt - to taste.
Shrimp cleanse, remove the intestines, put in a bowl, add the honey, Tabasco, lemon zest. Squid cut into rings, pour boiling water, leave it for 3 minutes. Cut the cherry tomatoes quarters, celery, onion rings, pepper thin short strips, parsley very finely chop with a knife. For the filling, mix the butter and squeezed through a garlic press, add the lemon juice and salt to taste. Give it brew for refueling 2:00. Shrimp fry until pink (not desiccate) Mix all the ingredients, dressed dressing. Bon Appetite!