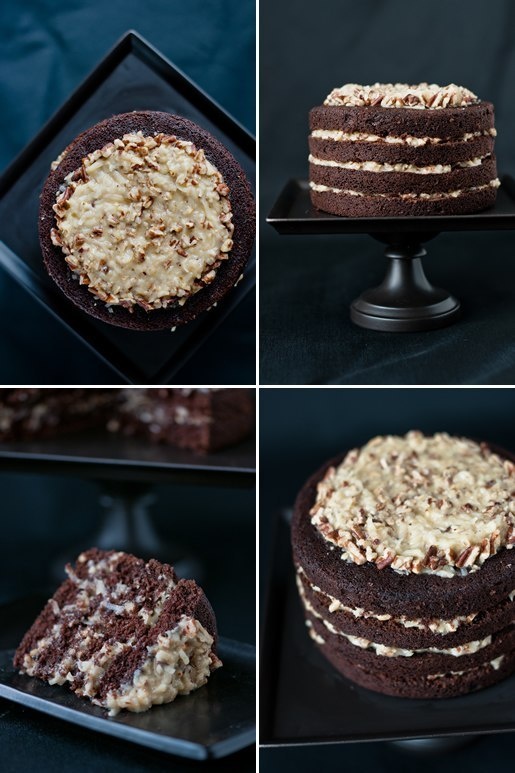 Ingredients:
Filling:
Yolk - 2 pcs
Condensed milk without sugar - 1/2 banks
Brown sugar - 2 tablespoons
Butter - 3 tablespoons
Salt - 1/8 teaspoon
Vanilla - 1 teaspoon
Coconut - 100 g
Roasted chopped nuts (pecans or walnuts) - ¾ cup
Dough:
Dark chocolate - 60 g
Cocoa powder - 2 tablespoons
Instant coffee - ¼ teaspoon
Boiling water - ¼ cup
Flour - 1 cup
Soda - ½ teaspoon
Butter - 6 tablespoons
Sugar - ½ cup
Brown sugar - 1/3 cup
Salt - ¼ teaspoon
Egg (room temperature) - 2 pcs
Vanillin - ½ teaspoon
Sour cream (room temperature) - 6 tablespoons
Preparation:
Filling:
Whisk the egg yolks in a small saucepan, slowly pour the condensed milk. Add the sugar, butter, salt and place over medium heat. Stir, bring to a boil weight (it should thicken). Cook for about 5 minutes.
Remove from heat, add vanilla and coconut. Mix and pour the mass into a bowl. Cool until warm to the touch, cover with cling film and place in the refrigerator for a period of from 2 hours to 3 days.
Shortcakes:
Heat oven to 175 degrees. Finely chopped chocolate, cocoa and coffee mix, fill it with boiling water and leave for 30 seconds to melt the chocolate. Mix and cool to room temperature. 2 round shaped cake grease with butter, Cover the parchment paper. Sprinkle with flour. Mix the flour and baking soda. In a mixer, beat the butter, 2 types of sugar and salt on medium speed (30 seconds, increase and beat for 2-3 minutes) until light and air condition.
Reduce speed to medium again and drive the eggs, whisking after each egg. Add the vanilla and chilled chocolate-coffee mixture. On low speed gradually sprinkle in alternating dry flour mixture and sour cream.
Remove the blade from the mixer, and finally replace the dough by hand. Divide it between two shapes and bake for 25-30 minutes (check with a toothpick on readiness). Cool 10 minutes and remove the cakes from the mold. Before you apply the cream cakes are completely cool for about an hour.
In the cream, add the chopped nuts. Each cake is cut for another two. The cream is divided into five equal parts.
Put the first cake onto a plate and generously apply the cream 1/5, close second LAYERS AND cream again. Thus lay out the entire cake. Put the remaining cream to the last cake. If you store the cake in the refrigerator before serving 20-30 let it stand at room temperature.