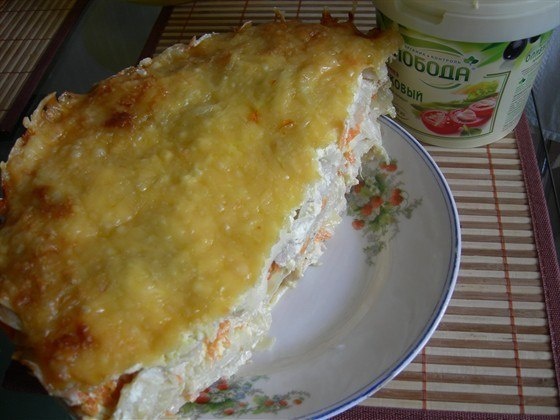 Ingredients:
Chicken fillet - 500 g
Carrots - 2 pieces
Onions - 2 heads
Potatoes - 600 g
Cheese - 150 g
Salt - to taste
Ground black pepper - to taste
Spices - to taste
Mayonnaise - 200g
Lemon juice - 1 tablespoon
Preparation:
Chicken fillet cut into small pieces (1, 5 cm), marinated in mayonnaise with salt, black pepper and lemon juice, used in the marinade minutes 30-40.
Chop the onion into half rings, carrots grate on a coarse grater, potato cut into slices, cheese grate on a coarse grater.
Baking dish greased. At the bottom put a chicken. A hen to lay out the onion, carrot onion put on it - potatoes.
Season with salt, mayonnaise and sprinkle with cheese. And in the oven for 30-40 minutes at a pace. 180 degrees.