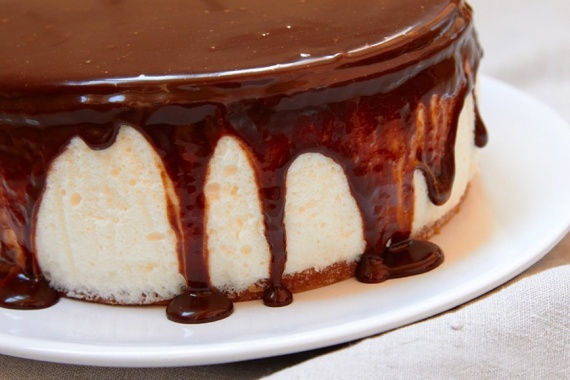 Ingredients:
For the dough:
Butter - 150 g
Cocoa powder - 2 tbsp. spoon
Sugar - 1 cup
Cognac - 1 tbsp. Spoon
Flour - 1 cup
Eggs - 3 pcs.
Soda - 0.5 tsp.
For the cream:
Milk - 2 cups
Sugar - 1 cup
Semolina - 3 tbsp. spoon
Butter - 250 g
Lemon - 1 pc. (Or o.5 tsp. Citric acid)
For the syrup:
Water - 1 tbsp. Spoon
Cognac - 1 tbsp. Spoon
Sugar - 2 tbsp. spoon
For the glaze:
Black chocolate - 100 g
Butter - 50 g
Preparation:
1. Butter carefully rub the sugar, to drive the eggs, add the cocoa, baking soda (required slaked with vinegar, lemon juice or citric acid), brandy (optional), a good spoon mix all the ingredients.
2. In the resulting mass add the flour and stir again all.
3. Put the prepared dough into the mold, put in a hot oven (180-200 C) and bake for about 25-30 minutes. Willingness to check the cake is traditionally a toothpick or match.
4. Then prepare the syrup: In a saucepan pour water, add sugar and heated over a low heat until sugar is dissolved. Let cool and pour syrup brandy (again - to taste).
5. Ready hot cake thoroughly impregnate syrup on top and on the sides.
6. Next, prepare the cream. First cook porridge, cool it, add the grated zest of one lemon and whisk in a blender or mixer
7. rub the butter with the sugar, combine with semolina and whisk again. To obtain a uniform cream, whisk it with a mixer a few minutes, putting gas on a small fire. Ready cream was allowed to cool for 20-30 minutes.
8. Put the cream cake and gently flatten with a knife.
9. On top of the cake pour glaze. For its preparation in a water bath (or in the microwave) melt the tiles of dark chocolate and stir the chocolate mass with butter.
Ready Cake pigeon's milk, made with semolina prescription, set for 6-8 hours in the cold soak.