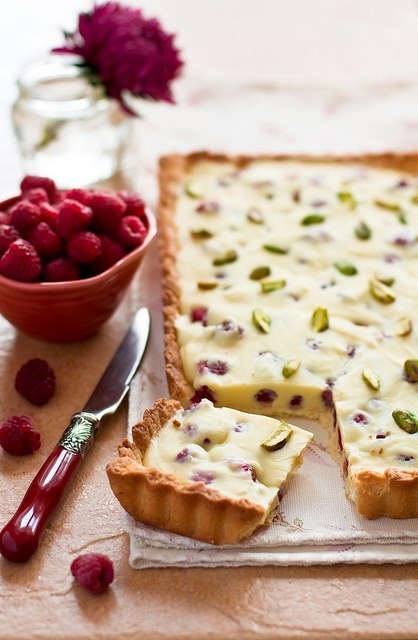 Ingredients:
Dough:
200 g flour
120g chilled butter
1 egg
70 g of powdered sugar
Filling:
340 g of high-quality white chocolate
120 ml whipping cream (35%)
60g unsalted butter
375 g fresh raspberries
Preparation:
1. Mix the flour and butter, should have kroshkoobraznoe dough. Add 1 egg and powdered sugar Quickly knead shortbread dough and put into the refrigerator for 1 hour.
2. Roll out to a thickness of not more 0, 5 cm and they pave the bottom and sides of the split form, pre-lubricated. Remove form the dough in the refrigerator for 1 hour.
3. Preheat oven to 200 degrees, remove the form from the refrigerator, pave parchment, sprinkle the top handful of beans and place in oven for 10 minutes.
4. Remove the form from the oven, remove the parchment and beans and bake for about 10 minutes.
Remove from the oven and cool well
5. White chocolate is melted in a water bath. Be careful! white chocolate can not be heated too much, or it will curdle. As soon as the water boils, reduce the heat immediately to a minimum. White chocolate is melted very quickly as soon as this happens, immediately remove the bowl from the heat.
6. Pour in the cream and gently stir and intensively. Add softened butter and stir again until smooth.
7. Malin wash and dry, put the raspberries on one basis for the cake, pour the chocolate cream. Optionally, you can decorate with chopped pistachios.
8. Place the tart in the fridge for a couple of hours.