This tart is not for those who like the tart taste. But those who truly love the fragrant and light sweetness will appreciate this recipe. Who needs harmful gluten, refined sugar, when there is dessert with the incredible blend of rhubarb, honey and coconut cream?!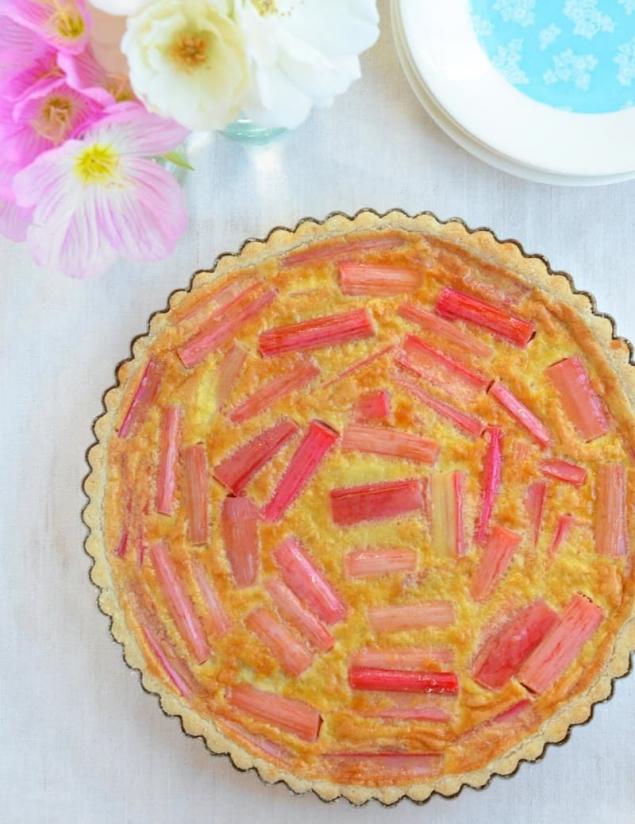 Gluten-free tart Ingredients For the dough:
1/2 Cup + 2 tablespoons rice flour
1/4 Cup + 3 tablespoons almond flour
3 tablespoons potato starch
1/2 teaspoon salt
4 tablespoons coconut oil, cold
1 teaspoon lemon zest
1 teaspoon of honey mixed with 3 tablespoons cold water
1 egg white, whipped
For the filling:
350 g thin rhubarb stalks, cut into sticks approximately 5 X1 cm
1/4 Cup honey
1 tablespoon water
1/2 Cup coconut milk
2 large eggs, beaten
1 vanilla pod, scoured
1 teaspoon ground cardamom
For serving:
Coconut whipped cream (optional)
Preparation:
For the dough, mix the rice flour, almond flour, potato starch and salt in a bowl. Add the coconut oil and lemon zest and stir with a fork until the formation of lumps the size of a pea. Add the honey water and continue mixing with a fork until the dough is smooth.
The dough may be slightly crumbly, but it should be wet enough that you can shape it into a ball. If necessary, add a little more cold water. Shape the ball into a disk, wrap with foil and put for 30 minutes in the refrigerator.
Preheat the oven to 190 degrees.
Remove the dough from the refrigerator and allow it several minutes to rest, so that it became malleable. Roll out the dough between two sheets of parchment paper. (It won't roll out as smooth as dough made of flour with gluten. Don't worry if it will crumble). Carefully move the dough into the pan and firmly press it to the bottom and the sides. Trim the edges. Prick all the dough on the bottom with a fork.
Cover the dough with parchment and fill the pie with dried beans or special weights for baking. Bake for 15 minutes, then remove from the oven and carefully remove the paper and beans. Let cool for 30 minutes.
While the dough is cooled, prepare the rhubarb. In a large bowl, toss rhubarb with honey and water, set aside.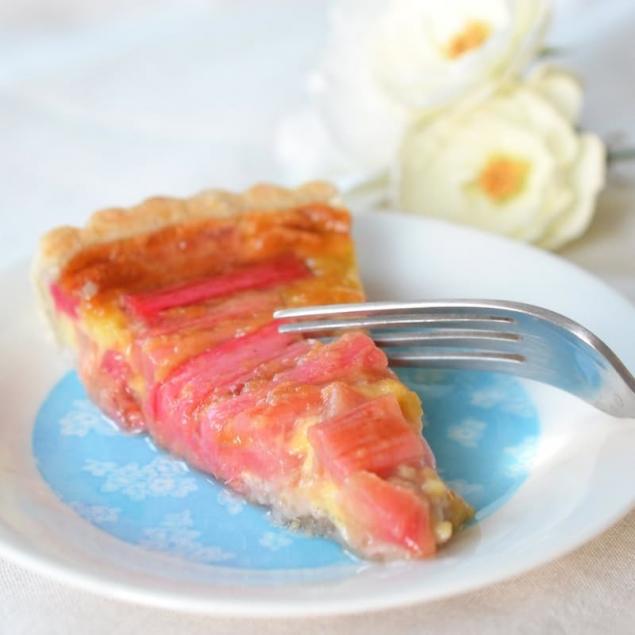 Brush with egg white cake. Strain the rhubarb (leave the liquid), and place the pieces evenly in the form. Whisk together coconut milk, eggs, vanilla and cardamom, pour the mixture over the rhubarb.
Bake for 25 minutes or until the cake will not become Golden brown. If the edges of the cake begin to get too dark, cover the tart with foil. Remove from oven and let cool on a wire rack.
Simmer the liquid, which prepared rhubarb in a small saucepan until it evaporated to a syrup. Pour syrup pie. Enjoy!
It is recommended to serve pie with whipped coconut cream.
Cook with love!  
Source: online-detox.com/articles/112133-legkiy-tart-s-revenem-bez-glyutena-i-bez-sahara