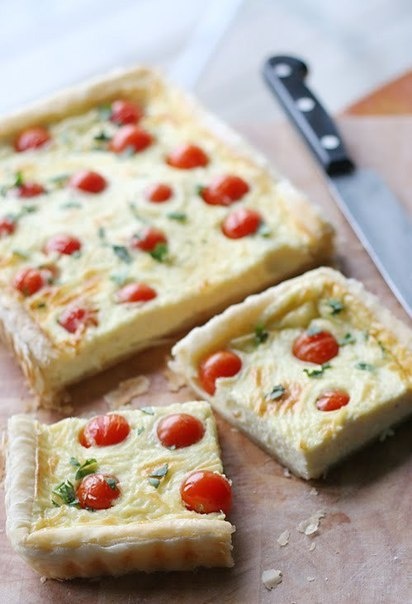 Ingredients:
Puff pastry - 400 g
Goat cheese - 1/2 cup
Ricotta - 1/2 cup
Cream - 1/4 cup
Egg - 3 pcs
Black pepper - 1/4 teaspoon
Coriander - 1 tablespoon
Cherry tomatoes
Heat oven to 165 degrees. Baking pan sprinkle with flour. Roll out the dough and place into shape. In a bowl mix both kinds of cheese and cream. Whisk until smooth. Add the beaten eggs and whisk again. Add the pepper, stir and pour in the batter. Put the tomatoes, cut in half. Bake for 30 minutes until golden brown. Filling should propechsya. Sprinkle with seasonings.