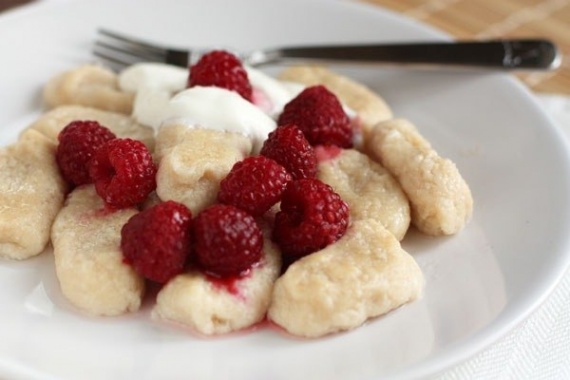 Ingredients:
600g cottage cheese 5-9%
100g sugar
2 eggs
½ tsp salt
100g semolina
150g flour  
Cottage cheese mash in a blender with the sugar and eggs. Also add a little salt. Must obtain a homogeneous creamy mass.
Add semolina and stir. You can make dumplings and only with flour, semolina but consistency makes more gentle and less viscous.
Add flour, stir again. The dough should have so that from it could make the sausage, but only on a well floured surface. If you overdo it with the flour, the dumplings are too dense.
On a floured surface make sausage thickness of 4-5 cm in diameter and cut off from her small pieces
The resulting dumplings lay on a board sprinkled with flour, so they are not stuck together. In this state, they can be frozen and then folded into a package for the future.
The final step is cooking dumplings. To do this in a large saucepan, boil water and lower back dumplings in small portions. When they come - they can be removed and spread on plates.
Serve with sour cream, jam, fresh berries, honey and condensed milk.