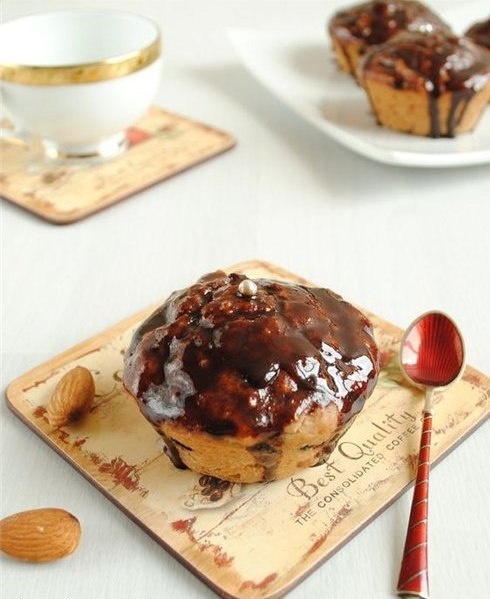 Ingredients:
125 gr. margarine (melted and cool)
3 tbsp. spoons of sugar
pinch of salt
1 sachet of vanilla sugar  
40 c. Almond (grind in a coffee grinder)
3 tbsp. Spoon frozen blackcurrants
1 tbsp. spoon starch
0.5 cups of strong brewed tea (250 ml beaker.)
1-1.5 cups of flour
Heat oven to 200 degrees, grease the molds, sprinkle with flour.
In a bowl, mix the margarine, tea, sugar, salt, vanilla sugar, add the almonds, currants, sifted flour with baking powder and starch, stir to get the dough like sour cream on density.
Arrange the dough on formochkam (Received 8 muffins).
Bake until cooked.
Ready muffins to cool on a lattice.
At the request can be covered with glaze (1 tbsp. Tablespoon cocoa, 1 tbsp. Spoonful of sugar, 0.5 st. Tablespoons vegetable oil, 1-2 tbsp. Tablespoons of water bring to a boil), you can simply sprinkle with powdered sugar.