Rice flour
is the most common and the most "neutral" of all the taste (but not the most useful). To avoid excessive "dryness" of baked products is better to combine it with another kind of flour. Well-maintained, so stock up on it for a long time.
It is known that rice other cereals is better absorbed by the human body, from this point of view, it refers to dietary products.
But rice has a high index glycemic index, that may unfavorable affect the control of blood sugar levels and increase the risk of diabetes.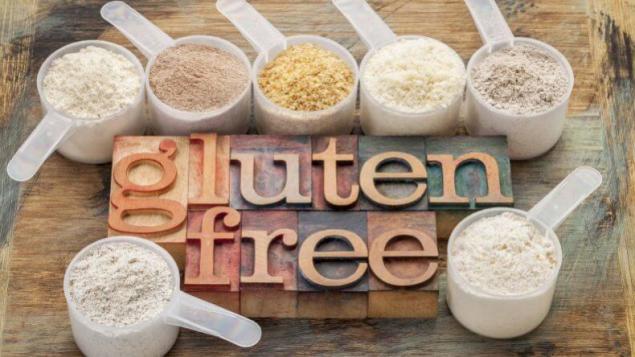 The brown rice flour has more nutritional value because it contains in its composition is rice bran. For this reason, unfortunately, she and short-lived. The oil contained in the bran have a tendency to progorkaet. Therefore, it is recommended to store the brown rice flour in a cold place.
Rice bran
contains many essential nutrients for normal functioning of the body (and child development). Rich in protein, fiber, minerals and vitamins (especially b group). Unfortunately, the shelf life of them is short. So stock up for the future is not worth it.
Potato starch
we have long been familiar. In gluten-free baking is used often. Also good for sauces and desserts. Evaluating starch (any line) from the point of view of healthy nutrition, you will note that this product cannot be attributed to useful. With excessive consumption of starch foods (along with sweets) attribute the development of fungal and yeast infection and control blood sugar levels. The glycemic index of starch is higher than that of cereals.
Potato flour
is different from potato starch. I use it in baking and very rarely in small amounts.
Flour tapioca.
I'm not sure that the product is well known. Personally, I "collided" with him only when it is necessary to learn how to bake gluten-free. And found it very useful. Imparts some "tanaceti", elasticity and quality, which is virtually absent in other BG flour ingredients. Stored flour tapioca well, so you can stock up. Nutritional properties of cassava starch refers to.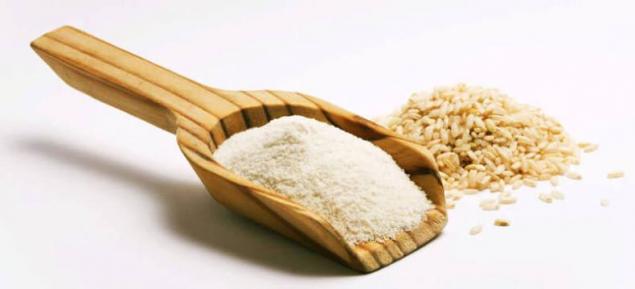 Soy meal.
For those who have no problem with soy (Allergy or sensitivity to it) this kind of flour is also helpful. It contains valuable protein and fat. But it is better not to use it in mono, and combine with other flours. The most suitable baking flour from soybeans — the one that contains fruit, nuts and chocolate. The shelf life is short due to its high content of soy protein and fat.
Corn starch
is widely used in mixtures with other types of flour and their own, as a thickener (in the puddings, fillings for units). Everything said above about the starch, is directly related to corn starch. In the US, almost all cornstarch is made from GMO corn, although there are rare exceptions.
Corn flour
is prepared by grinding corn kernels. It is widely used in making delicious corn cakes, traditional of the peoples of the North Caucasus.
Buckwheat flour
you should also be familiar recipes for pancakes, pancakes and waffles. To "soften" the taste of buckwheat is good to combine buckwheat flour with another, have a neutral taste. To get buckwheat flour from groats independently with a conventional grinder. Pre-rinse, soak and dry.
Beglyarova oat flour
can also be used for gluten-free baking. The necessary condition – the packaging must have the markings that this product is manufactured on separate equipment not used for processing glutamatergic cereals. If this symbol is, that there is no guarantee of the purity of the oat flour. (The risk of cross contamination). When we started BGBK diet, oats were excluded from gluten free diet completely. The inclusion of oatmeal in the diet of children suffering from the disease zelyukova, not only did not cause degradation, but as part of therapeutic feeding, contributed to the healing of inflammation of the gastrointestinal tract.
Millet flour
is increasingly used in gluten-free baking. This fact is due partly to the exceptionally high useful properties of the millet. Rich in vitamins and minerals, fiber and protein, millet and flour from it are a wonderful alternative to wheat pastries. Besides millet flour has a more subtle texture, which makes the products baked with it, with flour. Usually millet flour in baking mixed with other types — buckwheat, sorghum, flour of quinoa.
Sorghum flour
is
another great option to replace wheat in baking. It is worth noting that they have a lot in common. But the big difference is the absence of gluten in sorghum. The ratio of carbs and proteins and sorghum and wheat is the same — 1:7 (the best among other herbs). Accordingly, the increased the glycemic index and load of grain sorghum are lower than others. Another important technological advantage of sorghum flour is that using it in BG baking, do not have to add xanthan binder (see description below).
Xanthan (or xanthan gum)
is probably the most mysterious and also expensive of all the ingredient involved in baking BG products. At the same time, xanthan — and the best substitute for gluten in baked BG products. The powder obtained by grinding the shell of a special microorganism, specially grown for baking purposes in the laboratory. The xanthan gum works as a thickener, is particularly important in the process of cooking a "real" BG yeast, BG and homemade noodles.
Coconut flour
appeared on the market healthy food recently. For gluten-free and low-carb food this is a hypoallergenic product is truly a precious gift from tropical Paradise (literally and figuratively).
Nut flour
(almond, hazelnut, walnut) is indispensable in baking that meets the requirements of low-carbohydrate Paleo diet.
Gram flour, lentil flour
has a number of valuable nutritional properties. Can't say that everything is to taste, but worth a try. This kind of flour is good at baking Nudecartoon view — bread-pizza, chips, etc. Specific taste the chickpeas in them is masked by the garlic spicy flavor.
Flour quinoa (quinoa) and amaranth
— a great options for replacing wheat flour. It is a pity that these nutritious foods are very expensive.
Flax flour,
as flour made of ground pumpkin or sesame seeds often used as an additive in gluten-free baking recipes.  
The basic principles of replacing wheat flour in gluten-free baking
Betty Hagman suggests the use equivalents to replace wheat flour for these gluten-free.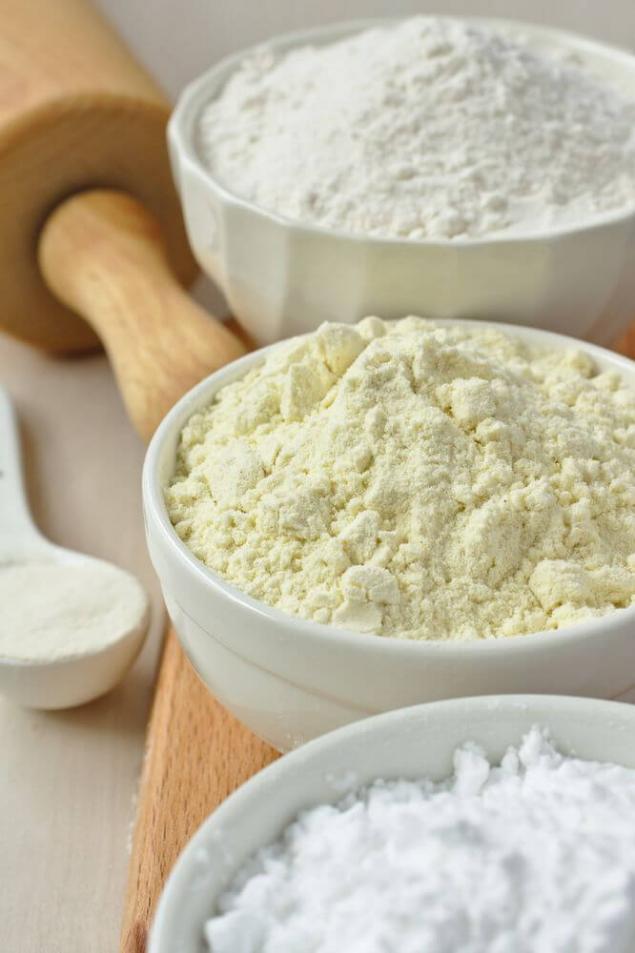 Instead of 1 Cup of wheat flour you need to take:
7/8 Cup rice flour or
5/8 Cup of potato starch or
1 Cup soy flour and ¼ Cup potato starch or
1 Cup corn flour or
1 Cup corn flour fine grinding (cornmeal) or
1 Cup gluten-free blend (see recipe above)
1 Cup sorghum flour or mixtures of sorghum, buckwheat and millet.published
P. S. And remember, only by changing their consumption — together we change the world! ©
Source: //rusamdiet.org/2013/02/05/%D0%BA%D0%B0%D0%BA%D0%B0%D1%8F-%D0%BC%D1%83%D0%BA%D0%B0-%D0%BB%D1%83%D1%87%D1%88%D0%B5-%D0%B4%D0%BB%D1%8F-%D0%B2%D1%8B%D0%BF%D0%B5%D1%87%D0%BA%D0%B8-%D0%B1%D0%B5%D0%B7-%D0%B3%D0%BB%D1%8E%D1%82%D0%B5/