Just one daily serving of cocktail or juice of fresh vegetables (such as cucumbers, Kale/cabbage Cali, celery or spinach), can have a positive effect on many body systems including the immune, digestive, and endocrine. Did you know that vitamin and numerous nutrition in fact based on the same principles as the treatment medicinal juices.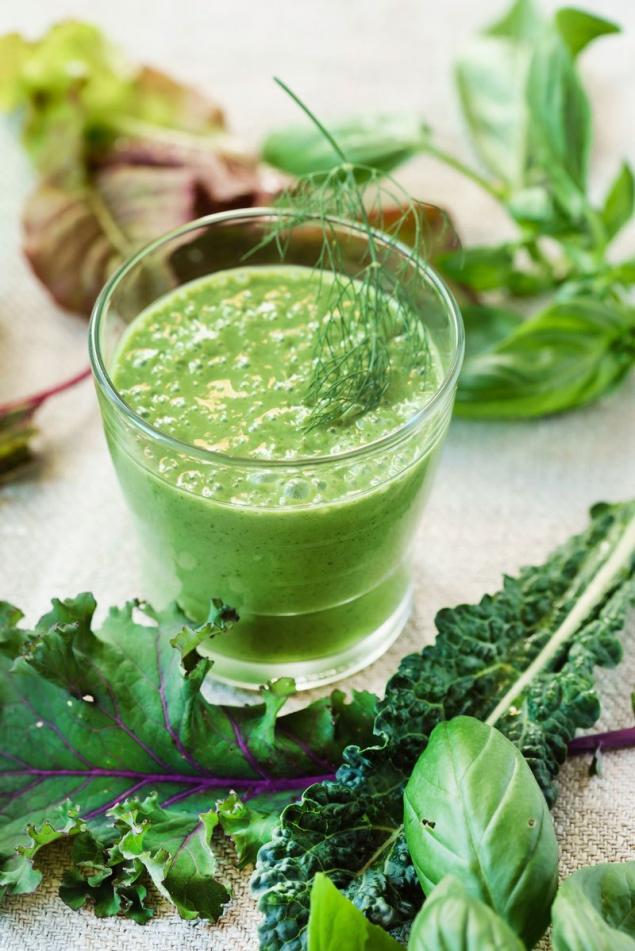 Smoothies and juices made from green leafy vegetables can be successfully used to support the detoxification of the body. The process of purification necessary for its normal functioning and are an integral part of many Wellness programs (including weight loss). For example, it is known that photoelement sulforaphane contained in green cruciferous plants, contributes to metabolic processes of purification occurring in the liver. While neytralizuya as toxins entering the body from the outside (from the environment) and those that formed in the process of its functioning. Plays a significant role in sulforaphane and subsequent removal of products from the body neutralize toxins. And one more advantage — it is established that the protective effect of sulforaphane may last up to several days!
Abbreviations in the table:1 — Broccoli, 2 Cauliflower, 3 — cabbage, 4 — Brussels sprouts, 5 — Chinese cabbage 6 — Cale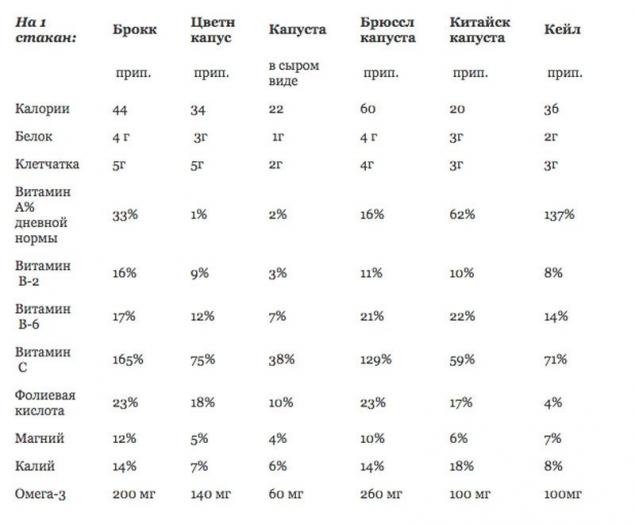 Some advice on cooking techniques:
1. It would be better if you blend it in a blender cabbage with a small amount of liquid. Then add the frozen ingredients and then granulate them until smooth.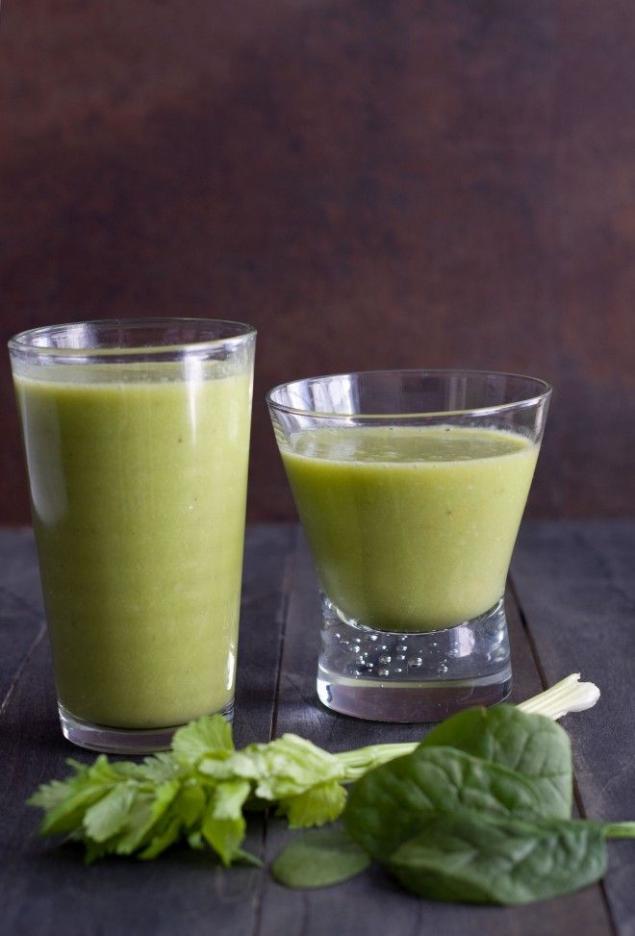 2. You can pre-place cabbage in the freezer, putting it in the package. This step, I think, removes the sharp cabbage taste. Working as one of the masking techniques for green smoothies in my family. The same applies to Kayla.
3. We also recommend not to forget about the cloaking effect of blueberries.
Classic (tart) cabbage smoothie
(2 servings, 120 calories)
2 cups raw chopped broccoli
1/2 Cup chopped head cabbage
1/4 Cup chopped pieces of celery
1/2 Cup Apple juice or 2 green Apple
ice cubes and(or) water (as needed)
Broccoli/Grape
1 serving 125 calories
1 Cup raw chopped broccoli
1 Cup of seedless grapes (I take dark)
ice cubes and(or) water (as needed)
"Ice-cold beetroot soup"is
1 serving 88 calories
This recipe is especially good for athletes who need increased endurance. The secret is the combination of beets and spinach.
1 raw beets of medium size and sliced
1 sweet red pepper, cleaned and sliced
1 Cup spinach leaves (or cabbage)
1 tsp. chopped ginger root
½ Tsp lemon juice
salt and pepper to taste
water, ice cubes
Berry/Banana/Kale
2 servings at 150 calories
4 cups iceberg cabbage
1 banana, previously frozen (1 hour minimum)
1 Cup of strawberries or blueberries, frozen
Stevia (to taste) or orange juice (about ¼ Cup)
4 ice cubes
1 - 1.5 cups of water
First, grind in a blender with water cabbage. Then add the other ingredients and bring everything to a uniform consistency.
Source: //rusamwellness.com/2013/01/15/%D0%BE%D1%87%D0%B8%D1%89%D0%B0%D0%B5%D0%BC%D1%81%D1%8F-%D0%B7%D0%B5%D0%BB%D1%91%D0%BD%D1%8B%D0%BC%D0%B8-%D0%BA%D0%BE%D0%BA%D1%82%D0%B5%D0%B9%D0%BB%D1%8F%D0%BC%D0%B8-%D0%BA%D0%BE%D0%BB%D0%BB%D0%B5/