Beets uniquely useful product, and especially the raw beets. Although, it is believed that roasted beets are almost never loses its beneficial properties.
We have prepared a simple but tasty beet salad and refueled it with mayonnaise, which is found in raw food cooking.
Beet salad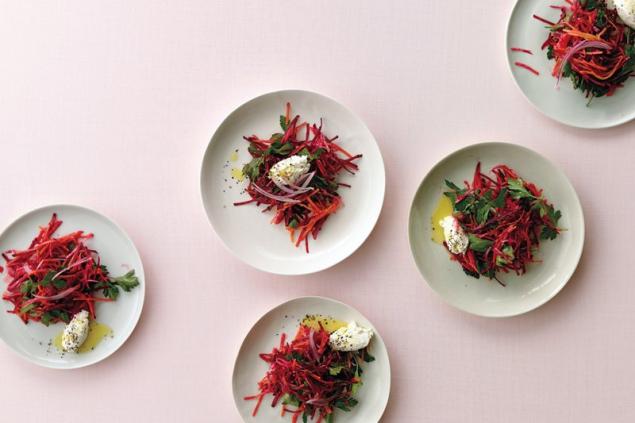 Ingredients:
beets – half of a medium beet (raw)
cucumbers – 1-2 pieces (optional)
celery – 1 stalk (you can mate, it gives a sharp taste and a wonderful aroma)
parsley – a third beam (40 grams)
For the sauce:
cashews – 1 Cup (small)
lemon juice – 1 tablespoon
sea salt – to taste
garlic — 2 cloves
powder mustard or a favorite mustard – half a teaspoon
water to a mayonnaise consistency
Cooking
Prepare sauce:
1. Soak cashews in cold water for an hour, or in boiling water for 15 minutes.
2. Cashew nuts, lemon juice, mustard or powder, salt and water, put in the blender and grind until smooth.
If you take mustard powder, lemon juice can add a little less, but if mustard, lemon juice to reduce, as in the mustard, especially the "French grain" is the vinegar and lemon juice in the composition.
Most importantly, more to taste if something is to your taste is not enough, add more time to grind.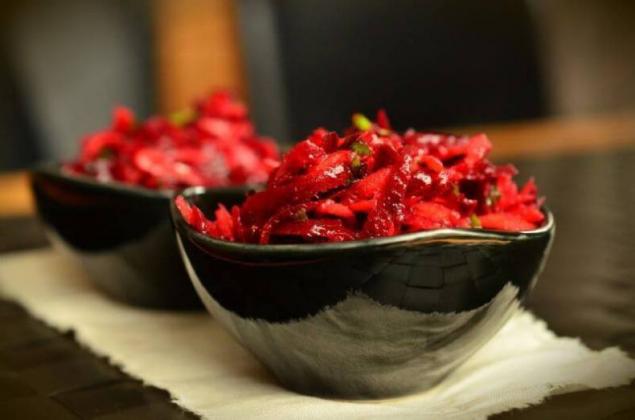 Prepare the salad:
Cut the beetroot into slices, cucumbers too, celery and herbs.
Dress with the sauce and get a delicate salad with sweet beets.
Very tasty and simple.
P. S. Mustard can be replaced with horseradish. But this sauce is better suited for a hot meal or vegetarian sandwiches.  
Cook with love.
P. S. And remember, only by changing their consumption — together we change the world! ©
Source: //ipolza.livejournal.com/11029.html