Food should bring benefits to the body, to fill you with energy. Try to use only healthy foods. We offer you the recipes of delicious vegetable soups, which according to Ayurveda, a beneficial effect on human health.
Healthy soup: 3 delightful recipe!
Tomato soup
Ingredients:
3 large tomatoes
4 cups of water
1 tbsp unsweetened coconut flakes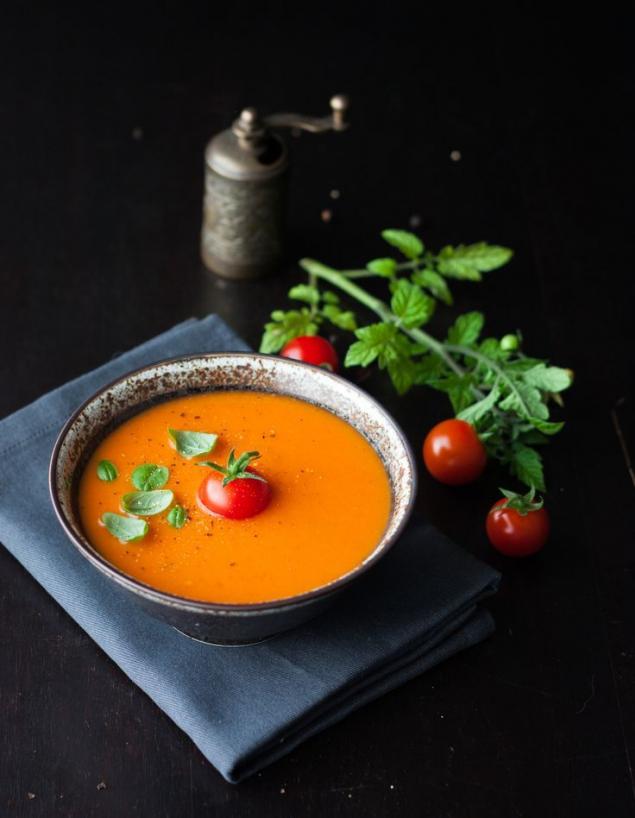 1 tbsp peeled and minced fresh ginger root
1 peeled and chopped teeth of garlic
1/2 chopped green chili pod
1 handful fresh cilantro leaves
1/2 Cup water
2 tbsp ghee
1 tsp black mustard seeds
1 tsp cumin seeds
4 dried or fresh leaf Carrie
1/4 tsp ground cinnamon
1/2 tsp salt
1/2 Cup water
1 tbsp palm sugar or other sweetener
Preparation:
Wash the tomatoes, place them in a saucepan with 4 cups of water. Cover pot and simmer tomatoes until they become soft and easily remove the skin. Let them to cool a bit.
Place the tomatoes in a blender, fill with water and grind until smooth. Pour the mixture from blender, place coconut, ginger, garlic, Chile, cilantro leaves, 4 cups of water and grind until mushy state.
Heat on medium heat in the pot of ghee, then add cumin seeds and mustard leaves curry and saute, stirring, until until the seeds start to crackle, then add the mixture of spices with coconut in a blender.
Cook for a minute, then pour the cooked tomatoes, put cinnamon, salt, sugar and add the remaining half glass of water. Bring to a boil, close and turn off the heat.
This soup is easily digested, has a laxative effect and has a calming effect on Vata and Kapha. Tomatoes belong to the Solanaceae family.
Nightshades should not be eaten people with kidney stones and gall bladder.
Spinach soup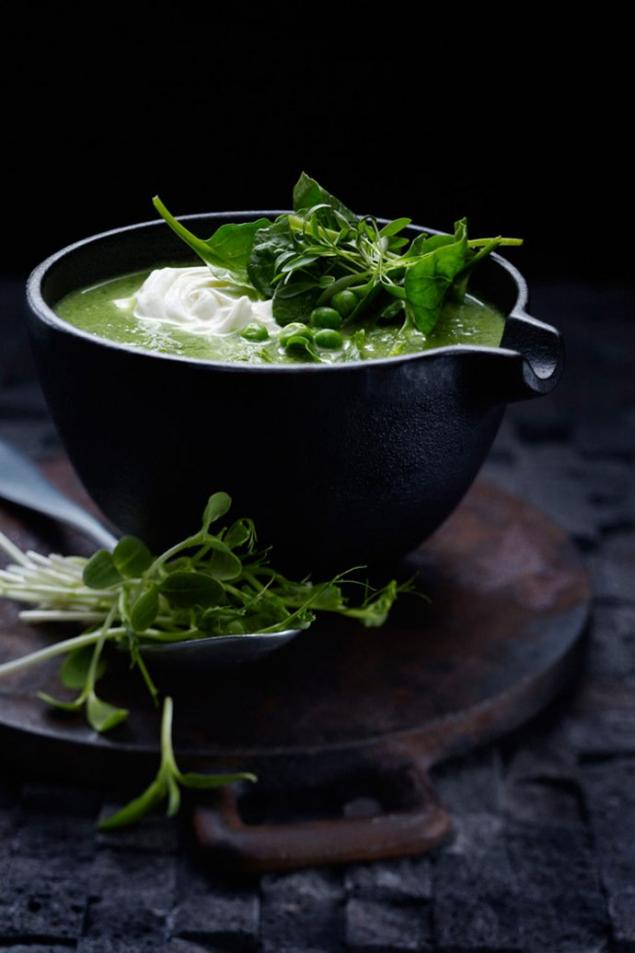 Ingredients:
1 large bunch of spinach
5 cups water
1/2 pod chopped green Chile
1 tbsp peeled and finely chopped fresh ginger root
1 handful fresh cilantro leaves
1/2 Cup water
2 tbsp ghee
1 tsp cumin seeds
1 tsp mustard seeds
1 pinch asafetida
4 dried or fresh leaf Carrie
1/4 tsp salt
ground black pepper
Preparation:
Remove the stems of spinach, wash and chop the leaves. Then place the spinach in a blender, add 4 cups of water and grind for two minutes on medium speed. Free blender.
Now place the chili, ginger and cilantro in a blender, combine 1/2 Cup water and grind to a pulp.
Preheat the pan on medium heat, put ghee, then cumin seeds, mustard, asafoetida and leaves Carrie. Saute until until the seeds begin to crackle.
Now pour in the pan mixed in a blender with spices, spinach, salt, remaining Cup of water and mix well.
Bring to a boil and cook over low heat in an uncovered, for 10-15 minutes.
When serving, add to taste black pepper.
Spinach is astringent, sweet, pungent taste, has a cooling effect. It is difficult to digest and undigested spinach contributes to gas formation and constipation.
This spinach soup with the data in the recipe the spices are well digested and from time to time may be used by people of all types of Constitution, considering its medicinal properties, but in small quantities.
Medical applications:
this soup is good for asthma patients, for blood and congestion of the respiratory tract.
Spinach is not suitable for patients suffering from renal stone disease, gouty arthritis and edema, as it causes water retention.
The red lentil soup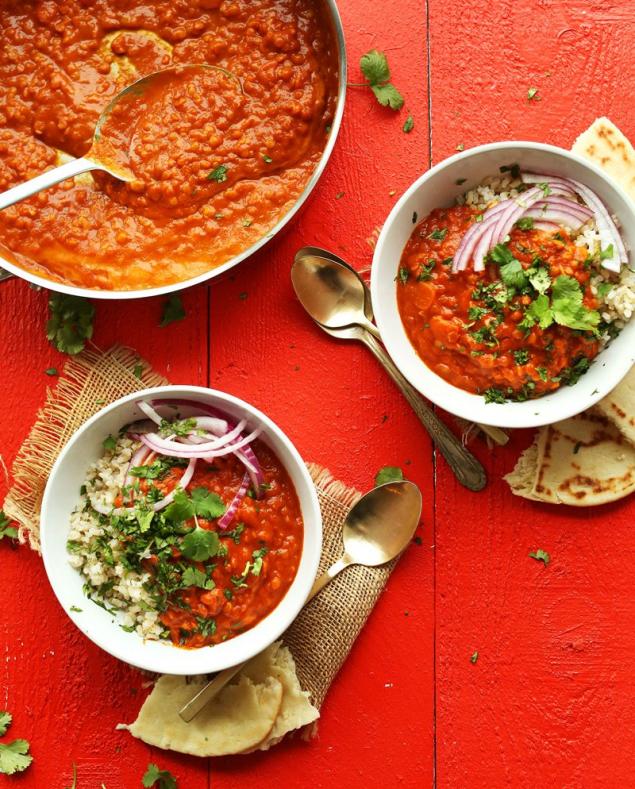 Ingredients:
1 Cup red lentils
5 cups water
2 teaspoons ghee or safflower oil
1 tsp cumin seeds
1 tsp black mustard seeds
1 pinch asafetida
2 large chopped garlic tooth
5 fresh or dried leaves Carrie
1/2 tsp ground turmeric
1 tsp masala
1/2 tsp salt
Preparation:
Rinse the beans twice and soak overnight. In the morning drain the water. Place lentils in a saucepan, pour 4 cups of water, bring to a boil and simmer, without covering, on medium heat for 30 minutes. From time to time stir to avoid sticking to the bottom. Add a glass of water and cook for another 15-20 minutes or until lentils are soft. Then set aside.
Warm in a saucepan or small frying pan safflower oil add mustard seeds, cumin and asafetida. When the seeds begin to crackle, add, stirring, the garlic and sauté it to light brown.
Now add Carrie leaves, cilantro, turmeric and masala. Stir quickly.
Then stir this mixture into the soup. Season with salt and add the remaining water or as much water as necessary for desired thickness of soup.
Cook after boiling for two minutes and serve with rice and chapatis or bread.
Passerovannye garlic helps to get rid of the gas-forming action of the lentils.
Masala (ground spice mixture) can be bought at most stores that sell spices, or make your own.
Application in medicine:
this dish is well suited to patients with the flu or suffering from diarrhea. Red lentil is a rich source of iron, and therefore are useful for blood and cleanse the liver.  
Cook with love!
P. S. And remember, only by changing their consumption — together we change the world! ©
Source: //www.samtulana.ru/b5bdfvmwfltsyjqb/#76umha