Polpette (ital. another popular meal is polpette) is the Italian meatballs. There are more many recipes polpette. Today we offer to cook a dish of tuna.
Tip: Ready
polpette di Tonno in salsa di Pomodoro
leave under a lid for 30-40 minutes — so they will be even tastier and juicier.
You will need:
60 g tuna, canned in its own juice
2 eggs
70 g of grated Parmesan cheese
70 g stale breadcrumbs (hands grind into crumbs)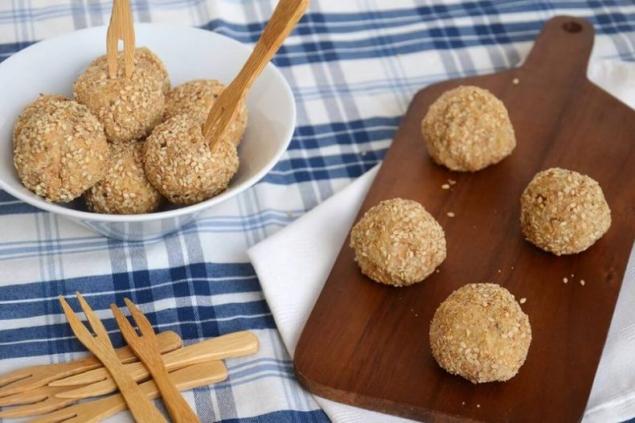 For the sauce:
0.5 liters of water
1 l the trade winds from tomatoes
1 garlic clove, peeled
olive oil cold pressed
salt
You will also need:
the pan is made of refractory ceramics or pan with non-stick coating
Preparation:
In a saucepan heat the oil and sauté in it the garlic.
Pour in the passata and 0.5 liters of water, stir, cover pot and reduce heat. Cook the sauce for 1 hour, stirring constantly with a wooden spoon and not letting it burn, then add salt and remove the pan from the heat.
In a separate bowl break the eggs, add the tuna. With a fork mash the resulting mass, then lightly whisk.
Stir in the Parmesan and the breadcrumbs and mix thoroughly. From the resulting minced form hands polpetti in the form of balls with a diameter of 2.5-3 cm, Keep in mind that during the cooking they will slightly increase in size.
Turns put polpetti in hot tomato sauce and simmer 40 minutes on low heat under a lid.
Get ready polpette the sauce and serve them on a separate plate.  
Cook with love!
P. S. And remember, only by changing their consumption — together we change the world! ©
Source: //www.ellamartino.ru/ru/recipes/polpetty-s-tuncom-v-tomatnom-souse-polpette-di-tonno