Germination: the magic of green buckwheat
It's some kind of magic, but raw oatmeal and a smoothie with green buckwheat just don't bother! Each time may a new combination, and it's always delicious and satisfying.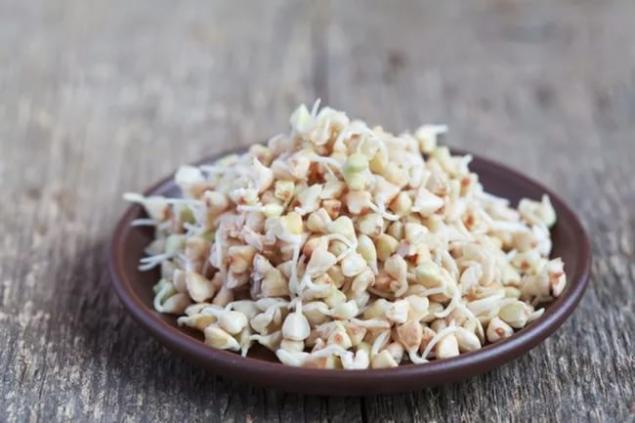 So what's the benefits of green buckwheat?1.
Unlike brown, green buckwheat is not heat treated and, therefore, keeps the Bud of life components;
2.
This vitamins, minerals, complete proteins;
3.
When sprouting starts, the natural mechanism of synthesis of nutrients – minerals and trace elements pass to the state, which is fully absorbed by the body;
4.
Green sprouts contain fiber, enzymes and antioxidants;
5.
Living chlorophyll is actively involved in the formation of hemoglobin and reinforces the immune system;
6.
Antioxidants neutralize free radicals that cause damage to healthy cells, disease and premature aging;
7.
Including sprouts in your diet, the man charged with energy and gets the maximum benefit.
How to sprout?
You will need:
• purified green buckwheat;
• glass or porcelain vessel;
• pure water (manufactured filter or drinking);
Making sure you are in good spirits, start:1.
The seeds of buckwheat several times to rinse under running water. This can easily be done, wysipad them in a colander with small holes or a sieve. To sort out the buckwheat with your hands directly under the stream of water, but it should be done very carefully so as not to damage the delicate embryos
2.
Put washed green buckwheat in in advance prepared capacity. Better if it is bulk glass or porcelain bowl.
3.
Pour the seeds with clean water at a ratio of 2 parts water to 1 part buckwheat. Under the net refers to the filtered flow-through, melting or infused with silver water.
4.
Then you need to leave the buckwheat for 2-3 hours, no more: the seeds swell rapidly, increasing in size in two times. If you leave them for a longer time, around the seeds may appear mucus. It is better to avoid. If you did forget and it took more time to once again rinse the buckwheat.
Remember: if the seeds of buckwheat will be under water for more than 10 hours, it is likely that it will ferment and spoil. Then all the work will go down the drain.
5.
Carefully drain the water. Green spread the buckwheat evenly on the bottom and walls of the bowl (or put in the work). Cover the container with a lid so that did not stop the air supply. Express buckwheat for 8-12 hours in a dark place.
6.
Seeds had to come up soon. On average, the seedlings should be 1-2 mm. Usually we wait until the shoots reach the length of 1-2 cm To do this, leave the seeds for another day or two. Make sure the buckwheat does not dry up.
7.
Next you need to change the water every 8-10 hours, making sure the buckwheat doesn't dry out, but not leaving after the first soaking more buckwheat the level of the water.
8.
Germinated seeds of buckwheat are consumed as a separate dish, and in salads, cereals and smoothies.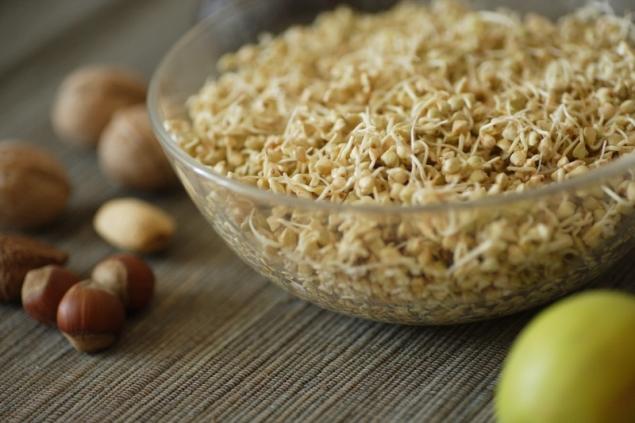 The porridge for 5 minutes (will save your time and all your vitamins)
– just mix in a blender ingredients:  
sprouted buckwheat (rich in protein, complex carbohydrate, iron)


orange, Apple (quick carbs, vitamins)


avocados (healthy fats, vitamins)


Urbach of cannabis (a highly digestible vegetable protein, fats, fiber, calcium)


wheat germ (fiber, proteins, fats, minerals, trace elements)


raisins (simple sugars, vitamins, minerals)
 


Comfort in the fact that the recipe is completely variable, such as fruits, berries take your favorite (but it is better not to combine sweet with sour), the embryos can be replaced by any bran or no use, the dried fruit is also those that want: prunes/ dates/ figs/ dried apricots; fats of any nuts (it is convenient to use orbec).
You can add your favorite Superfoods, for example, Chia seeds/ spirulina powder/ Chlorella/ wetgrass/ dried berries. The experiment is sure to be successful!
published  
P. S. And remember, only by changing their consumption — together we change the world! ©
Source: vk.com/vegetarianism?w=wall-23505064_357336