No matter how comfortable and convenient your suburban house, outside the city want to spend more time outdoors. If the house built without a porch, and the construction of a full arbor hands have not reached, we offer practical, fast and convenient solution – canopy.
Speaking everyday language, a canopy is a roof which is supported by pillars. Perhaps such a structure can be considered something of a cross between a visor, a veranda and a gazebo.
Usually, a shed built without a Foundation and walls, so it is not a capital construction, and, compared with a gazebo, built easier and faster. The canopy can be done even temporary or seasonal. At the same time, if your canopy came in handy, nothing prevents to enclose it with walls, and use year-round.
However, everything in order.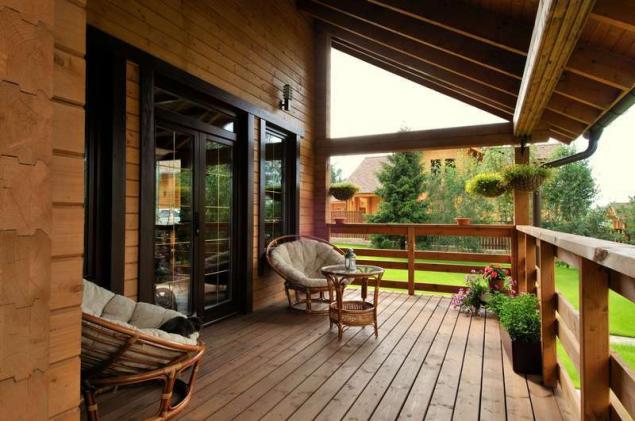 Where to put the shed?
There are two common variants of the device the canopy: it can be simply attached to an existing structure or be installed separately.
The extension of the shed to the house is a very comfortable way. Many homes have one side blank wall that is difficult to beat outside. This wall will be a great support for the canopy. Suitable exterior wall of the house which leads from the main door. If the draft does not include the porch or veranda, making the canopy, you can perfectly complement the entrance area.
You can attach the canopy to the wall of the bath. So you will have a great place to relax after a treatment. Often the awnings are attached to the garage. However, in this case, they are used not for relaxation, and for storage of garden equipment and Parking.
Attached carports can be straight, tapered (single pitch) or a rounded roof.
Detached carport to build a little more complicated, but in this case, you are not restricted in the choice of location and design. You can put the canopy where most pleasant to spend leisure hours. For example, in the shade of the orchard or by the pool. Often a canopy put over the BBQ, creating a comfortable area for year-round recreation.
Freestanding canopy can be of any shape – square, round, polygonal. Its roof can be done gable, spherical, wavy. It just depends on your imagination and skill.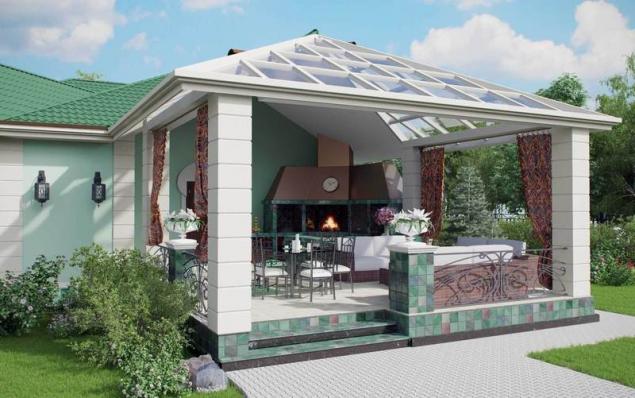 What to do the frame?
Material of the frame for the canopy most often is a metal or wooden beam. Metal support is reliable and durable. They can withstand any, even very heavy, the roof. For the canopy it is quite suitable used metal pipe. Will inexpensive and practical, and with regard to appearance, then later you can use decor to make the frame quite a nice view.
Wooden supports are also widely used. On durability they are inferior to metal, but in terms of aesthetics much win, especially if buildings in your area also made of wood. Can be used as round in cross section wooden posts and rectangular timber.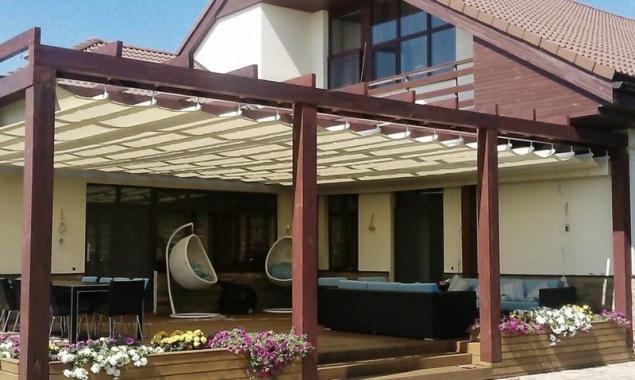 Substrate preparation
Selecting a place for construction of the canopy, proceed to the training grounds. To stay comfortable and secure, the pad must be leveled. After completion of the construction, it is possible to sow the lawn grass and get comfortable, most natural finish, which is convenient when you use the site in the summer.
A more thorough option is to pour a concrete base to lay wooden decking or paved area, paving slabs, stone and other material. For these purposes, cut off about 30cm of turf, make a bed of gravel and sand, carefully leveled and tamped. Then stack the tile or the sheathing and wood flooring.
Foundation is to do slightly less in area than the shed roof, to the flowing water fell to the ground and soaked into it. It is also advisable to provide a small slope area to drain water naturally.  
The roofing material
As we have said, the canopy can have a different shape and be made of different materials.
Corrugated sheet
Want to build simple and budget? Choose a lean-to shelter of corrugated Board. Quite reliable, sheltering from the rain, snow and sun, fast and economical way to create a holiday Playground for travelers.
Polycarbonate
Elegant canopy will made of polycarbonate. Yes, the material from which we used to build greenhouses for vegetables, is perfect for relaxation areas.
Polycarbonate is a synthetic material that is highly resistant to temperature, moisture, ultraviolet. But most importantly, the polycarbonate looks great: easy, airy, elegant. Even if the canopy rests on a solid metal frame, it will look spectacular.
In addition, polycarbonate transmits light, the canopy will not create excessive shading. Finally, trump card: the polycarbonate bends, so the canopy can have an interesting shape – curved, rounded, arched, concave, dome. It is only important to calculate wind and snow loads that will act on the structure to avoid collapse.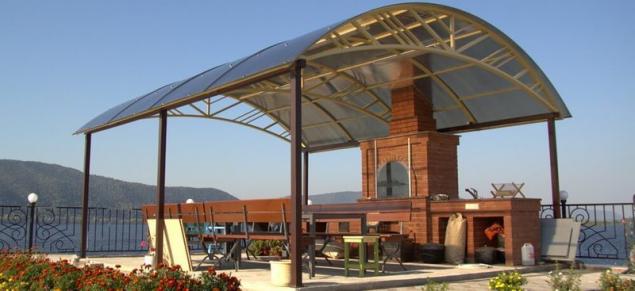 Fabric
If you use the canopy only in the warm season, you can make a romantic roof of thick fabric. In the winter it is easy to remove, and in the summer you will have a cozy, well-ventilated area – almost a summer cafe.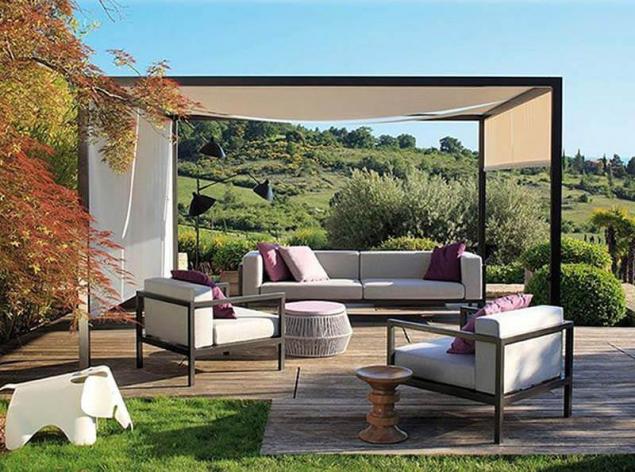 To create the canopy will not fit any fabric. Mainly use the canvas tarp. Individual attention, awnings foldable awnings that are attached directly to the walls without requiring the installation of supports. In the awnings used synthetic material: acrylic or PVC fabric. They protect the area under roof, looks easy, bright and elegant, allow you to pick pretty colors from a wide model range. With the end of the summer season, the awning can be folded without disassembling it and leave until next year.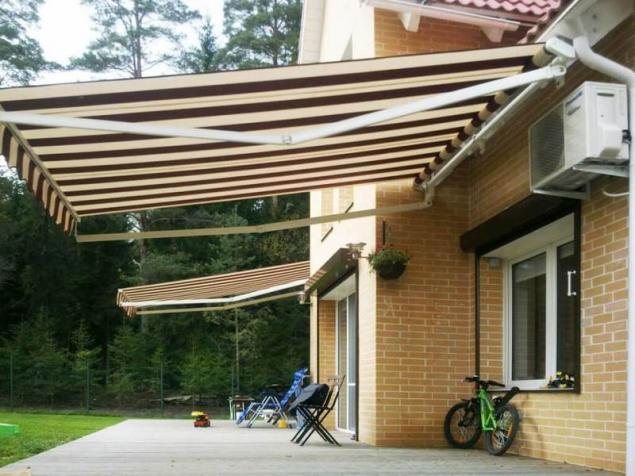 Glass
Another material for the canopy is tempered glass and triplex. This is a durable materials that can stand snow and wind loads, air strikes, for example, falling branches or landing birds. Even if such glass is broken (which happens very rarely), do not scatter the fragments across the site, and will remain on the polymer film. Therefore, glass canopies safe.
Glass can be not only transparent, but colored, tinted (for better protection from the sun) and even painted. As polycarbonate, glass can be given a curved shape. This canopy will definitely surprise your guests!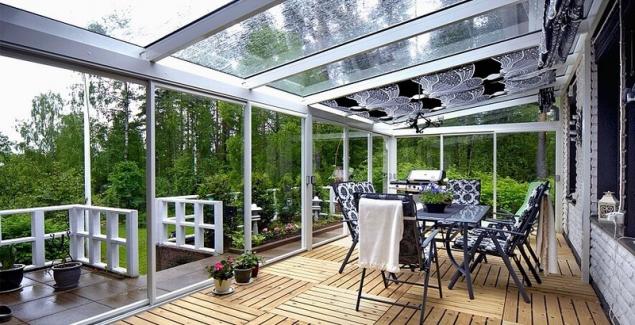 However, glass canopies are rare because, first, it is not a cheap pleasure, and secondly, working with this material requires a certain skill level. Glass roofs are heavy, so you need to carefully calculate the carrying capacity of the frame and to use a special technique for installation.
But if transparent, elegant, unusual canopy – this is what you have always dreamed of, the dream life will help professionals working with glass.  
Roof
And finally tell you about the exotic option country canopy is the roof, which can be used above and below.
If you decided to do a canopy, why not gain even a terrace on the second floor? Putting a very strong frame and a durable flat roof, the deck can be placed under it and on it. Or use the roof for planting is to sow a lawn and plant flowers. It's a very spectacular hanging garden.
Technically this solution is quite complicated. You need to carefully calculate the carrying capacity of the frame, to fill the Foundation under the canopy. However, skillful hands nothing is impossible! There are many examples of successful implementation of such a "bilateral" of the canopy, so if you want and you will be able to build it.  
Decor
Finally a shed was built. To fully enjoy yourself, you need to put a little more effort, namely, to decorate the area under it. First thing here we have to put the furniture. Use wooden, wrought iron, wicker rattan, plastic headset. You can put under the canopy rocking chair, build a swing or a homemade furniture from pallets and other scrap materials.
Good decor will become textiles. Typically, the canopy has no walls and shelter from sun, wind, dusts and insects always want. This will help light curtains.
Low fence – carved wooden or wrought-iron – will give the canopy a more finished look, not separating you from nature.
An ornament will be herbs: flowers in pots and planters, climbing plants will zadekorirovat support, will create a cool shade and scenic views.
I hope we have convinced you that the canopy is a very comfortable, beautiful and not boring. If you haven't decided how to arrange the plot of land place, be sure to look at the shed and choose your own! published    
Source: mzdom.com/arxiv-vyipuskov/2016/04-okt/naves-zoloto.html