Every time standing in a long queue or traffic jam, we seek life and want the impossible, instead of to fully live each moment. But how to find a balance and not curse every slow cashier?
Canadian writer David Kane explains what it really means, the Council "Calm down!", which everyone loves to give and few can decipher. We translated his article on how to become more tolerant.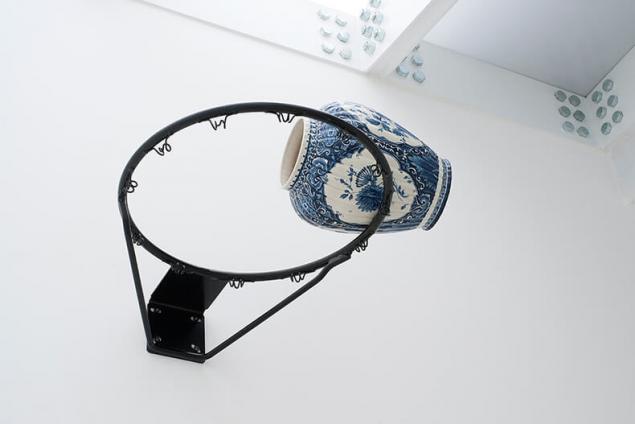 © Nicolás Lamas, "Paroxysm"
Maintaining internal balance I understand as a fundamental human skill:
the degree of development depends on how you feel, when faced with the most ordinary things, whether it is an Elevator, a noisy party, a trip driving or an exhausting visit to the post office. Can we in any of these situations to remain calm is really important, because 90% of our life is precisely because of such trivial pursuits.
I believe that with age, Willy-nilly, become more tolerant.
Gradually you realize that constantly criticize the situation in the present rather pointless, given that it's the only time in which we exist ourselves.
And yet I can't remember someone taught me balance.
What I remember is commands like "Calm down!" or "stick it!" from parents, teachers and other authoritative entities.
I suspect that most people are familiar with the concept of balance in this context — it seems that it's something completely boring, but, according to adults, is absolutely necessary. Although that explains why they usually do not trouble yourself, and the best we can hope for goes something like this: "I work, you're in!" or "It's just disgusting."
And, of course, no one explains how to achieve this magical result and suddenly calm down.
However, decades of research still helped me learn something about this coveted superpowers and how to develop it deliberately.  
"I really can wait until the light turns green, don swiveled his seat?"
Balance, or maintain internal balance — not that other, as desire to live life to the speed with which it really is, that is simply not to rush her.
And that, of course, the only real temp — it doesn't matter whether you like what is happening in this very second or not. If you wish to add
awareness of the simple fact that reality does not depend on our reaction to events, it can seriously change the quality of our experience of life.
We often want to pass the time when there is something boring or unpleasant, and sometimes this can be done using some improvised means, but the irritation sure doesn't help. If we toil in the queue, it does not cause it to move faster, and only makes the time somehow we will arrange doubly unpleasant.
Such intolerance is simply a denial of reality, which, sadly, we often don't get your way, the problems are not solved, but dreams tend to come true.
From ideal this reality is distant, but what really makes these moments of minor details in unbearable difficulties, so this is our negative reaction. We respond to an unpleasant event such emotions like this could never happen, like it's some sort of major mistake, a downright failure in the Universe. "What? My plane will be delayed due to unforeseen repairs? I do not subscribe to such!"
Intolerance is just asking the impossible
In fact "here and now" is the only time and the only place where we always are. So to escape them, we can develop into an alternate reality, created by our imagination. Sometimes we use it simply to dream about abstract things, but very often this imaginary reality is directly related to what made us annoyed.
While you're waiting in line at the cashier, your brain diligently works to how to chastise an unseen Manager and to tell him that a decent pharmacy should not be such queues in N hours (where N — the same time that you see this point on the dial).
These thoughts did not bring us closer to this goal — to change time and space so that we never have to endure someone's stupid argument with the seller or tedious presentation.
Irritation always aimed at the impossible:
to hear from the final wedding toast without unbearable ten-minute introductions to fly through this too heavy revolving door, wiped off the face of the earth, this unhappy buyer, which the seller had to call the Manager.
Let's be honest: to experience irritation and have a real opportunity to affect the speed of the events is completely different.
But if you do something depends, it can always be done safely. And because often these symptoms of irritation of the nervous gestures, anger, diatribes, that we say to himself, sinking feeling of "why me?" — appear only in the moment when it is crystal clear that we are absolutely powerless to influence the process can not in any way.
The balance will not change reality, but can dramatically change our attitude towards it.
But in it lie the roots of the problem. It is not in the actual circumstances in which we find ourselves, and how we experience the situation is as terrible or the ordinary?
Balance just allows life to be what it is, which is incredibly useful though, because life is always such as it is.
© Nicolás Lamas, "Hand", 2016  
Give the situation timeIrritation is reflex, it is rarely the result of rational thought.
However, we are able to transform it qualitatively, if not try to do this at a time when we are already stuck in traffic jams or stuck to the last page of the report from the stupid printer. For this transformation we need a simple idea — learn how to give the situation time.
Every day we perform hundreds of simple tasks that do not require any concentration. For example, once you've dried your hair, you probably rolled up the cord and put the Hairdryer in the locker. But since this step is somewhat simpler than neurosurgical operation, then the 10-12 seconds, until the body will accomplish this daily task, your mind probably wanders to something else — Breakfast, work, political news and so on.
Here's another example of how clever our brain avoids collision with reality. But, removing the Hairdryer in the wardrobe, you are unlikely to experience a storm of negative emotions, and so it's a good time to work on your balance. For this you just need to focus all their attention on the action.
Instead of having to spend 10 seconds in the usual messy thoughts about the past or future, try to give it time actually occurring event, that is, ordinary household task — to roll the cord and put the device in place.
"To give time" in this context means willingly and fully aware that right now you button open on the blouse, clean the carrots, put on the envelope seal.
This little exercise breaks our habit of wandering mind is constantly distracted from the real things. And it works.
Gradually, each time for 10-12 seconds, you can learn to take care of the present and allow life's events to unfold with a natural pace.
Give your time a little, and then quietly go back to thinking about electoral reform or practicing a strict conversation with a neighbor about his ill-mannered dogs. Later, when you think about training again, focus on any small and simple task.
It is not difficult, and the results may stun you. Thanks to this little exercise expands the tight internal spring, which is feverishly trying to push out of most real-life situations in a fantasy world where everything has to go the way we want.
The usual things start to open from an unexpected quarter. It becomes easier to survive the air travel, shopping, going to support. Work tasks and social obligations cease to frighten and unnerve. Life in General starts to seem less dangerous, as you realize that a large part of it you want to live in reality, not running away from reality.  
"If we toil in the queue, it does not cause it to move faster, but only makes the time we spend there, it is doubly unpleasant"
Again, it doesn't take much effort or time. Just 10-15 seconds of concentrated thoughts about what you normally do automatically, while your mind wanders somewhere far away.
Start practicing this in detail and you will see that the desire to give may occur in more complex situations — for example, when the pilot announces a mechanical malfunction of the aircraft or when you long waiting for a call from a man who promised to contact you.
Each episode, which you deliberately allow it to happen and take some period of time, is an act of generosity toward oneself, a small step on the way to their own well-being.
Believe me, you will make a wonderful castling, if the place of habitual irritation will put an easy attitude to the situation, and will allow it to develop naturally.
The ability to make a skillful chess move radically changes everything. Because, generally speaking, it's
a huge relief to know that you do not need by all means to avoid the inevitable delays of life, and all the suffering it brings usually occur just because you clumsily handle their own emotions.
LAW, not chance — your thoughts are real!How to stop attract malicious thoughts
I really can survive the trip to the shopping Mall, not cursing others, never hard not to sigh and not skorchev disgruntled mine? I can wait until the light turns green, don swiveled his seat? I can catch a connecting flight (or even miss it!) and not to freak out? And that you can spend the rest of my life?
Yes, you can, if it becomes a habit — consciously to give the situation time. Any other behaviour it makes little sense and only shows that to meet the reality we live is not ready yet.published
Translation: Anna Rogacheva
Source: theoryandpractice.ru/posts/15431-kak-vazhno-byt-spokoynym-pochemu-uravnoveshennost-napryamuyu-vliyaet-na-kachestvo-zhizni