Testing the new charger for electric vehicles held by the company Volvo Car Corporation. The charging time of the battery electric car equipped with the new charge may be reduced to one and a half hours.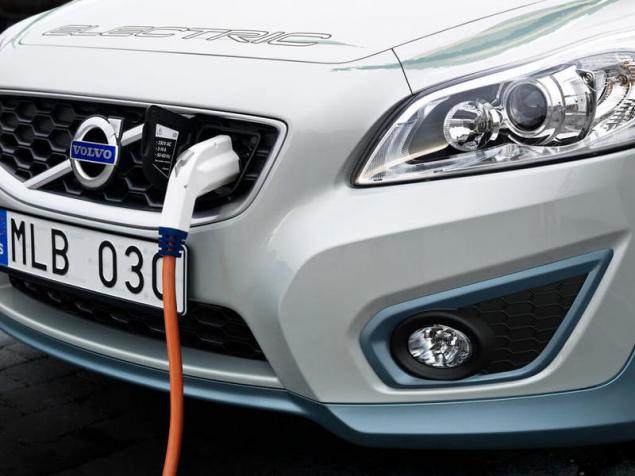 Thus, the new charge will "fill" the energy six times faster than current onboard devices. Fully charged in an hour and a half will be connected to three-phase network.
Quick charger for electric vehicles was previously demonstrated by other automakers, such as Nissan and Tesla. However, first it is not about the external, namely, on-Board battery charger.
For periodic recharging of batteries can be used and less time than 90 minutes. On assurances of representatives of the company, the new charger with a capacity of 22 kW when connected to three-phase mains for half an hour will provide electric energy sufficient for 80 kilometers. If it is necessary to "fill them up", then it will take an hour and a half.
As noted by Lennart Stegland (Lennart Stegland) Vice President of Volvo Car Corporation electric driving systems: "We know how much faster charging and improvement of the operational capabilities required by potential users of the electric vehicle. Fast charger is a cure for anxiety because the vehicle can be easily recharged during the day. And even if You don't have time for an hour and a half of the charge, the connection of only 30 minutes will give enough power for another 80 kilometres of driving."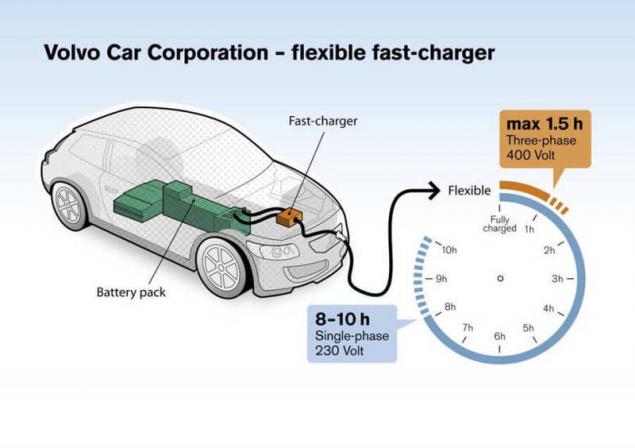 Volvo continues to work on batteries embedded in the body of the car
However, there remains the possibility of the traditional charge with connection to a normal single phase wall outlet with a voltage of 230 volts. As usual, it will need 8 to 10 hours.
First quick on-Board charger will be mounted on the electric car line Volvo C30 Electric.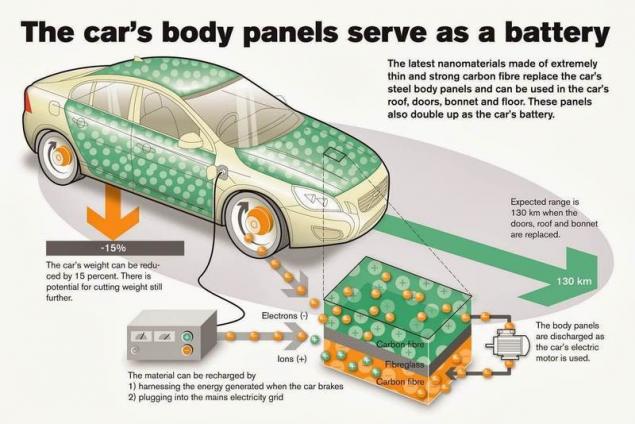 Their owners can recharge the battery one or more times during the day.
"This means that the total daily range of the mileage will increase significantly, but with the same low operating costs compared to vehicles with conventional drive," continues Lennart Stegland. "Providing clients with more hours, suitable for use means that electric cars become more viable as commercial offerings, both in private and in the public sector".
Currently in operation in the world is located about 250 Volvo C30 Electric. The world's first on-Board charger will turn the C30 Electric in electric car with a maximum charge rate.
So to replenish energy battery the most popular electric vehicle Nissan Leaf requires from 7 to 20 hours. "Supercharger" from Tesla Motors is able in 30 minutes to "fill" in the Model S enough energy for a 150 miles (240 km) run, but for this we need to call on the charging station, it will not be suitable for other electric vehicles. The company Hydro-Quebec is working on a revolutionary system that will allow you to charge electric car in just five minutes. However, while Hydro has no practical solutions. published  
Source: motorkolesogid.ru/jelektromobil-vzroslyj-kupit/zarjadnoe-ustrojstvo-dlja-jelektromobilja.html