In traffic it is useless waste of time, literally in the pipe crashes hydrocarbon fuel, lightening the pockets of the owner of the car and making "a contribution" to the process of global warming.
The main method of combating congestion — eliminating disparities between the number of vehicles and road capacity. But automakers are trying to deal with the scourge in his own way. Recently, Volvo Car Corporation announced its next step in the development of Autonomous driving. Employees of Volvo developed technology is to facilitate driving in traffic.
According to estimates of the census Bureau of the United States, due to the traffic jams, the average American commutes to the workplace and back more than 100 hours per year. The average duration of an American holiday only two weeks, or 80 hours. In large American cities time losses from congestion is more significant.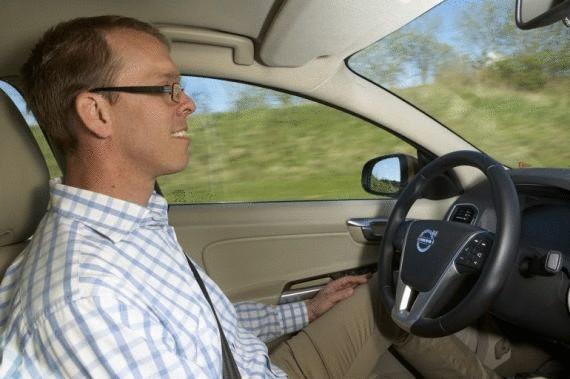 "The situation is similar or worse in major cities around the world. Our goal is to make the queue less stressful for the driver," talks about new technologies Peter Mertens (Peter Mertens), senior Vice President research and development Volvo Car Corporation.
New help system drivers in traffic (traffic jam assistance) automatically monitors the movements of vehicles in front, keeping a safe distance and speed.
"This technology makes driving more relaxed in monotonous lines of cars, the least attractive part of daily travel in urban areas. The assistant offers You a safe and easy drive in a slow stream," continues Mertens.
Help function in traffic jams – evolution of the existing adaptive cruise control and Lane Keeping Aid technology introduced in the new Volvo V40 in 2012. Moving with a speed less than 50 kilometers per hour, the driver can activate the system by pressing a single button. Engine running, brake and steering wheel are transferred to the automatic control. The assistant drives the car after running ahead of the vehicle, maintaining a safe distance and repeat his maneuvers in the outside lanes. If the lead car goes around the obstacle, then the helper will do exactly the same. Nevertheless, responsibility still rests with the driver who at any moment can turn off the automatic system push of a button.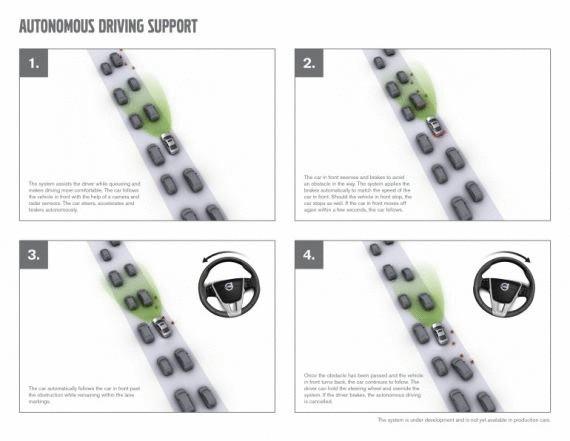 Thus, Volvo engineers have taken care to relieve the driver from routine repetitive operations associated with periodic stops and starts. In addition, presumably, the automatic assistant will never be a "tear" and will perform the maneuver gently, strictly "according to science". This means lower fuel consumption and load on the environment.
The help system is in low-speed traffic – the second technology for Autonomous driving, Volvo Car Corporation presented recently. A few weeks ago the company showed its project of environmental protection road transport SARTRE (Safe Road Trains for the Environment), designed to automate the management pillars of all cars on highways and freeways at speeds up to 90 km/h.  
Source: /users/104