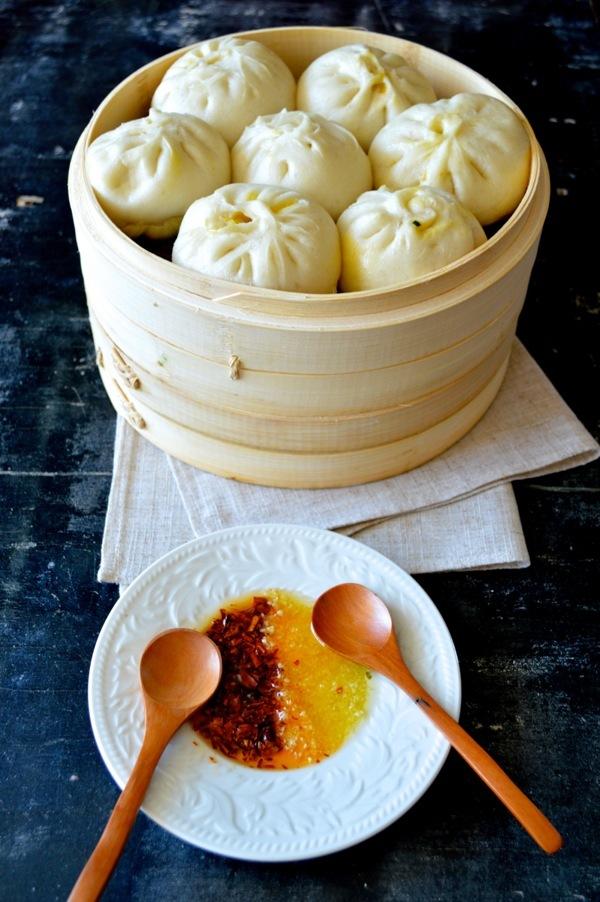 Try to prepare light cakes Chinese baozi! In China literally love them all, because they are very easy to prepare and do not require tremendous financial investment.
The only thing you need is a steamer, because the traditional baozi steamed. But if you don't have one, you can easily build a unit from scrap materials, taking a large pot, pouring water and setting a colander or sieve of the same diameter. Cover the lid with a hole and voila!
The Chinese prefer these wonderful meat pies for Breakfast, but we think that in view of their lightness and secularist, the best time for baozi is dinner. However, you decide!
RECIPE LIGHT MEAT PIES IN the CHINESE style that you need:
(10 pies)
Dough:
3 tbsp. flour
1 tbsp fresh yeast or 2 tsp dry
1/4 tsp.
1 tbsp. warm water
Filling:
500 g pork
1 egg white
1 tsp. corn or potato starch
2 tbsp rice wine or dry sherry
1 tablespoon of sugar
some green onion or cilantro
2 cm ginger root
How to cook light meat pies in the Chinese style:
For the dough dissolve the yeast in water and mix with sifted flour. Put in a warm place for 1 hour.
For the filling to make meat minced by using a blender or grinder. If you have neither one nor the other, safely chop pork with a knife as small as possible. Add chopped green onions or cilantro and finely chopped/grated on a fine grater ginger.
Combine the cornstarch with 1 tbsp cold water, protein, lightly beat.
All is send to the minced meat, add sugar, salt and pour the wine. Mix well.
Back to the approaching test.
Soda diluted in 2 tsp of warm water, pour on the dough and lightly knead. If the dough sticks to hands, add flour. Let stand for another 15 minutes.
Ready divide the dough into 10 pieces and form neat balls. Each roll into a round pancake.
Each pellet is for convenience put in a bowl and place the filling in the center.
To take the edge. The tip can be zawiyat at all, and can be left in the center of the hole to pour the sauce when the cakes are ready.
The bottom of a double boiler, put coriander leaves or Chinese cabbage, place the baozi, so that between them was a sufficient distance. Cover and cook 15 minutes.
Optionally, you can prepare the sauce: mix a little soy sauce, rice vinegar, red pepper and a few drops of sesame oil. Serve it for hot cakes.
Easy pies with meat in Chinese style is ready!  
published
Source: domashniy.ru/