Fast table often leads to sadness: the high cost of food, time to spend at the stove, a lack of choice. But it is only at first glance, and if you adapt, acquire skill, you can learn to cover fast table fast, cheap and varied.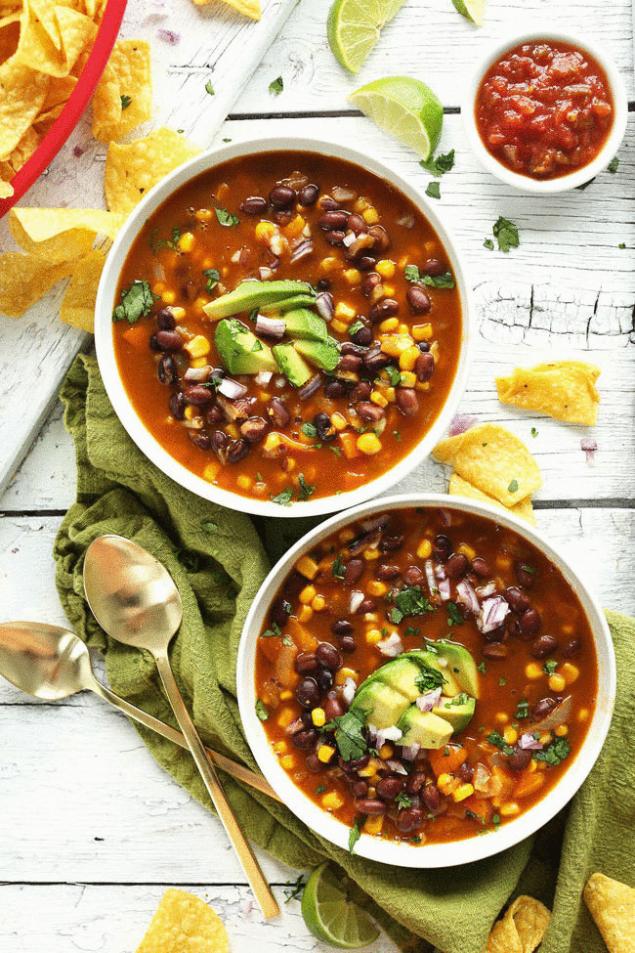 Beans at home
2 tbsp. large white beans
1 onion
2 frozen bell pepper
2 tbsp tomato paste
1/2 head garlic
Salt
Vegetable oil
2 tbsp. water
Beans in the evening pour boiling water and day to stand. Slice onion and sauté in oil. Add to browned onion-sliced frozen bell peppers. Fry together the onion and pepper, add the tomato paste. With beans drain the water and pour the beans into the onion. Add 2 cups of water. Simmer the beans on low heat until tender. Salt. Squeeze the garlic.
Vermicelli in sweet and sour sauce
1-2 cups tomato juice
A piece of pumpkin
2 sour Apple
Cauliflower
2 carrots
50 g of celery
A handful of beans
Herbes de Provence (thyme, tarragon, rosemary, marjoram, lavender)
Greens
Salt
Boil noodles in salted water until soft, drain in a colander. Separately, stew the peeled pumpkin and apples, then spuriosity, add tomato juice, bring to a boil. In the resulting mass, add spices, fried slices of carrots, celery, florets of cauliflower, boiled, or canned beans, add salt. Bring the sauce until done, combine with noodles. Sprinkle with greens. You can fill the sauce with garlic.
Knedli (gnocchi)
Boiled potatoes 500 g
Flour 200 g
Sunflower oil
Garlic
Greens
Boiled potatoes to mash, allow to cool. Combine with flour, knead the dough. Roll the dough thin sausage and cut into small pieces. In boiling salted water and boil throw knedli to the ascent. Take out with a slotted spoon. Pour the sauce from sunflower oil and crushed garlic cloves. You can submit knedle in a tomato sauce with Provencal herbs. Sprinkle with herbs.
Tomato sauce: in a saucepan boil 1 Cup water, 2 tbsp tomato paste, 2 tbsp oil, 1 Bay leaf, 1 tsp favorite spice or 1 tsp salt, add the Provencal herbs (thyme, rosemary, marjoram, tarragon, chervil, lavender).
The potatoes with skins on, cooked in spices
the Potatoes in their skins, wash, dry, cut into slices. Baking tray lay a baking paper and place on prepared potatoes. Potato wedges be lubricated with sunflower oil and sprinkle with dry spices. Bake in the oven for 40 minutes at 180 degrees until a crust. Salt. Serve with sauce or with sauerkraut.
Sauce: blend the flesh of the avocado, crush garlic, lemon juice, soy yogurt, salt, pepper.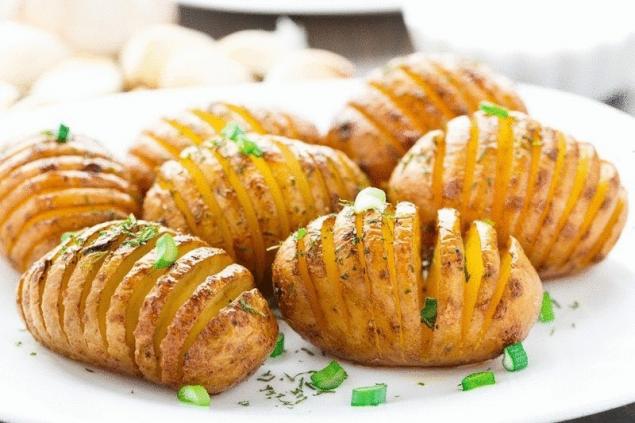 Vegetable fried country-style potatoes
1-2 potato
1 carrot
1/2 bulb of celery
1 parsnip
Florets of cauliflower
200 g of mushrooms
Leeks
Greens for topping
Salt
Boil the potatoes, carrots, florets of cauliflower until soft. Cut into slices peeled celery, parsnips and parsley root, fry until Golden brown. Separately boil the mushrooms. Dry the boiled vegetables and mushrooms, cut into slices and fry until Golden brown. To combine sauteed vegetables and leeks with sautéed mushrooms. Season with salt, sprinkle with herbs. Serve with pickles.
Soup with lentils
For 4 servings:
1 onion
30 g of ginger
2 green onions
1 tbsp curry
200 ml coconut milk
150 g red lentils
1 tbsp red paste curry
1 tbsp vegetable oil
1 lime
Greens
Salt
Onions cut into rings. Peel the ginger and cut into 2 parts. Pour into a saucepan 1 liter of water, add onions, half the ginger, peppercorns, and salt. Bring to a boil, add the lentils, cook on low heat for about 15-20 minutes. The balance of ginger cut into thin slices. Green onions cut into. Sauté ginger and green onion in vegetable oil 5 minutes. Sprinkle with curry powder. In the broth add the browned vegetables and coconut milk. Bring to a boil. Cook for another 5 minutes until the lentils are tender. Add to soup, pasta, curry. Serve in a bowl with lime wedges and greens.
Green soup with spinach and lemon
1-2 potato
1 carrot
1 onion
1 parsnip
1 parsley root
50 g of celery
Leeks
Greens
spinach 500g
Juice of 1 lemon
A handful of rice (barley)
Salt
Cut the vegetables into cubes and sauté in vegetable oil until Golden brown. 2 liters of water to boil, add grits. Boiled vegetables put in a saucepan with boiling water and rice. To add a bunch of spinach, and boil. Cook on low heat for 10 minutes. Season the soup with lemon juice. Add salt, herbs, spices to taste.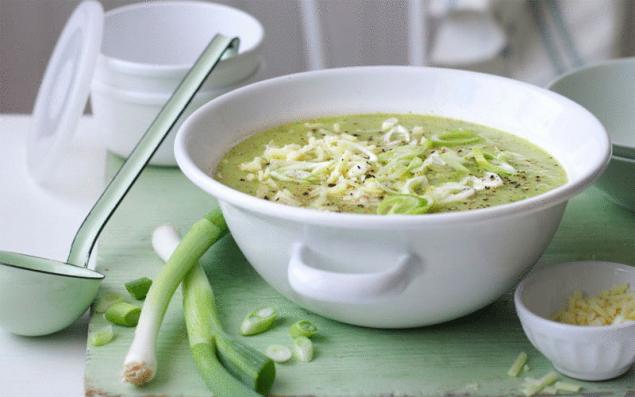 Vitamin salad
5 tubers of Jerusalem artichoke
2 carrots
1 Apple
Dill
Juice and zest of a lemon
Salt
Vegetable oil
Grate vegetables and Apple. Season with lemon juice, vegetable oil. Salt and spices to taste. You can add the garlic.  
The salad pink
1/2 raw beet
1 carrot
1 Apple
A piece of pumpkin
2-3 artichoke
1/2 celery root
Juice and zest of 1 lemon
Salt
Vegetable oil
Garlic
Vegetables to grate. Mix. Season to taste.  
Tea with spices and vegetable milk
2 tbsp. of water to boil in a saucepan with a lid, add 1 tbsp of dry tea, 1 tbsp sugar, 4-5 cardamom grains, 4-5 carnations, 1 cinnamon stick, 2 stars of anise. Add 1-2 tbsp. of vegetable milk (soy, almond, or oat) or 1 pack (200 g) plant cream. Cover the lid, let it brew. Before drinking the tea to strain through a strainer.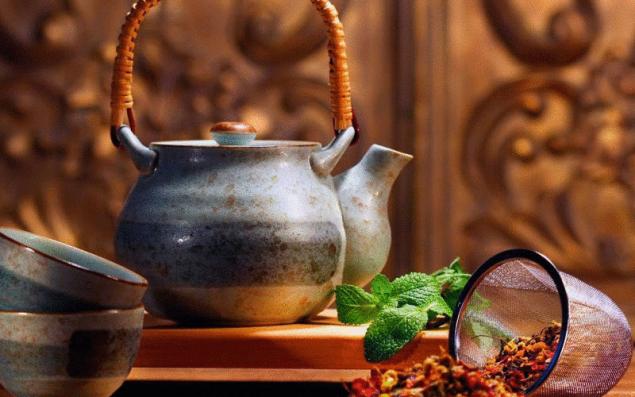 Ginger tea
In a pot of boiling water, add a tablespoon of grated ginger, squeeze lemon, add boiling water and spoon of honey. Garnish with slice of lemon.
Recipe can be changed depending on your tastes, experimenting with structure and receiving each time a new unique taste. You can add orange, grapefruit, cinnamon, clove, cardamom, anise, apples, various teas (black, green, fruit).
Medical equipment
rinsed In boiling water pot put 1 tablespoon of tea, add a handful of dry mint, lemon balm, sage, lime blossoms, raspberries and pour boiling water. To drink tea with honey.
Coffee with cardamom
In a mortar pound 5 grains of cardamom. Put in Turku coffee, sugar to taste, add the cardamom and water in required proportions. Usually for a Cup of coffee counting 2 tsp coffee and 1 tsp sugar. Brew coffee on a slow fire. Serve with ginger cookies.
Lemonade
Slice 2-3 lemons into large slices and cover with sugar in a glass jar with a lid. Put into the refrigerator. To make lemonade take needed a number of lemon slices and the resulting lemon syrup and fill with cold or hot water.
Bagels with nuts, dried apricots and raisins, sprinkled with powdered sugar
Dough:
0.5 glass of beer
0,5 tbsp. vegetable oil
1 sachet of baking powder
3-4 tbsp. flour
Filling:
Grind in a meat grinder or grind in a blender apricots, raisins, nuts.
Can be used as filling any thick jam.
Knead the dough. Roll the dough out to a thin cake and cut it into triangles (like a snowflake). Spread the filling on the thick edge of the triangle and collapse to a sharp edge. Bake 15 minutes at 180 degrees. The finished rolls sprinkle with powdered sugar.
Sweet pie with carrots
Dough:
1/2 liter of water
250 ml raises. oil
250 g of sugar
Vanilla
Salt
50 g of yeast
1 kg of flour
Water, sugar, salt, and vanilla to boil on the fire. Allow to cool to body temperature. Add yeast. Give zabinitsa. Add 1 kg of flour and knead the dough. Add the warm butter. Again knead. Put the dough in the oven on 50 degrees and let it rise. To if necessary add more flour to the dough does not stick to the table. Divide the dough into two parts, the lower part of the spread the filling, cover with top. To form the cake, the edges like to clip. To give the cake rise twice.
Filling: carrots to grate on a coarse grater and stew on a clean pan. Add sugar and vanilla.
Bake the pie for 40 minutes at 180 degrees. Ready cake sprinkle with powdered sugar. The dough should resemble biscuit.
Pies with poppy seeds, cinnamon and sugar, peanut weight
From the same dough as for pie with carrots, you can cook sweet cakes with grated poppy seeds, cinnamon, ground nuts, dried apricots, raisins, candied fruit. Prepared dough roll into a sheet 1 cm thick, brush with vegetable oil, sprinkle with cinnamon, raisins, chosen filling, roll into a log and cut into small pieces with a width of 3-4 cm. to Give the cakes to come about 10 minutes. Bake until Golden brown about 40 minutes at a temperature of 180 degrees. Ready hot cakes to grease hot sugar syrup.
Sugar syrup: in a saucepan boil 5 tbsp of water and 0.5 cups of sugar, add vanilla. Grease pies with a brush. Sprinkle with almond petals.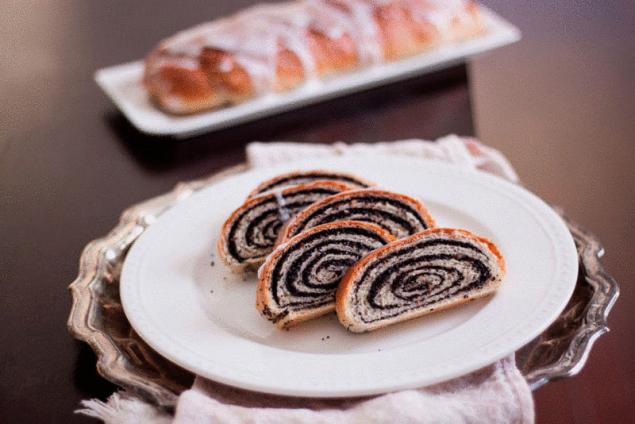 Ginger sticks in sugar
200 g ginger root
200 ml of water
400 g sugar (for the syrup)
Sugar for boning
A small bucket or saucepan
Ginger is better to buy one big root to make it easier to cut into long sticks. Peel the ginger and cut into thin sticks with a length of about 4-5 cm and a thickness of about 3-5 mm. Cook for about 20-30 minutes, until sticks are tender. Then remove the ginger sticks to the broth add sugar, bring to a boil. In the boiling syrup immersed in the ginger and cook for another 20-30 minutes until the ginger becomes transparent. To get ginger sticks, portions, giving to drain the syrup. Roll in sugar and leave to dry for about two hours. Then the dried ginger show folded in an airtight jar with a lid. To serve tea, coffee. Syrup after cooking ginger sticks can be used again or added to vegetable cakes, tea.published  
P. S. And remember, only by changing their consumption — together we change the world! ©
Source: www.matrony.ru/postnyie-retseptyi-na-kazhdyiy-den/