The dough for dumplings, contrary to misconceptions, kneading is not difficult. There are various instructions for its preparation, but we chose for you only the best: on the water, yogurt, and bread maker.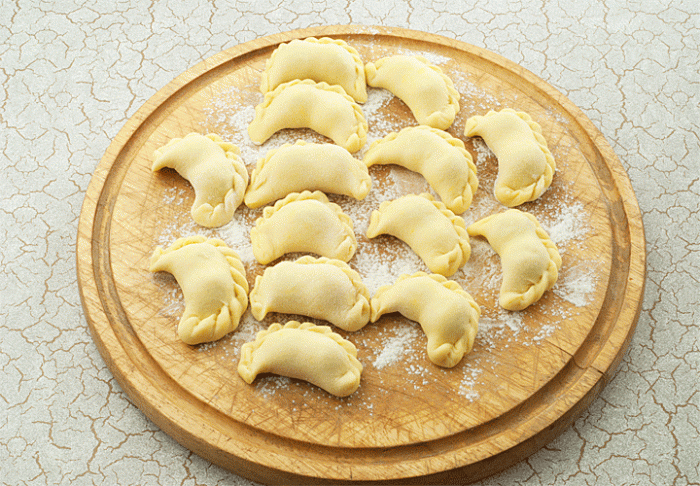 Many of us have in mind is a picture of a woman in a huge apron, rushes around the table, trying to knead the dough. Around her did not shatter the pillar of smoke from flour, a hungry family will not soon wait for the promised dinner. But seriously, to take time off from sculpting homemade dumplings just because of the fact that you find it difficult to mess with the test no longer makes sense. We have prepared 3 simple dough recipe for dumplings that will not cause you difficulties.
The dough for dumplings in the waterWhat we need:
2 cups flour
¾ Cup water
1 egg
1 pinch of salt
How to prepare dough for dumplings:
Put the flour, add heated to 30-35 degrees water, egg and salt. Knead the dough until smooth. Prepared dough for dumplings cover with a damp cloth and wait 40 minutes to ripe.
The dough for dumplings with kefirWhat we need:
5 cups of flour
0.5 liters of yogurt
1 egg
1 pinch of salt
1 tablespoon sugar
1 teaspoon soda
How to prepare dough for dumplings:
1. In a large bowl, combine sugar and egg, then beat with a whisk. Sift the flour and gradually pour it into the bowl, stirring constantly. Then add soda and salt, mix again.
2. Spread the flour so that the center of the bowl the hole was formed. Slowly pour the kefir into it, constantly stirring the dough, and then knead it with your hands. The dough should be elastic but not too sticky. When you are finished kneading, place it into a bowl, cover with a tea towel and leave for 30-40 minutes on the table.
The dough for dumplings in the bread makerWhat we need:
3-4 cups water
1 egg
1 teaspoon salt
3 cups flour
How to prepare dough for dumplings:
In container of bread machine add water, egg and salt. Then put back the sieved flour and place container in bread machine. To set the program for kneading dough (cooking time 1 hour 30 minutes). The dough should get thick and smooth.
This dough can be a good approach for modeling and dumplings. But if you decided to cook dumplings, its worth it to roll a little thicker so they don't disintegrate in the cooking process. If dumpling does not work nicely together, and put it in the center of the circle, the stuffing, and brush the edges with water, then it will be better to stick together.published  
P. S. And remember, only by changing their consumption — together we change the world! ©
Source: hochu.ua/cat-house/cook/retsepty/article-60513-testo-dlya-varenikov-3-retsepta-s-kotoryimi-vyi-ne-budete-dolgo-vozitsya/