A great option for summer meals will be a vegetable dish. It is very simple and fast, and is a valuable source of vitamins and minerals. For the construction of such plates you will need favorite vegetables. Peppers, cucumbers, carrots, celery can be cut into thin strips. Also add to your vegetable plate sliced tomatoes, radishes and inflorescence of cauliflower and broccoli.
To make this snack has become even tastier and more nutritious, pay special attention to the sauces. Eggplant, cheese, beetroot and here is just a partial list of delicious sauces that will be a great addition to fresh fruit.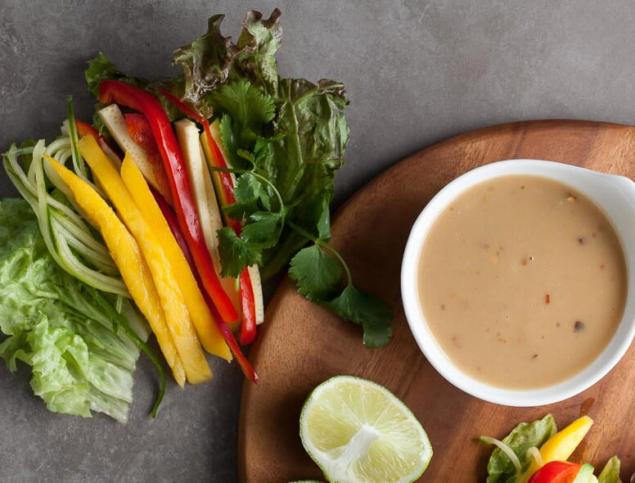 1. Cheese sauce with herbs
and Cheese sauce has already become a classic. It combines perfectly with vegetables, a very useful and low-calorie. So if you watch your figure, you should not ignore this option.
To prepare cheese sauce with herbs you will need 250 grams of low fat cottage cheese, 1 bunch of greens (mint, dill, cilantro), 1 tablespoon lemon juice 2 teaspoons lemon peel, 2 cloves of garlic, 3 tablespoons of olive oil and salt to taste.
Greens wash, dry and cut into arbitrarily. After transfer to a blender, add the cheese, olive oil, peeled garlic, juice and zest of lemon. All the ingredients should be ground until smooth. If the sauce is too thick, add a little water, yogurt or olive oil. By the way, instead of low-fat cottage cheese, you can use natural yogurt. Will be a very tasty and healthy.  
2. Beet sauce with tarragon
Beets is a healthy and tasty root vegetable that goes well with other vegetables. It strengthens the immunity, improves the digestive system and helps eliminate toxins from the body. Beetroot can be cooked a very delicious dip and serve it with a vegetable dish.
The ingredients list is very simple: 2 beets, 3 tablespoons olive oil, 150 grams of soft cheese, 2/3 Cup of green tarragon, small handful of chopped walnuts for decoration.
Peel beetroot and boil the root in a small saucepan until tender. Water do not drain. It must be cool. The beets and greens, cut as you like. Put these 2 products in the bowl of a blender. There also add cheese and olive oil. Grind as possible. To make the sauce the desired consistency, add required quantity of water, in which boiled beets. Before serving, garnish the sauce with a sprig of tarragon and a small handful of chopped walnuts.  
3. Eggplant sauce with nuts
Partial to eggplant? There is one more interesting way of using them in cooking. This eggplant sauce with nuts. It is very nutritious and is perfect for a vegetable plate.
Nuts — a natural antioxidant, rich in vitamins, eggplant is a dietary product that helps to reduce the level of harmful cholesterol in blood, normalizes water metabolism in the body and improves the cardiovascular system.
To prepare this delicious and mouth-watering sauce, stock up on the following ingredients: 1 large eggplant, 3 tablespoons olive oil 2 tablespoons lemon juice, 0.5 Cup walnuts or pine nuts, salt to taste.
Prick eggplant with a fork and bake in the oven or cook in the grill until tender. Nuts grind in a blender into fine crumbs. Roasted eggplant cut in half and with a spoon remove the pulp. Place it in the bowl of a blender to the nuts. Add the olive oil, salt, lemon juice and blend until smooth. The sauce is ready.  
4. The cheese sauce
is Popular and loved by many the cheese sauce will be a great addition to a vegetable plate. He will give the original taste of vegetables and will satisfy even gourmets. In addition, this sauce is quite nutritious and promotes rapid saturation.
There are many recipes for cheese sauce. Offer one of them. You will need: 1 Cup grated on a coarse grater cheddar cheese 3 tablespoons butter, 3 tablespoons flour, 0.5 teaspoon dry mustard, 2 cups milk, salt and pepper to taste.
Melt the butter in a small saucepan over medium heat. Add the flour, mustard and stir well until smooth. Ensure that the color of the mass has not changed. While stirring, slowly push the milk. Avoid the formation of lumps. Cook for 1 minute, until the sauce slightly thickens. Then add cheese and stir until smooth. Remove the sauce from heat, season with salt and pepper to taste.  
5. Spicy sauce
Lovers hot, do not hurry to get upset. And you'll find the perfect dip. For example, spicy. It is very useful and tasty. Spicy sauce with herbs and spices, promotes fat burning processes and is a kind of jolt to the body. With him well all the vegetables.
Take 200 grams of canned roasted pepper, 1 clove of garlic, 1 small piece of ginger, 1 jalapeno pepper, 2 teaspoons soy sauce, 1 green onion with the onion, 2 teaspoons rice vinegar, 1 teaspoon honey, 2 tablespoons of crushed crackers, salt and freshly ground black pepper to taste.
Slice the peppers, chop the garlic, grate the ginger root, peel seed and finely chop jalapeno pepper, green onion and send all the ingredients in the bowl of a blender. There also add the soy sauce, rice vinegar and honey. Whisk all until smooth. When the sauce is of a smooth consistency, start to introduce the crushed crackers, continuing to whisk. Add salt and pepper to taste.published  
P. S. And remember, just changing your mind — together we change the world! ©
Join us in Facebook and in Vkontakte, and we're Classmates
Source: koko.by/recipes/13244.html