We have already published collection of raw food recipes. And they enjoyed incredible success with our readers. Well, this is not surprising, because these recipes are extremely tasty. In addition, they are not subjected to heat treatment and thus retains all the beneficial properties of their constituent ingredients. At numerous requests of readers we have prepared a selection of five raw food desserts.
Carrot cake with creamy cashew frosting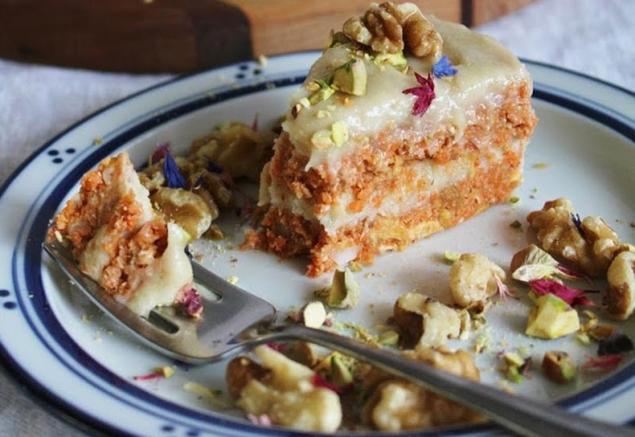 Ingredients
For the glaze
2 Cup* cashews (preferably pre-soak the nuts for a couple of hours);
1-2 tbsp lemon juice;
2 tbsp liquid coconut oil;
1/3 Cup maple syrup**;
water as needed.
For cakes
2 large peeled carrots;
1.5 cups oat or buckwheat flour;
1 Cup of dates;
1 Cup dried pineapple (you can substitute dates);
½ Cup dry coconut;
½ Tsp of cinnamon.
How to cook:
1. For the glaze: mix all ingredients on high speed in blender until smooth, adding as needed water. Pour in a bowl and set aside.
2. For cake: cut the carrots into pieces. Then place all ingredients in blender (including carrots) and chop on pulse mode until then, until the mixture begins to stick together.
3. Assembly: place half of the mixture for the cake to form on top, spread 1/3 glaze. Put in the refrigerator until fully cured glaze. Then put the second half of the mixture for the cake and press down. Again put the cake for a while in the fridge and add the frosting when it hardens, and you can put it immediately. After cooling, remove the cake from the mold, cover with the remaining frosting and decorate (optional) nuts and dried fruits.  
Chocolate lava cakes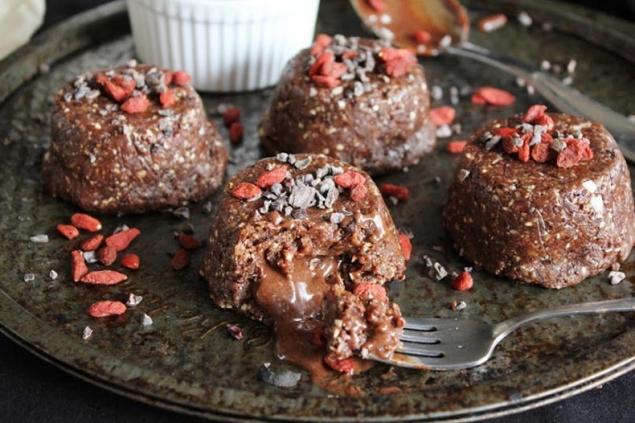 Ingredients
For cakes
1/3 Cup of oatmeal, walnuts, dates and raisins;
1/4 Cup of cocoa powder.***
For the filling
1/3 Cup melted cocoa butter****maple syrup, dates and cocoa powder;
1/4 tsp cinnamon, Himalayan salt and chili powder;
nut milk as needed.
How to cook:
1. For cakes: blend oatmeal, nuts and cocoa in a food processor on pulse mode to the state of coarse flour. Add dates and raisins and blend until then, until the mixture begins to stick together. Using 2/3 of the mass, put it the bottom and sides of molds for cakes (the rest you'll need for the tops) and refrigerate. From the remaining masses form the top and also put in the refrigerator.
2. For the filling: combine all ingredients in a blender until smooth, if necessary adding milk to the consistency turned creamy.
3. Remove the cakes from the molds and fill each with stuffing. Carefully place the tops on the cakes, lightly pressing the edges. Carefully turn over the cakes and garnish with cacao nibs and Goji berries.  
Chocolate cheesecake with peanut butter and coconut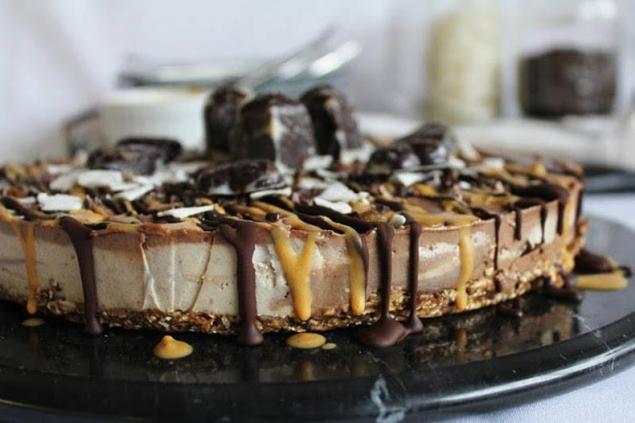 Ingredients
For crust
1 Cup oats (or buckwheat if you prefer a gluten free option);
1 Cup of dates.
For the filling
2 or more of banana;
1/4 Cup melted coconut oil;
2 cups cashews;
1 ½ cups dates;
1/4 Cup liquid sweetener (maple syrup, etc.) – if desired;
grains of 1 vanilla pod (or 1 tbsp vanilla extract);
water as needed;
1/4 Cup cocoa or carob powder.
Topping
3 tbsp raw chocolate;
3 tbsp of peanut butter.
How to cook:
1. Crust: in a food processor mix oatmeal (buckwheat) and dates until then, until the mixture begins to stick together. Put in the form, press and refrigerate.
2. Filling: mix in a blender all ingredients except cocoa (carob), until smooth. Add possible as you can less water for a creamy consistency. If you do not want to enter the water, use liquid sweetener or add more banana. Put half of the resulting mass. In the remaining half roll in cocoa (carob) and stir until it is connected to ground.
3. Put the vanilla and chocolate filling on the cake layers, alternating them a few times.
4. Put cheesecake in the refrigerator overnight. The next day, sprinkle it with chocolate and peanut butter.  
Cakes from natural cocoa with sea salt and caramel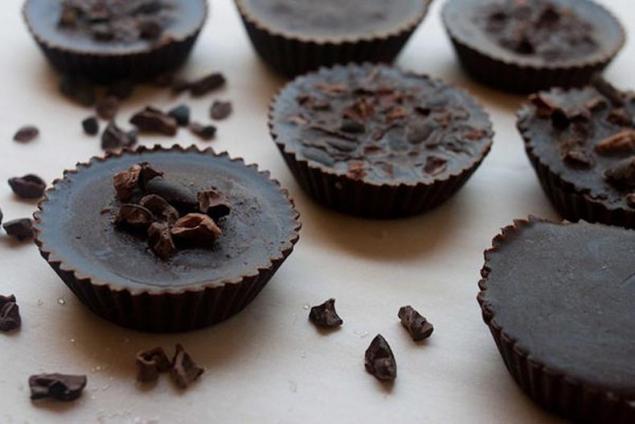 Ingredients
For caramel
2 cups pitted dates (soak them first for at least 3 hours). Do not pour the remaining water!
1/4 Cup water from dates;
1.5 tsp. vanilla extract;
1/2 tsp of sea salt.
For home chocolate
1/4 Cup raw coconut oil;
1/4 Cup raw cacao powder;
2 tbsp coconut palm sugar (or another natural sweetener);
1 tsp of vanilla extract.
How to cook:
1. Mix all ingredients in a bowl. If coconut oil is solid, place a Cup with him in a larger bowl filled with hot water – get something like a water bath. But in any case, do not fire the butter in the microwave or in the oven.
2. Top 7 small paper cups with a thin chocolate layer on the inside and place them in the fridge to solidify.
3. The sauce: drain the water from soaked dates in a separate bowl. Place all the ingredients in a food processor or powerful blender and grind until a homogeneous creamy texture.
4. Remove the chocolate molds from the refrigerator and pour the caramel.
5. Cover the caramel with another layer of chocolate and garnish with sea salt and cocoa bean.
6. Put cakes in the fridge to solidify. Once the cakes freeze, you can eat them, but keep it always in the fridge, otherwise they start to melt.  
Orange-blueberry cheesecake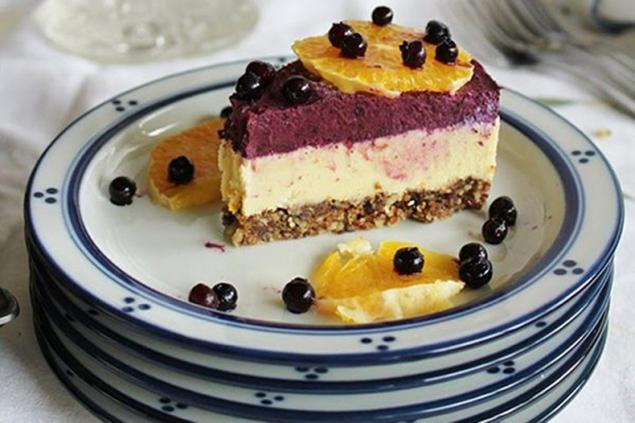 Ingredients
For crust
2 cups raw nuts;
1 Cup dates or raisins;
a pinch of salt.
For orange filler
3 cups cashews;
¾ Cup fresh orange juice;
½ Cup agave syrup/maple syrup;
½ Cup melted coconut oil;
the juice of one lemon;
zest from oranges wijatyk you;
a pinch of salt.
For the blueberry layer
2 cups blueberries (can be frozen);
¼ Cup weight of orange filler.
How to cook:
1. Korzh: grind in a blender nuts and dates/raisins to a state of sleepy crumbs. Place in a form, tamp it and put in the fridge.
2. Orange filling: combine all ingredients (except orange zest) in a blender until smooth, then spoon add the zest. Set aside ¼ of the mass to be added to the blueberry layer. The rest of the mass lay on the cake and put the cheesecake in the fridge.
3. Blueberry layer: blend in a blender combine berries and ¼ of the mass for cheesecake to kremoobraznogo state. Small pieces of berries can be left whole – so the texture of the mass will be more enjoyable. Spread blueberry layer on top of cheesecake and refrigerate overnight. Best taste cheesecake will gain in 2 days. On top of it garnish with slices of orange and fresh blueberries.
* The glass in this case is equal to 250 ml.
** Maple syrup and agave syrup – healthy natural sugar substitutes. If they are not in your household, can use sugar.
*** Cocoa powder can be replaced with carob ;.
**** Cocoa butter can replace coconut oil. published  
Translation Vladislava Ryzhova  
P. S. And remember, just changing your mind — together we change the world! ©
Join us in Facebook , Vkontakte, Odnoklassniki
Source: vegafood.com.ua/bakery/5-syroedcheskix-desertov-2