Ingredients:
Mashed potatoes — 2+½ cups
Potatoes — 4 pieces
Cottage cheese — ½ cups (can use cheese)
The Parmesan cheese ⅛ Cup (grated)
Green onions — 1/2 Cup (to grind)
Heavy cream — 2-4 tablespoons
Butter — to taste
Salt/pepper — to taste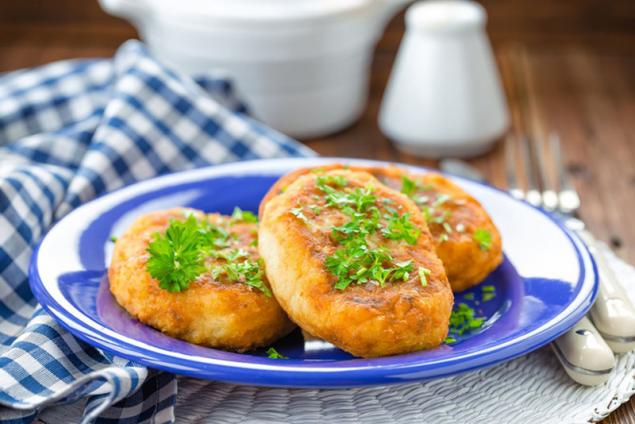 Preparation:
1. Peel the potatoes and grate. Squeeze out all moisture by placing the potato in cheesecloth. 2. Mix grated potatoes with mashed potatoes. Season with salt and pepper to taste. Set aside. 3. In another bowl, combine the remaining ingredients for cheese filling (Parmesan, cottage cheese, onion, cream, salt/pepper). 4. Take about ¼ Cup potato mixture and form the Patty. Then, take about 1+ ½ teaspoon of the cheese filling and place in center of pie. Form the Patty into an oval shape. 5. In a skillet melt about 2 tablespoons of oil and fry the formed patties. Fry the dumplings over medium heat for about 5-7 minutes on each side, until Golden brown.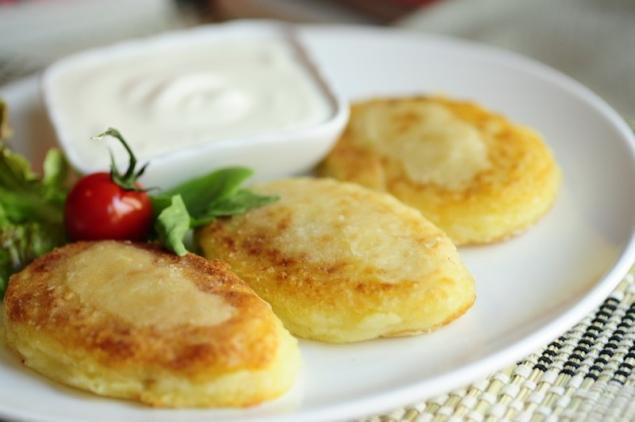 You can use almost any filling that you like: sweet onions, mushrooms, roasted vegetables, smoked salmon, etc., but I most like it with cream cheese.
The finished dumplings put on a dish full, the sour cream is served to them separately. Can on top, sprinkle with finely chopped parsley. To eat dumplings the better, of course, hot, they melt in your mouth. I served the soup. published  
P. S. And remember, only by changing their consumption — together we change the world! ©
Join us in Facebook , Vkontakte, Odnoklassniki
Source: povar.ru/recipes/kartofelnye_pampushki_s_tvorogom-14260.html