Feature junk food is that it from time to time pulls even those who unquestioningly complies with the strict diet – more precisely, it is these unfortunate and drawn to her in the first place. And in this case supposed to do?
You can, of course, harder to grit my teeth and hope you don't lose it, suddenly to find themselves in the middle of the night with halved jar of ice cream or an open bag of chips. And you can, in the best tradition of evidence-based medicine, to be vaccinated – to satisfy your craving for food without objectionable damage to health.
Chips of zucchini in this sense, is a perfect illustration of such vaccination. Golden, crispy, flavorful, and absolutely no fat, not to mention all the devilry, which contains the cheaper chips from the store.
Zucchini chips can serve with hummus from the beans, which is them so cool to dip, and the remains of the hummus you can eat with bread or vilakati spoon – though these chips and no hummus will disappear much faster than you are going to cook them.
Chips from zucchini hummus from white beansDifficulty
- medium
Time
- 45 minutes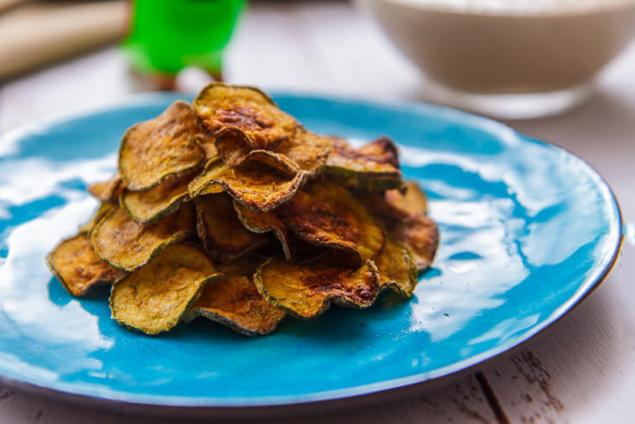 Ingredients (2 servings) for zucchini chips:
1 zucchini milk stage or zucchini
1 tbsp flour
1/4 tsp paprika
1/4 tsp dried garlic
salt
Ingredients for hummus made with white beans:
1 tbsp. of canned beans
1 tbsp tahini or sesame seeds
1 tbsp balsamic vinegar
2 tbsp water or vegetable broth
1 sprig of rosemary
How to prepare:
Cut the zucchini slices about 2 mm thick. it is Important that the thickness was the same, or more thin chips of zucchini will burn before the others get ready.
Mix the flour (plain, rye, whole wheat – decide for yourself), paprika (ideally smoked, sharpness pinpoint to your taste), dried garlic (those little pellets, look in the spice aisle) and a pinch of salt and stir to combine.
Dry the zucchini slices with paper towels – if this is not done, the flour will get soggy and stick to the chips with a damp clumps and roll them into the flour mixture.
Shake off the excess flour, place the zucchini chips on a baking tray lined with parchment and pop in the oven, preheated to 180 degrees.
Cook for 30-40 minutes, every 10 minutes turning the chips until crisp and Golden. If you still failed to reconcile the ideal thickness of each slice (and make it harder to tell) – remove chips from zucchini from the pan when ready.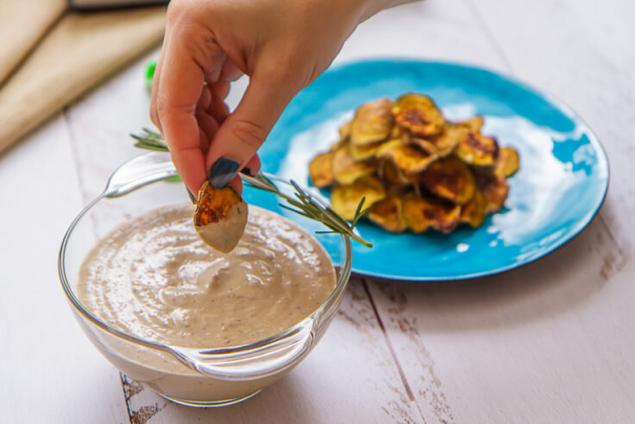 Suggest serving them with hummus from white beans. I also decided to cook it good, is made quickly, and a daring combination of ingredients creates an unusual taste.
So, connect the beans from the jar (without the liquid), tahini (if the tahini you have not, take a tablespoon of sesame seeds and crush in a mortar to a smooth paste), balsamic vinegar, chopped garlic and rosemary needles, add a little water or vegetable broth, and punch a blender until smooth.  
How to prepare tahina5 recipes detox drinks for every taste
If desired, the consistency of the hummus can be changed by adding more or less water.
Eat chips from zucchini as soon as they have cooled, dipped into hummus from white beans, and wonder why that you do not think of such a simple and elegant solution to the problem of junk food.
Cook with love !
Author: Alexey Onegin  
P. S. And remember, only by changing their consumption — together we change the world! ©
Source: arborio.ru/chipsy-iz-kabachkov-cukkini/