Summer is in full swing, which means that the coming season squash, zucchini and eggplant. Many thrifty housewives have made sure to make for winter preservation. However, the most important thing - is to get the vitamins and nutrients from vegetables in the summer, when it comes to their season. Folk wisdom says that if in the summer to eat a sufficient amount of vitamins in the winter disease will bypass your side. We offer to your attention the simple and tasty dishes of zucchini, which is certainly worth a try this summer!
Pieces of zucchini tempura (6 servings)

Ingredients:

2-3 medium zucchini; ½ cups flour; ¼ h. liter. pepper; 2 eggs; 1 cup breadcrumbs; oil (to taste); salt (to taste). How to prepare:

1. we will cut zucchini slices.
2. Place the wide bowls or dishes: eggs, flour and pepper and breading.
3. Dip the zucchini first in flour, then in egg and breaded.
4. Fry in butter on both sides.
5. Serve with sauce.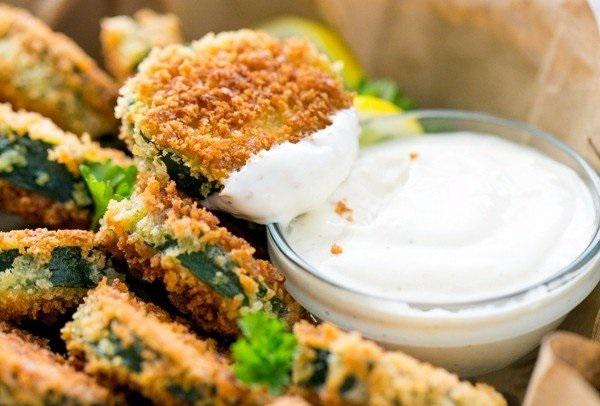 Squash in cheese sticks breaded (3-4 servings)

Ingredients:



2-3 medium zucchini (or zucchini); 2 eggs; 100 grams of Parmesan cheese; 1 cup bread crumbs; 2-3 Art. l. olive oil; spices (black pepper, Provencal herbs, dried garlic) to taste; salt (to taste). Method Cooking:

1. Rinse the zucchini under running water, wipe them dry and srezh tips of both sides.
2. we shall cut zucchini bars width of 1, 5 cm.
3. Take two plates: one vzbey eggs, and other mixed biscuits, spices, salt and grated cheese on a fine grater.
4. Dip the sticks of zucchini in egg mass, and then lower them to the dry mixture.
5. Spread wedges on baking sheet, ready made baking paper and oiled. Drizzle them with olive oil on top.
6. Bake for 10-15 minutes a snack at 220 degrees. Bon appetit!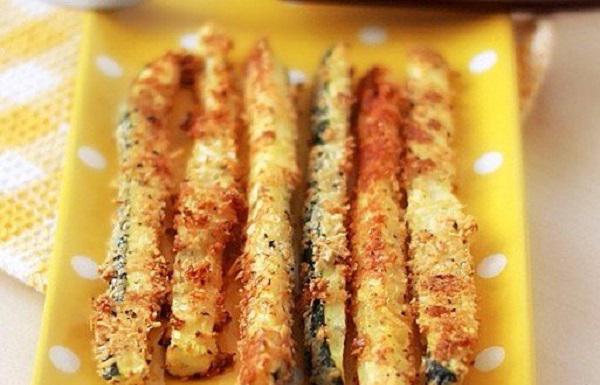 Dietary fritters of zucchini

Ingredients:


350 g zucchini; 50 g pepper; 50 g flour; 1 egg; 1 clove of garlic; salt, pepper, herbs (to taste). How to prepare:

1. Peel and grate the zucchini.
2. Grind the herbs and add to zucchini.
3. There also send the egg.
4. Add chopped peppers.
5. Pass through the press garlic and add to the mixture along with the flour and spices.
6. Mix. Fire away pancakes on a well-heated frying pan on both sides until cooked.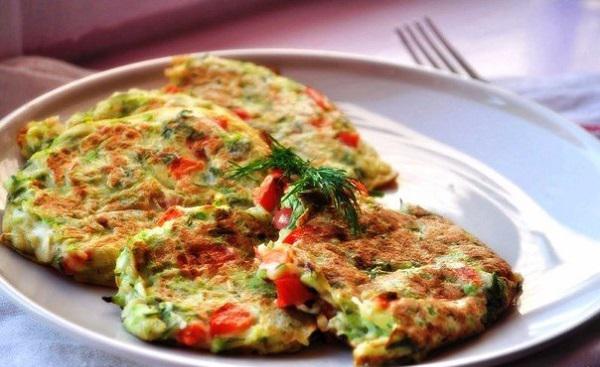 Ragout of squash and zucchini (6 servings)

Ingredients:


500 g zucchini; 250 g squash; 300-400 g cabbage; 1 onion; 1 carrot; 5 red tomatoes; 3 cloves of garlic; 1 h. liter. salt; 30 g dill. How to prepare:

1. Zucchini and squash peel and cut myself.
2. Finely chop the cabbage and fry in a deep bowl.
3. Add zucchini and squash.
4. In a separate pan fry the onions and carrots.
5. After 15 minutes, quenching squash and cabbage, add frayed tomatoes or tomato paste.
6. Even after 5 minutes - roasted onions with carrots and garlic.
7. Be sure to add seasoning. Stir and mascara, covered for 15 minutes over low heat.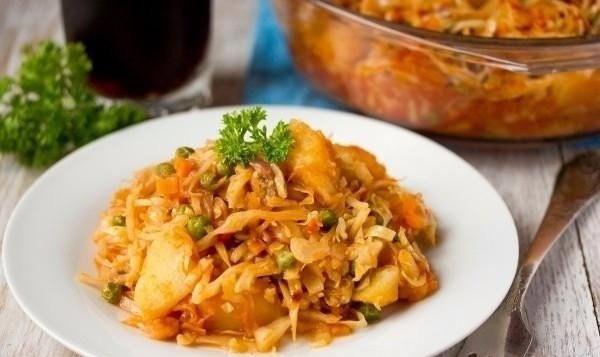 Zucchini stuffed with meat, breaded (5 servings)

Ingredients:


400 grams of minced meat; 1 zucchini; 2 eggs; 2 tbsp. l. flour; 3 tbsp. l. milk; salt (to taste). How to prepare:

1. we will cut the zucchini circles.
2. Take away the peel and core.
3. Rings zucchini tightly fill stuffing.
4. For the batter mix the eggs with the milk and salt. Flour mound separately.
5. Each circle roll in flour, then perch in batter.
6. fry in hot skillet until cooked meat, about 4-5 minutes on each side. Serve hot.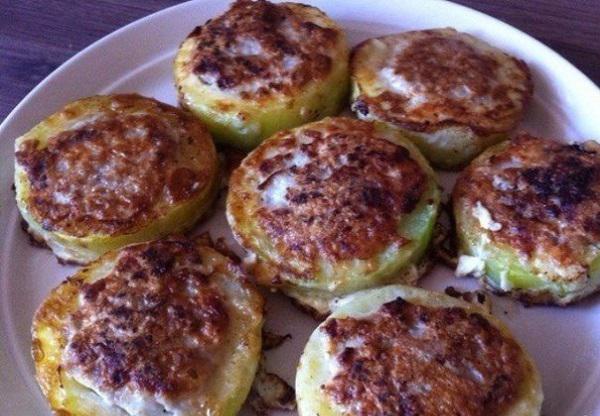 While summer is in full swing, Things to enjoy the excellent taste of vegetables, fruits and berries, as well as to saturate the body with vitamins and trace elements, which in the winter will be sorely missed. Show your friends, these simple and delicious zucchini. Maybe they, too, will share with you their recipes!

via takprosto cc