Grillowania eggplant is a fantastic base for cooking all sorts of dishes. We want to share their favorite recipes appetizers eggplant grilled.
Eggplant grilled in garlic and Basil marinade
This cold appetizer is our absolute favorite. Almost always we have in the fridge to find a jar of eggplant, cooked according to this recipe. And all you need is a couple sturdy balaganchika and almost universal marinade.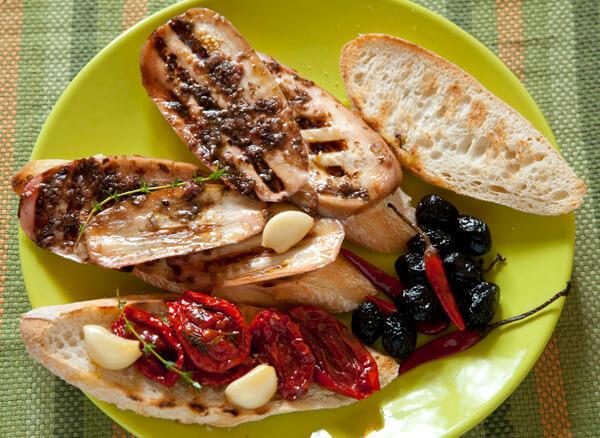 How to prepare:
Eggplant wash, cut into plates and fry in a dry sarode grill a couple minutes on each side. To prepare the marinade.
Marinade ingredients:
floor beam of purple Basil,
two cloves of garlic,
the juice of a quarter lemon
teaspoon sea salt
5 peas of black pepper,
100 ml olive oil
a teaspoon of balsamic vinegar.
To prepare the marinade:
Basil leaves, black pepper, garlic and salt grind in a mortar. Add lemon juice, vinegar, oil. It's good to add a bit of rosemary and lemon peel".
We make the marinade without the rosemary and lemon zest, but put more garlic and add more flakes of dried chilli.
Prepared eggplant to put in the dishes in which they are stored, promazyvaya each layer with marinade. Cover and refrigerate at least 3 hours, better overnight.
Very good these eggplant with sun-dried tomatoes and toasted bread.
Eggplant grilled in honey with spices
And the last hot appetizer of grillowany eggplant in Moroccan style. This dish is quite unusual, but it is certainly worth a try.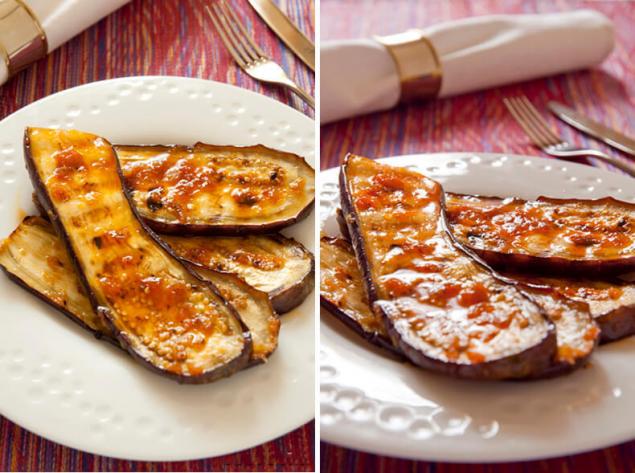 For 4 servings you will need:
2 eggplant
olive oil for frying
2-3 cloves of garlic, pound
1 tbsp fresh grated ginger
1 tsp. ground cumin (cumin)
1 teaspoon of harissa* (we had Tunisian)
5 tbsp liquid honey (we reduced the number to 2-3 tbsp)
juice of 1 lemon
salt
How to prepare:
Eggplant cut lengthwise fairly thick slices, lightly brush with olive oil and fry in a preheated gilevoy the pan, turning to brown on both sides.
To make the sauce. In a large frying pan, heat a little olive oil, fry in it garlic few seconds, add the ginger, harissa, honey and lemon juice. Slightly diluted with water if necessary and mix well.
Put in sauce and eggplant and simmer for 5-7 minutes until they are thoroughly saturated. If sauce thickens, add water. Ready eggplant add salt to taste.
Serve these eggplant should be warm with fresh bread and chilled wine.  
Cook with love ! Bon appetit!  
Also delicious: How to cook salad of raw cauliflower Amazing salad with strawberries and avocado
P. S. And remember, only by changing their consumption — together we change the world! ©
Source: zveruska.livejournal.com/18012.html