The gratin or gratin one from the popular French ways of cooking. And cook this way can be almost anything.
Cooking time:
35 minutes
Servings:
4-6
The complexity of the dishes:
3 of 5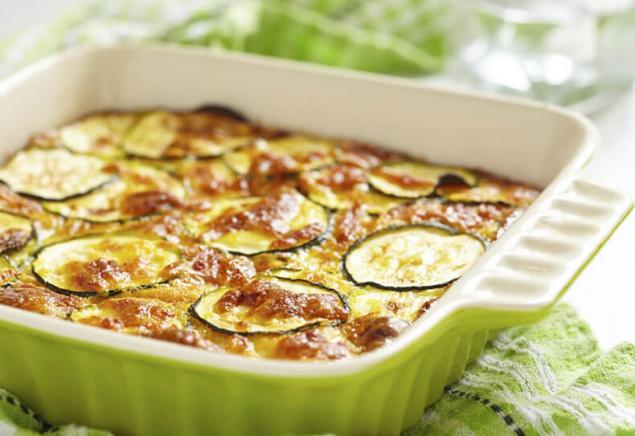 Ingredients:
1 kg zucchini
1-2 tomatoes (optional)
100 g of hard cheese
500 ml of milk
60 g butter + more for greasing
1 tbsp flour
vegetable oil for greasing
ground nutmeg, pepper, salt
How to prepare:1.
Zucchini slice thickness of about 0.5 cm. Spread on oiled cookie sheet and bake in a preheated 180 degree oven for about 10 minutes — until Golden brown. If there is a grid — it is better to cook on the grill.
Half of the zucchini overlapping spread in greased with butter a baking dish (we have the size of 28 cm by 18 cm). Season with salt and pepper. Top — a layer of sliced tomatoes.
2.
Prepare the Bechamel. Melt the butter, add the flour, mix well to avoid lumps. A thin stream pour the milk, add the salt, pepper and nutmeg and, stirring, cook on medium heat until thick (the consistency of liquid sour cream).
10 unusual usual Charlotte recipesSoups recipes to detoxify the body3.
Grate the cheese. Pour a layer of zucchini and tomato sauce (do not rush to pour all the sauce, perhaps it may be too much, he needs to only slightly cover the vegetables), sprinkle with half the grated cheese. Spread the second half of the zucchini. Season with salt and pepper. And sprinkle the remaining cheese.
4.
Bake in a preheated 180 degree oven for 15 minutes — until Golden brown (for brown, in fact, called gradinarova). And immediately to apply!
Bon appetit! Cook with love!  
P. S. And remember, just changing your mind — together we change the world! ©
Source: vk.com/academy_main?w=wall-46725206_23427