How useful eggplant and are they useful at all? Eggplants are a good source of vitamin K, thiamin, vitamin B6 and manganese. At the same time, this is not a nutritious vegetable has a very low glycemic index (only 2 units) and contains a lot of fiber, so it is especially suitable for people who are overweight. Best baked eggplant, as when frying they absorb a lot of oil.
Tahini for this dish you can prepare yourself. To do this, take 100 grams of sesame seeds and a tablespoon of vegetable oil, ideally sesame. Warm the sesame seeds on a dry pan for 5 minutes, stirring constantly. Will not overdo! Sesame seeds should not be yellow. Grind sesame seeds in a blender at high speed to the point where you begin to stand oil, and the seeds will stick to the walls of the blender. At this point add the sesame oil and turn on the blender for another 2 minutes. Mass has become completely homogeneous.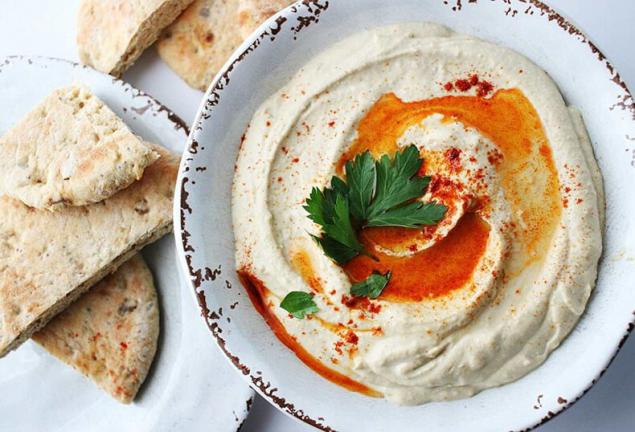 Ingredients for 4 servings
1 large eggplant
4 cloves of garlic with the peel
60 g raw walnuts
½ Tsp cumin
½ Tsp coriander
2 tbsp lemon juice
1.5 tsp. smoked paprika
1 tbsp tahini
1 tbsp olive oil first cold pressed
Himalayan salt to taste
For serving (optional)
Fresh mint
Raw vegetables (carrots, cucumbers, etc.)
Sesame seeds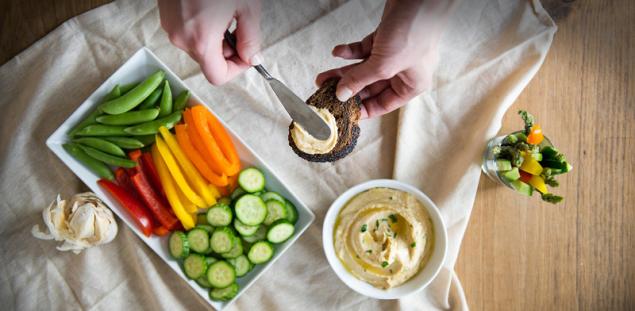 photo cavagrill.com
How to prepare:
1. Preheat the oven to 180 degrees.
2. Cut the eggplant crosswise into rounds 5 mm thick and sprinkle both sides with salt. Place the eggplant in a colander in the sink to draw out the bitterness from the eggplant. Leave on for 30 minutes.
3. At this time, place the garlic cloves in the peel on a baking sheet and bake for 15-20 minutes or until the garlic are Golden brown. Remove from oven and set aside.
4. Rinse the eggplant with cold water. Drain on paper towel and Pat dry.
5. Lay the eggplant on a baking sheet, lightly drizzle with olive oil and salt. Bake for 4-5 minutes on each side until eggplant is lightly browned.
6. Remove the eggplant from the oven and wrap in foil to retain moisture. Wait for 5 minutes.
7. Remove the skin from the aubergine, chop in a blender or food processor.  
Classic French pie with yogurt and yellow plumsFragrant tomato soup with saffron and mussels
8. Peel the roasted garlic from the skin and add it to the eggplant in the blender. There also add all the other ingredients, including olive oil. Grind to a creamy consistency.
9. Try it and add salt/spices to your liking. Serve with sprigs of fresh mint, sesame seeds, whole grain homemade bread and fresh vegetables.
Cook with love!  
Author: Valentina Gorbunova  
Source: freshlover.ru/recipies/pryanyj-humus-iz-zapechenogo-baklazhana/