< Apfelkuhen translated from German it as "apple pie." The recipe of this baking is very simple, but the taste captivates instantly! After tasting it, you do not want to have the oven banal charlotte: juicy, tender and so flavorful ...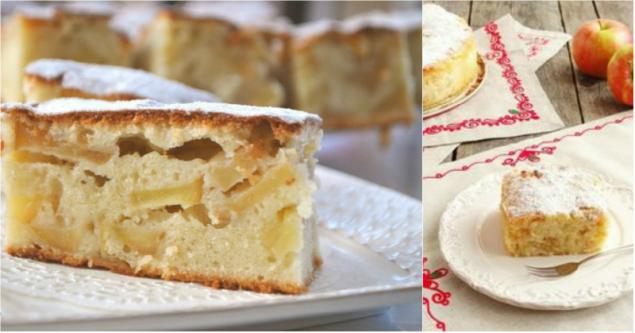 Priming apple pie
Apple pie with a prescription from the «Website» will be mastered by even a novice in the kitchen. Dessert succeed on the first try!

Ingredients 250 g butter 20 g of vanilla sugar 350 g of flour 250 g sugar a bag of baking powder (15 g) 5 eggs 1 kg of apples 0, 5, ch. l. cinnamon a pinch of salt powdered sugar for sprinkling

Preparation Put in a bowl the butter, sugar mound , vanilla sugar and pour balls Vzbey until smooth, add salt. Mix the sifted flour and baking powder. By adding a little flour to the oil blend, knead the dough (should get a mass of creamy consistency). Apples wash , cleanse from the core, we shall cut slices, sprinkle with cinnamon and add to the dough. Mix thoroughly. Form for baking Shots baking paper. Lay the dough with apples in the form. Warm up the oven to 200 degrees , put to the future pie and bake 40-45 minutes until golden brown.

Bring a cake sprinkled with powdered sugar. Convenient for this purpose to use a fine sieve. If you like to experiment, try to cook a cake with other fruit fillings: plums, peaches, apricots ... Especially tasty is obtained if the dough add a little walnut

. Bon Appetit! Do not forget to share the recipe with your friends!