Many people think that the cake "Prague" is named after the eponymous capital of the Czech Republic. In fact, the
chocolate dessert came up chief of pastry shop of the Moscow restaurant "Prague" Vladimir Gural'nik. For a long time I treat recipe was a secret. But the most enterprising housewives could reveal the secret ingredients of the cake.

Moreover, now there are several variations of the favorite dessert. < «Website» will offer you a recipe for "Chiffon Prague" today. Why chiffon? The fact is that for the preparation of sponge cakes do not use butter, and vegetable, and therefore they are very gentle, like the rest of the cake.

Cake "Chiffon Prague»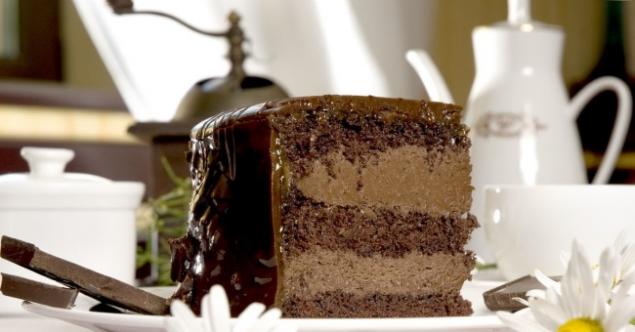 Ingredients for "chiffon" biscuit
230 g (180 g + 45 g) of sugar 200 g of flour 1- 2 h. l. baking powder 170 ml of water 60 g of cocoa 1 1/3 Art. l. instant coffee 8 egg whites 5 egg yolks 1/4 hours. l. soda 1/4 hours. l. salt 125 ml of vegetable oil

Ingredients for cream
200 g butter 3 egg yolks < / 4-6 Art. l. condensed milk 1/4 cup of water 60 g of chocolate 1 tbsp. l. brandy (optional)

Ingredients for glaze
3 tbsp. l. sugar 2 tbsp. l. cocoa 2 hours. l. ghee 50 g jam (preferably thick) 6 tablespoons. l. water

Preparation
Start with cooking biscuit
Ready biscuit let cool slightly. Get it from the oven and leave for 5-6 hours

Time to start cooking cream
the turn and glaze ! For its preparation you need to mix all the above ingredients and put on fire. 2-3 minutes - and the icing is ready Just a little bit ... cut the biscuit into three equal parts and each cake smazh obtained cream.. Top cut jam and then zaley hot cake frosting. Put the dessert in the refrigerator for about 30 minutes.

Congratulations, you receive the cancellation dessert! The cooking process was not easy and only costs, but now you can savor cooked their own hands cake "Chiffon Prague»
Invite your friends, make tea, and enjoy the wonderful taste of chocolate extravaganza.