Sometimes in the morning so we take the time to work, it's time to prepare breakfast, not at all, or in the evening we come home to his beloved work, and forces all disappeared somewhere. Fortunately, in such moments, we help out the dishes that can be prepared in just 10 minutes.
Salad with apples, pomegranates and almonds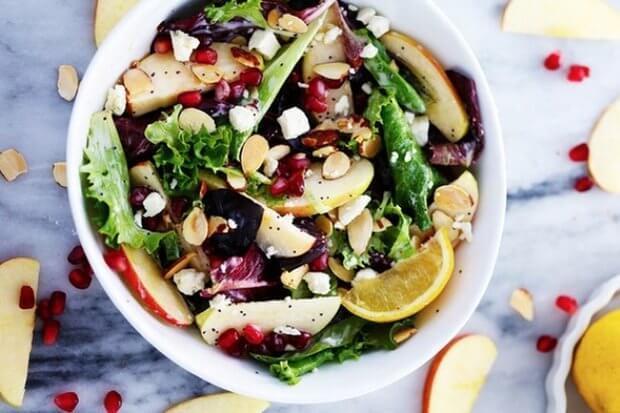 Ingredients:
6 cups of green
1 cup almond
2
apple ½ cup feta cheese
¾ cup pomegranate seeds
For the filling:
1/3 cup homemade mayonnaise
¼ cup milk
3 tbsp. l. sugar
4 h. L. apple cider vinegar
1 tbsp. l.
lemon juice 2 h. L. poppy seeds
How to cook:
1. In a large bowl, mix the herbs, almonds, apples, cut into slices, crumbled feta cheese and pomegranate seeds.
2. In a small bowl whisk together the mayonnaise, milk, sugar, vinegar, lemon juice and poppy seeds.
3. Refill the salad and mix. The dish is ready!
Sandwich with chickpeas, avocado, and cranberries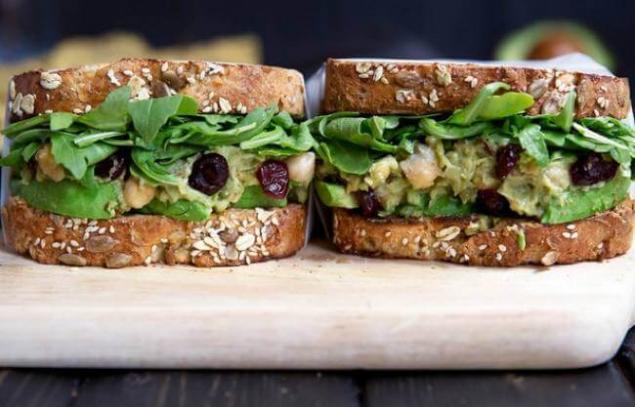 Ingredients:
425g canned chickpeas
1 large ripe avocado
2 h. L. fresh lemon juice
½ cup dried cranberries
1 bunch arugula
6 slices of bread
salt and pepper - to taste
How to cook:
1. Nut wash and dry them, and then in the medium-sized bowl mash it with a fork.
2. Add the avocado and continue to knead until the mixture is smooth, but does not transform it into a puree, let the pieces found there - so tasty
. 3. Add the lemon juice and cranberries. Season with salt and pepper to taste, then mix well.
4. roasted slices of bread, then spread on them resulting mass. Add the arugula and cover with second slice.
Scrambled eggs in tomato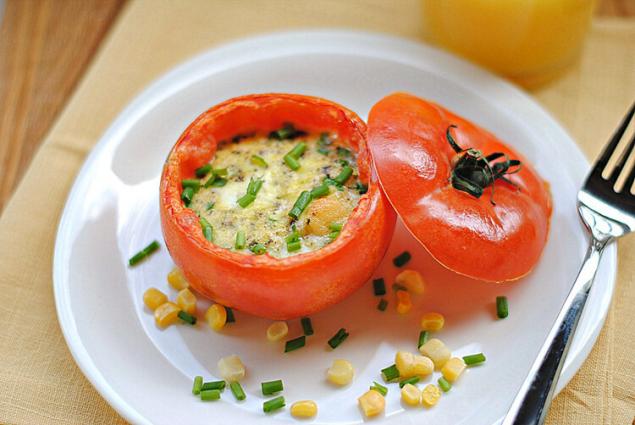 Ingredients:
4 large tomatoes
3 eggs
100 g of cheese
2 tbsp. l. green
black pepper and salt - to taste
How to cook:
1. Tomatoes wash and cut off from the tops of them. Gently using a teaspoon pull out the middle.
2. Egg whisk with grated cheese on a fine grater. Add the chopped parsley and dill. Season with salt and pepper.
3. Tomatoes pour the prepared mixture and covered "caps" (the tops of the tomatoes).
4. Bake at full power in a microwave oven for 3 minutes. Bon appetit!
Nut cereal with banana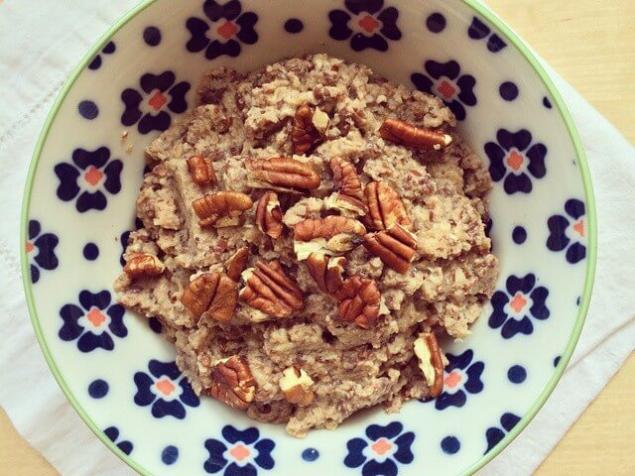 Ingredients:
1 banana
30 g almonds
20 g of flax seed
10 g pecans
1 egg
1 egg white
50 ml milk
cinnamon - to taste
How to cook:
1. Take a banana and mash it with a fork to mash the state. Pecans lightly grind. Almonds and flax seeds in a blender grind.
2. spread the prepared ingredients in a saucepan, add the egg and egg white, then pour all the milk and mix thoroughly.
3. warms the mixture on medium heat, stirring constantly, for 5-7 minutes. Serve, sprinkled with cinnamon and garnish with nuts if desired.
Sweet toast with honey and hazelnuts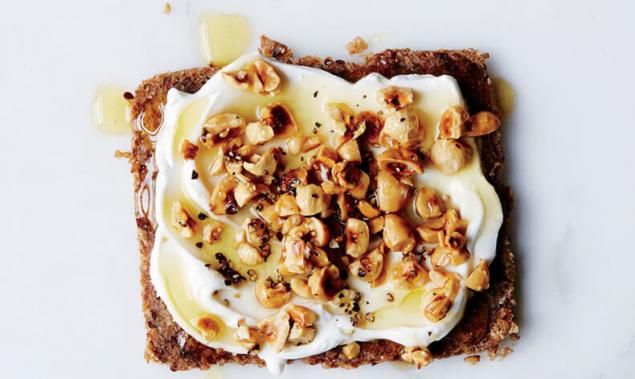 Ingredients:
3 tbsp. l. hazelnut
1 h. L.
olive oil 2 slices wholemeal bread
3 tbsp. l. Greek yogurt
2 tbsp. l. honey
black pepper and salt - to taste
How to cook:
1. Hazelnut finely cut up into and mix with olive oil. Salt, pepper.
2. Bread lubricates Greek yogurt, on top Put the hazelnuts and pour honey. Bon appetit!
Salmon with mustard sauce maple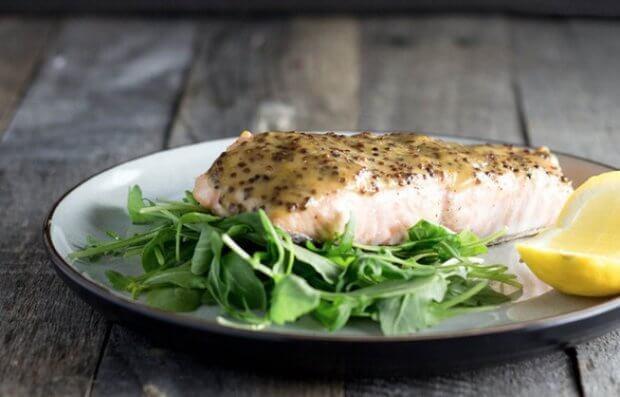 Ingredients:
2 salmon fillets
1 tbsp. l. grainy mustard
1 tbsp. l. Dijon mustard
1 h. L.
maple syrup 1 h. L. olive oil (refined)
salt and pepper - to taste
How to cook:
1. 30 minutes before cooking salmon pull out from the refrigerator to become room temperature.
2. Preheat oven to 200 ° C. Stela on a baking sheet baking paper and grease it with oil.
3. The fish were dried with paper towels, salt and pepper. Then put it in the pan skin side down.
4. Mix the mustard, oil and syrup and pour the sauce over the fish.
5. Bake the dish for 10 minutes, then serve to the table.
Dietary soup with avocado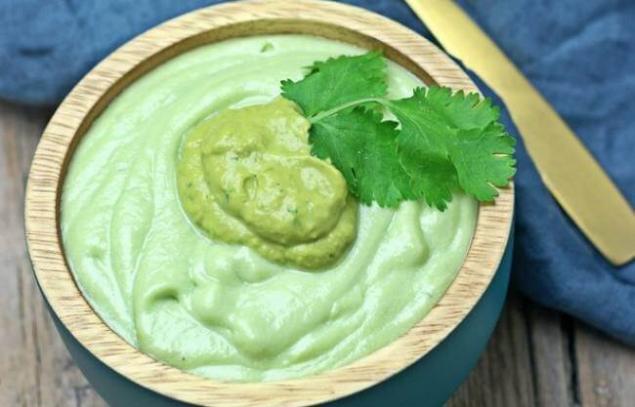 Ingredients:
For the topping:
70 g cashew nuts
180 ml of water
a handful of fresh cilantro
2 tbsp. l.
lemon juice salt and pepper - to taste
For the soup:
2 ripe avocados
400 ml coconut milk
2 cloves of garlic
salt and pepper - to taste
How to cook:
1. Take the cashews and soaked it in hot water for 7 minutes. Then drain the water.
2. Cashew cilantro and add to the blender cup, pour water and lemon juice and season with salt and pepper. Beat until puree state.
3. Take the garlic, crush it with a knife and chop finely.
4. Place the avocado in a blender bowl and garlic, pour the coconut milk, salt and pepper. Beat until smooth, uniform consistency. If you want to eat the soup hot, pour it into a pan and heat.
5. Before serving, add the topping and decorate with coriander.
Soba with green peas, basil and parmesan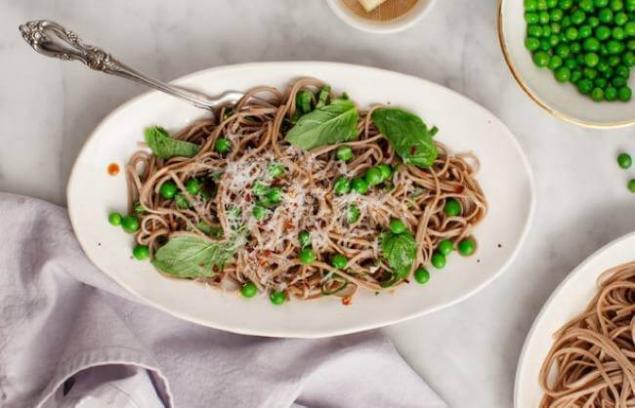 Ingredients:
170g soba noodles
1 tbsp. l.
sesame oil ¾ cup fresh peas (you can take frozen)
1 tbsp. l. tamari sauce (can substitute soy)
1 cup fresh basil
½ cup finely grated Parmesan cheese
a pinch of red pepper flakes
freshly ground black pepper and lemon juice - to taste
How to cook:
1. Boil soba according to package directions. When the noodles are cooked, remove it from the pan. Water does not merge, and leave to cook peas.
2. Gently wash the noodles, put in a bowl, pour sesame oil, stir and set aside.
3. Pre-prepare a bowl with water and ice and put it next to the pot.
4. Cook the peas for 1 minute, then drain the excess water and place the pot in a bowl of ice.
5. When the peas to cool, well we dry it and send in a bowl of noodles. Adding to tamari, basil, cheese, red pepper flakes and freshly ground black pepper. Good mix, sprinkled with lemon and serve.
Salad of carrots, apples and pomegranate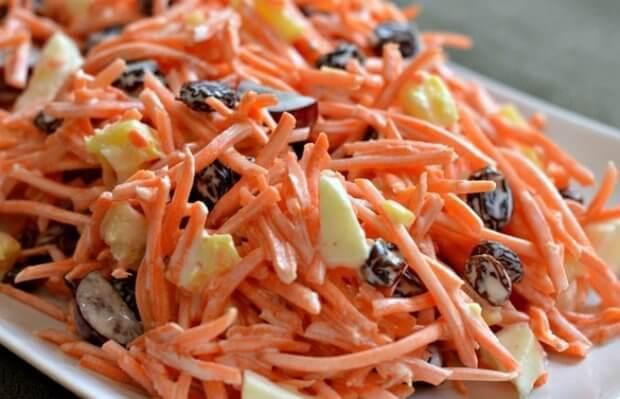 Ingredients:
2-3 large carrots
1 large sweet apple
1 tbsp. l. fresh lime juice
2 h. L. honey
2 tbsp. l. homemade mayonnaise
¼ cup raisins
¼ cup dried cranberries
½ cup pomegranate seeds
How to cook:
1. Grate carrot, apple cleanse and cut into cubes and send it all in a large bowl. Sprinkled with lime juice and mix well.
2. Add the honey, mayonnaise, cranberries, raisins and mix well. Pour pomegranate seeds on top and serve immediately on the table.
Also, you might be interested in:
5 best vegetarian recipes
Cherry tomatoes, baked with thyme, garlic and olive oil
Kiwi with natural yogurt and biscuits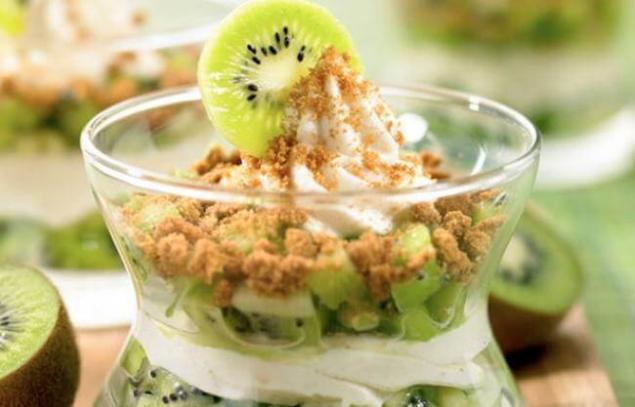 Ingredients:
400 g of natural yoghurt
8 Kiwi
8 pcs. crispy pastry
4 tbsp. l.
brown sugar How to cook:
1. Kiwi fruit peeled and cut into cubes.
2. Beat yogurt with sugar. Then, kiwi and yogurt spread in layers kremanku. Sprinkle with a little crumbled biscuits and serve.