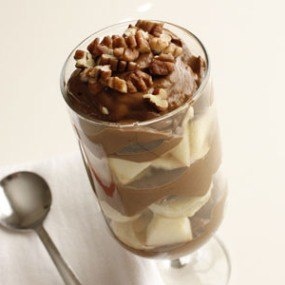 Since it is always nice to start the day, whether it is working - because it will give a lot of energy and vigor for the important things; or off - because it will help to relax and tune in the desired relaxing mood. Also, it can be served parfait and as a dessert, as the dish is very sweet and lively, it will look perfect in the role.
What do we need to prepare parfait?
1 ripe avocado, 1 teaspoon vanilla extract (or any other of your choice), 2 tablespoons of raw cocoa powder, 2 tablespoons honey or any other natural sweetener, and 3 tablespoons water (or more, depending on what you need consistency); Half chopped banana; Half chopped apple; A handful of chopped nuts (I personally used pecans).
Prepared as follows: in a blender mix the avocado, vanilla, cocoa, honey and water. Stir until smooth pudding. If not, add a little more water. Next, lay out the layers - first layer of pudding, then a layer of our fruit, then again and again pudding fruit ...
Very nice this dish will look with nuts or any seasonal fruit. And also, it's very nutritious, so immediately after a meal you will feel the unprecedented influx of energy.