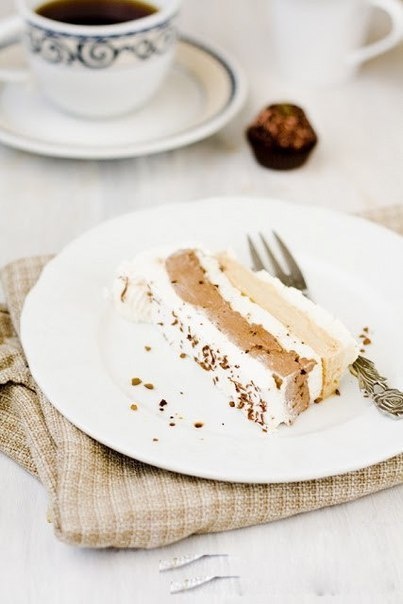 Ingredients:
Meringue:
5 protein + a pinch of salt
Powdered sugar - 250 g
Cornstarch - 1 tablespoon
Lemon juice - 1 tablespoon
Base layer:
5 egg yolks pinch of salt +
Vanilla sugar - 20g
Cornstarch - 9 tablespoons
Milk - 1 liter
Vanilla pod
Butter - 200 g
Coffee layer:
White Chocolate - 100g
Instant coffee - 1, 5 tablespoons
Rum - 1 tablespoon
Chocolate-hazelnut layer:
Bitter chocolate - 150 g
Hazelnut - 80 g
Heavy Cream - 300 mo
Instant coffee - 1 teaspoon
Vanilla sugar - 10g
Preparation:
Meringue: heat oven to 125 ° C. Tart Cover the parchment paper.
In a clean, dry bowl to mixer vzebye proteins solyu.Postepenno Stir in powdered sugar and beat on high speed until peaks air. Add starch and lemon juice. Put this mixture on a baking sheet. Bake for about 90 minutes. Once the meringue is ready, cool it completely and remove the paper. Cut along the meringue into 2 parts, to get the 2 layers.
In a small bowl whisk together the egg yolks, vanilla sugar and normal. Add a starch and a few spoonfuls of milk. Stir until smooth. Pour the rest of the milk in a saucepan, scrape the vanilla pod and bring to the liquid to a boil. Remove the vanilla pod and pour the egg yolks into the milk. Cook over low heat, stirring occasionally. Bring until thick. Remove from heat and cool completely. Beat the butter with a mixer and enter it into the main mix. Divide the mass into 2 equal parts.
Melted dark chocolate mixed with chopped roasted nuts. In one part add the chocolate-nut mixture.
Dissolve coffee in a tablespoon of rum and enter into the second half. Add the melted white chocolate and stir.
In a bowl mix the cream, vanilla sugar and coffee. Whisk until smooth. Put 1 layer of meringue on a plate. Spread cream white chocolate close second layer of meringue. Put the chocolate-nut cream and top - whipped cream. Sprinkle with grated chocolate and serve.