So the day came when I became a dad! Happy father of twins (a boy and a girl!)
In this connection, accept congratulations!
And also want to remind you ...
Some of you may remember my post. It has been almost half a year ... and most of our ideas came to realize.
Is that parrots are still nowhere to go, so as a refrigerator, where they are to be discarded, and the new will be much higher ... And these ruthless devils ready to bring any !!!
Constant feathers, shrieks, and other hardcore. Not to mention the fact that they nibbled ceiling moldings, feathered creature. Well, I do not about this)
I applied to them newfangled "sanctions", hanging in front of a portrait of GDP cells (such as calmed down before the king vsiya)
11 pictures, with my ridiculous comments,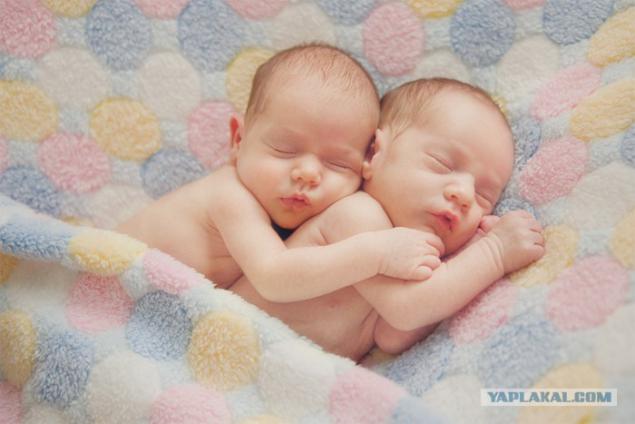 1. would look like one of the parties a child's room (if you still are not lazy and looked at the previous topic, the difference can be seen)
Both beds we drove relatives, as to the double we were not prepared financially, but to take the parents / brothers / sisters / other relatives and we did not drop disdain - I think this is quite normal. One bed with a pendulum, the other without.
Both are going to very easily. Collected without any instructions, because they are simply not there.
About pendulums as I could learn my male brain - say no Shipka is a useful thing, they say if the child is accustomed to it, "Kacha" that without it he did not fall asleep, but I'm not a master, so I can safely call last words)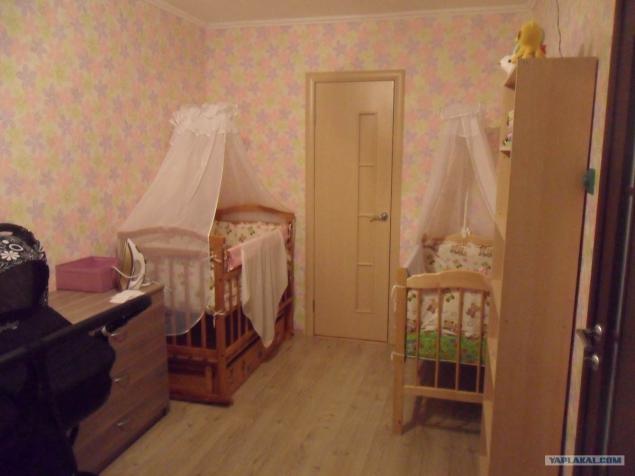 2. Here is the second bed, ordinary tree. Mattress some clever wife forced to buy - on the one hand coconut, on the other hand some other garbage. In general, a child will appreciate ...)
Near shelves (I Cap). This thing the way I recommend, if not immediately, then in the near future to fix to the wall, because not a few cases when a child (learning to walk) was turning it all over, and all ended very pitiable.
Shelves considered a very convenient option, walked - took nappy / diaper, wiped kakahi old, wore a diaper / nappy, and everything! Do not waste time on opening section nagibaniya and so on.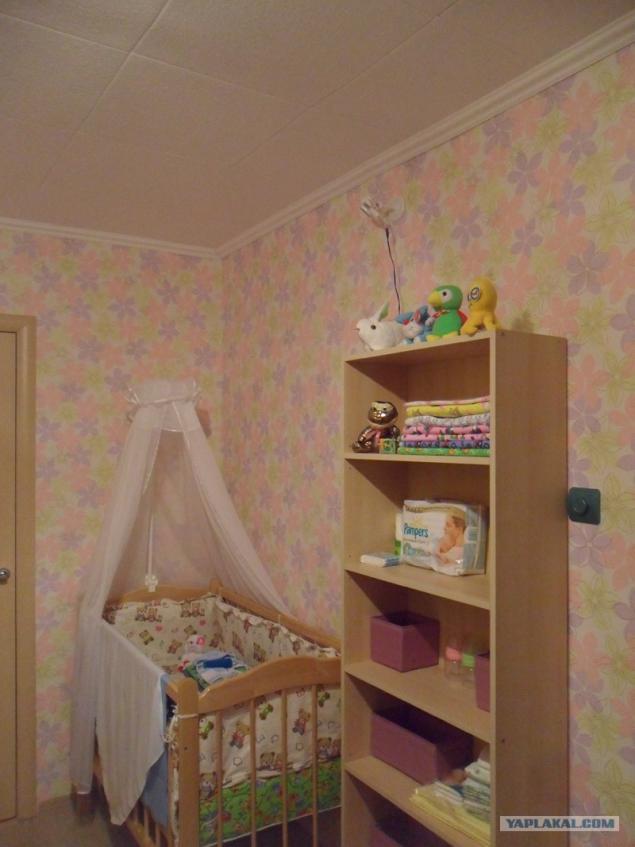 3. And here is gone high-tech. When my Betrothed to tell me how much a baby monitor, I honestly mean it is not filed, but thought to myself that such a device (at a cost of 3.5 to 5 thousand Russian rubles) can safely capture ultrasounds, hear ghosts, and how the neighbor fart hamster in cell.
I will not spend too much for a long time, bought a normal IP camera (worth 2-3 TR), which is connected to the router, and all - the device works.
Broadcast video and audio to any device within the network, as well as on an Internet. Any androyd and i-Device boldly accepts it (well, in the same computer, but it is too old-fashioned)
That is, roughly speaking - I can observe, for example on your phone / tablet (and hear) what is happening in the room while I was in the kitchen, but I can at least in Amsterdam.
The device can be configured so that it will record video and audio in response to movement / volume. There's also a function of night shooting.
Well, tell me what this thing is worse? Radio babysitter expensive, and only the sound of dragging. And then all in one bottle.
The only thing - boosted the power cord, do not reach the outlet. A router is connected to a wi-Faya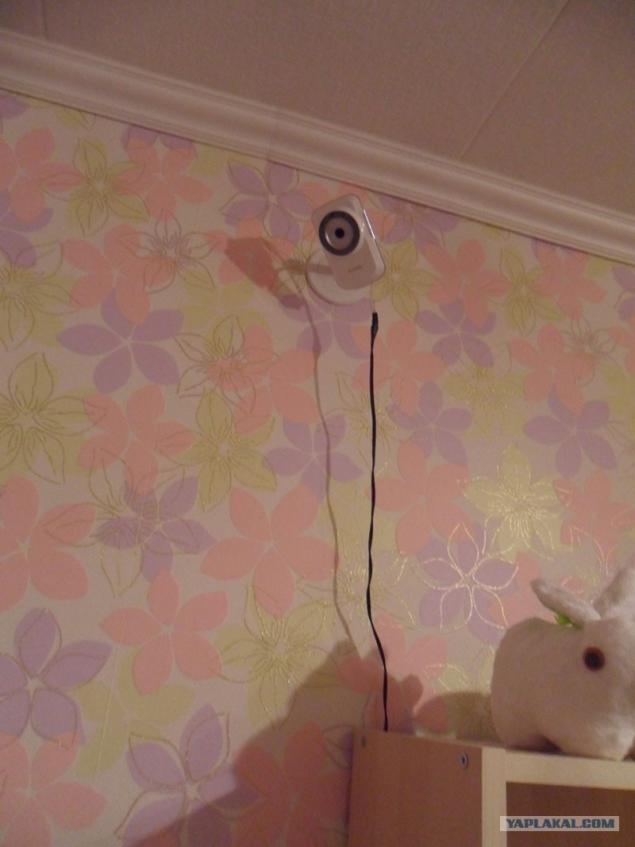 4. crib.
Wife hung all sorts of canopies and so on. I'm still able to speak, so I will tell a little about the shrouds (such garbage soft, with bears).
In general, shopping, one such set - from 3 thousand rubles.
Feel free to multiply by two, and things are not so rosy)
Climb on our favorite aliekspress and found 1 in 1 in store, only 1.500.
Come - and I'll tell you a quality I have not seen even from us! The main thing to choose wisely seller.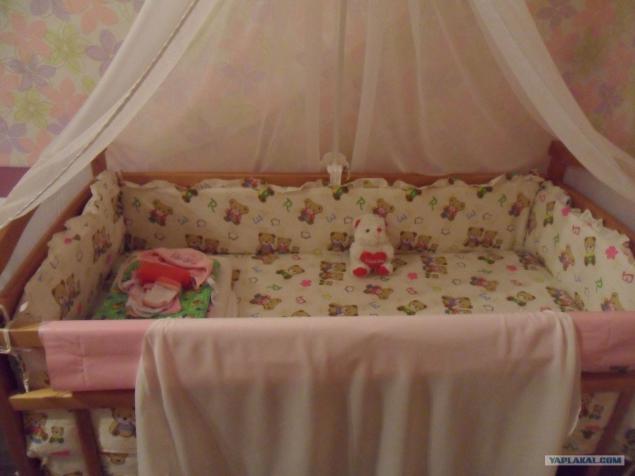 5. This crap is transformed into a very comfortable single beds. Stuck in handy when you have two small children, and her husband well, really need to sleep At least an hour to get to work and travel. But for this there is such a device.
Do not tear me feminists - you can watch in this chair turns) Next is a miracle lamp from IKEA that night, it was possible to read Jules Verne, well or Darya Dontsova, as anyone.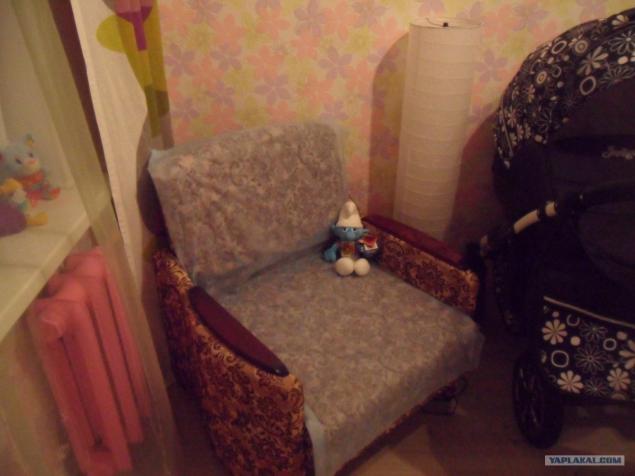 6. Lighting. Hung without problems, though what that ceiling we horseradish, all strewed yet drilled, but the quality of the house, I wrote in the past "article».
Decided it would be a good option to buy such a device is sent to the right place, and in the color suited to wallpaper.
For people who want to focus distant - cartridges on such Chinese chandeliers - plastic, so the bulbs are strictly no more than 40 watts, otherwise everything will be very bad! Personally watched my parents, as one after another within six months were covered ceiling.
You can connect Led lamps, they are brighter, and power / heat dissipation better. But we should dimmer, and the nearest store dimmable LED lamps I have not found.
By the way, yes, if you buy a dimmer - keep this in mind, led lamp will simply turn on and off, there will be no soft start.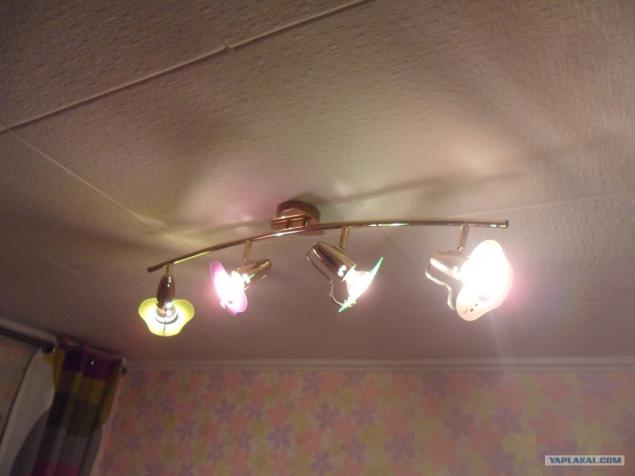 7. And here is our "Closet»
All this garbage was purchased exclusively in Ikeja. As you remember from the previous post - I wanted to do a little bit differently, but did not)
Top shelf, bottom shelf with drawers, well, a place for trash. Now the "closet" can be very ergonomically zasrat junk: D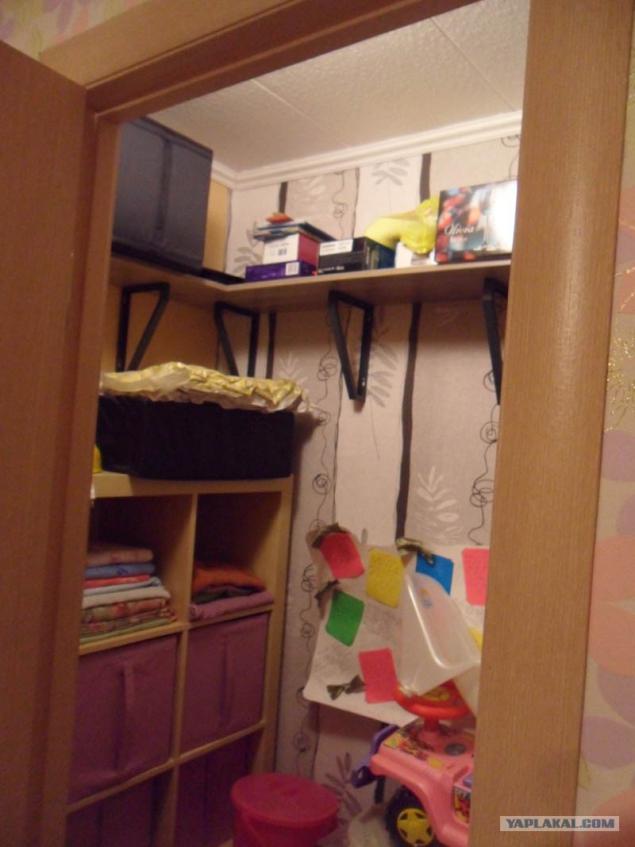 8. She. By the way the device which is to the left (dereyanny with blue thread) asked his wife to do to while away your pregnancy, it's something like a homemade loom, there can be associated homemade children's Baby Soft. But as time passed, his stomach was growing up, and finish her simply was not strong enough and worth the entire wound.
Rukodelniki (no matter), who is very interesting read on the Internet, blankets out very cool.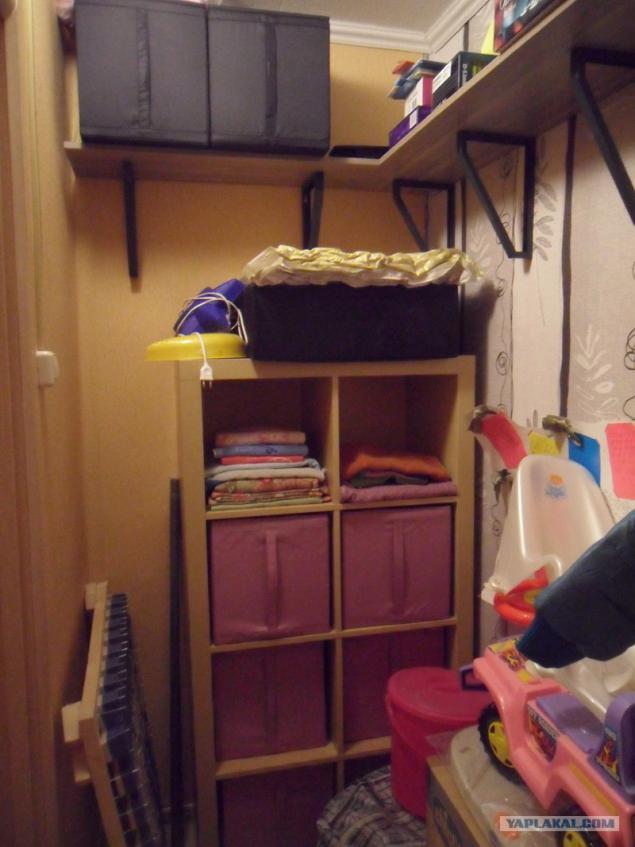 9. And this miracle hanger. for a long time thought of as something similar to do, and here as always IKEEEYA. Bought / brought / set. Their functions are carried out, the truth is a feeling that the design is not particularly strong, but the statement of strength should be sufficient.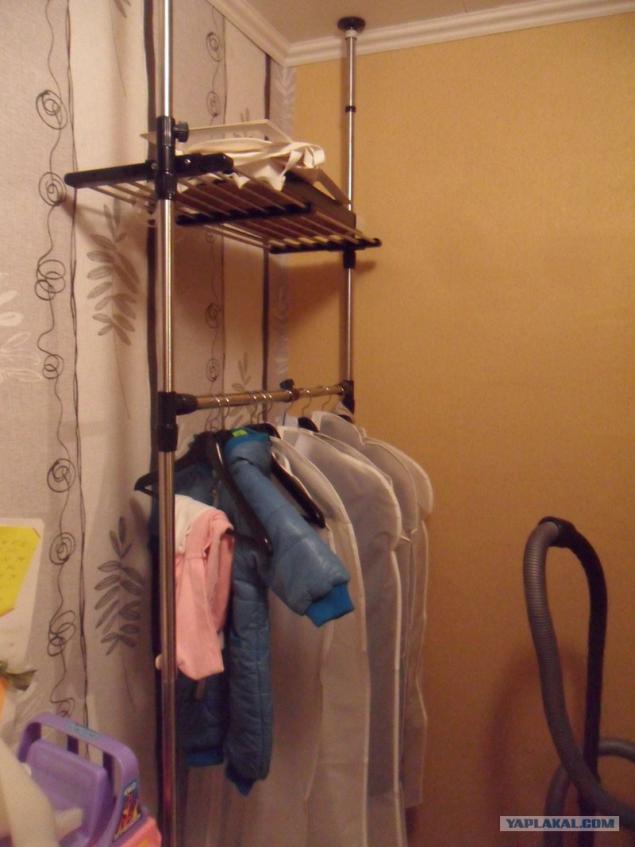 And here we are nearing the finale:
10. Wheelchair.
Yes, brothers and sisters, it pesdest. When I brought it, I realized that when assembled it is impossible to roll out of the room and any standard doorway.
Understands the benefit it is very easy, so no problem. Is that a frail woman should get 20 kg of strollers, and that's not counting children. Therefore there is a 80 kg man who will help)
Carriage ordered from the online store, as the network and brick and mortar stores in the city was one bad, or for fabulous prices.
And here and equipment (walking blocks, building blocks, bag, rain gear, mesh ... and other garbage, you can read about it - Slaro indigo duo. True everywhere different configuration, we ran into a maximum, and put together with delivery in the field of 21 thousand rubles .)
11. Well, here's some general form, so that there is some logical conclusion of my drunken idle talk.
Summing up we would remind you that all this was done very budget.
I can not wait for the appearance of my wife, and my children at home. Even today, approaching to the maternity hospital to convey things my wife wanted to portray Peter Parker and somewhere to climb. But the probability pi # Danuta was high, and I gave up.
Was ready to whine at the door as a doggie guard, but these women do not know mercy, so Guys - this will not work, do not try.
We peasants in this period only one thing - to prepare the apartment for the arrival of the family, and in the breaks hopelessly drunk with friends, because then there will be no time for it, and rare moments of rest will seem to us existent paradise on earth)
Thank you all! All good!
Go for a sleep and a little cry! (Just kidding)