Shout day with the mistress of a small cafe and learn how one person manages to be a director, a cook, and even the bartender.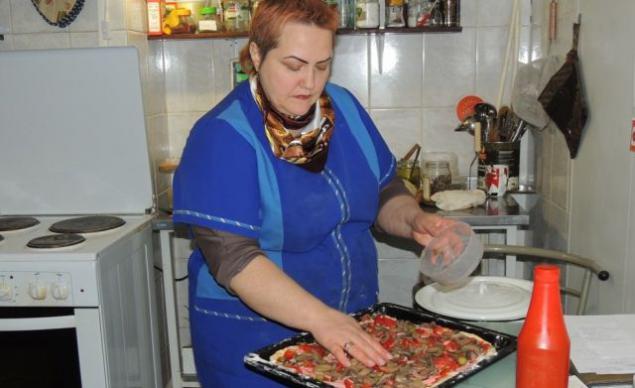 Olga Malyasovoy 40 years. Have a small, albeit a small restaurant, it was her lifelong dream. Finally, it happened. Now she is the mistress of her own small cafe where she is not only a director and administrator, and cook, salesman, and sometimes even the bartender. Dreams that will soon be able to unwind and hire workers. In the meantime, in a small cafe employs only three women, including the owner.
From "defense" to cook
By education Olga techniques. She graduated from Volgograd mechanical, now an industrial, technical school. She worked at the factory, but in the 90s when "defense" work became almost impossible - to submit, as everything on the market. Please just traded things, then opened his own fish market, and now and its cafe.
The entire interior of the institution - the work of Olga. Adorns the dining room, sewing curtains and painted the walls herself, with his own hands.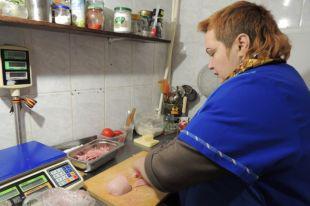 Cafe opens at eight in the morning. By this time, Olga Malyasova with his girlfriend, by the way, namesake, time to bring the room in order. While one washes floors, another kneads the dough for future pies and rolls. Hands Olga smooth, white, strong. So cook easily copes with the test itself, without any trendy "gadgets" -testomeshalok.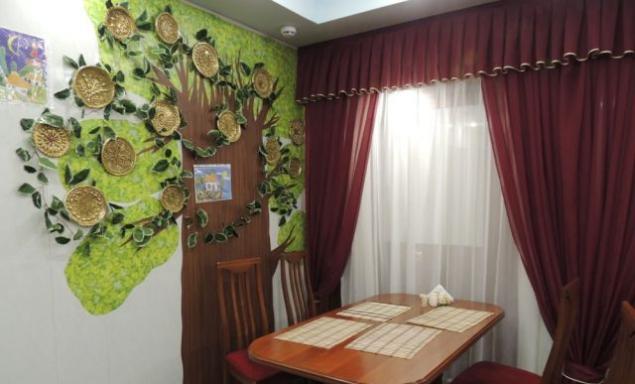 "I am always well prepared - says the hostess cafe and part-chef. - Especially like to put the dough. This is my luxuriant, butter is obtained. That caught the room, decided to take a chance - open cafe ».
Olga divide the dough into pieces. Hanging in plastic bags to 8 kg. Remaining the same goes for the manufacture of a future baking.
Evaluation of primo
Closer to 9 hours appear first visitors. In general, women. Mistress in a hurry to buy fresh pasta for dinner, to please households own pies.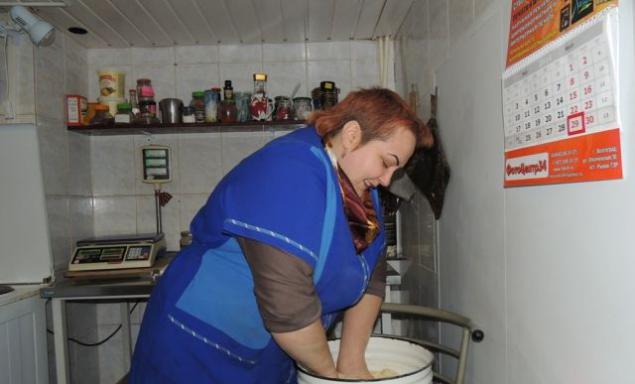 Among the visitors - local prima cooking Nina. By education cook, she worked for several years at sea resorts, delighting his skill vacationers. Recently Nina in such trips longer rides and is mostly at home, doing no less honorable mission doting grandmother.
After examining and evaluating the quality of the dough baking, Nina his verdict - a wonderful pastry and biscuits gorgeous.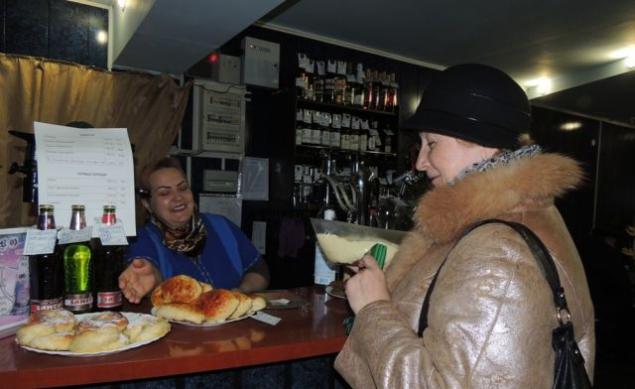 "I worry every time - says Olga - I alone impressionable and, most importantly, so eager to clients liked».
Of course, not all clients are at Olga. What to hide, there are problematic. Once in the cafe went tipsy man, and while waiting for my order, had to eat all the pies and cakes from the bar. When women charged him claim - refused to pay. Came to the aid of video surveillance system. She, by the way, installed in all premises places, and woe-consumer under the onslaught of evidence and employees Chop had to surrender and return the money.
"That's just brought the money, - Olga shows 300 rubles - but something much. You, Ol, do not remember how he had eaten? In my opinion, for 250 rubles, not more. It will be necessary to return the money to him when he next comes "- says the hostess.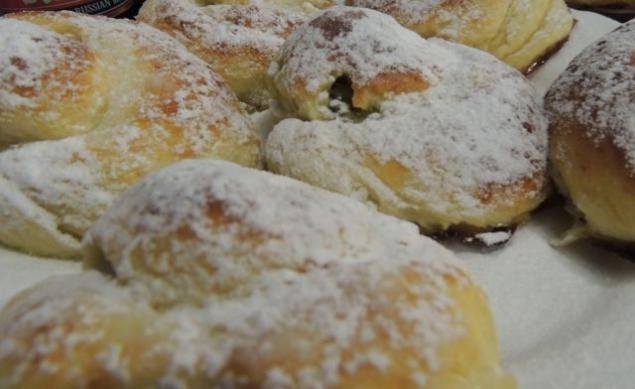 Athletes - by polportsii
"Olga, there came to our athletes at polportsii" - shouts from the bar hostess girlfriend Olga.
"They come to us several times in succession, - says Olga smiling - together with their mothers, but take only polportsii. Since we have big portions, we, upon request, one divide into two parts. " Business lunch in the cafe itself is not. But every day, Olga prepares necessarily several so-called "duty of dishes." At this time in the menu - soup, mushroom soup, buckwheat, cutlets and chops.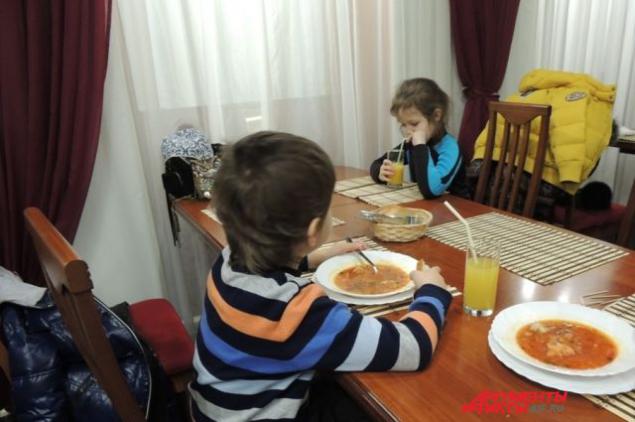 Mother of the children bought soup and cutlets with buckwheat. Kids say the most they are like salads and pastries.
"I myself Kuma - says Olga, - and therefore decided to name his cafe" At Kuma. " I have two goddaughter and godson. He lives in Adygea and girls both in Volgograd ».
At Olga's two children. Eldest daughter of 21 and son is 9 years old. It was he who suggested the idea of ​​a children's holiday mom with animators and competitions. Mom son supported, and here, in the next few weekends a feast to be held. Women discuss exemplary menu for children.
Agree that definitely need to make pizza, sausage rolls, to give everyone a bottle of lemonade. Entrance is not free. Wishing to have to pay for a complimentary ticket 300 rubles. While on friends and acquaintances tickets slowly, but still disagree.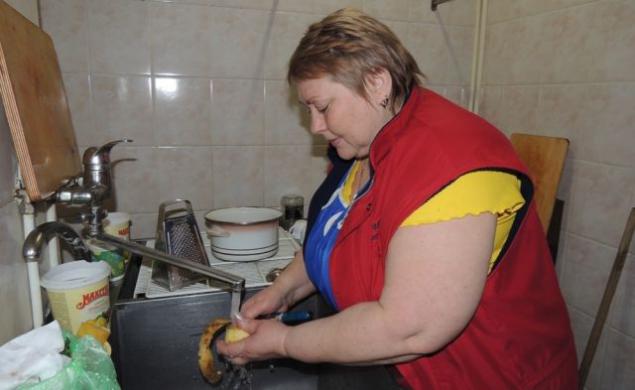 Administrative affairs
At lunch in the cafe come pharmacists and accountants. Olga puts work in the kitchen. You must fill in the paper, put the press, make an order for the following supplies.
"I'm not saving on the products, - says Olga, - if the meat, so the meat. Vegetables, fruit - only from reliable suppliers. But even so, lunches we get cheap. 150 rubles you can order and the first and second, and even on the compote will ».
"I have all these good pharmacists - says the hostess cafe. - That's just a pity, for the umpteenth time people change. Sasha was a boy - survived him at work, now girl Anya also dismissed - sigh Olga, signing ordinary acts. - You give me your cell phone, personal, and not working - Olga refers to a young girl-pharmacist - suddenly hear who the employees are required - call you ».
Girl agrees with hunting and calls the number.
Cafe Olga young. More and three weeks had passed, they opened. Therefore, the hostess is very worried whether it pays off lease.
"For me the credits. Where do without them? Do not open the same if the loan is not You take. At the expense of rent to make repairs in the room, so long as no fee, and the money is used up as these, I hope that we can unwind and pay rent, and employees naymёm - says Olga ».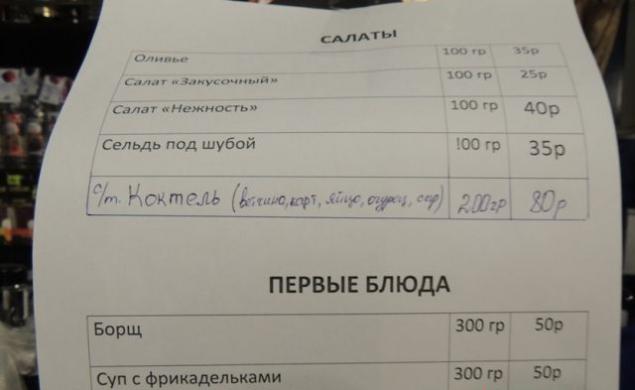 After graduating administrative affairs, Olga is taken for cooking. You must cut products for the future home of pizza.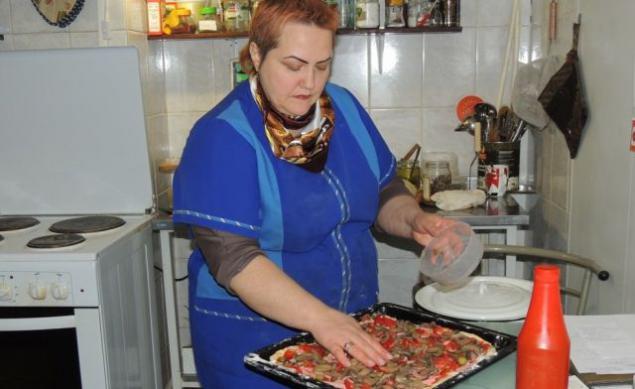 Fillings Olga does not regret. Puts sausage, mushrooms, tomatoes, olives, all it pours ketchup, sprinkle with cheese and put in the oven.
"I do love to cook in the oven - put and wait until cooked. Here at the stove infusions, will come home, and then the second shift "- Olga laughs. But home is not given much to relax - ask too cook something. Especially recognized Olga, like in her performance baked chicken and patties.
After lunch, the number of visitors is significantly reduced. And the cafe workers formed a break for a snack and drink tea with biscuits - homemade.
Kitchen - female place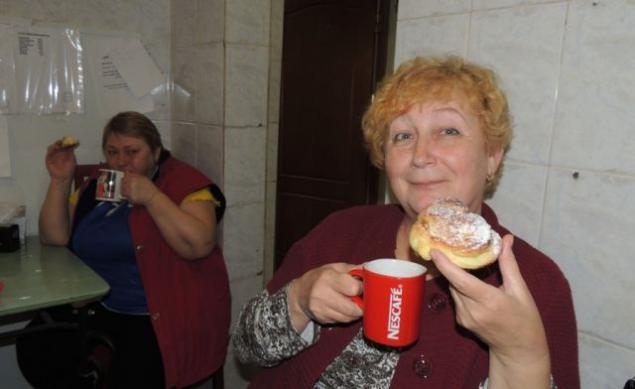 "I think the kitchen is exactly as originally created for women, - says Olga. - There is always a warm, cozy, home-like. Maybe if someone does not like to cook, to be a burden, and if you love to cook, what could be better than the kitchen? For me personally, directly soul sings when I, for example, put the dough. Even words convey impossible ».
Prepare meals, Olga is going home. Instead, she remained in the cafe friend Olga and Xenia bartender. They will work until late yesterday. When visitors leave the past, women will clean them dishes, rub the tables and wash the floor. No one else to help them. In an institution employs some women.
--img13--
Source:
www.aif.ru