Cheap travel abroad is possible even in a crisis.
Just follow three rules:
1. Give the services of travel agencies.
2. Choose an inexpensive country.
3. Book everything in advance.  
We studied guides, forums, reports, bloggers, book sites with the prices of the products and chose the most affordable country to holiday.
For each calculated budget for the two day and translated it into dollars.
This is the average amount for a pair of travelers who live in the same room, do not like to spend too much and fully adhere to the Golden mean.
Indeed, under the comfort of all know different: one will be enough beds in the hostel, and among other five-star hotels still puybaraud. So we did not take into account luxury hotels and restaurants, and found out how much it costs to eat in local cafes and stay in guesthouses, mini-hotels or apartments on Airbnb.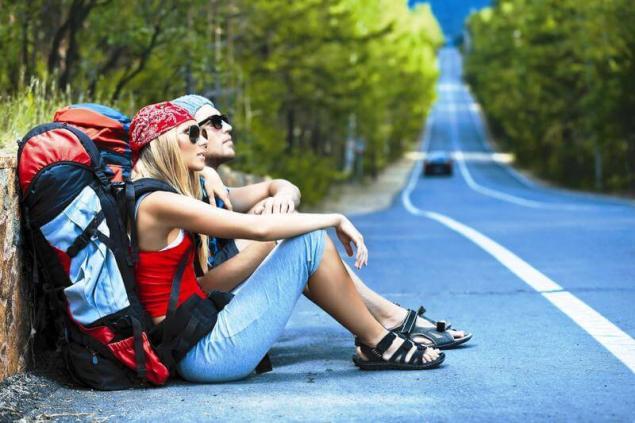 In some countries, expenses are cut in half to two times, if you use public transport, eat in non-touristy places and look for hotels according to the principle "we only spend".
For India and Indonesia, for example, we suggest a daily budget of 40-50 $, but in these countries you can travel together for $ 20 a day.  
Cheap countries without a visa
Armenia
Daily budget for two: 70-80 $
Sample prices:
Hearty and cheap meal in Armenia on the topic: khachapuri in Yerevan are up to 500 drams (us $ 1), Lamego (pancake with spicy meat filling) to 1.7 $, and kebab: crawfish from lake Sevan is about 3 $. The average score in a simple café — 3-4 $, and a dinner for two in a tourist restaurant will pay 7-30 $.
In the capital of Armenia there are budget hotels with double rooms 25-30 $. If you like the comfort of home on vacation, clear cute Studio in a quiet neighborhood for $ 20 or an apartment in the center of the city on Airbnb for 30-40 $ a day. Outside the capital the prices are slightly lower.
In Armenia, as in Georgia, a stranger might invite you for coffee, for dinner or even overnight. Agree: it's not a Scam, and hospitality.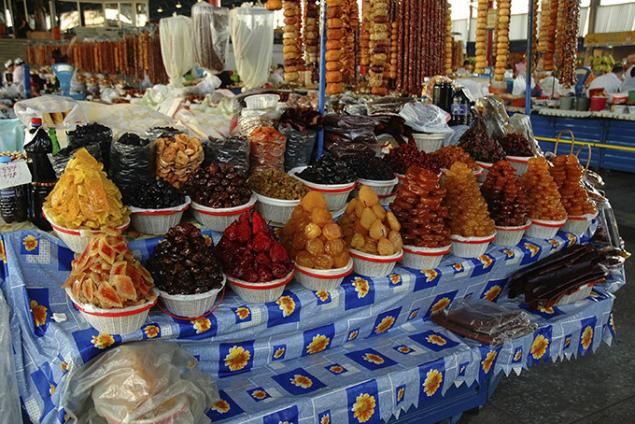 Standard route:
Yerevan and surroundings;
lake Sevan;
Vanadzor and Lori gorge;
Khor Virap monastery overlooking mount Ararat;
valley of the Vorotan and Tatev monastery.
Visa:
Without a visa to Armenia you can enter for up to 180 days during the year.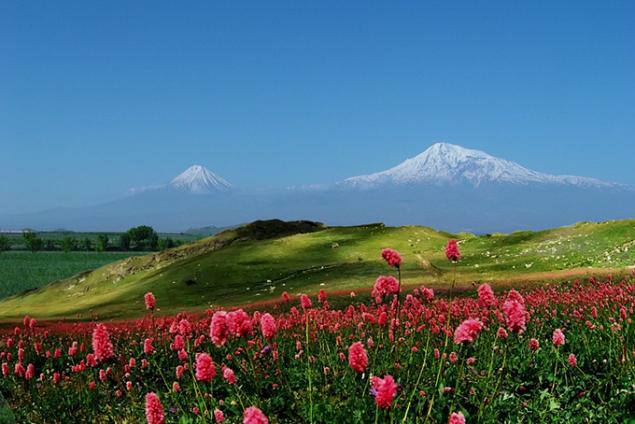 Georgia
Daily budget for two: 80-90 $
Sample prices:
Street food as such in Georgia. To catch on the move is possible unless fresh khachapuri or lobiani, which are sold on every corner for 2-3 lari (1 $). Lunch in a cafe will cost 6 $, and for a lavish dinner with wine will pay from 8 $. Intermediate option — khinkali: the long search they do not have, one piece is 60-70 tetri (0,25-0,30 $). A dozen khinkali salad and a beer (all 4 $) will be enough to eat for the whole day.
Modest double room in Tbilisi and Batumi is worth from $ 40 a day. $ 10 cheaper rent in a nice area close to the centre of the capital. In the seaside Batumi to rent a small apartment in the private sector in 2016 is possible for 20-25 $. The prices are firmly tied to the season: apartment with a fresh renovation and all the amenities in the middle of the summer costs about $ 40 a day. In less touristy areas you will find a guest house with rooms for 15-30 $.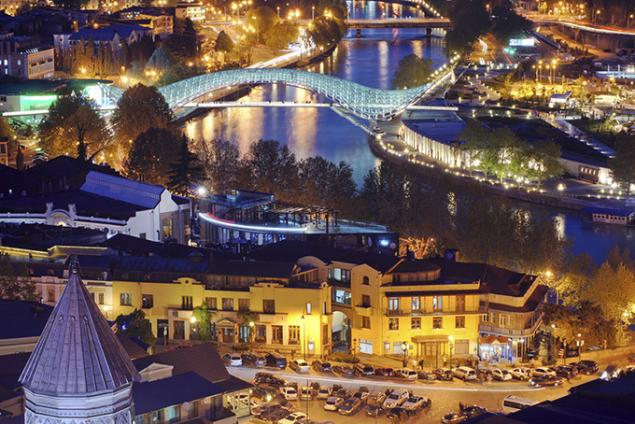 Standard route:
Tbilisi;
Mtskheta and the Georgian Military road;
the cave city in Vardzia;
Sighnaghi and Kakheti;
Svaneti;
Batumi and the black sea coast.
If time allows, you can buy a ticket to Georgia one way, to go by land to Armenia or Turkey and fly home from there.
Visa:
Russian citizens can stay in Georgia without a visa for a year.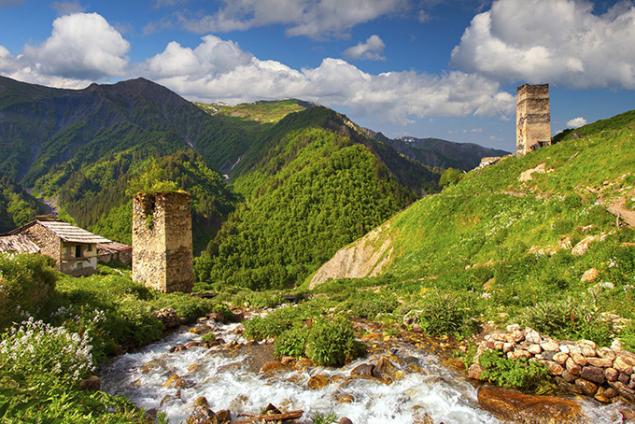 If you like to meet the locals and do not like to feel like a tourist in new cities, try couchsurfing. This is a service for finding gracious hosts who like to chat with new people that the bed they provide for free. And sometimes even feed their guests and showing them around town — often from couchsurfing grows a real friendship.  
Abkhazia
Daily budget for two: 65-75 $
Sample prices:
A fragrant skewer of chicken kebab in Abkhazia costs about 200 roubles (2,7 $), cheburek with cheese and meat — 70 rubles ($1). Lunch in a cafe by the sea will cost 5-12 $ for two, and a hearty dinner in Apache (Georgian cuisine) — 9,5-13,5 $. For a-liter bottle of Abkhazian wine will give about 2.7 $.
On Airbnb room in the house by the sea in Sukhumi can be rented for $ 10 per day and apartment in the city centre for 37 $ per day. If you want to look for housing on the site, you may get a cheaper room in a private house in Gagra can be rented for 9 $, and under the Pitsunda there are options for $ 8 for two. A room in a good hotel at the seaside in Abkhazia is 20 to 33 $ per day.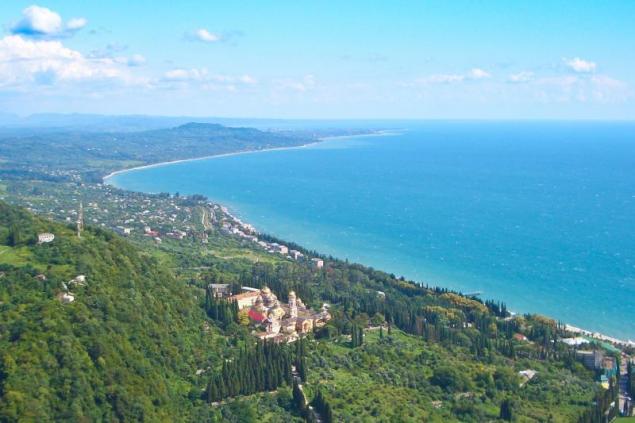 Standard route:
Botanical garden
Kelasuri wall and the ruins of the castle of Bagrat in Sukhumi;
the monastery and the underground karst cave in New Athos;
beaches Gudauta, Pitsunda and Gagra;
the reserve at lake Ritsa.
Visa:
To enter into Abkhazia the Russians do not need any visa or passport — just normal. Fly to Adler — there is just 10 km from the Abkhazian border, which runs along the river Psou.
Laos
Daily budget for two people: 55-65 $
Sample prices:
Lunch in a street cafe costs from 12 to 50 thousand Kip (1,5-6 $, in a cafe or restaurant — 50-100 thousand (6-12 $). The average standard room will cost somewhere in the $ 12 per day. In the village of Vang Vieng you can bargain on the spot and settle for that amount in the room with a wonderful view of the mountains. And here in the capital, Vientiane — it is cheaper to book the hotel in advance: rent a cozy room for 15-17 $.
Almost all of the sights of Laos — paid, though, and are very cheap: for example, the entrance to the caves the Pack will cost 2.5 $. These Buddhist caves can be reached by boat on the Mekong — 8 $ you will pay for the way there and back and a stop at "whiskey village". Rent a motorbike with a manual transmission for the whole day in Laos is about 70,000 Kip for 9 $, you were perfectly free to travel around the country.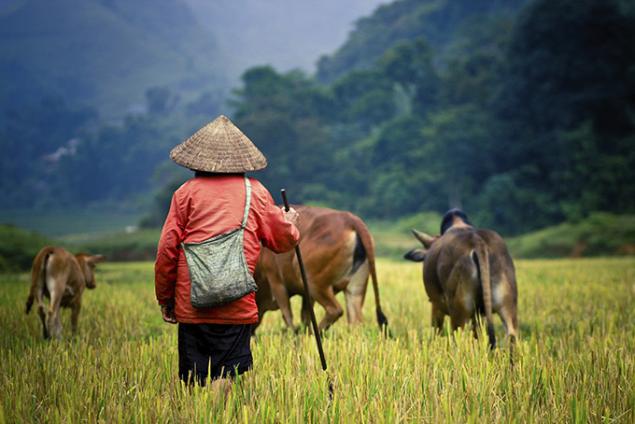 Standard route:
Vientiane;
Luang Prabang;
trekking in the national Park of Bokeo and/or rafting on a scenic river;
Falls Pakse and the bolaven plateau;
cruise the Mekong in the South, to si Phan don or the "4000 Islands".
Continue the adventure in Cambodia or, if we move back to Thailand.
Visa:
If you go to Laos in less than 15 days, visa is not required. The only requirement is that the passport must be valid for 6 months from the date of entry.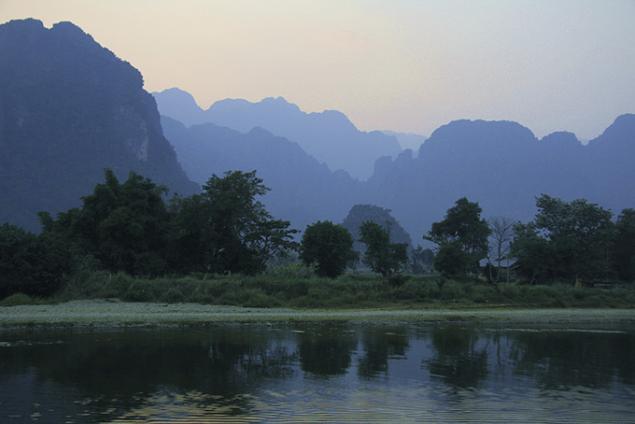 We have not factored in the cost of the flights, because Russia is the largest country in the world and the prices of tickets to the same point from Moscow, Vladivostok and Kaliningrad sometimes differ considerably. Knowing how much the same things are in different countries, you will be able to choose the place where it is cheaper to fly from your city. So the holidays will be not only interesting but also inexpensive.  
Indonesia
Daily budget for two: 40-50 $
Sample prices:
Street food in Indonesia is worth a penny: nasi goreng or mi goreng (fried rice or noodles) will cost no more than 1,5-2 $. Breakfast and lunch at a local cafe for 2.5 to 4.5 $, and a hearty dinner is 5-8 $ depending on the level of the institution. Decent room in a Guesthouse in Sumatra you drop $ 10 in Java for 10-15 $, and in Bali for 15-20 $. To travel between Islands is also cheap — the fare on the ferry costs about 3 $.
Standard route:
Since you flew 9,000 miles to spend the whole vacation in Bali, as great as he was, would deprive us of many experiences. Before you 17,000 Islands to choose from — from the tiny Paradise like Gili to Sumatra, the area of Spain. Don't miss Borobudur and the Bromo volcano on Java, visit lake Toba or go to the track in the jungle in Borneo.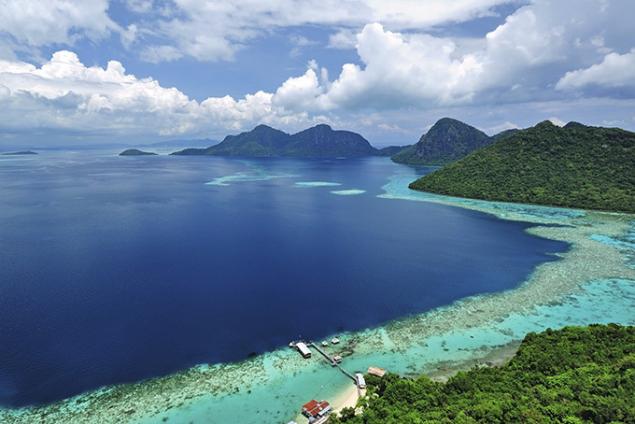 Visa:
Russian nationals may enter Indonesia without visa for 30 days through the international airports of Jakarta, Surabaya, Medan, Denpasar, Batam, four port. At other border crossings the Russians can get a visa on arrival for a period of 30 days.  
To save on flights to Indonesia, dock two flights with a change in visa Thailand. Usually the flight from Moscow to Bali costs a few thousand more than the amount of tickets from Moscow to Bangkok and from Bangkok to Denpasar.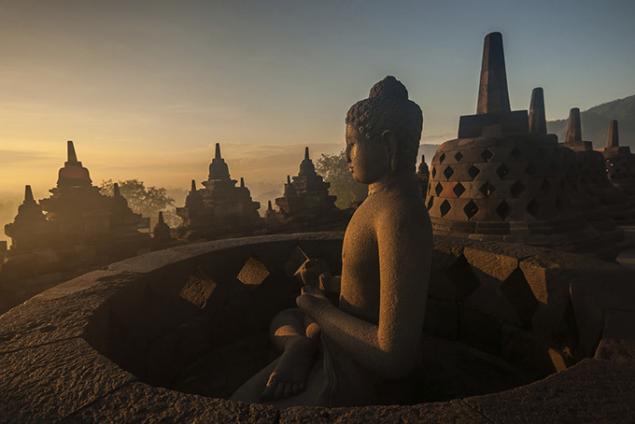 Vietnam
Daily budget for two people: 45 to 55 $
Sample prices:
Sandwiches Banh mi in Vietnam are sold at every step, for 10-15 thousand VND (0,5-0,7 $), as are the juices in the fruit shops. For a bowl of Pho (soup) in the cafe will pay 1-2 $ per 0.5 litre of the house beer, Bia Hoi — 1 $. In the local eatery the food for a penny: two servings of fish or chicken, sauteed in ginger sauce with a plate of rice and bowl of soup — 2 $. In a presentable restaurant, these amounts are multiplied by 2-3.
Hearty seafood dinner
in a tourist restaurant with Vietnamese cuisine will cost 12-20 $. If you miss European food, save pizza for $ 5. Eat at fastfude Lotteria Burger, fries and soda can for $ 3. Imported alcohol in the Vietnamese shopping is no more expensive than duty free and a bottle of local rum you can buy for 3-4 $.
Double room in Hanoi hotel
you will shoot for 11-15 $ in the MUI ne village the prices range from $ 10 for a Bungalow with shower and air conditioning, near the sea, in Nha Trang it is still possible to rent a pleasant room with facilities for 6-10 $. Service in the Vietnam hotels at altitude, regardless of stardom. Breakfast is included in the cost nine times out of ten.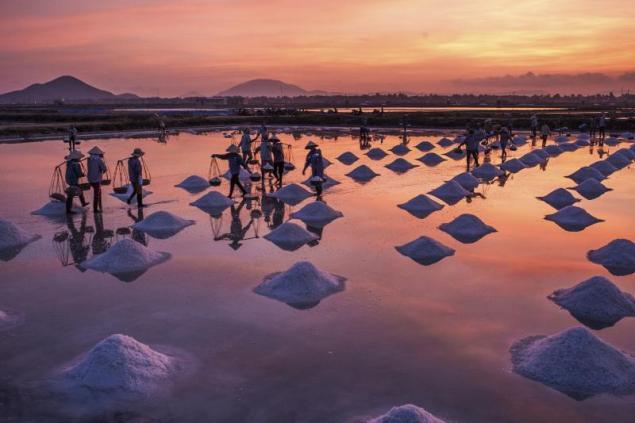 Standard route:
Hanoi;
Halong Bay;
the Cham Museum in da Nang;
Nha Trang;
the MUI ne village;
Dalat;
the city Museum of Hoi an;
Phu Quoc island is off the coast of Cambodia.
Visa:
Citizens of the Russian Federation can relax in Vietnam without a visa for up to 15 days.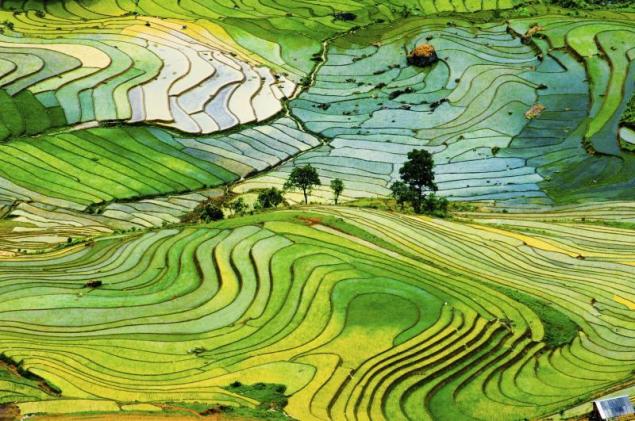 Serbia
Daily budget for two: 70-80 $
Sample prices:
Serbian counterparts of fast food and cheese pie gibanica, spicy sausages cevapcici, pleskavica (cutlets with garnish or bun) — are no more than 200 dinars (2 $). And to eat enough one pleskavica. Dinner for two in a decent restaurant for 7-9 $.
Simple double room in the hotels of Belgrade costs about $ 30 per day. For $ 16 you can rent a room in a hostel, but for 25-35 $ — apartment in the center.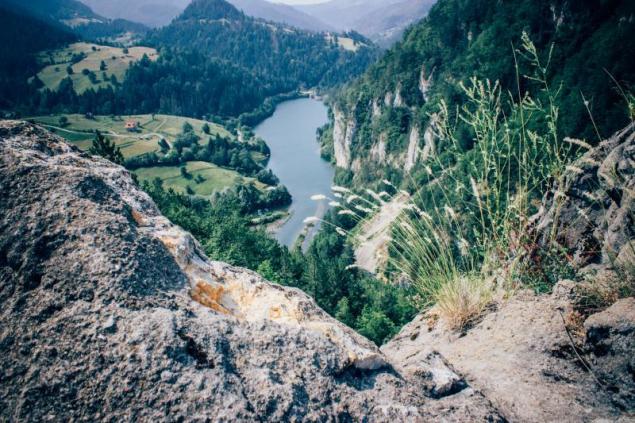 Standard route:
Belgrade;
Novi Sad;
Smederevo;
national parks Packaging or Fruska Gora;
Bajina Basta or other towns within the scenic river Drina;
Drvengrad is an ethnic village of the films of Kusturica.
You can get in even cheaper Macedonia.  
Visa:
Travel to Serbia the citizens of Russia do not need visa if the trip fit in 30 days.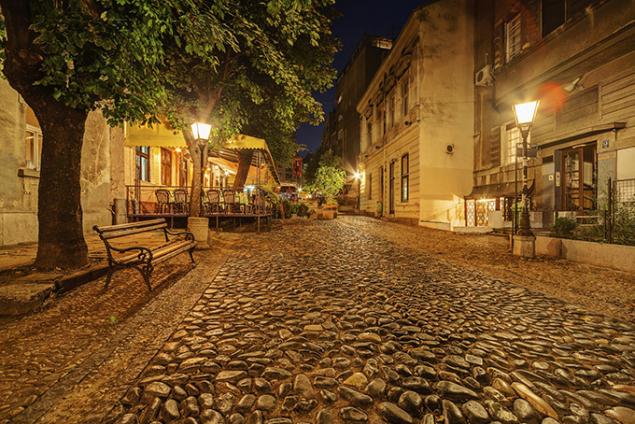 Montenegro
Daily budget for two: 80-90 $
Sample prices:
Favorite national fast food the Montenegrins — the Burek (a pie or a round tube with a vegetable, cheese or meat stuffing) — sold for 1 $ in the boat and on the beaches. A generous portion of cevapcici with potatoes and pita bread is 5-9 $ and it is enough for two. Still cheaper to eat at mesare.
In these butcher shops sell products, but you can ask to fry the cevapcici on the same place — it's called "make rostyle". A substantial Breakfast in the Montenegro's café together can be for 7-10 $, and restaurant three-course dinner will cost 25-30 $. If you depart from coastal facilities literally 500 yards, save up to 50 %.
The most expensive city in terms of housing in Budva: in the peak season a simple one-room apartments near the sea for rent for 35-45 $ per night. But in Budva even in the summer you can rent a neat room in a Guesthouse or small Studio for $ 20, if booked in advance. Winter in Montenegro, the prices for hotels and apartments fall by almost half.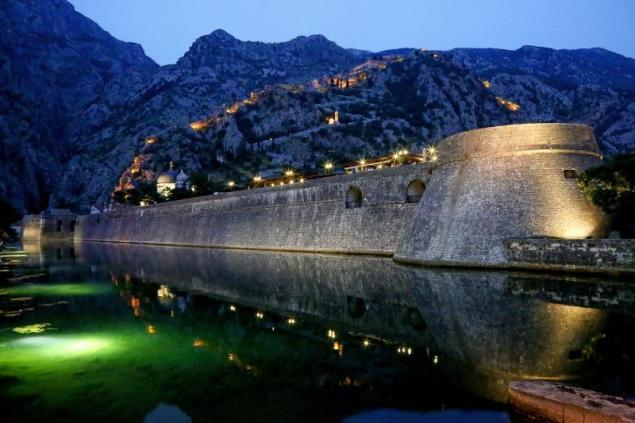 Standard route:
Podgorica;
resorts of the Bay of Kotor (Kotor, Perast, Risan, Kostanica, Tivat, Herceg Novi);
resorts of the Adriatic coast (Budva, bečići, rafailovići, Sveti Stefan, Petrovac, Bar);
Ostrog monastery;
national parks Lovcen and Durmitor with canyon of river Tara.
Visa:
Citizens of the Russian Federation may stay on the territory of Montenegro without a visa for 30 days.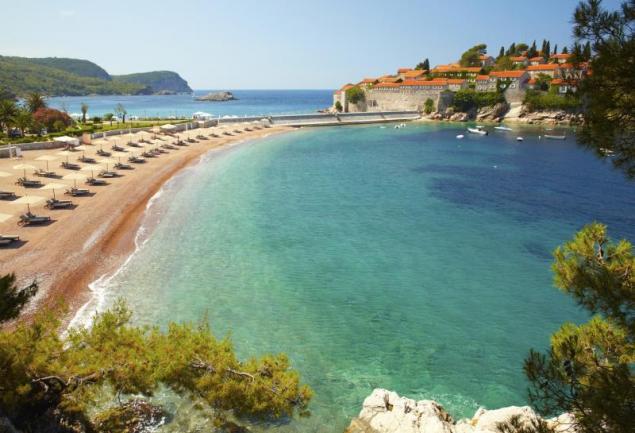 Cheap country with a visa on arrival or online
India
Daily budget for two: $40 to $ 45
Sample prices:
Street food in India cost next to nothing: a portion of vegetarian Thali (rice, steamed vegetables, lentils and bread) will cost 50 rupees (0,8 $), and a hearty lunch at the local diner for 150 rupees (2.3 $). The average bill at tourist restaurants — 3-6 $.
With the housing situation is similar almost everywhere for 5-8 $ you get a kit from beds, walls and roof for $ 10-15 for a decent room with air conditioning. In Mumbai, Goa and Kerala price in peak season — December to February — grow in 2-3 times. To rent a scooter for a day for 200-250 rupees (3-4 $). If you go for a long time, the scooter is better to take once a week or a month — will be even cheaper, around 150 rupees a day, besides will be able to see neighboring States.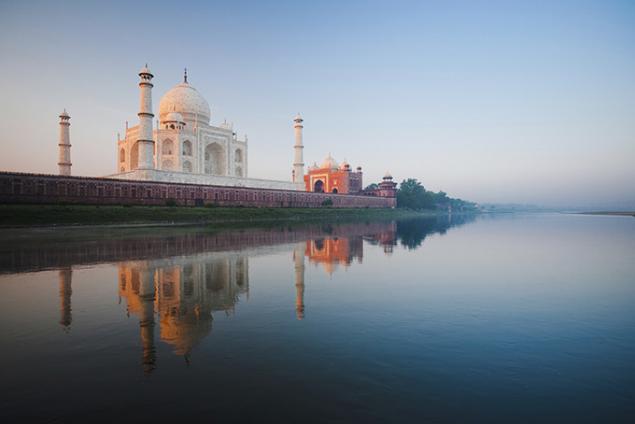 When the government of India has set the poverty line at 32 rupees (USD 0.5) per day, two Indians from wealthy families set up an experiment. A week they lived on half a dollar a day in Kerala, and then another three at a monthly salary of an average Indian, 4500 INR (68 $), in Bangalore. There, they drank well water, walked and lived in the closet, but lasted a month and starved to death. The average budget comfortable journey, according to our data, 40 times more than spent youth.  
Standard route:
New Delhi;
Agra;
circle the cities and villages of Rajasthan or the journey through the foothills of the Himalayas in Himachal Pradesh and Uttarakhand;
to further the interests of either to Varanasi and Nepal, or South to Mumbai, Goa or Kerala.
If time permits, visit the Panjab (Amritsar), Kashmir and Ladakh.  
Visa:
If you enter India through the airports of Chennai, Delhi, Goa, Mumbai, Bangalore, Kolkata, Kochi, Hyderabad and Trivandrum, the visa can be issued online.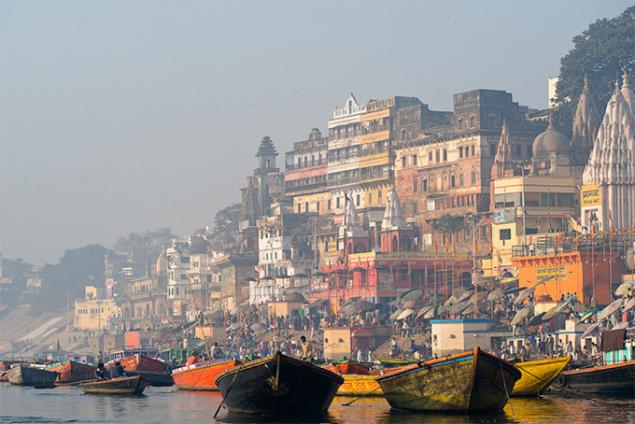 Nepal
Daily budget for two: the track in the mountains about 40 $; in the rest of the country about 45-50 $.
Sample prices:
In Nepal, a hearty lunch together in a street diner can for 400-500 rupees (4-5 $). In a tourist cafe, the prices in 2-3 times above, dinner for two will cost closer to 15 $.
Double room in a cheap Guesthouse with a shower and toilet on the floor you shoot for 5-8 $ a day. For 15-20 $ it is possible to live in a decent hotel in Kathmandu. The average cost of a small comfortable double rooms in Nagarkot, from $ 15 a night, and in Pokhara from 10 $.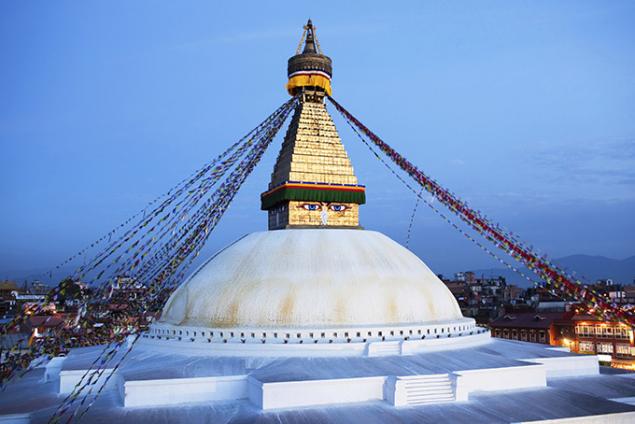 Standard route:
Kathmandu and surrounding area (Bhaktapur, Nagarkot);
a few days in the reserve, Chitwan;
Lumbini;
Pokhara and Hiking to Everest, Annapurna, Manaslu etc.
Visa:
Nepalese visa can be obtained at the Embassy in Moscow and at the airport upon arrival. Just fill the online form in 15 days before the trip and hand it in at the border.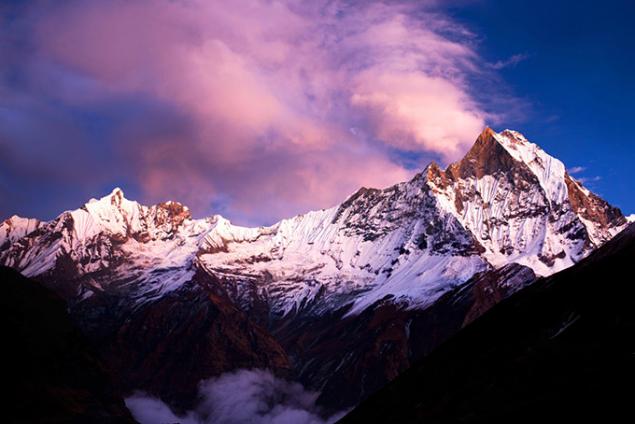 Cambodia
Daily budget for two: 70-80 $
Sample prices:
Fried spider, a kilogram of mango or a bunch of bananas in Cambodia you will buy for $ 1. Two servings of baked mussels with salad will cost 6 $. The same is a hearty meal with pork steak, potatoes and vegetables, and a huge pizza for two in a regular café you will pay about 5 $. A glass of local beer in the seaside bars worth $ 0.5, the pitcher will bring $ 2. On the spiritual food in Cambodia you will spend more than usual: ticket to Angkor for 1 day — $ 20 3 days — 40 $ a full week for $ 60. Over the rise over Angkor Vatom on the yellow balloon will pay 20 $.
Room with a double bed, air conditioning and a shower in the Guesthouse in the resort of Sihanoukville can be had for 12-15 $ a day and comfortable rooms in hotels of Phnom Penh are 15-20 $ per night. Bargain Khmers do not like to book accommodation in advance is better.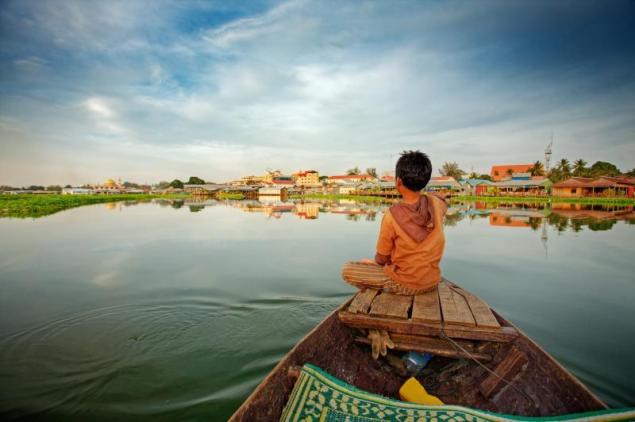 Standard route:
Siem reap and the Angkor temple complex;
Toplesa the lake with floating villages and beaches of Sihanoukville (Ochheuteal-Serendipity, Otres);
the island of Koh Rong;
national Park Phnom Bokor;
Phnom Penh.
Visa:
To obtain a visa to Cambodia you can immediately upon arrival or in advance through the Internet.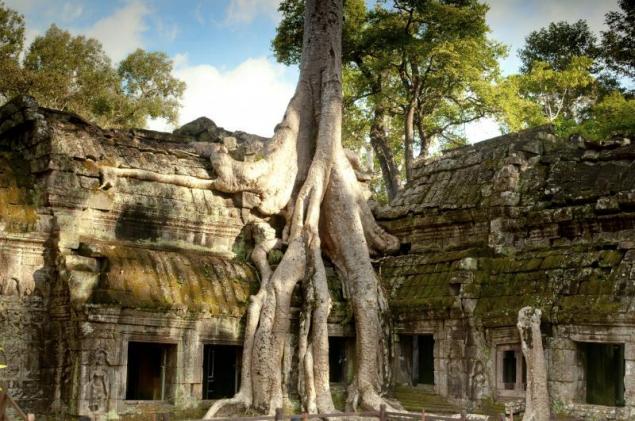 Sri Lanka
Daily budget for two people: 60-70 $
Sample prices:
Food in Sri Lanka is similar to South Indian and the taste and prices. Roti (pancakes with filling) cost from 40 Sri Lankan rupees (0,28 $) for the vegetarian option up to 120 rupees (0,8 $) for the triangle with chicken and cheese. For a bunch of bananas will give 0,14 $ for drinking coconut — 0,25 $ per kilogram of papaya — 0,42 $. King prawns on the market Hikkaduwa sold for $7/kg, and 0.75-liter bottle of red rum buy for $ 10. Cotta (something like shredded hamburger) in a non-touristy cafe is 1.5-2 $. Two servings of seafood dinner, rice with curry, salad and beer in a restaurant will cost you 7-10 $.
The average price for a room with hot water and a fan in the Guesthouse — 14-20 $ per day. Rave in places like Mirissa and Unawatuna on the South coast the prices above are for the New year and before March local rent housing for 28-55 $ per night. $ 25 prices start in double rooms in hotels in Colombo, for $ 16 you can spend the night in a hostel. If you plan to stay in Sri Lanka for a long time, it is wiser to rent a house or apartment for 330 $ a month (with utilities) in place.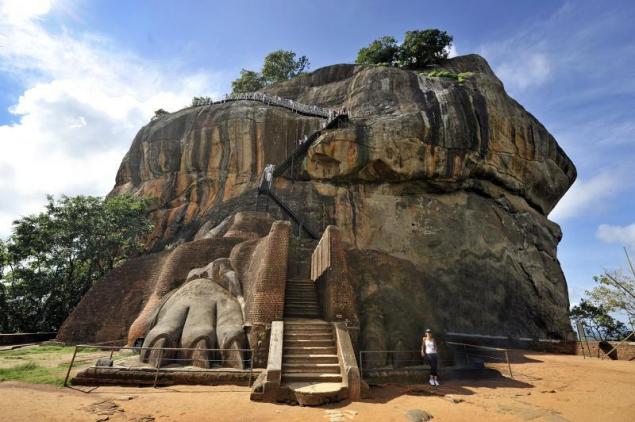 Standard route:
Colombo;
Pinnawela elephant orphanage Pinnawala;
The temple of the Tooth relic in Kandy, Lion rock in Sigiriya, the other Buddhist attractions in Anuradhapura and Polonnaruwa;
tea plantations of Nuwara Eliya;
national nature reserve in the forest of Sinharaja.
Visa:
To obtain a visa to Sri Lanka in three ways — at the Embassy in Moscow upon arrival at the airport or online.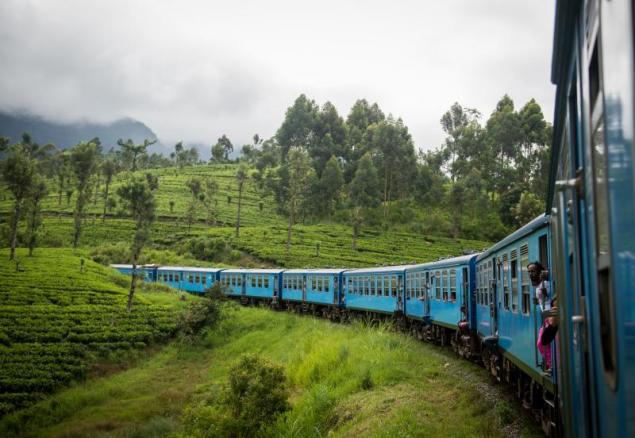 Cheap visa countries
Romania
Daily budget for two: 80-90 $
Sample prices:
Street food in the Asian understanding of the term in Romania will not meet. In a cheap cafe or fast food you can dine in about 10-30 lei (2,5-7 $). 12-14 $ cost lunch in the restaurants in Brasov and Sighisoara. Dinner in the advertised school of Bucharest will result in 100 lei (24 $).
The national average is a simple double room in the Guesthouse or two-star hotel is 20-30 $. Apartment in the heart of Bucharest can be had for 30-40 $ a day, in Brasov guided by 35-45 $.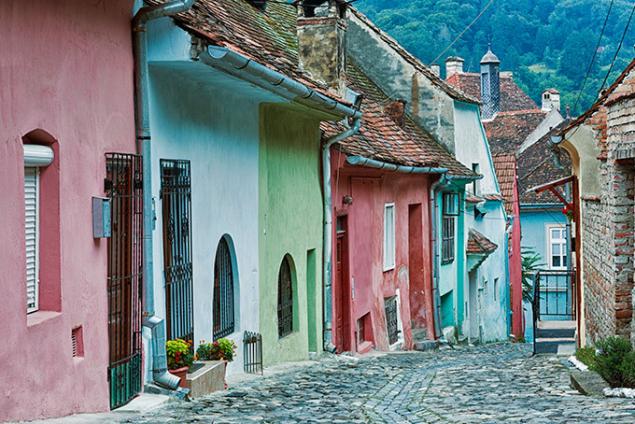 Standard route:
Bucharest;
the Danube Delta;
Mamaia and other black sea resorts;
the castles of Peles and bran ("Dracula's castle");
medieval Brasov;
the Transylvanian towns of Sighisoara and Sibiu.
If travelling by car, don't miss the beautiful Transfagarasan mountain road.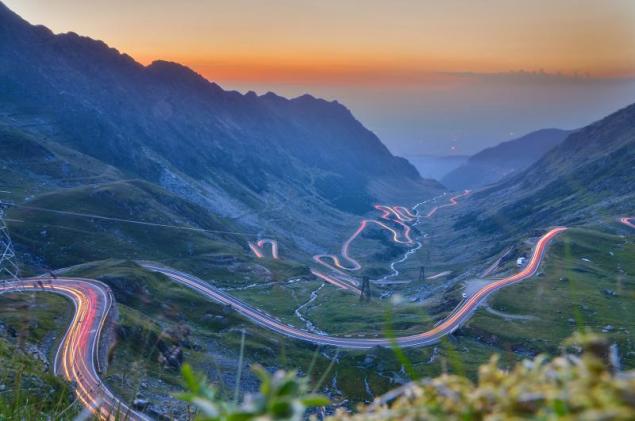 Visa:
Romania is in the EU, but the Schengen agreement is not signed. With a national visa can not only travel the country but to go to Bulgaria, Croatia and Cyprus. If you already have a long-term permit to enter these countries or multiple entry Schengen visa, obtain a separate visa for Romania is not necessary. In other cases, it is necessary to issue the Romanian visa.  
Hungary
Daily budget for two: 85-95 $
Sample prices:
The famous Hungarian goulash is from 950 HUF (3,3 $). To eat together in a cheap café for $ 10 and thoroughly enjoy dinner in the restaurant — $ 28. Impressive pizza will cost $ 5, and a Cup of coffee with a delicate cake in the Hungarian cukraszda (confectionery) estimate only 2.5 $.
Cozy flat in the heart of Budapest on Airbnb are from 35-45 $ per night in the guesthouses in the outskirts to live in comfortable rooms for $ 25. Apartments near lake Balaton, will cost another 5 $ cheaper.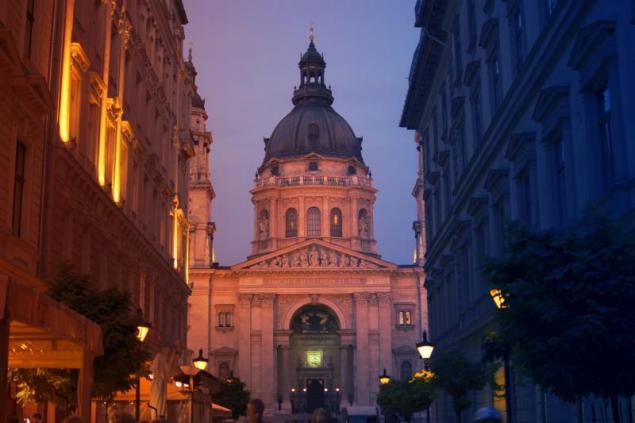 Standard route:
Budapest with its baths;
Park bears Medveotthon in veresegyház;
the ethnic Museum under the open sky, open-air ethnographic Museum near Szentendre;
ancient székesfehérvár;
the Abbey of Pannonhalma;
the lake Balaton.
Visa:
To enter Hungary need a Schengen visa.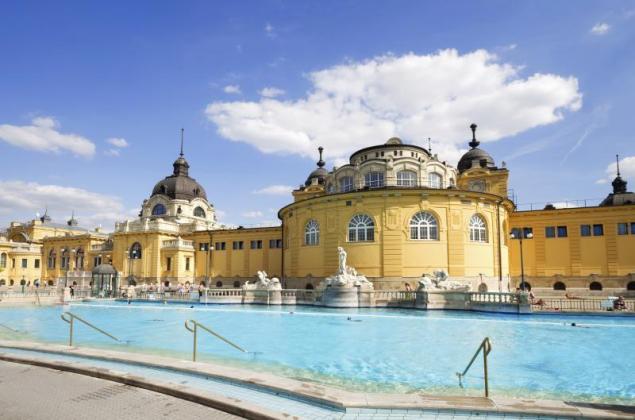 To Orient in the prices of products and services in most countries of the world will help sites numbeo.com, priceoftravel.com and budgetyourtrip.com.  
Bulgaria
Daily budget for two: 80-90 $
Sample prices:
A Cup of coffee in Bulgaria is from 0.8 to 1.5 BGN (0,5-0,8 $), a bowl of soup (peleska chicken or topcat — with meatballs) — about $ 1, and Shopska salad — 2-3 $. Breakfast at café Sofia is 10 $ for two. The three-course dinner with drinks in a good restaurant the capital will cost about 20-22 $.
Double room in the Guesthouse in the city centre costs from 16 $ per night. For $ 18 you can rent a room with a shower, air conditioning and a fridge in Kosharitsa and Ravda. Studio in three-star apart-hotel in Sunny beach resort is some 26 $. Using the best Airbnb apartment near the sea with swimming pool in the backyard, you'll shoot for 25-35 $.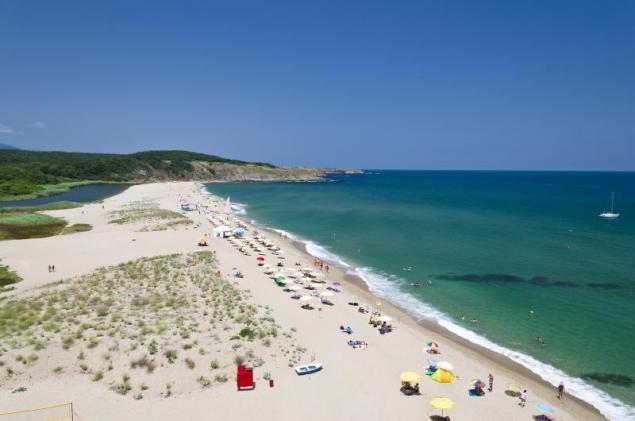 Standard route:
The most vibrant places in Bulgaria:
Sofia and Vitosha mountain;
Koprivshtitsa;
Plovdiv Perperikon;
The valley of roses;
Rila monastery and Seven lakes;
Nessebar;
tiny Melnik;
the beaches of Sunny beach.
Visa:
Bulgaria is not part of the Schengen area, but in this country you can travel on the double or multiple Schengen visa. You can also visit Bulgaria, if the passport are valid multiple entry visas to Romania, Croatia or Cyprus. In other cases, you need to obtain a Bulgarian visa. published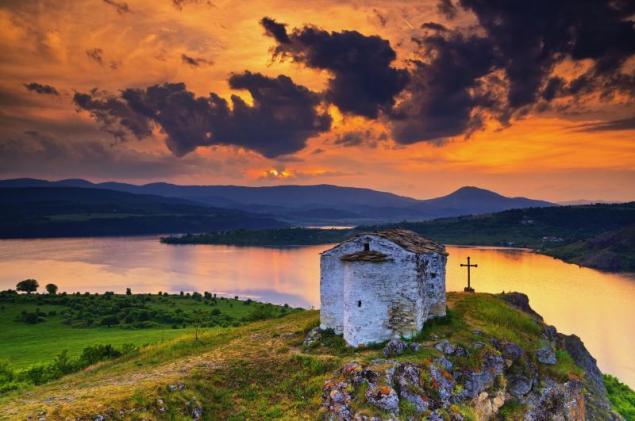 P. S. And remember, only by changing their consumption — together we change the world! ©
Source: www.skyscanner.ru/news/deshevye-strany-dlia-puteshestvii-v-2016-godu