Writes our reader Marina: I live in a nice and happy to share their observations and sovetami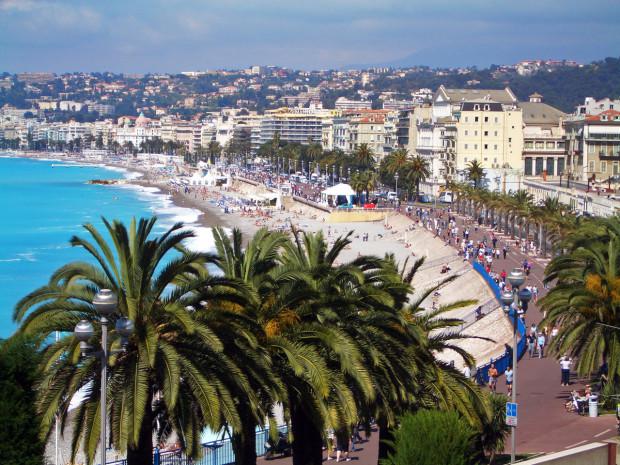 1. Nice was founded by the Greeks in the IV-th century BC and named in honor of Nikeyya goddess of victory Nike. Up to the present day on the French Riviera, numerous monuments of ancient architecture.

2. In 1543, the year in the history of Nice has entered a laundress Segyuran Catherine (Catherine Ségurane). During the siege of pirates and the troops of Francis I, she, armed with roller laundry, killed the enemy soldiers and took away his banner, and then, with his skirt, showed the enemies of your ass. In the name of Catherine Seguyuran it named a street and one of the largest schools of Nice.

3. in Nice on the Promenade des Anglais on the tragic accident killed the famous dancer Isadora Duncan (Isadora Duncan), wife of Sergey Yesenin. Her strangled gas scarf wound around the axle. A few minutes before her death, she told the assembled fans "Goodbye friends, I go to glory».

4. In Nice, the cathedral of St. Nicholas, to clean off the most beautiful cathedral of the Orthodox Church outside of Russia. Unfortunately, he was surrounded by a high fence and enter it only at certain hours. In every Catholic church in Nice free entrance at any time. The doors are always open. Virtually everywhere you can examine the fresco, enjoy the interior decoration, photograph.

5. Airport Nice - Côte d'Azur is among the ten airports with the most spectacular views during takeoff and landing. The airport is in the city, so fans of hiking, not burdened by heavy suitcases can easily walk to your hotel in one of the most beautiful and world famous promenade - the Promenade des Anglais.

6. Nice - very calm and democratic city. Contrary to popular belief, do not walk around the streets of millionaires in the «Louis Vuitton» and «Christian Dior» and drive about "Ferrari". To demonstrate the wealth and status are considered indecent.

7. All attributes chic life can be enough to admire during the Cannes Film Festival and racing Formula 1 Monaco, as well as in the height of tourist season in the hottest summer months. But to the people of Nice, it has nothing to do. In August, residents usually leave for the holidays. Closed many popular among locals cafes and shops.

8. Russian millionaires spend their lives here behind high fences and villas darkened glasses of cars, and mostly only in the summer. French millionaire, you can easily keep up to step on the bus at any time of the year, without knowing that it was a millionaire.

9. Russian tourists always seen from afar: a girl struggling to hobble about in high heels in expensive and uncomfortable shoes on cobblestone streets, or tiled. Men are deliberately expensive shoes and watches. Or, on the contrary too casually dressed, they look extremely unsportsmanlike, and appear in public in a bathing suit and beach shoes. Most Russian tourists can be found in the words of doom and tired of disgust on his face. They do not seem to have a rest, and the hard work carried out under the name of "holiday on the Cote d'Azur».


10. Traffic jams in Nice are only in July and August. They provide the tourists. The rest of the year the movement freely. The ten-minute delay on the road causing panic and indignation of the French.

11. In France, you can drink alcohol while driving. Allowable rate of 0, 5 ppm. This is a couple of beers or two large glasses of wine, or one strong cocktail. If you take a car, you lovingly hang on the rearview mirror the list of alcoholic drinks that you can consume without fear of penalty. Typically, roadside checks only happen in the summer tourist season. The rest of the traffic police on the French Riviera will not notice. Holy terror to the French traffic police is not perfect, however, as an accident.

12. is the first historical Provence region of France, where he began to produce wine. More 600 years BC, the Greeks founded their cities on the coast, engaged in viticulture and winemaking.

13. a decent bottle of wine in France is around € 3-5. Not uncommon wine for € 1, 50-2, 50. This absolutely does not mean that the wine is bad. Rare Frenchman buys a bottle of wine expensive € 10-15. Only in the case of a special celebration. All the French prefer to drink young wines. Special difference in the quality of wine for € 3 and € 15 no. Exceptional cases of taste.

14. In Nice, a lot of people drink alcohol in the morning. Elderly ladies discussing news for a glass of wine at 9 am, a man reading the morning newspaper while sipping a cool beer or a glass of pastis - this is a common pattern for Nice. Nobody sees this as something reprehensible and defiant. This is the norm. Spirits are unpopular. In stores large selection of vodka. The French sometimes buy it for parties, to drink in the cocktail with ice and tonic. During the summer in the coastal cafe is very popular mojito cocktail. Often it is added watermelon, melon, strawberries and other fresh fruits. You can order a non-alcoholic mojito.

15. A bottle of real French champagne in a supermarket can cost € 15-20. It just will not be unwound worldwide brand - such as "Veuve Clicquot" or "Louis Roederer ', and small family houses of Champagne, of those who do not want to spend money on advertising. Only the production of the drink.

Sparkling wines produced in France, but not in the Champagne region are usually € 3-7. They are also very tasty.

16. Nowhere in France rose wines produced in such volumes as in Provence. They are spread throughout the Côte d'Azur and drink in the heat, the water, often with ice. Rosé goes well with the local cuisine, especially fish and seafood.

17. Among the wines of Provence have to mention a few apelyasonov with fairly rated: «AOC Bandol», «AOC Bellet», «AOC Cassis». These wines are not inferior in quality to the most famous wines of France and will please any connoisseur of fine wines.

18. No one in Nice, did not drink tea. Usually, everyone drinks coffee. If you see someone who is drinking tea, especially in the summer - this is likely, tourists from England.

19. The French never do anything special in order to hide his age or to seem younger than his years. Every French woman thinks she is beautiful at any age. And it's true.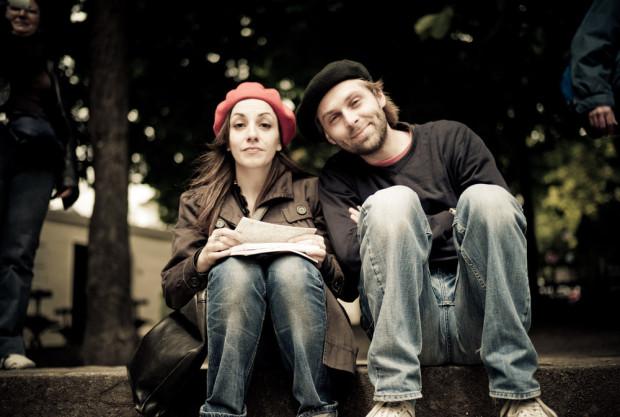 20. French man can divorce his young wife to marry a woman older. He is looking for a companion and associate, not a decoration.

21. Bright Russian girls, repainted in the blondes in tight blouses, short skirts, make-up during the day and high heels French call "navel Russe" - it means "matryoshka».

22. No resident of the Cote d'Azur would not wear high-heeled shoes, if it is not invited to the wedding or other celebration. And in this case, the heel is average and the most convenient. No one would expose himself to the discomfort in order to make for someone else, or like the man the impression.

23. Despite the huge number of world-famous fashion designer and the status of one of the most luxurious resorts in the world, the inhabitants of Nice prefer domestic sports shoes (sneakers or running shoes) clothes - the most simple T-shirt and jeans you can buy in stores for € 15-20. Collections of such clothing is very diverse and changing almost every month, so you can safely buy the most fashionable thing to wear them a few times, and immediately sent to the recycling bin when a new collection. So usually everything and come. Shops fashionable and affordable clothes occupy entire streets of Nice and the French happy to walk, looking at shop windows and trying on your favorite items. Most sales are in stores, where you can buy two for the price of one, or a discount of 50-70%. Each French since childhood knows that she goes and what does not. If she wants to emphasize the dignity of the figure, or eye color - no doubt you noticed. You will notice it is a woman, not the clothes.

24. The shops of Nice, where they sell the most expensive and prestigious clothes are always a few Russian saleswomen. As a rule, they are very arrogant in front of their fellow citizens, and try not to show that they, too, Russian, even though they are there to do and work.

25. In Nice, there are quite a cold winter days when the wind blows and the rain drizzles bad. The French would not put on a warm jacket or coat all the more. Ёzhitsya and will wrap up in a long scarf on the ears. Pharmacies can buy special sprays a mixture of essential oils of eucalyptus and lavender, specifically designed to spray on a scarf. This is considered a protection against the cold.

26. Russian tourists often looks can be confused with tourists from Milan. They are also too flashy dress. But Italians are cheerful, and our forever dissatisfied with something.

27. The waiter, who wiped your table or put away for your dirty dishes, may well be the owner of the restaurant where you dine. In France, no one is ashamed of any work, often in the restaurant parents help children on vacation or close relatives.

28. It is not necessary to find out their relations, swear or discuss people at nearby tables, assuming that your Russian nobody here understands. Nice - very Russian city. Chances are good that you hear and understand perfectly, even if everything they say in French.

29. A thin as a reed, French calmly cope alone with the whole pizza or a huge portion of spaghetti. After that, she usually will order a cake for dessert.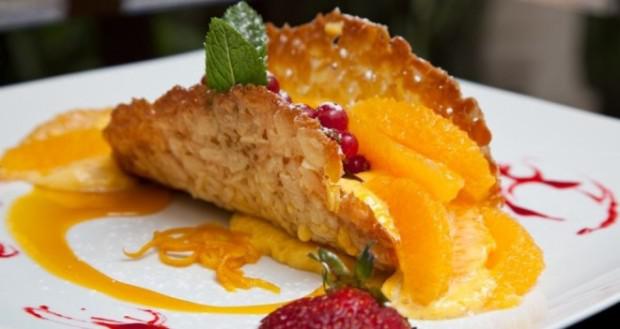 30. If you have not ordered a dessert in a restaurant, after a three-dimensional hot dish eaten something you are likely to be watching with regret and sympathy. All the French sweet tooth, and a selection of desserts here can lead to thrill any gourmet. No one is denying himself the pleasure. After a long time the French dessert savor a small cup of coffee.

31. In Nice decided to dine from 12:00 to 15:00. At this time, closed for lunch almost all institutions, except for large stores and souvenir shops for tourists. If you had a meeting with the Frenchman at half past eleven, you instead of "goodbye" is likely to say "bon appetit." At 13:00 may not be a free table. Chances are that after 14:00 at a table you will not be put, as the kitchen is closed. This applies, of course, only the most fashionable among the French sites. Naturally, a huge variety of cafes and restaurants, no one will be hungry. The kitchen is beautiful everywhere. But if you're somewhere not hit, I advise you to remember this place. Surely you will enjoy so that you will come back to later more than once.

32. French dining in the evening from 19:00 to 22:00. For those who are hungry in the "odd hour" or for tourists always have a cafe with uninterrupted service. There, as elsewhere, it is possible to eat very, very tasty, but self-respecting institution with a reputation and loyal customers from around the world, work only at lunch and dinner. This rule is. French strictly follow him, probably, so they always have a good appetite and a slim figure.

33. In France, it is not accepted to give too large a tip. The check is always pointed out that the service is included in the dinner, so it's not necessary. Typically, for a dinner for two people leave the French coins for the amount of € 2-3 (roughly the rate of € 1 per € 25 check). At the chic restaurant can leave a banknote € 10-20, provided that you were all very, very happy. If you are a "rush" more large bills, which means, according to the French that you do not know the value of money and, most likely, some kind of fraud. However, they take a tip with gratitude, and your reputation - it is your personal care.

34. You can never take a table, covered with a cloth or tissue, if you're not there. If your plans include only a glass of wine or a glass of mineral water, always look not covered table. If such a table, you have not found, then you are in a restaurant, not the bar.

35. French paradox - this is not fiction, it exists! Too fat people are almost never seen. Soon meet too thin.

36. Sunday closed all the shops and many restaurants. Monday closed all that work on Sunday.

37. The famous Provencal market Marché des Fleurs in Nice, where the peasants every day to sell their fruits, flowers and vegetables, as well as mountain honey, fresh fish, olives, homemade cheeses, pates and sausages, closes at 12 hours of the day. The most vivid and varied market on Saturday and Sunday.

On Mondays in the Marche de Fleur antique dealers exhibit their goods and starёvschiki. Many connoisseurs of antiques come specially from other cities and countries to find itself in the market for rare vintage needlework, unique dishes, furniture and silverware.

38. All the French are very helpful and polite. Always adhere to each other door, men to women, women to men - it does not matter who is who. Treat each other with a friendly smile. For example, if someone do the same or dropped something tripped, always rushes to the aid of half the street. Genuinely ask if everything is in order, you need some help? Always help to collect the scattered belongings or offer to go to the nearest cafe, seated on a chair to make ёed if you hit. All staff café will also be carefully fussing around the victim.

39. In Nice, clean and spacious public toilets. At the entrance to be left on a silver coin of 50 centimes and say hello. Men's and women's lockers are located or do not have the distinction based on gender. When you leave the toilet, the toilet employee will tell you "thank you" and wish a good day. None of the French people are not confused. They are scattered in response to the mutual gratitude. On Sunday, a public toilet, located in a busy area of ​​the city, it may be closed for holiday. It is not a problem, because the French are the toilets in cafes and bars. First, of course, you need to order a cup of coffee or a glass of mineral water.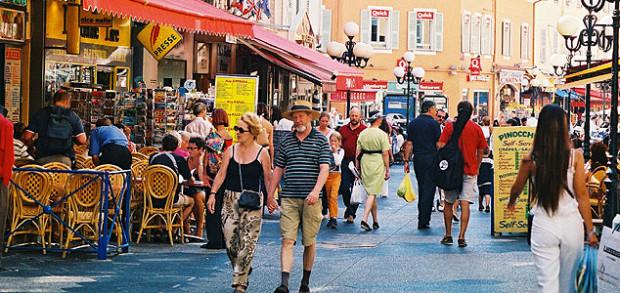 40. If you accidentally encounter on the sidewalk two windows to gaze at passers-by, the reaction is usually laughter and jokes a lot of mutual curiosity about what happened.

41. often unfamiliar passersby can tell you some good words, such as hair or praise fun wink, noting that today the weather is nice. Optionally, thus a man flirts with a woman. A woman can tell a compliment to the woman, the man say nice words to the man. Simply, they are not afraid to "spill" the sea of ​​positive emotions.

42. In France hello anywhere, wherever you went. In the elevator, with neighbors on the floor, with a driver cab, with a hotel maid, and of course with the waiters.

By accessing the bus you need to say hello to the driver. Leaving the bus, tell the driver made "thank you" and "goodbye." It is also desirable to say goodbye to the remaining passengers and wish everyone a pleasant journey. The exceptions are routes running between Nice and Monaco or Nice and Cannes. There's usually a lot of tourists, they do not know the rules of etiquette. But the French are always visible, because they do not make any exceptions for manifestations of politeness. The tourists - they are wild, that they take! They came and went.

43. Monaco pronounced with the accent on the last syllable - as well as any word in the French language.

44. If the bar or cafe waiter you say the word "Monaco", you bring beer, watered generously sweet syrup grenadine. This is a very popular drink in Nice.

45. Monaco is a 15-minute drive from Nice. A large part of what all the tourists think of Monaco - a French town of Beausoleil (translated as "beautiful sun"). The city is constantly suing the Monegasque authorities for what they are building more and more skyscrapers overshadow residents Beausoleil sunlight, but so far without success.





















































via factroom.ru