I saw a post on the boards of the flight attendants zabugornoy, read comments and decided to talk a little bit about this profession to YaPovtsev had little idea about this profession.
I'll tell you about who and how to become flight attendants and any nuances from the profession.
So where are the guides?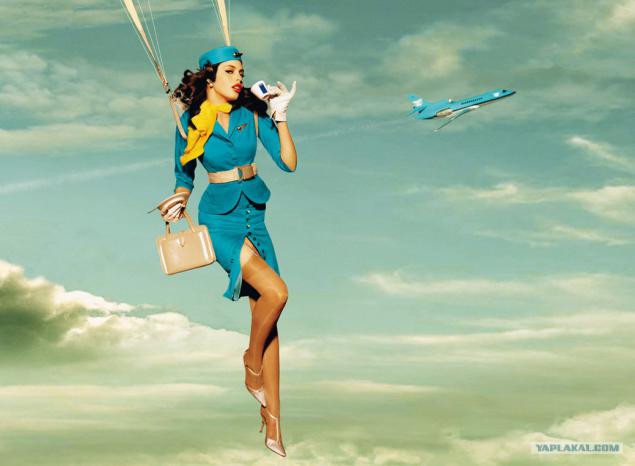 In the USSR, the conductors received specialized secondary education and learned more than a year. It is now easier and flight attendant can be anybody from the age of 18, having a Russian or Belarusian citizenship. On the other nationality in aviation can not work according to the law - yet the work is related to the risk to national security.
The second condition - to be healthy. For this special Committees VLEK (medical-flight expert committee) examines the future of the conductor for the full program. Of course, in our corrupt society can not exclude some gaps, but it is fraught with - the case of serious illness or death occurring in the workplace is not so redkoya phenomenon. So for the most part, the Commission is serious and people unfit for honey. fly indications are not taken. Just commission checks for scars, eyelets in the ears, tattoos on exposed skin. If the tattoo is not visible when wearing uniforms - everything is in order. Some have to constantly glued solid patch. Also, there are certain standards for completeness, growth and overall physical development - need to be a bouncer, but to be able to open the door in an emergency. And in general, which apply a force in the working points are present.
If these two conditions are met, then you will be charged 80 percent. The remaining 20% ​​- language skills, general erudition, psychological stability, willingness to work with people. Experience is not important, but it is encouraged. So the interview can be found high school graduates and people over 30 with no one higher education.
If we talk about the people who come in for an interview, they are different. Many come to see the world. Someone comes by vocation - a childhood dream. Someone establish personal life (salary flight crew is more than sufficient). Someone accidentally. In any case, the one who remains in the profession can not sit still and is constantly waiting for changes. Many leave and come back because they can not work on a schedule of 5 days a week from 10 to 19.
You've got to make a remark that theoretically every flight attendant should know in advance your monthly schedule, in fact, he learns about the flight 12 hours before departure (and sometimes even less). Besides a lot of reasons, and for the most part, they are reduced to the commercial component costs AK. Bortrovodnikam damn difficult to plan your time. If not satisfied - Welcome to the land.
In general, if all the stars came together, you have been accepted. So after 3 months with a little training you receive a certificate GA flight attendant.
Teach the device in the plane of the work is related to the flight attendants, emergency and rescue procedures (fire, water rescue, survival etc), medical training, and of course the technology of passenger service.
Exams are conducted probationer flights where novoyavlennvh conductor trainee, simultaneously checking the learned skills. Worthy are final and become independent commission conductors. Unworthy can once again drive out on the trainee flying in bad cases, refuse to hire.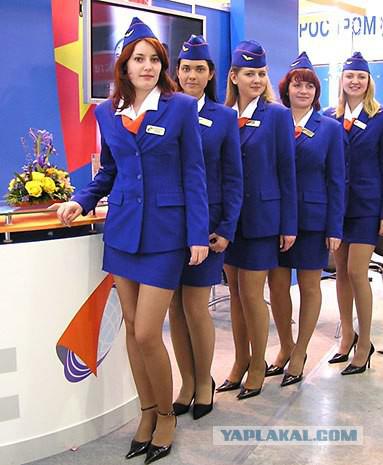 So ... I try to tell you about a typical day flight attendant. Or, let's touch on the month in short, for all flight plan is drawn up for the month.
In the month of flight attendant must bump no more than 80 hours of flying time. Or in the case of consent to perenalet - no more than 90 to 90 hours is the law - all over is not legal and can have serious consequences for safety (fatigue) and health (radiation, overloading, lack of oxygen and so forth) < br />
Moreover, s / n, a flight attendant directly depends on the raid. I do not fly - get a penny. So sick, Filonov not profitable from a financial point of view, and you can lose interesting flights. Plus the amount of plaque depends vacation days. No incident will relax annual rate of "only" 35 days. The incident - 70 days. Vacation healing - and refuse to take the money can not be. Leave paid and is usually divided into two parts. Plus sluzhbnye airline provides tickets, so fly to the other side of the world there and back costs less than 10 tr (fuel surcharge)
Output in theory there. But in practice - this time after the journey and before the flight. Holidays absent. When all walk on the red days on the calendar, just pay a little more. Birthday note? Well, you can try ... not a fact that can not be found in the sky, giving passengers PIROZHENKO.
Let's go back to a typical day. Theoretically flight details you need to know 12 hours before departure at least. This gives time for to sleep, freshen up and get on the flight. Depending on the type of aircraft (the higher the plane, the more it is necessary to cook) flight attendant goes to the turnout for 3-6 hours prior to departure (subject to time on the road). We are all human, and we stand in traffic jams, but late is bad, because the ruble can be punished for it, and his colleague, located in the reserve do not want to substitute.
Arriving at the location, passing a physical. If something is wrong with the pulse, blood pressure, temperature, appearance, they can be removed from the flight - nothing infecting colleagues and passengers.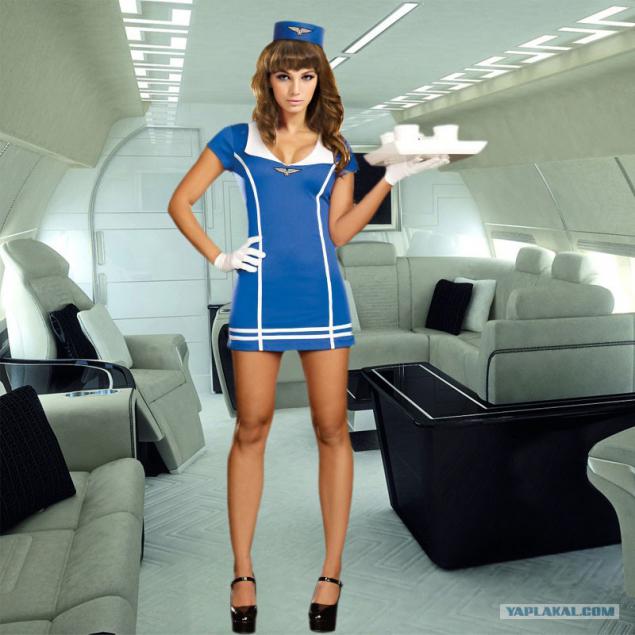 Then conducted a preflight briefing. Covers Where to who the founding fathers of the commanders on what type of aircraft, flight characteristics and so forth. Allocates responsibilities between borprovodnikami. The presence of documents necessary to carry out flights, appearance, knowledge of the structure of the aircraft, rescue training, medicine. If there are gaps in knowledge and shortcomings in the appearance of a senior flight attendant and instructor can make a comment to be entered in case (minus denyuzhku and reprimand) or altogether remove the flight (reprimand, denyuzhku, vneocherdnaya check, taking tests).
Upon successful completion of the briefing, everyone should understand what he says he will do during the voyage.
We bring to the plane.
Posted in [mergetime] 1396451378 [/ mergetime]
Source: