How much do you know the cities, which have become the hallmark of the local jokes? I am sure that first comes to mind Odessa. It was here the jokes are born unique, which instantly spread around the world and give the perfect mood to millions of people.
These jokes will never become boring! After Odessa jokes - this is something special! They are closely intertwined experiences, great sense of humor and unique flavor of the city.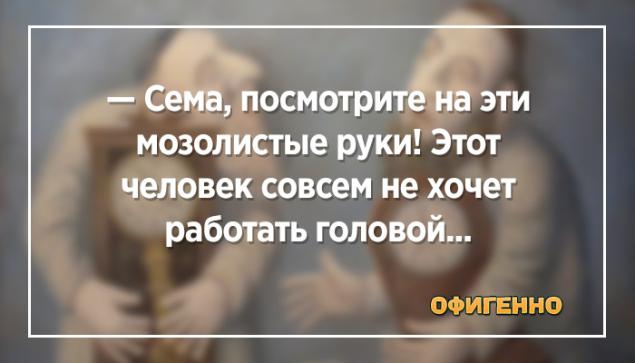 - Monya, well, as you can walk the entire salary for one day ?!
- Take the money, let's show!

- Helmet, why are you so sad?
- My sofa with children goes to the sea for three weeks!
- Shaw, I do not understand ...
- So if I'm not sad, she changes her mind.

- What are you beautiful teeth!
- It's from my mother.
- Taki fortunate to have come.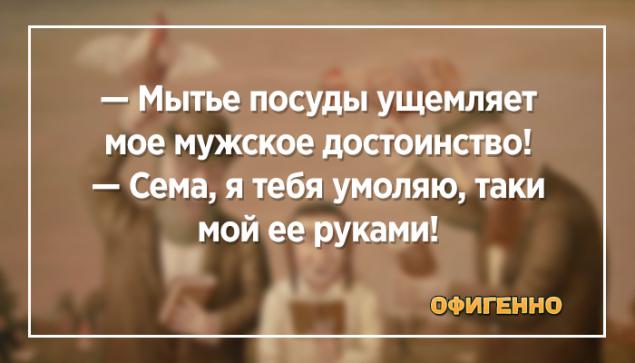 - Dad, I can not marry Izya viyti: he is an atheist and did not believe in the existence of Hell.
- Taki vihodi boldly Sarochka: vie with mom bistro prove it, it is very wrong sho ...

- Dad, what's next - the Moon or Berdichev?
- Do not fool me! Come to the window. See the moon?
- Yes, I see.
- A Berdichev?

- Mom, give me the money for the flowers - I go on a date with a girl!
- Sam, you're crazy not to stop that! What a bunch of roses? It is 3 days - spiny broom! It is better to give a girl my geraniums - will breathe from her mole!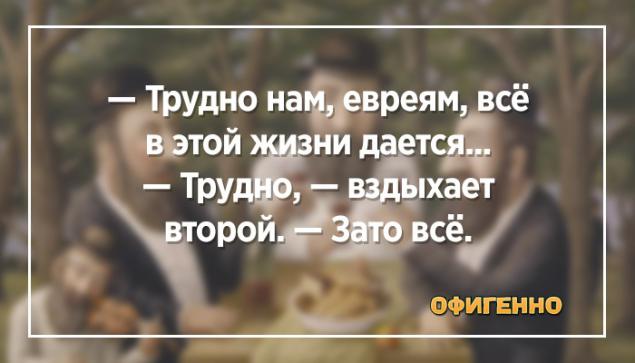 - Oh, your Abramchik face - the spitting image of the pope!
- It's not scary, it would be healthy!

We talked two Jews: single and married. Blank says:
- Marriage - it's such a marina, where there are two ships.
Married:
- And one, I just met with a military cruiser!

- I'm so grateful to you, sho just beyond words ...
- So pass the money! B>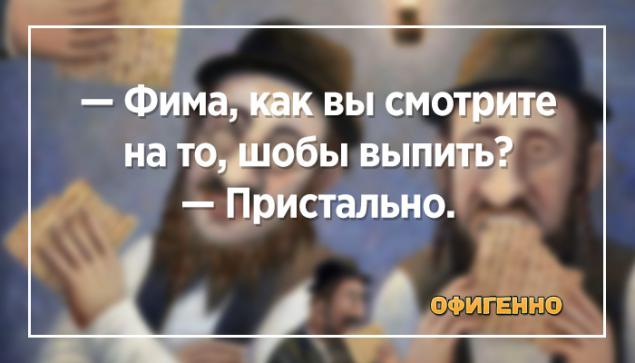 - Fima, where's my bike?
- I throw it out! Tormented by this stupid illusion that you are still going away ...

The wedding ceremony:
- Do you agree to marry this woman?
- And sho, you have to offer something better?

Odessa. Market. Woman long eyeing the fish on the tray. Finally, ask the seller:
- And how much do you want for this farce? B>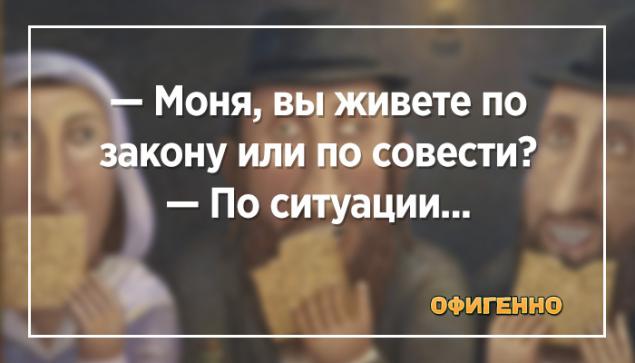 - Izzy, do you know why you need a honeymoon?
- Well, it Schaub you understand, sho got involved.

- Abraham, give a loan of 100 rubles!
- I have so many - there are only 80.
- Come on 80, 20 will have.

How Uncle Jora said: "Sorry, but, unfortunately, nothing I want to help you ...»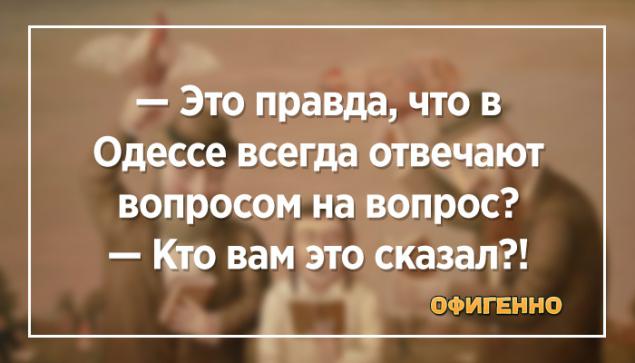 - Haim, shut the window, it's cold outside.
- So what? I will close, and the street becomes warmer? B>

- Monya, shares Are you my opinion?
- Yes, dear, even as the share, as much as two. Part of the first reject completely, well, the second did not agree - absolutely!

On Privoz:
- Can you tell me how much meat?
- Why do not say we did fight?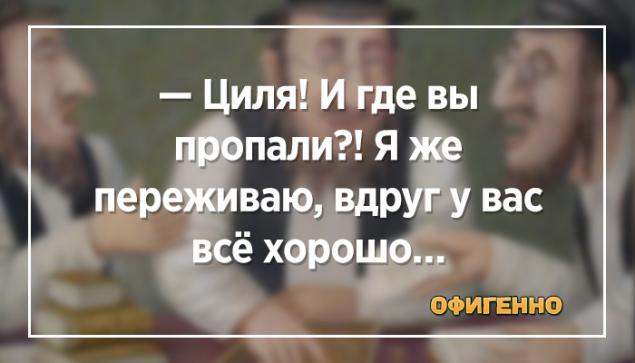 Odessa humor - always relevant. These anecdotes want to hear again and again. If you share a love of Odessa humor, the jokes to share these with your friends.

via ofigenno ru