10 ph + text. Source
Many modern cars have a very extensive list of optional equipment. This applies particularly to models of prestigious brands. These features include complicated installation to create the necessary microclimate in the cabin, powerful multifunction multimedia systems, etc. This policy is fundamentally different from that which was adopted by the manufacturers of luxury cars 80-90 years ago.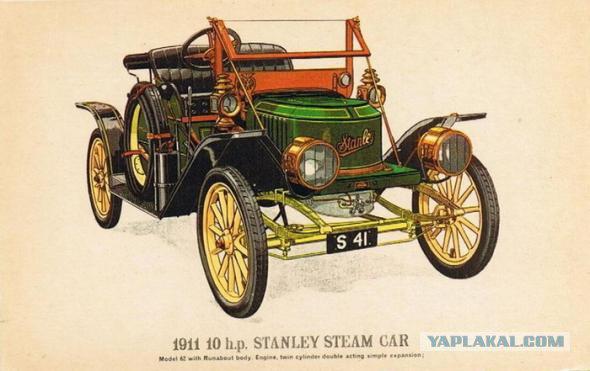 In those times cheap machines tend to have a minimum set of equipment included in the original cost, although some firms require additional payment for folding awning, lights and even tires. On the same conveyor companies such as Rolls-Royce, Mercedes, Hispano-Suiza, Minerva, ALFA, Brazier, Mors, Panhard & Levassor, Pic-Pic went only chassis. The bodies had to be ordered in workshops specializing in their construction, as a rule, former coach. Massa company produces a huge range of different gizmos, devices, accessories and prichindalov needed and not, were tailors who specialize in clothes for motorists, who replaced the qualifications saddlers (manufacturers harness), in general, many have tried to meet the needs of adherents of the new sport as then we perceived motoring.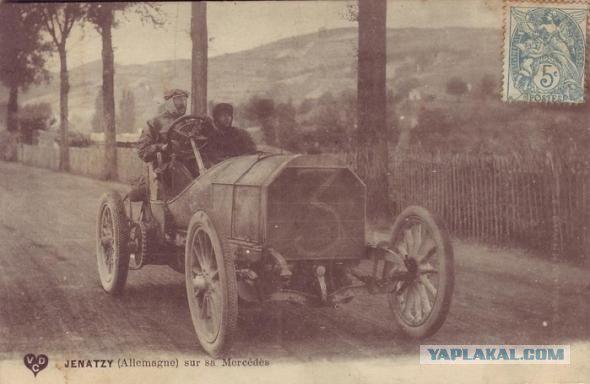 Construction coupe managed in a considerable amount, in addition, it is much made them heavy engine crew, sometimes taking away dozens of miles per hour. Therefore, most of the cars were open. Even the windscreen many considered superfluous, since in the absence of effective wipers in bad weather it had to be raised or lowered on the hood, and, accordingly, about any protection it was not walking. Thus, "shoffer" and passengers found themselves open to all earthly elements. Even in warm weather, headwinds to the bone and had to wear a coat and cap with headphones, but better - leather pilot's helmet and glasses- "canned", designed in such a way that they do not have windows misting. There was plenty of styles of leather driver's coat insulated lining, caps, hats, and gloves with gauntlets. In the winter should wear a fur coat or a driver's jacket, the so-called "sheep", which wore the famous Russian journalist, editor of the magazine "Car" Andrey Nagel Platonovich. From the rain saved rubberized nakidka- "paraplyuy."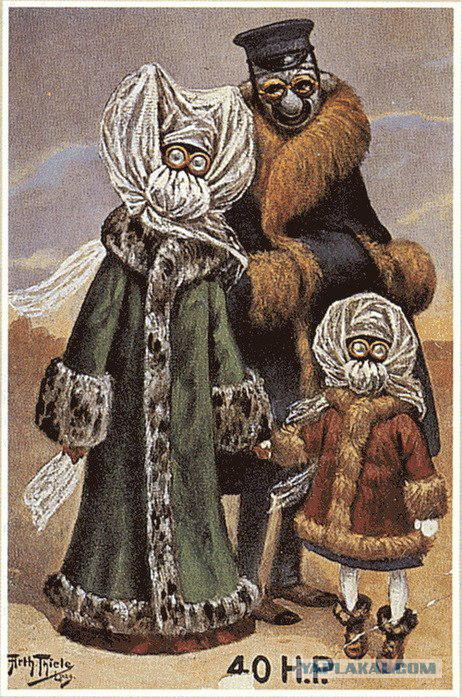 The faster you go, the colder. And there were jokes that on equipment driver can judge the capacity of the engine of his car. In Germany, even it published a series of postcards showing this opinion. If the driver is a modest 10-strong model could cost a leather coat, a cap, leggings yes ochkami- "canned", then placing 80 th "horses", you need to put on a real suit and breathe with a mask like aviator. By the way depicted on postcards "shoffery" are holding various items of road use - a can of gasoline, oil can or signal horn. It is worth to highlight the history of this particular accessory.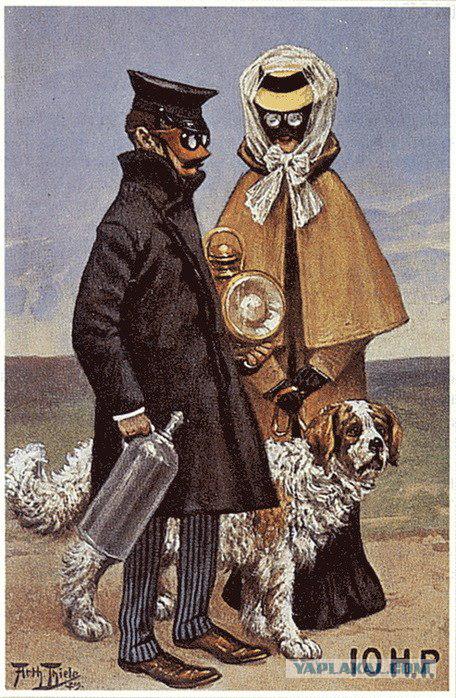 As soon as the first cars appeared on the roads began to be heard voices speaking of the dangers they may pose. Indeed, the speed of the "engine" is much higher than that not only of slow farm wagon or van milkman, but even at the mail coach. If the "motor" goes out of control, the impact of scary to imagine. That is why it was deemed necessary to forestall the emergence of a motorized carriage by beeping. Especially prevalent were horns American company founded by some horn. The brand eventually became common name horns.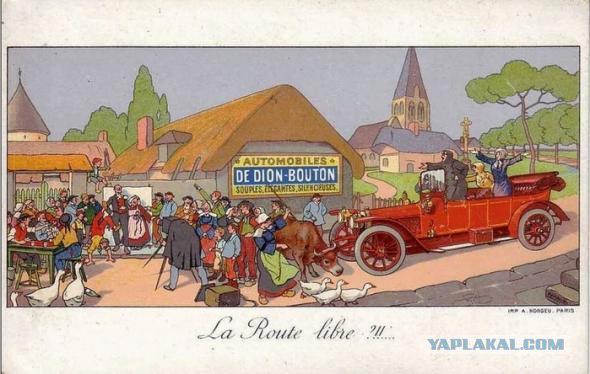 Signal horn usually have to buy separately, and it is worth expensive - $ 10-20. Is it wise to this waste? These doubts are dispelled colorful advertising firm "horn." The top picture is visible rural road. Two of the van made room to the side to let the car, although he had not yet seen the bend. On his approach the driver learned on donёsshimsya them to sound waves, on which is written the name of the company. At the bottom of the picture can be seen rushing at full speed the car and a horse in the middle of the road fright frozen, despite the fact that the driver struggled ohazhivat her whip. Passengers cars in a panic, one tries to jump on the move. The need to purchase horn clearly proved. Incidentally, the advertisement shows the powerful, prestigious cars, their passengers dressed in expensive car coats and jackets, hats, breeches, leggings and leggings.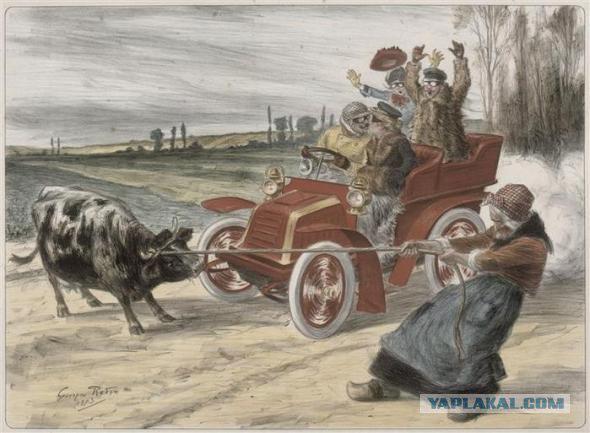 Horns were of two main types - with rubber ballonom- "pear" and with the rack, resulting in rotation anchor. Approximately the same is arranged bicycle bell. These horns can have an electromechanical drive. Production of horns reached a high level, the apex mnogorozhkovye horns were sounding a few shades, such as a signal to "wildebeest" Kozlevich, strumming "Matchish."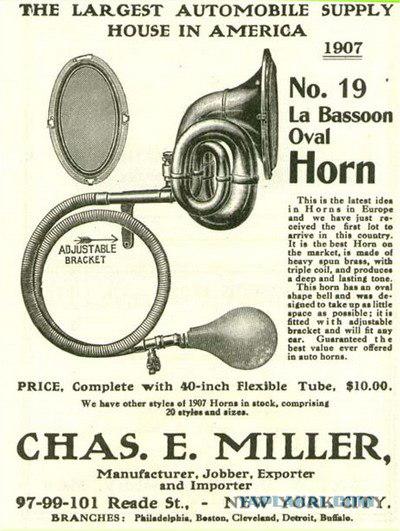 The number of objects that surround "shoffera" acetylene lights were also giving a bright white light. They refueled dry carbide, added to the tank water, gas and emissions. With the advent of electric cars in the use of sources included electric lights and remote lights on long cords for maintenance in the field.
The road suitcase and holdall, as well as vehicle-coffers placed baggage. Many people often went without removing cartwright trunk - visually it lengthened the car, and many believed that so beautifully. Behind the coffer was placed spare tire or two. Later it took place coffer removable metal trunk. But for some time we have been in the course of body type coach, who was a grill instead of trunk, which raised trunk. Bodies with a boot called hump back (hunchback) sedan, then there were cars streamlined forms that have been behind the luggage hatch. But now, more luggage grid on the cover of the main trunk is considered a fashion accessory. Back in the 70s she was present in the catalogs of family sedans Chevrolet. A true masterpiece of classic automotive look some models Bugatti, whose behind karetoobraznogo body (coach) is cartwright trunk.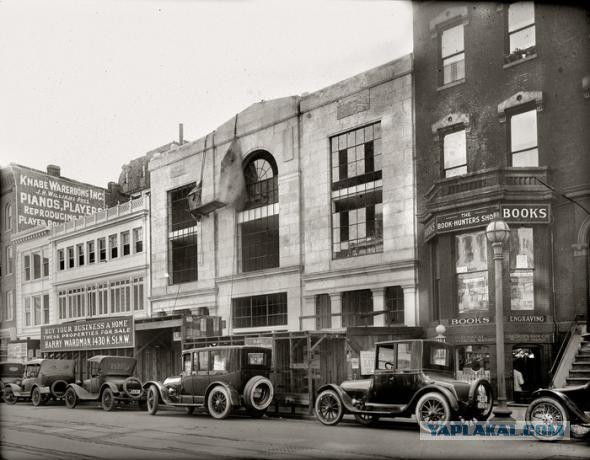 Fastened on the bandwagon bulky toolboxes. They placed the most diverse inventory. For example, in the movie "Gnomomobil" they found a suitable hacksaw with which a brother and sister by sawing window bars and rescued his grandfather from the madhouse. If necessary, you can deploy an entire studio right on the stretcher - bolted vise blowtorch ignited ...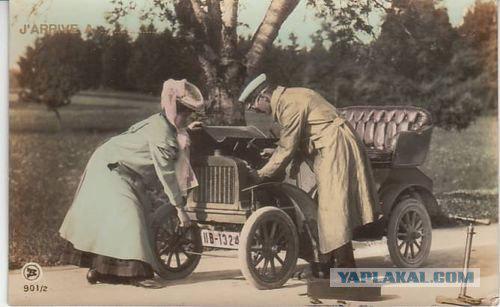 In general, the equipment of the vehicle during the time of our grandfathers was very colorful. Its release is carried out powerful industry, which does not give the jobless those who had existed by horse-drawn traction. Blacksmiths and Cartwright became mechanic, there was the matter and saddlers. Significantly increased income owners of roadside shops and pharmacies, of which today rose vast roadside complexes. Very interesting and now flip through a catalog «Alfred Dunhill`s motorities», which presents a great variety of gizmos that can win the heart and then "dandy car", and this fan-collector who gladly lay a few hundred for gasoline canister or tablet for road cards 80 years ago. That there are, for example, telescopic glasses «Bobby-Finder», allowing, as claimed by advertising, "to identify the police at a distance of half a mile, even if he is dressed as a respected man!" Noteworthy special pipes for motorists with protection against wind and cartoon figures nakapotnye police - a symbol of implacable hostility of motorists and peace officers.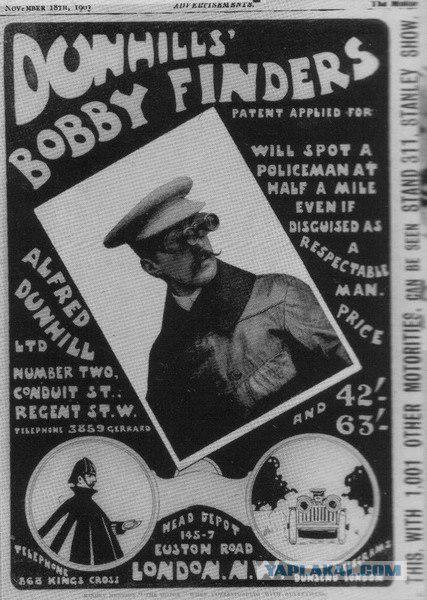 Source: