Author: Hi. My name is Nina.
For over 3 years I am a food blogger, madly in love with France and confectionery art in all its manifestations. Selflessly throws in an unequal battle with the most interesting and delicious French recipes - translate, prepare, study. Sometimes triumphed, but it happens sometimes that I do not have the skill, knowledge bases.
A day in the life of a wedding organizer (59 photos)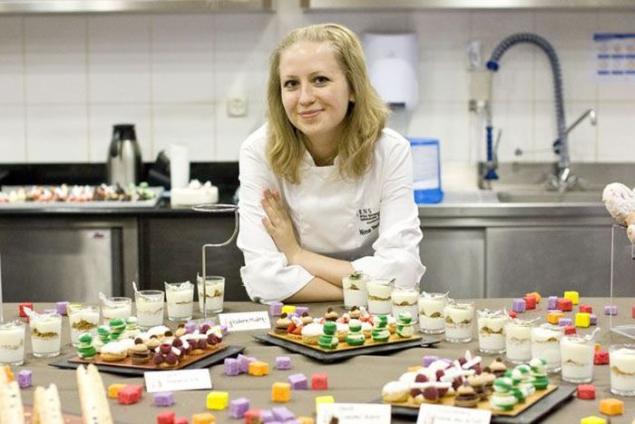 Thus, relatively recently, it was decided to get professional education in the confectionery industry. And no where else but in the Ecole Nationale Supérieure de la Pâtisserie (ENSP), in high school in pastry arts Isenzho, near Lyon. It is one of the leading culinary schools in France, for more than 25 years of teaching the best confectioners of the country, as well as foreign masters-confectioners. In July 2007, led by Alain Ducasse ENSP, maestro cooking with 19 Michelin stars, and Yves Turriers. Schools Guide provides ADFC (the Council and the Association of Alain Ducasse).
Behind me for a month at the school. I'll show you one of our crazy Friday (July 20 to be exact). It is no coincidence the choice fell on this day - it is the most delicious in the week. On Friday all classes arrange «buffet» - an exhibition with the possibility of tasting all that made this week.
So climb. In the beginning it was quite a sore subject. Our classes start at 5.30. I need to wake up at 4:30 to catch an hour to freshen up, wake up, in the end, take a shower, cheer up, get together, check bag with tools, a book with recipes. I, honestly, jumped on an alarm clock at 4:30 and immediately started trying to take a picture of the phone with the proof of time. But while closing one eye looking through the viewfinder, began to fall asleep and closes the second. In general, only 4.40 cope with grief in half.
Predvohischu your question: "Why do classes start so early ?!" All production starts before the start of the working day in all people. To the breakfast was fresh croissants, baguettes etc ... And so we have to temper future training in pastry, which already begin in a month.
Can I continue to miss a moment of the soul, and with a toothbrush? Well, the right word, you that have not seen toothbrushes?
In general, dressed, hair removed, grabbed the suitcase and recipes, and even a camera. And ran to class.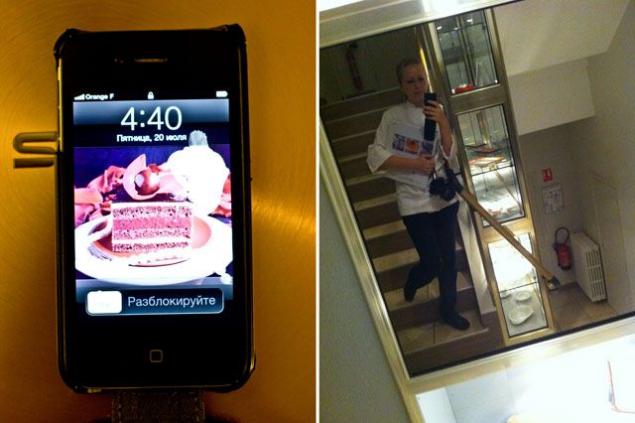 By the way will be said, we live right in the castle. Each has its own small room with en suite room. In order to get into classes - you just have to go down, go outside and walk two steps.
Room key - in a special cabinet. Then do try to take a picture for you morning Arrondissement of Yssingeaux. Can not see anything.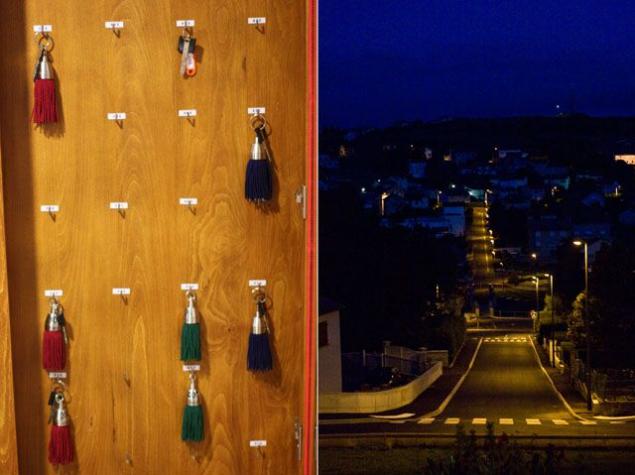 I always like the first, except for the chief. Before classes begin for another 15 minutes, but I was puzzled - mix, sift, rub, get out of the freezer the workpiece. Rushing through the audience with trays have time to make a quick photo of the workplace. It is not our class, we are engaged in it only those 5 days, because it is designed specifically for ice cream, which is the main theme of this week.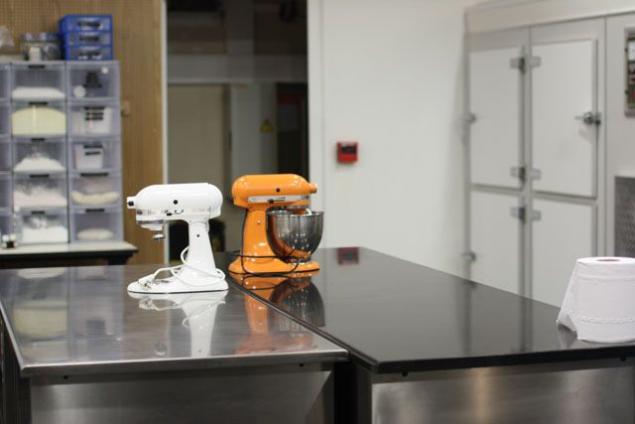 Our textbook. It has more than 100 recipes (only the name and ingredients, without describing the process of cooking). Opens the first topic of the lesson, and why going to start - Guimauve, they also marshmallow. General theme of this week is quite simple - «petit four» (small desserts "one tooth") and ice cream sorbet. Before there were already all kinds of Tartu, cakes, updated French classics (upgraded).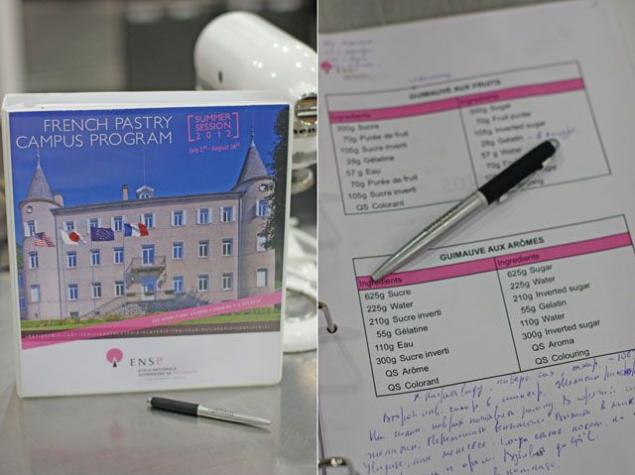 I marshmallow in ordinary life, then do not eat, and then they could not seduce me. Not mine.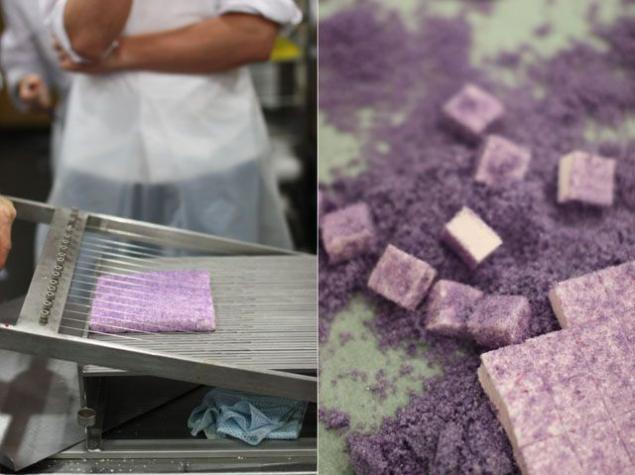 Then glaziruem ice cream. Them we will have several types: green - lime, light brown - coffee with brandy.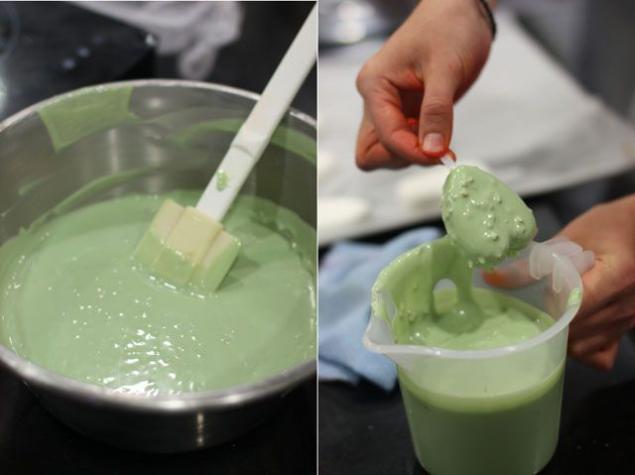 All our week consists of the fact that we do different preparation - start with basic doughs - biscuits, shortbread, flaky, all that is in the list of recipes. Then ganache, cream, mousses, the first part of the assembly. On Friday, we just grind, decorate, collect and finally completely glaziruem.
How, for example, here. Our Chef Richard shows you how to collect "mint-basil pasta" in the form of «religieuse» (fr. Cake "nun", which is on the classics of the two balls Choux pastry (profiteroles, shu) with different fillings).
Yesterday already tempered chocolate, painted patterns. Today, he is perfectly willing to work.
Next - beautifully and evenly cut into the ice cream "Pina Colada" as a sandwich. Actually - with a knife, it's me.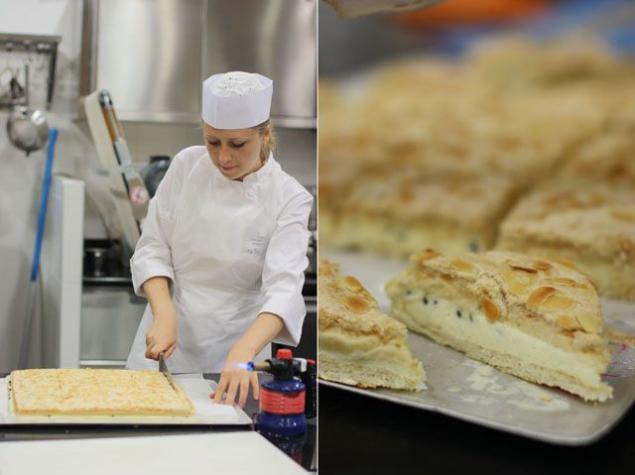 Do not have time to really accelerate, and have breakfast. Food here on schedule. A month had breakfast freshest, gentle, warm and crispy croissants. Honestly - see them I can not. As if I had not loved pastries puff pastry, now just dream about cheesecakes ... but then did not find a suitable cottage cheese.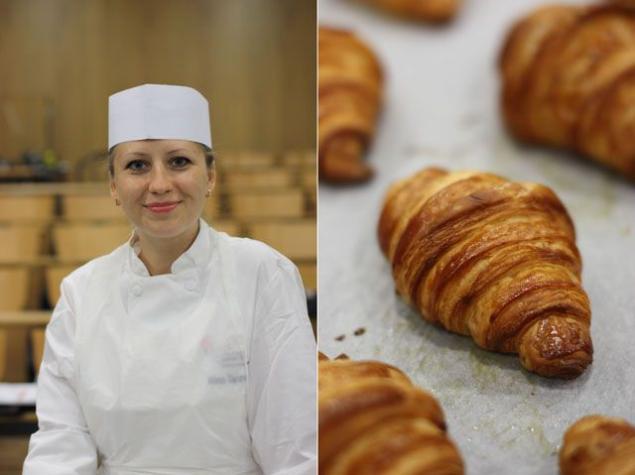 Compare notes. Go according to plan.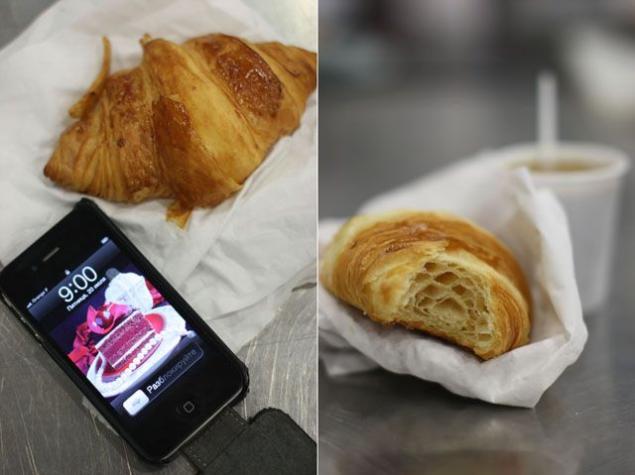 We have about 10 minutes for a cup of coffee with milk and croissant. By the way, it is sometimes puff "snail" with raisins and a thin layer of custard.
During this time, you can go out and some exercise. View of the city, enjoy dawn. In the photo on the right - this is the entrance to the main school building, where most classes.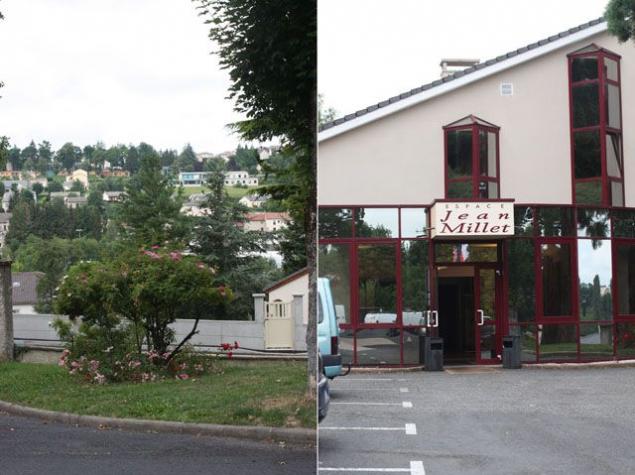 Let us look for a moment: on the wall of a huge symbol of our school and the next Cup: «Coupe de France des Jeunes Chocolatiers Confiseurs. 2012. Medaille d'Or ».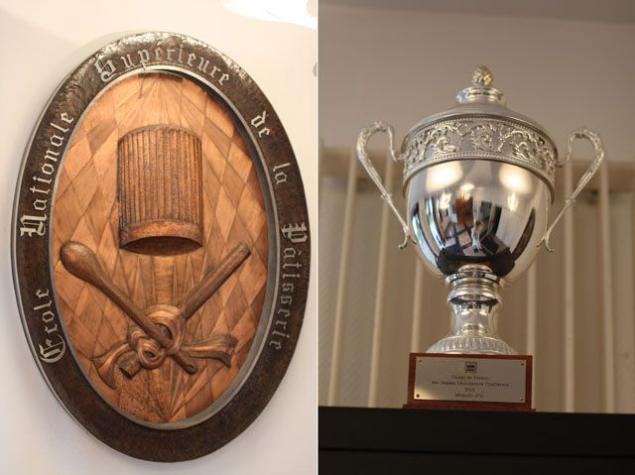 Again run whisking roll, cut ... By the way, take a look at this beauty (left we continue to scoff at the marshmallow, they even lost count of exactly what it is optional) - an entire canister of egg whites. Exactly the same has a separate egg yolks. Very convenient, just indescribably comfortable. And I dream that someday it will appear in Russia. Already pasteurized liquid (like "aged"), ideal for making macarons and do not have to puzzle out where to put a liter then the remaining yolks.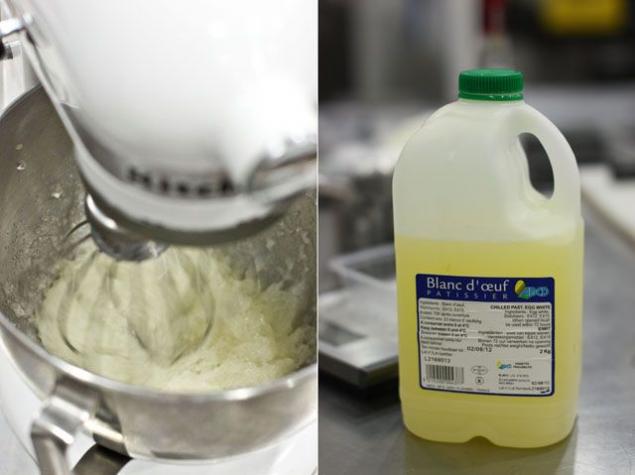 Who did not cut "sandwich" before breakfast, continues to do today. Chef once again demonstrated all: make measurements, draw a dotted line "knife-accordion" quickly under the knife and cutting torch. Act clearly and quickly, because the ice is melting.
And so, the first victim of carelessness and not care. Con hand directly under the fire of the burner. Our martyr - Belle from Brazil. Chef himself makes a bandage.
But do not worry. After half an hour (whether pills worked, or simply such a good atmosphere in our team), Belle already joked and laughed.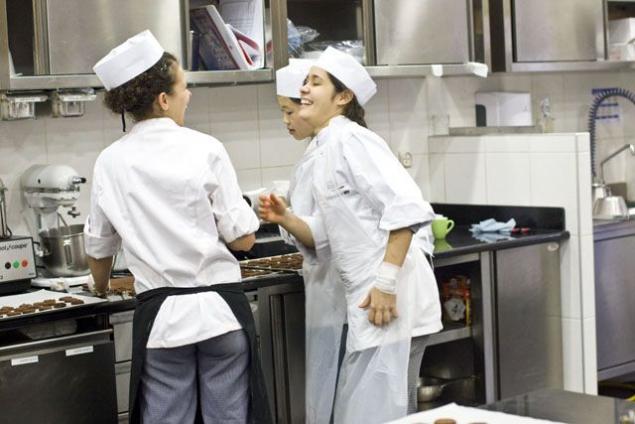 Next glaziruem "petit-wagon." By the way, the boy - it Aart from North Africa. Explain the subtle humor, written on his apron:
Our school has several classes: one class "older group", mostly French or who speaks fluent French. Learn about a year. Two classes of "primary group", ie people who came without any experience, skills or early education in cooking. Education in English, as we do. Our group - «PERFECTING CAMPUS» - people with more or less experience and basic knowledge in the field of confectionaries. All our desserts are more complex, interesting, innovative and upgraded compared to the "classical" approach.
Inscriptions at Aart like "Aart fool" and "Smile and I'll be happy" - failed to capture. But «Perfecting perfect» - please.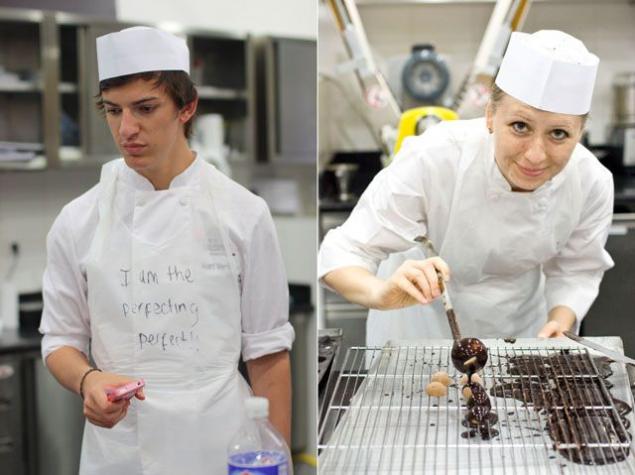 Meanwhile, we all ran smartly with trays and ice-cream cake in the class of "seniors". We need to cover the surface of the velor special "gun". Corner of my eye I note that the same joyful and amazing show us they are in today's "buffet". Thus, the theme of "logs", fine. And this little proud woman pictured their teacher, twice World Champion Pastry.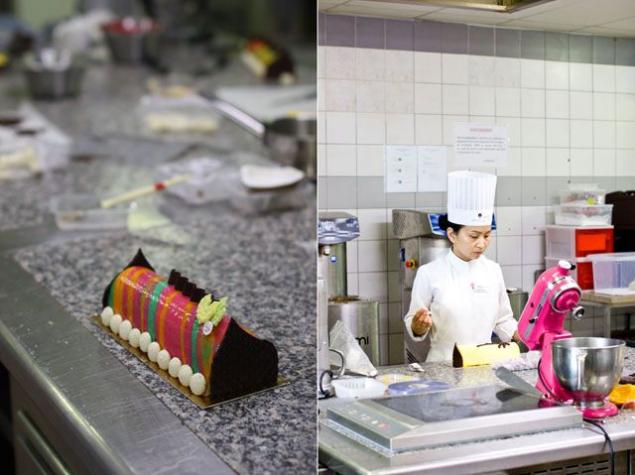 Again "demo" how to work with a wonderful technique.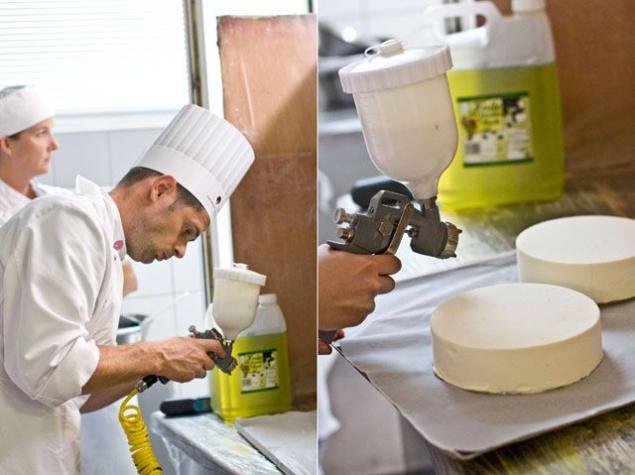 My partner this week - Fanny from Jakarta.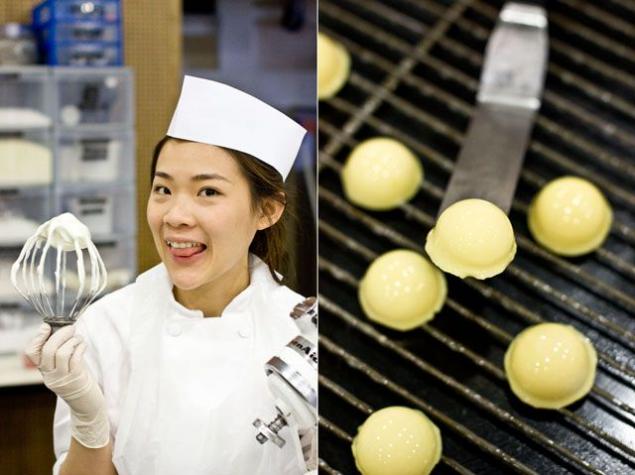 Putting little lemon cakes on crispy ones of dough with lime.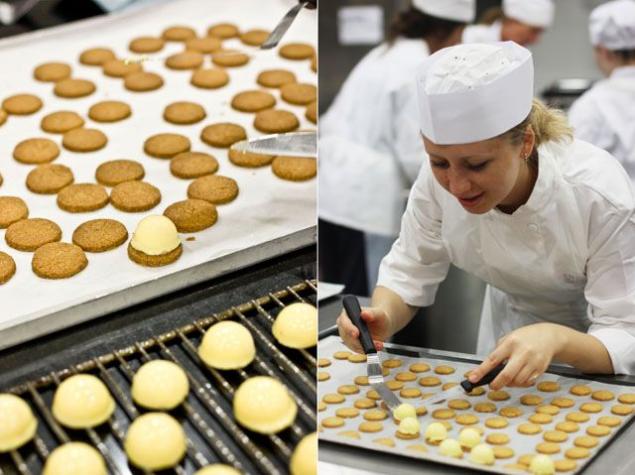 Here Fanny yawns. It was a cry of indignation, sorrow and despair - Kumuda dropped glazed hemisphere mousse and he lost his beautiful perfect appearance.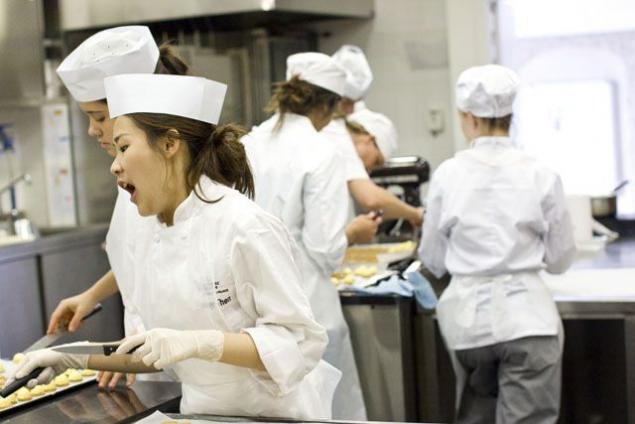 Next - "chocolate crunch." And chocolate twice, as the title. I would call it a cube - a chocolate biscuit, similar to the composition of thick cream, chocolate mousse and chocolate icing. Urasheno all nugatinom of crushed cocoa bean.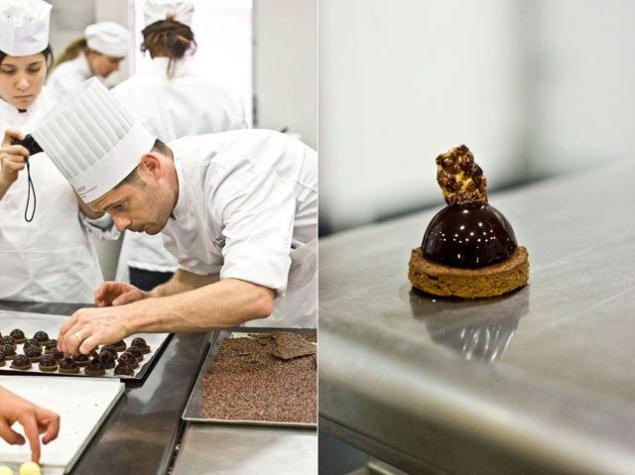 Kumuda, a girl from India. I understand it angliyky worst. And, says something it's fine, but with an emphasis and inexpressible intonation, swallowing sounds and pronouncing certain letters in the nose ... I sometimes get lost.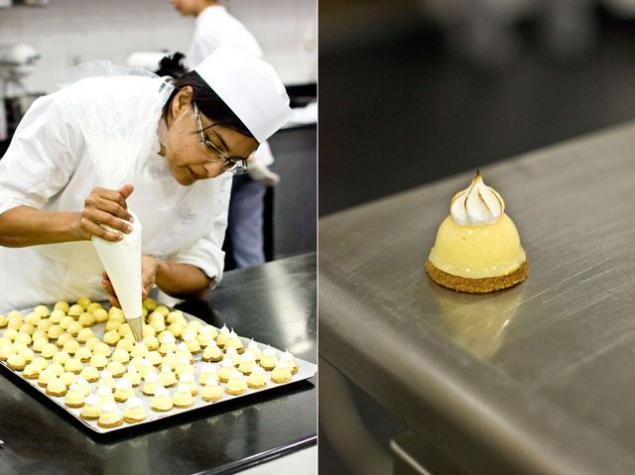 Time to eat, chef happy.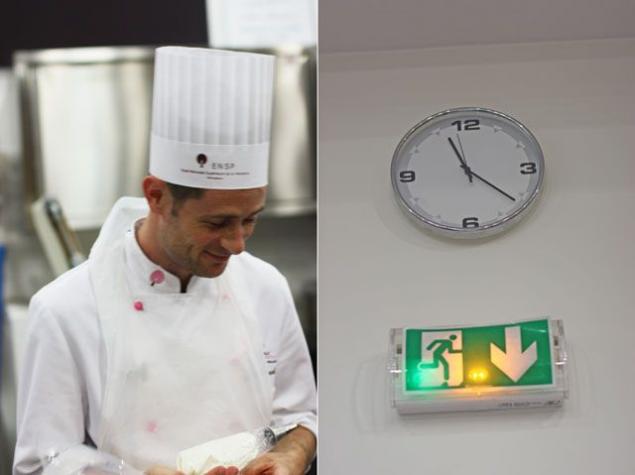 There are very few and you can decorate the table. Finish to make a small cake with raspberries and strawberries, with delicate Italian meringue lemon and crispy basis of pastry with sesame seeds.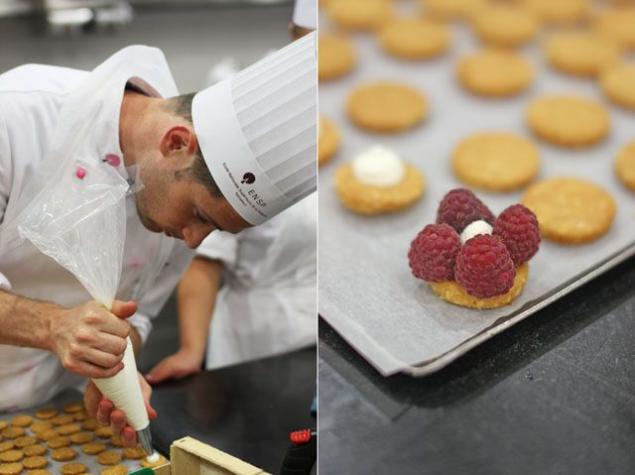 Time has gone for a minute. While the chief gloss finishes in cakes, we take for cleaning. This is one of our responsibilities - kady day after school study lead to the perfect look.
On the first day, when we finished cooking and we have removed all the tables collected suitcases, rubbed the surface, the chief said, "Now and always, we will learn including support for perfect purity in the operating room." I reassure myself only in that it is only in our favor, it disciplines and rightly so. But it was still a surprise. Richard takes four full bucket of soapy water and a fully pours 4 desktops. I have a little hair on end from the shock did not rise. All water naturally on the floor. He takes another hose and begins to pour floors everywhere - under tables, under the cart. Then we were given mops, rags - and into battle. And so every day. The room should sparkle and shine when we go - every ruchechki, each box, each tile on the floor or wall. Not to mention the clean and shiny dishes. Well, that's right, of course ... yeah ... I myself like a mantra saying it every day. Now it is all used - you pour themselves rub the water and drive in the floor drains. But on the first day were all confused.
Each has its own important sector, this week I was home on a clean container and posudumoechnoy car.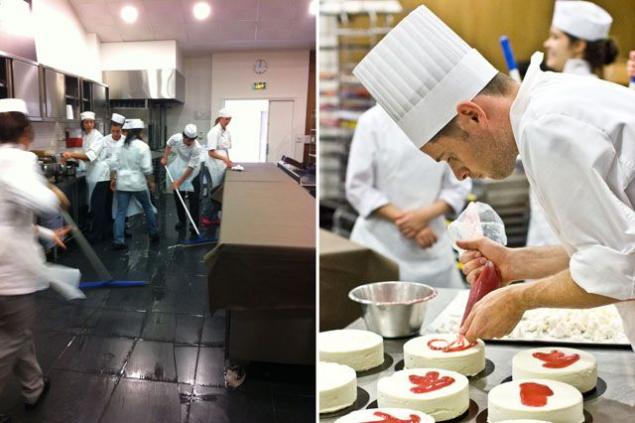 And then - "Buffet»!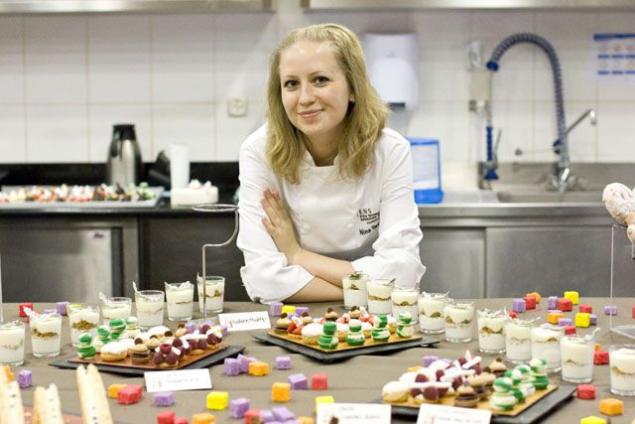 So, what we have prepared for the week:
Ice cream sandwich "Pina Colada". And mint-lime ice cream cup with krumblom.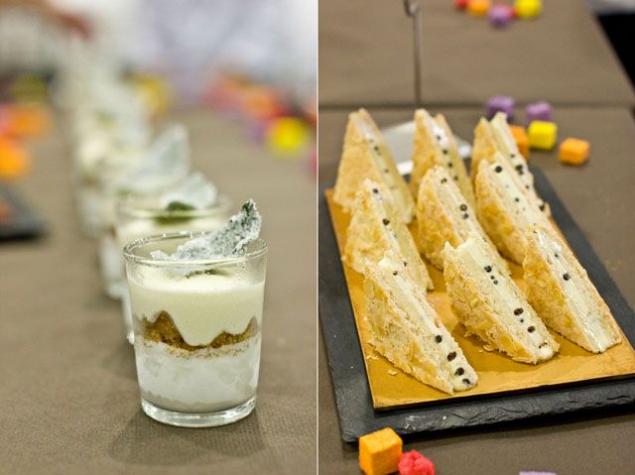 Here are this size should be all the "petit-wagon" - to a lekostyu Thing could put in your mouth and eat immediately.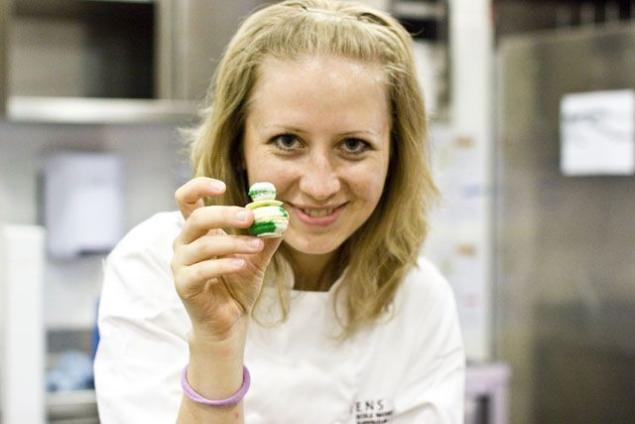 Marshmallow, mint-basil "Nuns" -haki pasta and chocolate with praline.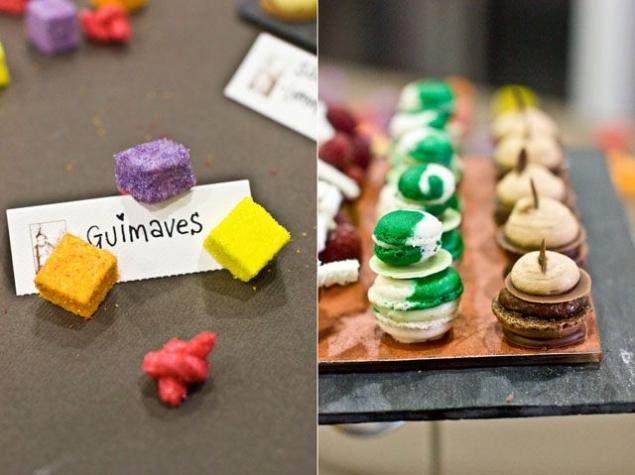 From left to right:
Shoux caramel banane, tarte framboise Soho, double chcolate crunch, sable lemon merngue.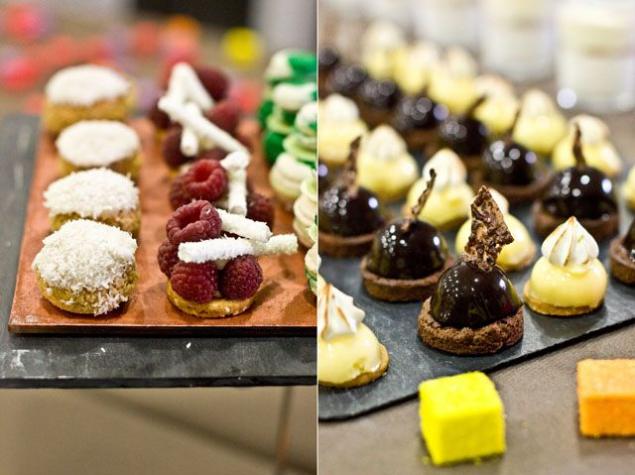 Ice-cream cake «Vacherin Modern».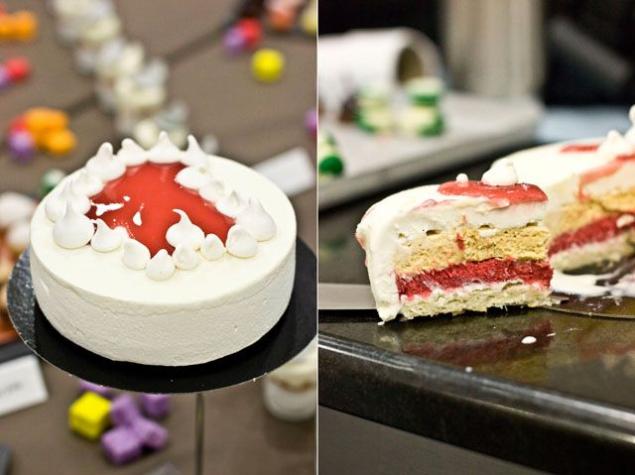 Ice Cream "in stock».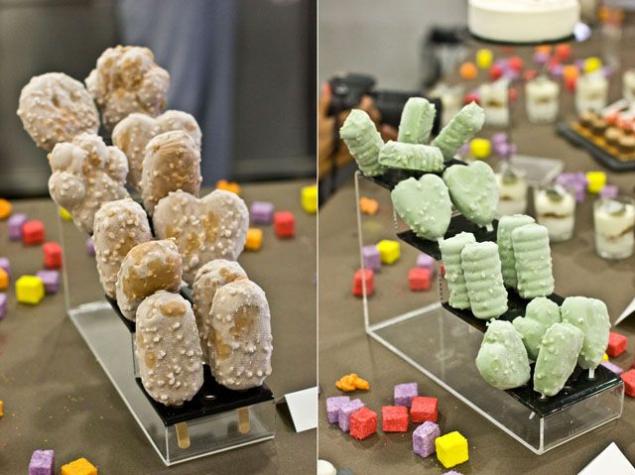 And it seems like everyone else. We run the first "initial" class. They are also well done, rasstaralis to fame. If I'm not mistaken, the theme of the week was "basic dough».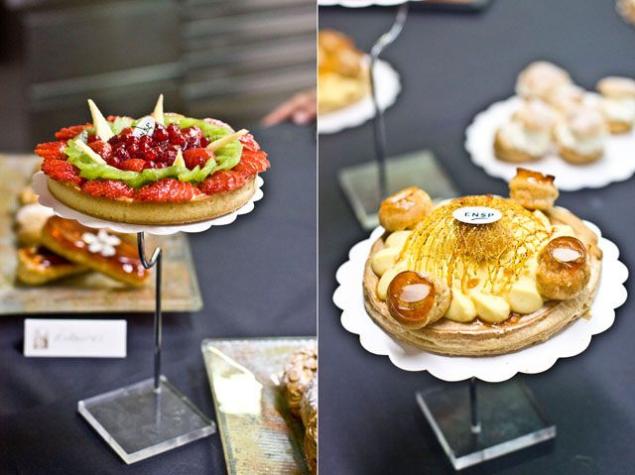 Lemon tart with meringue and custard Milfey.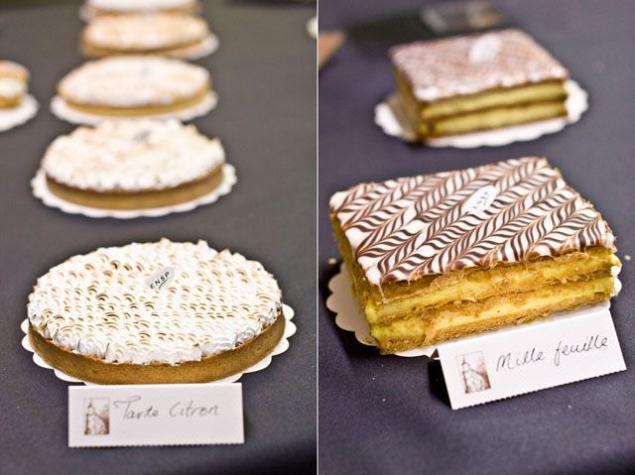 Apple and pear tart.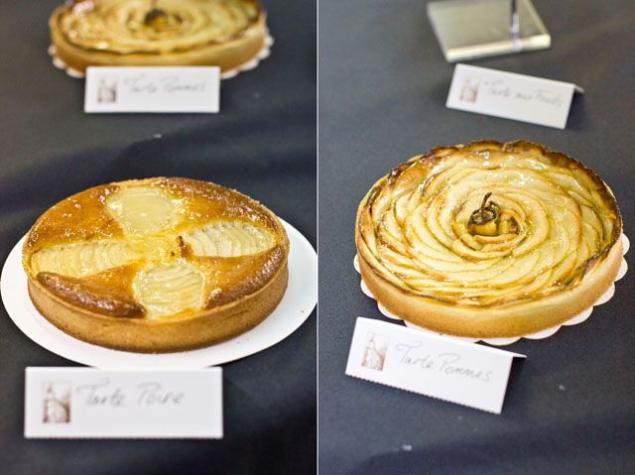 Classic "Nuns" and "Eclairs».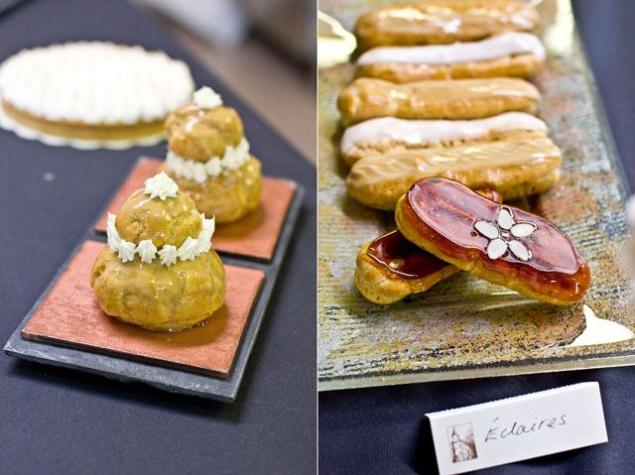 Immediately, at the next table you can taste everything, everything. Lena from Moscow and Emilio from Panama.
The second class was the theme of "Chocolate, sweets and jams».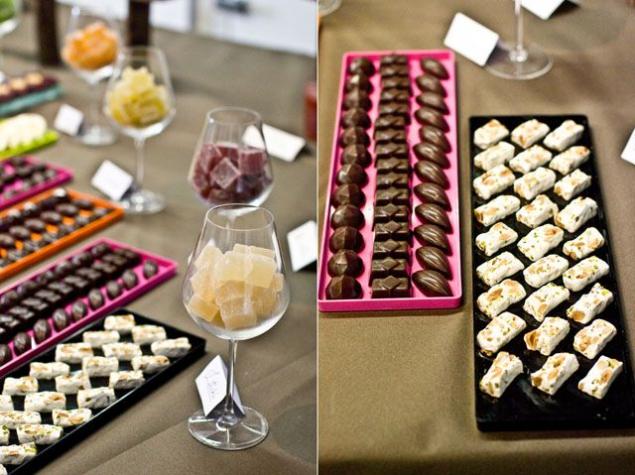 If I'm not mistaken - orezovaya nougat and almonds in sugar.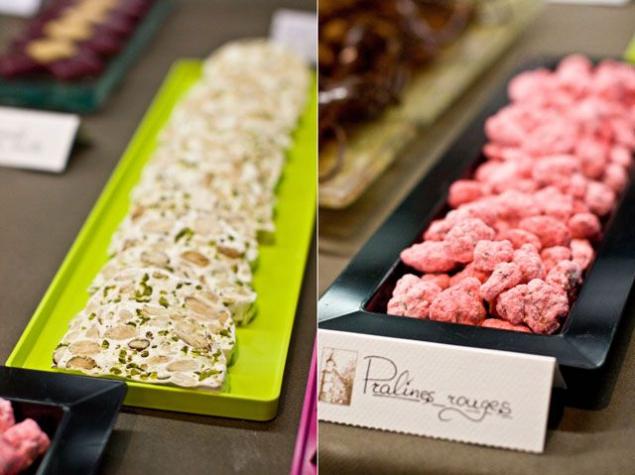 Caramel on a stick and truffles.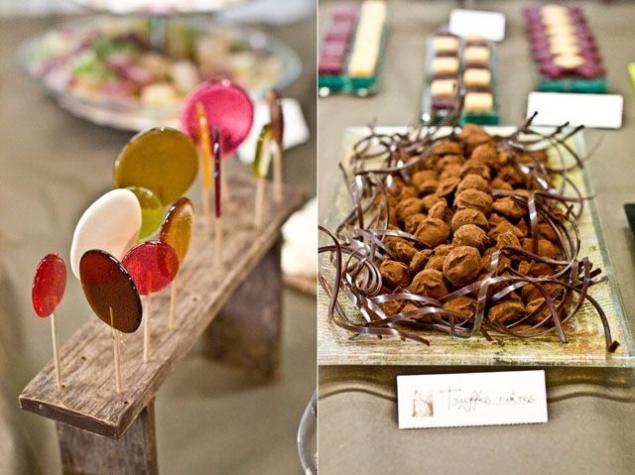 And now, in the older group, while there's not eaten.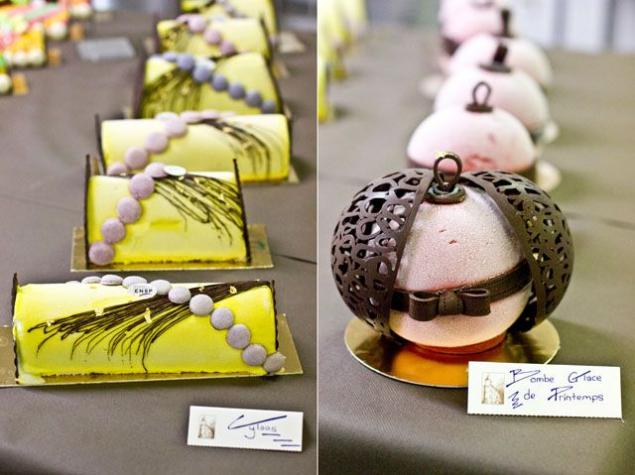 There simply are no words - one big beauty.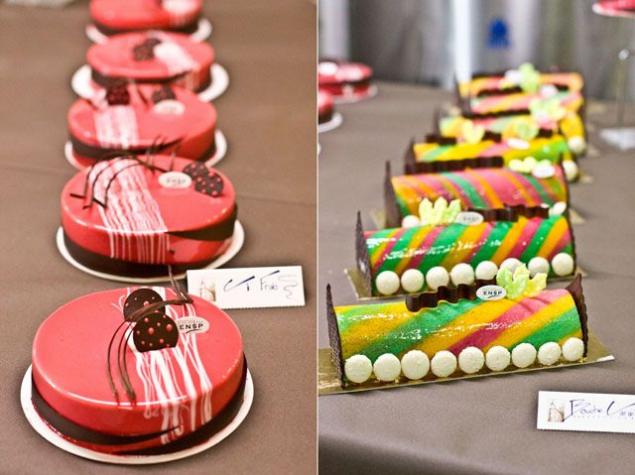 "Black Forest". We have this or a similar cake (still do not know assembly) do this week.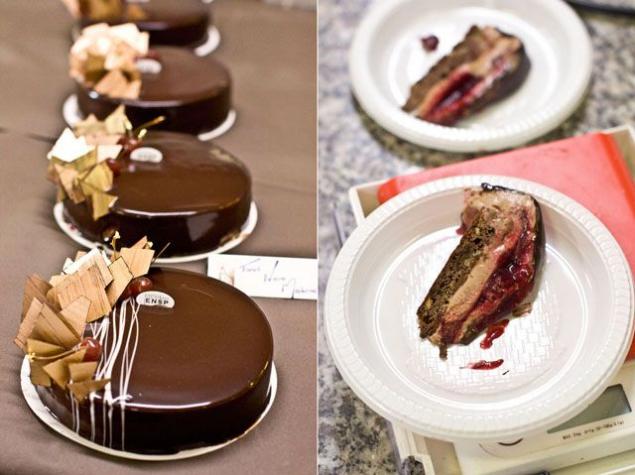 And something like "pins Colada", as I understand it.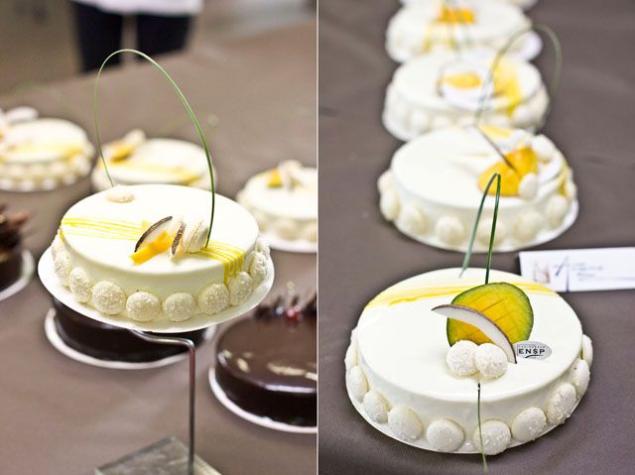 Back to class - compare notes and take pictures with a satisfied boss Richard. We are all today (and indeed in general) - mo-Lod-tzu!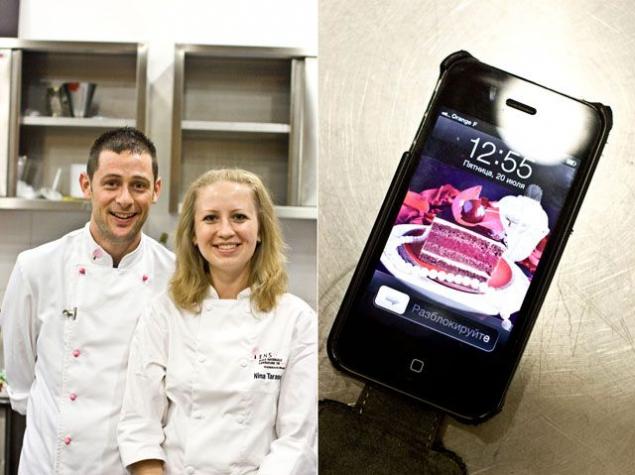 My bogaststvo - Tool Case with chastlivym number 13, the book with recipes.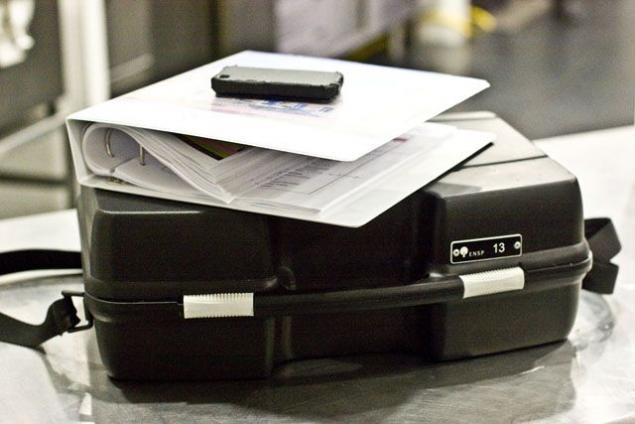 Run for lunch. We've got amazing food. Every day something new, has never been repeated nothing - meat, fish, pasta, lasagna, kebabs, bird ... always fresh salads, fruits and vegetables, terrines, sausages or salted fish. But feed us only the week on the weekend, we ourselves must provide food, as well as dinners - always.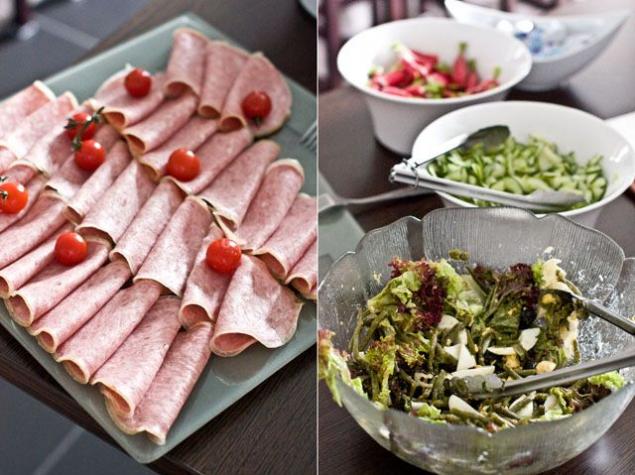 Today meat. But I decided to do a piece of sausages and salads. You know, with obrazm life and number of sweet ... I'll be at the door will not pass.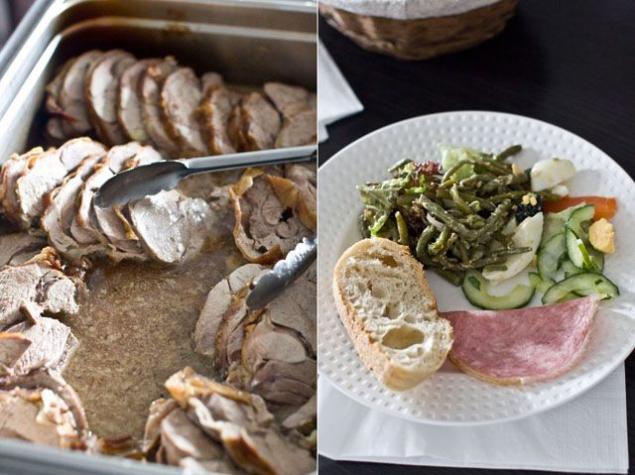 Running in the room - shower, change clothes and into the city. I want to show you a little of the surrounding area. The fact that it's only the middle of the day, in the evening at 18.45 we are two girls go on holiday to Lyon.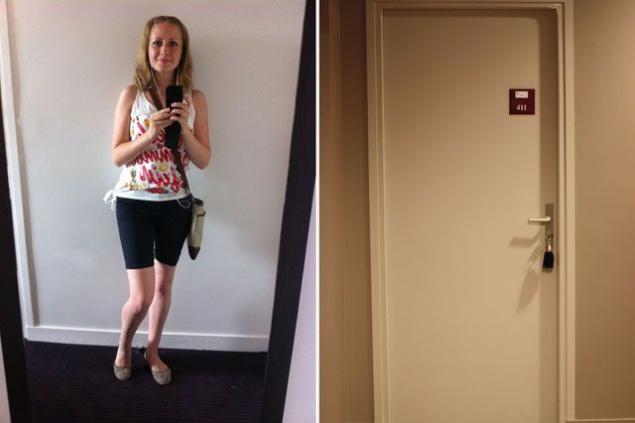 A few steps down the hill and you can look back. I always do, to admire the castle.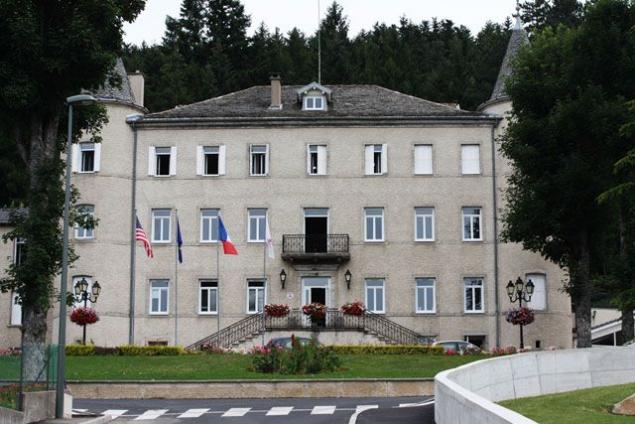 And ahead - the city. Everything is on hilly terrain and constantly have to go then vyskoko uphill, but run down the slope.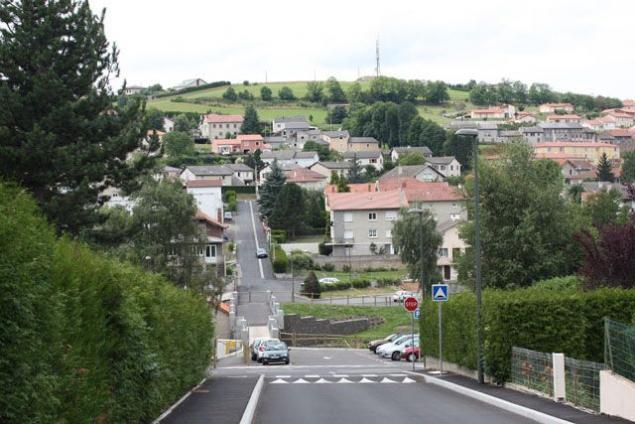 Not far away there is a tennis court. And all surrounded by greenery. If you look on the left photo, you can see a white horse. I dream all get to know her better, but it is not our approach.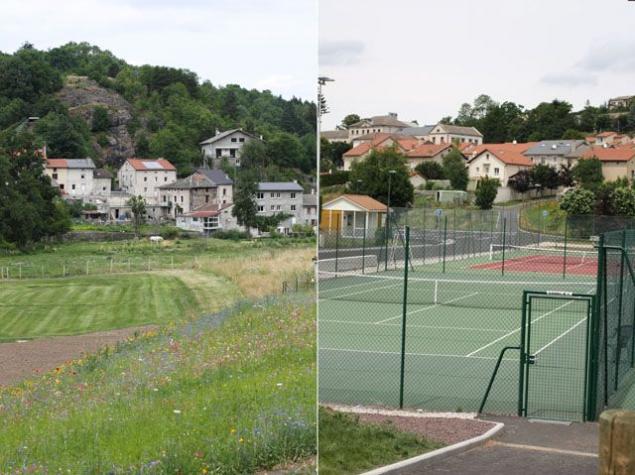 That's a miracle she met on the tree. Almost trot!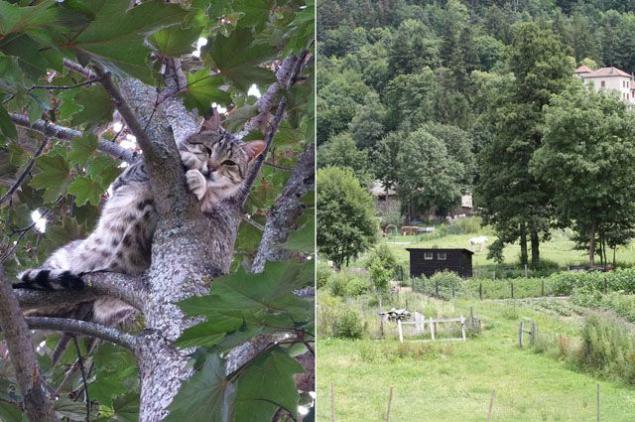 Almost there. Right - the city back - forest.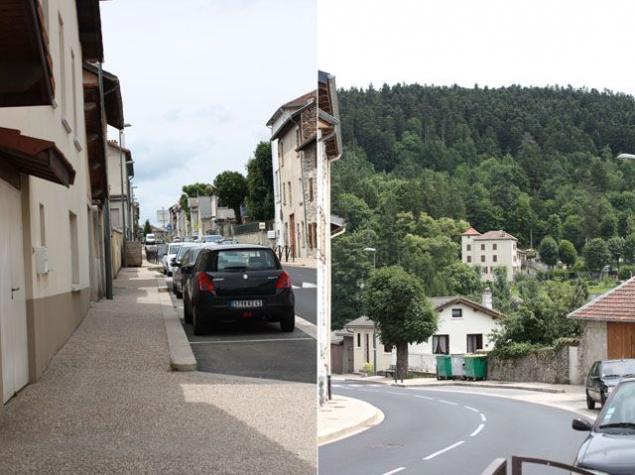 Center. The first small shop with food. More or less where there is everything.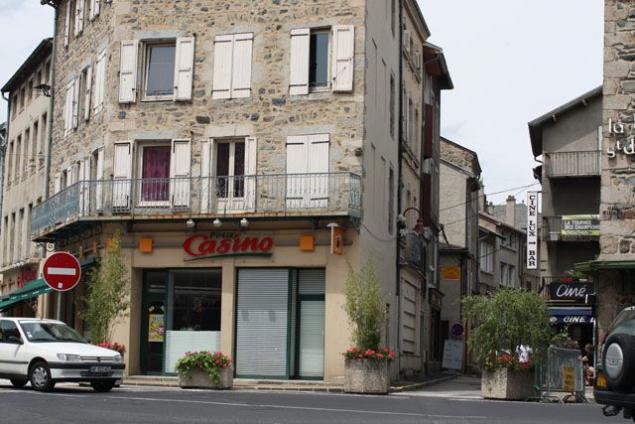 The city is very rare to find a person walking. All or sit in cafes and bars, or ride in cars. Hiking here some students confectioners.
My favorite building - Hotel de Ville - Municipality building. And the entrance to a small park with two benches.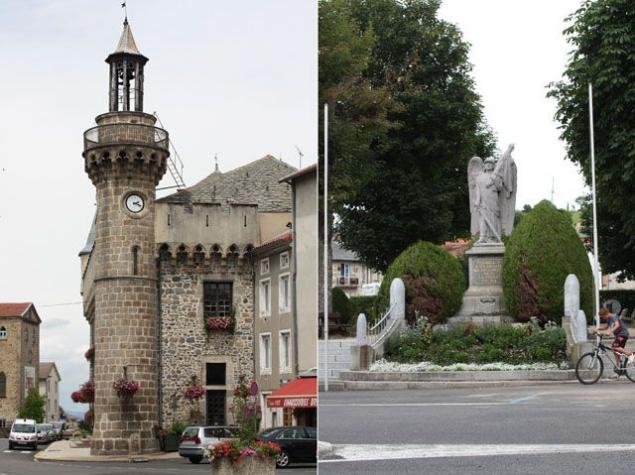 Church and tent with fruit. Fruits take only here - delicious.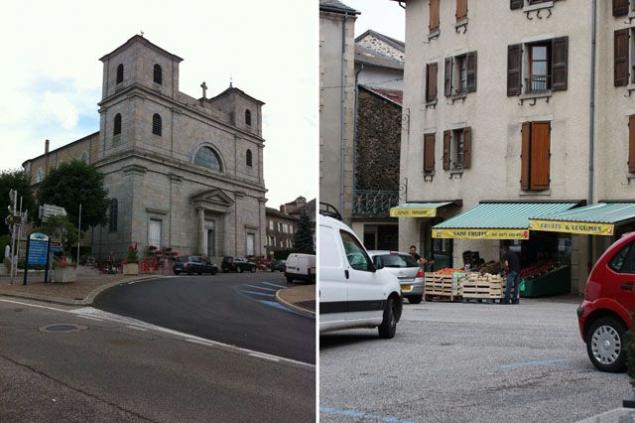 Going back to the "Chateau" by the same route. About the school itself I met the kindest dog. He is not just a watchman, but also a shepherd. In his office a whole flock of sheep. Now they are in the pen and no way to take a picture.
In the photo on the right - the road to our common kitchen. There we can prepare ourselves. Forces are not even climb the mountain, poetou kitchen show another time.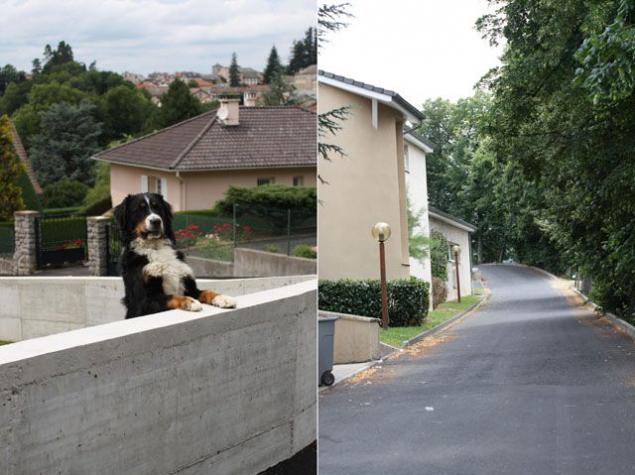 Go back to your room. In the light of the day and I can show it. A small room with a comfortable bed and a view of the Arrondissement of Yssingeaux.
Let's look at the clock. By the way, if you notice, the screensaver on the phone I have a piece of cake. This is my rendition of the French "Opera". And I'm not in vain photographed with a player - can be seen badly, but at the moment is playing "Tanz der Vampire". And this Musical became my inspiration to create this dessert "Dark Count».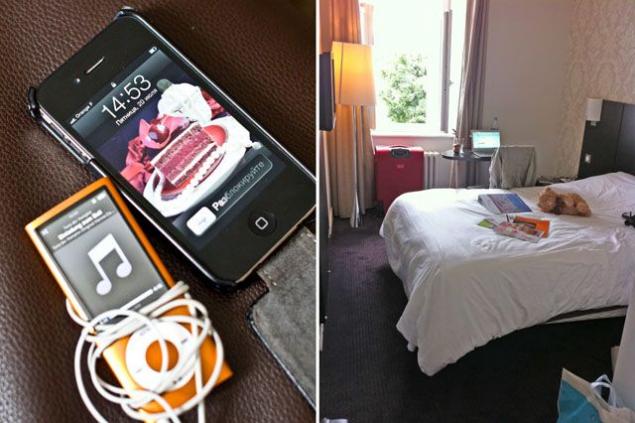 Time to the bus there. You can safely meet, check out their website, respond to comments and disperse spammers. I, however, had during that time again 10 to run up and down, but the pictures of boring moments did not. Now the question is on the agenda with my visa, I need to prolong it in order to get an internship in September. But with the administration and decide how it will be better for me.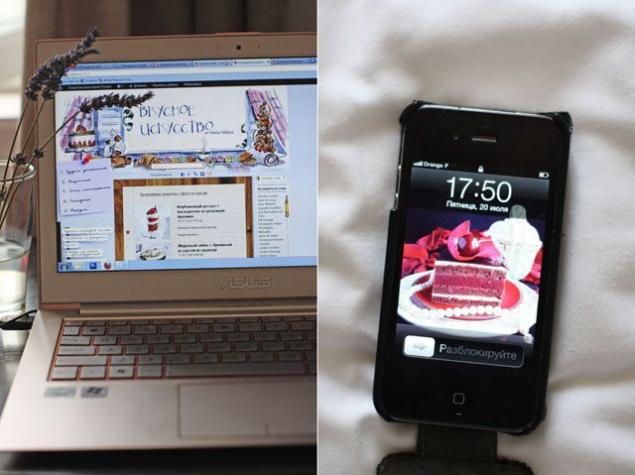 At 18.00 we agreed to meet with a girl in the lobby. This is our living room.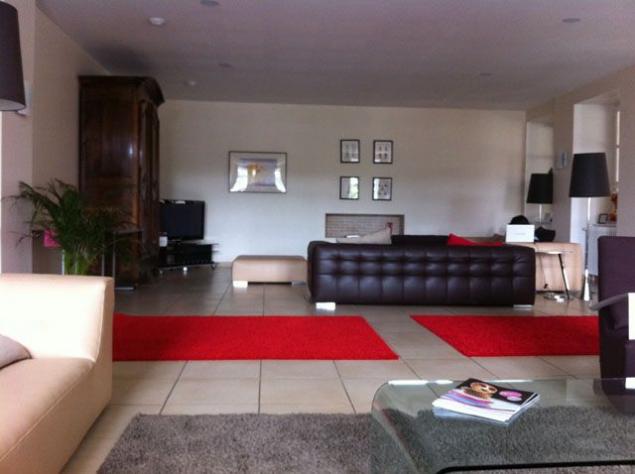 Out of it yet so you can get to the library.
Decorations, I think, very authentic: pictures of cakes and candy pieces. We will work with the caramel in a few weeks just yet. By the way, will teach that same double world champion.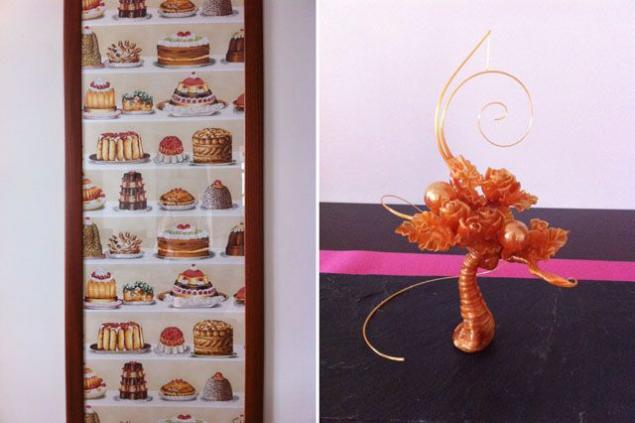 Meanwhile, the weather turned bad. There is often the case - from strong winds to the sweltering heat and thunderstorms.
To get to Lyon need to perform a kind of quest. Direct flights there are no (not including taxi, which will cost 200 euros). So - bus to Saint-Etienne, where the tram to the train station, where the train to Lyon, there is still a tram to the center and all.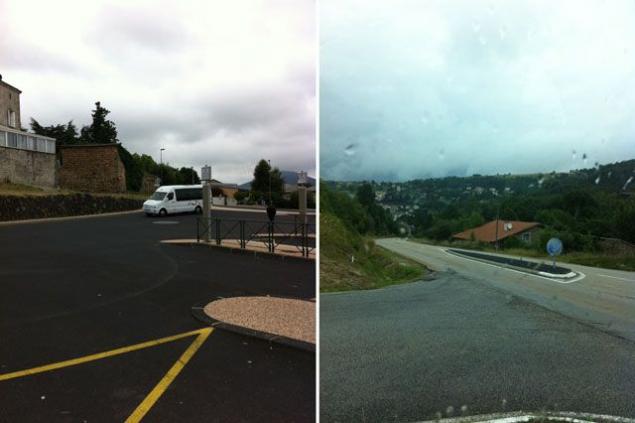 In Saint-Etienne in full rain pours. Tram waits for no one, and you can not sit down without a ticket. A ticket bought in a special machine.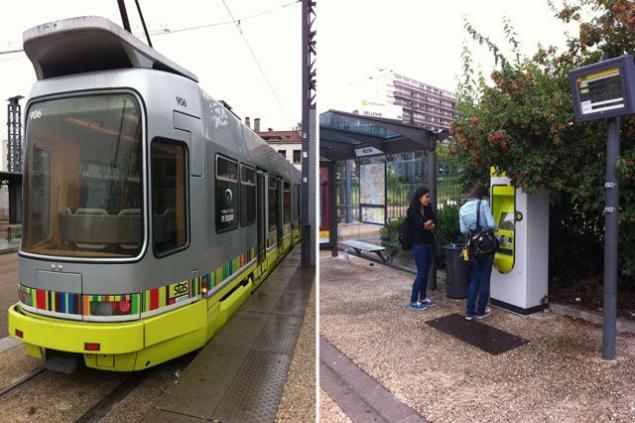 Until the next for another 15 minutes in the rain and wind. But never mind, we are strong girls. By the way, my company - is Mia from Philippines and Lena from Moscow.
The train station!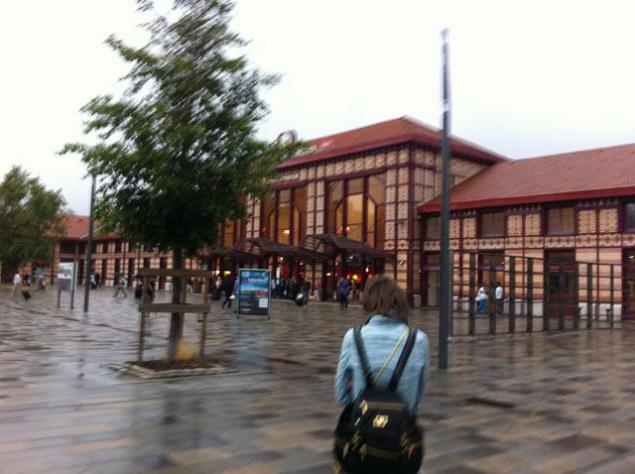 This route we have already beaten, not the first time we go, so do not feel too much difficulty - all bought on the desired platform jumped in poedzd sat for almost an hour and you can nap.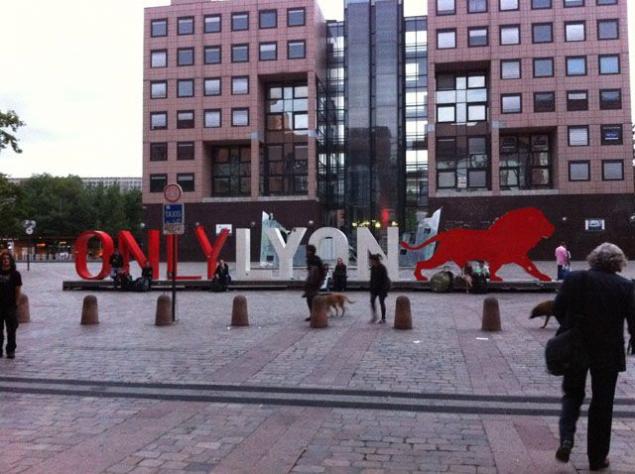 The last spurt. Tram, then walk across the bridge to Bellecour.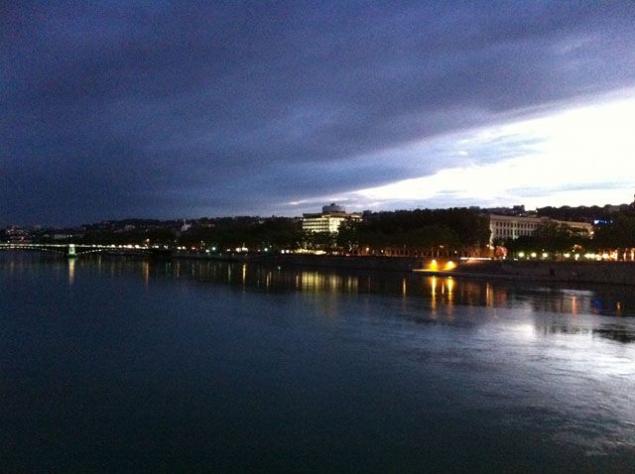 Quick dinner at a local cafe. Excuse me, that without a photo, then simply no longer placed in a limit of 70 photos in the subject. And hotels.
The hotel is very simple, 2 star, but comfortable, warm, clean and neat.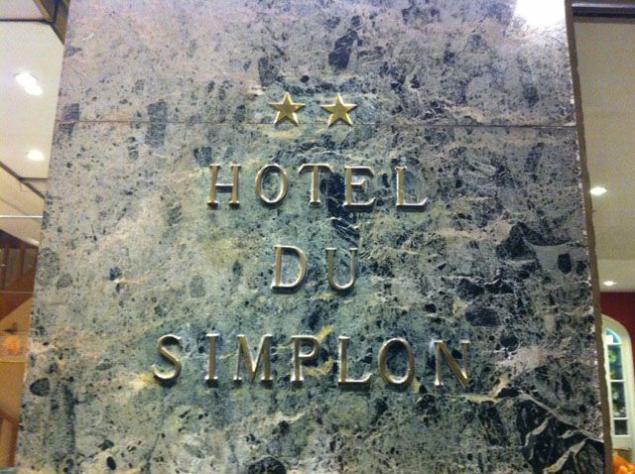 We took a triple - room for three. There was a small hitch and the last effort we have tried to grumble. When they came to the room and found only one bed. No, quite spacious, but not for three. Went downstairs and asked the administrator to poke our noses, where is the third. Was under the bed first. All forces are no more.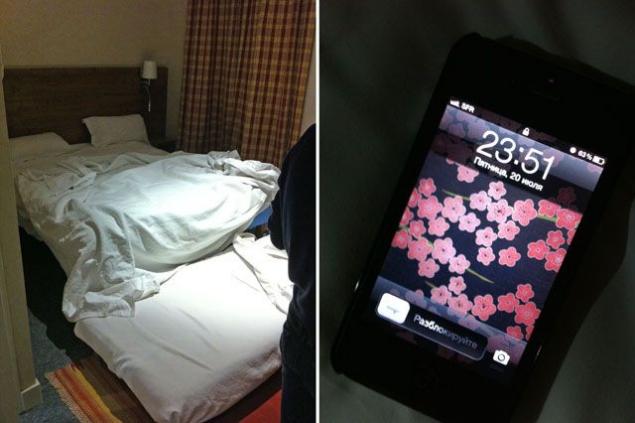 Here's a busy day turned out. I hope you enjoyed it. And tomorrow - two days ahead of Lyon. During this time, it is necessary to see a lot of pastry for future internships. Then discuss your notes with the boss and the administration. But it all tomorrow, sleep now, we have earned.
Source: odin-moy-den.livejournal.com