How long have we been waiting for! No, I'm not talking about the award ceremony "Oscar" or the Fashion Week in Paris, though this is also important. First of all, we finally rejoice calendar spring offensive, which as always reassuring and gives a powerful charge of vivacity and good mood. While we are still wrapped in a cashmere coat and slowly remove winter shoes, the world's leading designers have taken care to prepare us the best items from the new collection to please our lovely legs fashionable summer shoes in 2014.
1. Fashionable Shoes 2014: Muley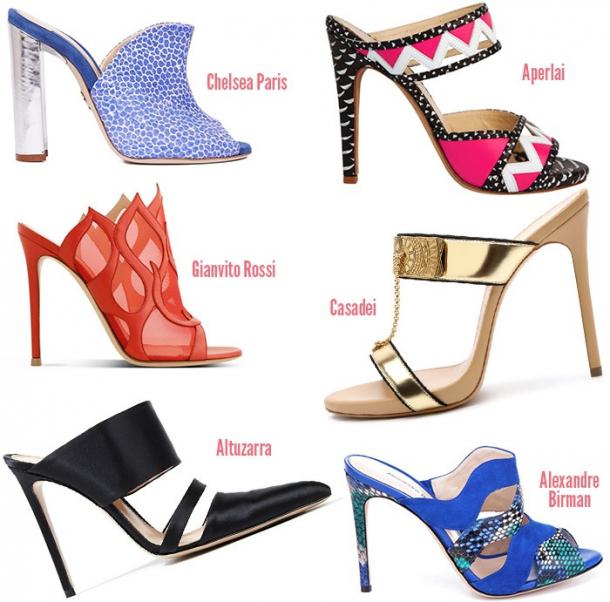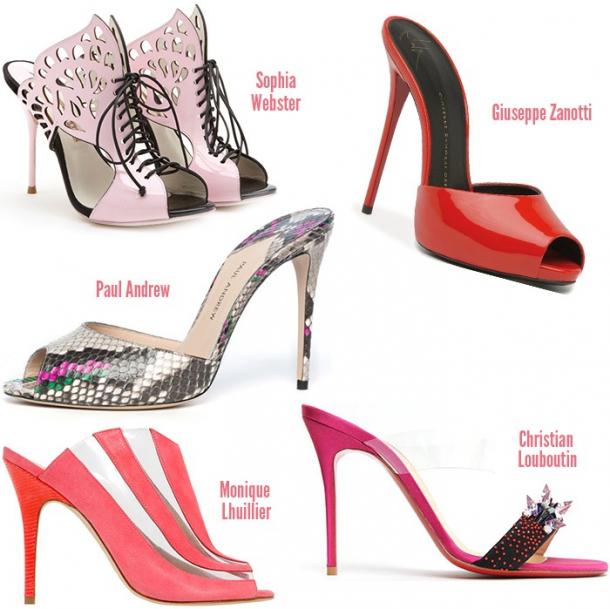 Shoes without heel extremely relevant in this season. Suppose that such a model is not always convenient, but choose a few. Heel height is the most diverse, but above 10-12 cm hardly anyone dares to wear. Elegant stud or stable heel-bar - at your discretion. Mules were spotted at the shows in 2014 Alexander Wang, Chloe, Stella McCartney and Celine. Will delight fashionistas and color palette as well as the choice of materials. Welcome even daring experiments - rich decor like Christian Louboutin, plastic items like Monique Lhuillier and luster of precious metal (Casadei). Muley truly can be called a universal pair of shoes that simply must take its pride of place in your wardrobe.
2. Fashionable Shoes 2014: azure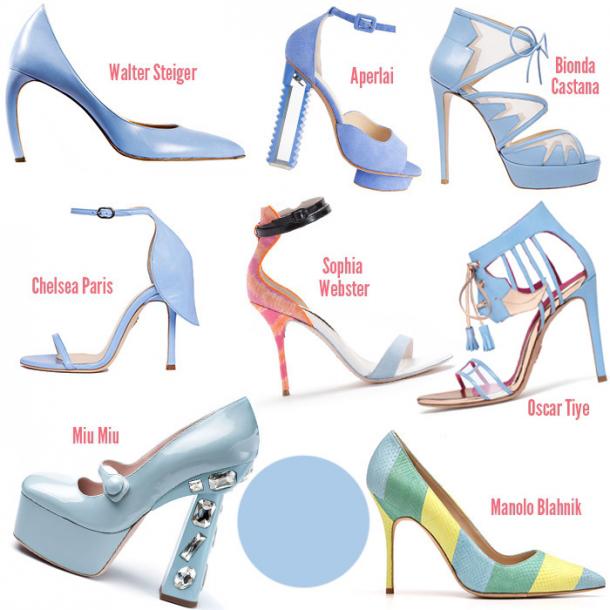 All possible shades of a cloudless sky, a real must-have, when it's not just about the clothes, but also on the trends of fashion shoes 2014: summer. Elegant pumps, open sandals with thin ankle strap, or a combination of all sorts of celestial hues - the designers did their best. Psychologists say that it is shades of blue are on our psyche soothingly. And yet, this summer perfectly with shades of a summer dawn.
3. Fashionable Shoes 2014: Delicate freesia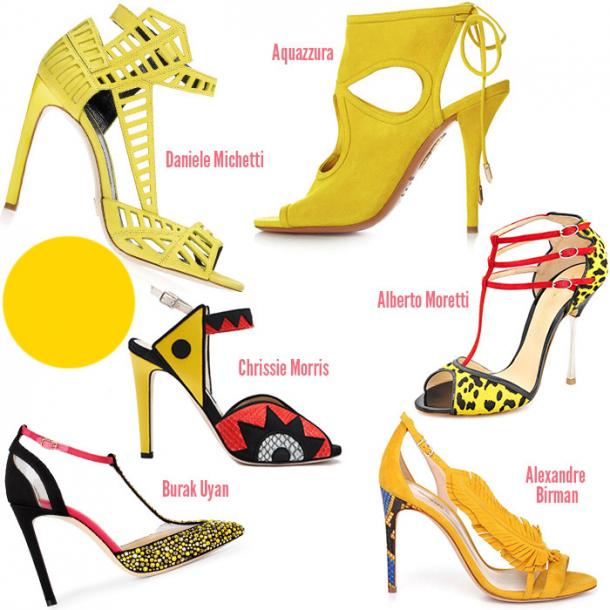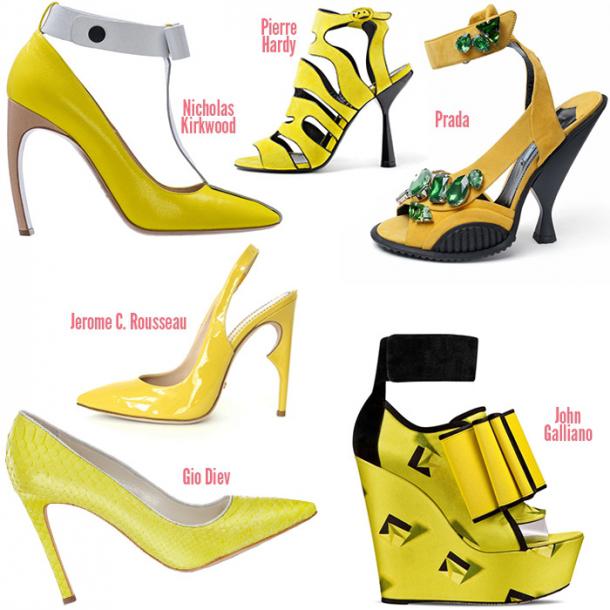 Sunny, radiating a warm light shade of yellow will set the mood for the whole day. Life-affirming juicy citrus shades or a softer shade of fragrant vanilla - a pair of shoes will be a real energizer summer of 2014. It is no coincidence famous shoe master Affairs, headed by Giuseppe Zanotti and John Galliano have relied on the vibrant color. Lacquer or matt leather exotic python suede or noble - no matter what choice you make, a pair of shoes will be a bright accent any image. And if monochrome shade of yellow will seem too cloying, pay attention to the bold combinations of textures and colors.
4. Fashionable Shoes 2014: Charm orchid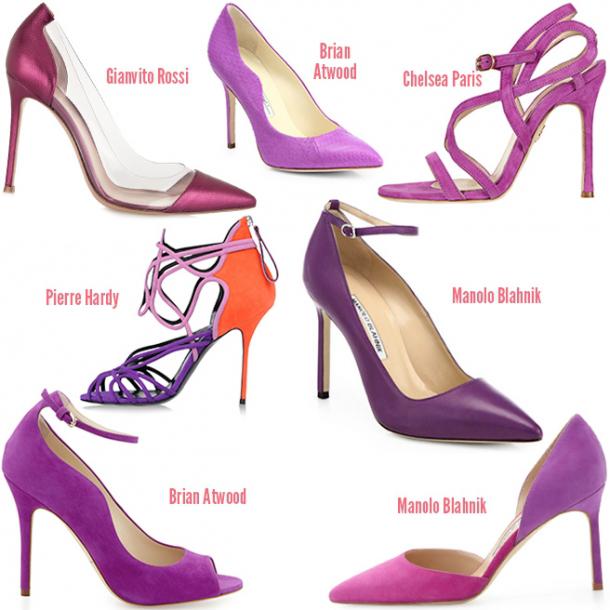 Year 2014 will be marked by colored orchids. At the heart of a rich color palette of colors - red, purple and light purple. This incredibly feminine shade so resembles the flowering fields of the French Provence. It seems this amazing color even exudes a subtle, delicate flavor.
On the basis of the color of his shining orchids and a variety of combinations of Roger Vivier, Nicholas Kirkwood and Manolo Blahnik have to realize their creative ideas.
5. Fashionable Shoes 2014: The sporty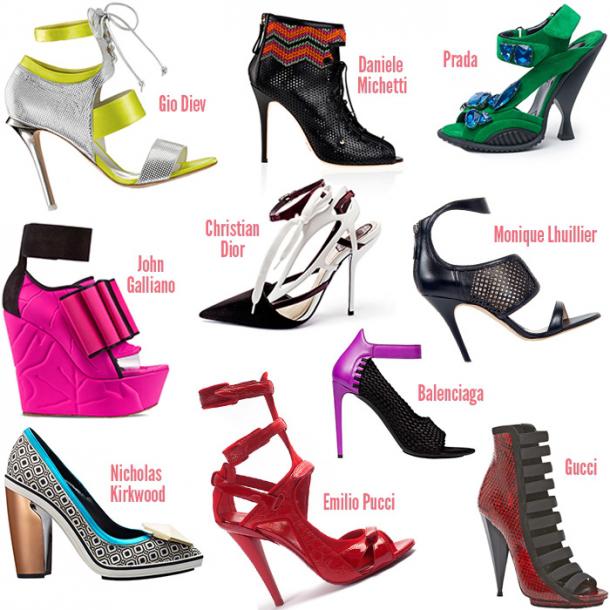 Fashionable sports shoes in 2014 - a bold mix of femininity and sport-relevant elements. All sorts of variations on this theme have been widely presented at the Milan Fashion Week. Sporting idea can be realized in different ways: by material - neoprene, perforated leather or weaving due to design elements - sports lacing Velcro fastener. A bold blend of urban chic elements of practicality and high quality performance - the key to the perfect pair of 2014.
6. Fashionable Shoes 2014: Whimsical decor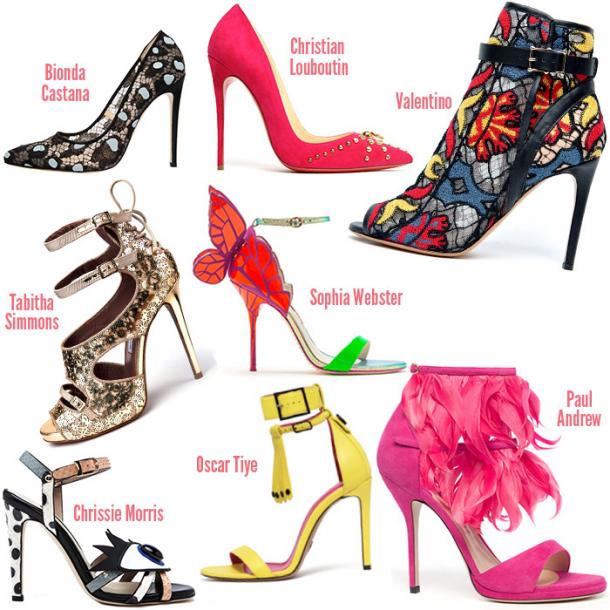 Trends fashionable shoes in summer 2014 are very diverse, but one thing designers solidarity. This summer shoes simply must become the object of everyone's attention. Due to the extravagant decorative elements it becomes like shoes for high fashion art and less suitable for everyday wear. Feathers, lace - in the course are all available means. Fluttering like a butterfly in fancy sandals Sophia Webster and pry around all-seeing eye in sandals Chrissie Morris.
7. Fashionable Shoes 2014: Floralnye motives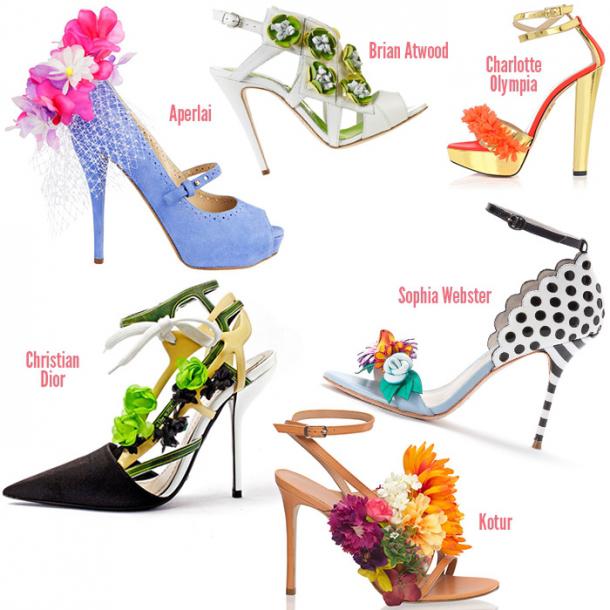 Late spring and early summer, the rich flowering. The riot of wildflowers and lures for an away from the hustle and bustle of the big city. This mood of residents of the metropolis subtly feel the offer designers and throw flowers at our feet in the truest sense of the word. Lonely buds or a Garden of Eden - what could be nicer, the more that these flowers will delight you with its unfading beauty of a whole summer.
8. Fashionable Shoes 2014: Embroidery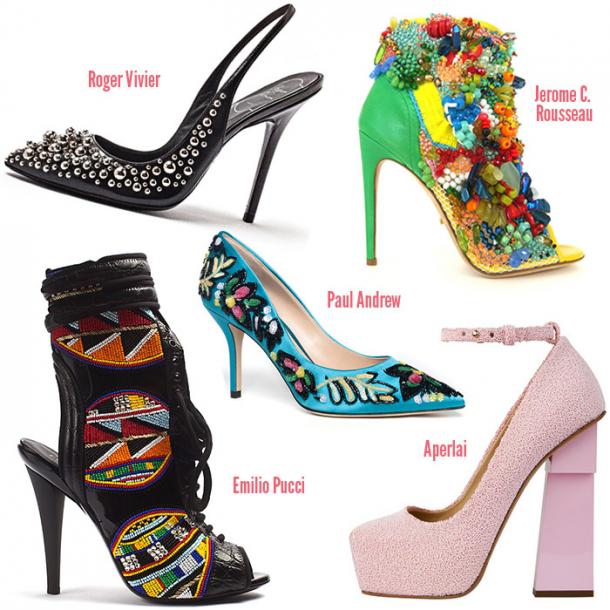 Continuing the theme of the rich decor shoe designers have joined forces and decided that the fashionable summer shoes in 2014 should be similar to paintings of famous artists whose work inspires. However, there is clearly traced several trends - preferred shoe heels, bold color combinations are possible - ethnic style like Emilio Pucci or laconic monochrome like Aperlai. But my clear favorite - summer boots Jerome C.Rousseau, from which it is simply impossible to take your eyes.