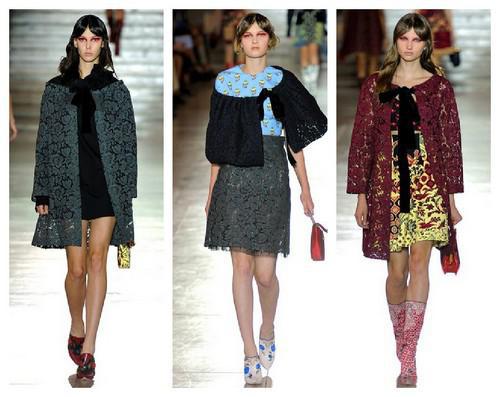 Clothes made of lace - fashion for hot summer
In the coming summer season in 2012 many fashionistas can please clothes, made of delicate lace of different colors and patterns, transparent or translucent. The Many Faces of lace fashion 2012 An original tops, blouses, jackets, jackets, skirts, pants, shorts, dresses.
All this lacy clothes can be found in numerous collections of famous fashion meters. Let's look at some ideas for summer clothing in fishnet lace designers offer.
Lace top: fashion tops, blouses, jackets, coats and capes from lace
This season will undoubtedly fashionable lace tops and jackets for hot days and summer evenings. Very romantic and feminine model presented designers Emilio Pucci (Emilio Pucci) and no less famous Oscar de la Renta (Oscar de la Renta). They offer to wear tops and jackets as with narrowed, and with fluffy skirts, short shorts with lace accents, lace pants.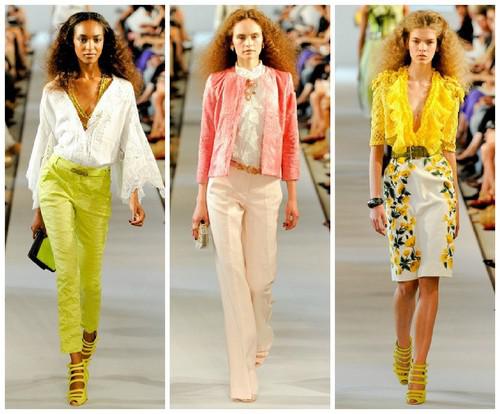 Fashion blouses lace from Oscar de la Renta, Spring-Summer 2012
Lace tops and skirts in 2012, Emilio Pucci
The collection of Dolce Gabbana (Dolce & Gabbana) become visible as lace sets and blouses of lace complete with a low shot from a different cloth.
Lace clothing in 2012, a collection of Dolce & Gabbana
Lace bottom: skirt lace 2012 - gentle and bold
This season, remained relevant lace skirt. Brands such as Dolce & Gabbana), Emilio Pucci, Erdem (Erdem), Ermanno Scervino (Ermanno Scervino), Miu Miu, Sacai on their fashion shows presented pretty original models summer skirts lace. Basically they have a knee-length and above, the most fashionable styles - lace skirt A-type, but also direct model fitting them are not inferior.
Lace skirt 2012 from Miu Miu
Lace bottom: fashionable trousers and shorts with lace Spring-Summer 2012
Are not left without the participation and lacy patterns for lovers pants. The collection of Emilio Pucci presented narrowed white lace pants complete with the same white topom.
A short shorts lace lingerie in the style of the brand Dolce & Gabbana designers are advised to wear complete with a blouse, performed in the same style.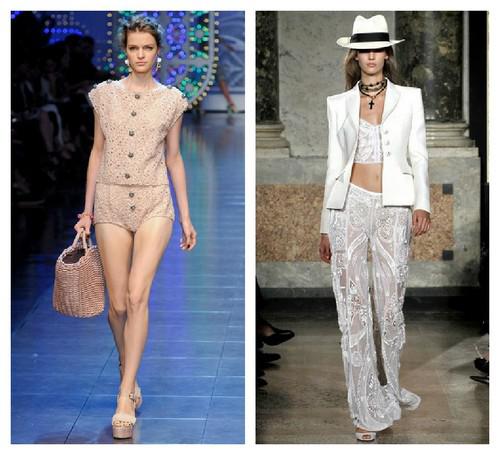 Lace Dolce & Gabbana shorts and pants with lace from Emilio Pucci, Spring-Summer 2012
Lace dresses and tunics 2012 - the best outfit for the summer
Undoubtedly, among the variety of lace dresses warm season in the first place are always summer dresses with lace - from the everyday and beach dresses, to elegant evening dresses.
Fashion lace dresses in abundance by many masters in fashion shows spring-summer 2012. This fashion house Erdem, Miu Miu, Nina Ricci, Moschino, Alberta Ferretti and many others, including those listed at the beginning of this review.
As stylish and fashionable dress of lace and stunningly beautiful evening lace dress, able to turn the head around men and cause the admiration of beautiful representatives female half of humanity.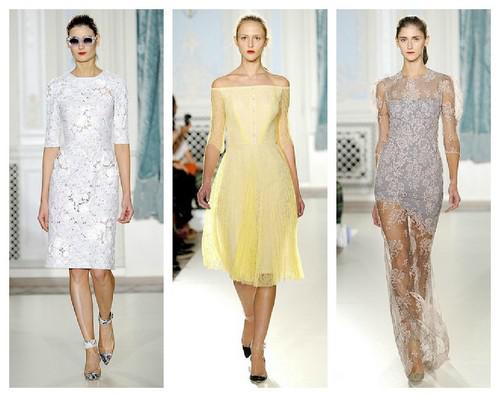 Lace dresses 2012 by Erdem
Look attractive lace short tunics (Isabel Marant) and dresses, tunics (Junya Watanabe) in the summer.
Tunic with lace from Isabel Marant and lace dresses, tunics from Junya-Watanabe, Spring-Summer 2012
Popular and outfits consisting of halves, for example, a skirt and top of the lace, as well as additions to the addition in the form of lace capes or jackets, as in the collections of Miu Miu and Sacai.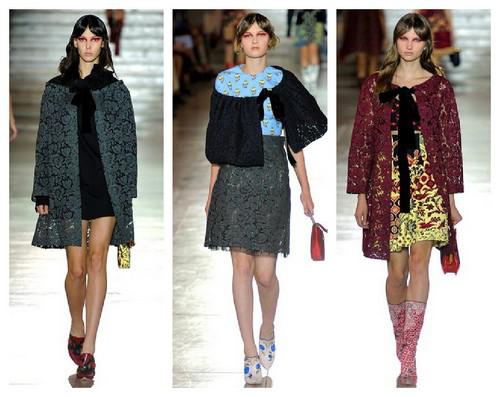 Clothes made of lace, 2012 by Miu Miu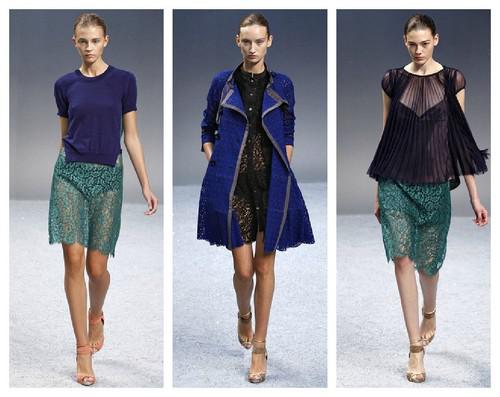 When choosing a lace dress should also pay attention to the fact that in themselves such things attractive and enticing, so there is no need to wear tight-fitting styles of lace dresses or dresses and blouses with deep neckline.
From what to wear lace skirt and dress collection Erdem, Miu Miu, Sacai
Look great all kinds of garments made of black lace.
Clothes made of black lace by Dolce Gabbana and NinaRicci, Spring-Summer 2012
But lace perfectly not only in the usual many black - need only look at the presented models lace Fashion Spring-Summer 2012 in attractive pastel shades. Lace is beautiful even in muted shades and with a minimum of accessories.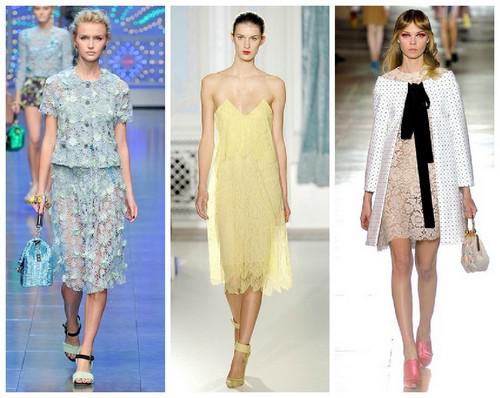 Fashionable lace, what to wear - Dolce Gabbana, Erdem, Miu Miu
Fashionable this season and lace accessories. So, you can wear the dress lace high heels or add your image a small handbag lace. But, at the same time, will look charming and lacquer small handbag.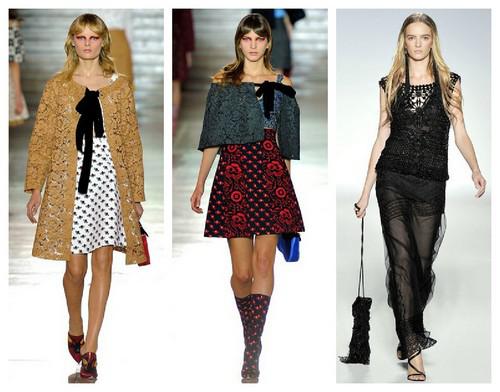 Lace clothing from Miu Miu and Alberta Ferretti Spring-Summer 2012
Dress in Lace and be fashionable summer of 2012. Choose lace clothing with taste and then you will feel the most attractive anywhere and at any event.
Clothes made of lace Spring-Summer 2012 photo, Oscar de la Renta, Nina Ricci, Moschino