Specifically, in fashion has its own mood, inconsistent and puzzling. It varies from season to season, each time its surprising novelties. Sometimes fashion trends almost contradictory - on the catwalks of romantic images side by side with a sporty style, formal dresses provocatively with clothes of bright colors. Keep track of so many different directions at times very difficult, and therefore not all girls know the basic fashion trends of the season. But we in fact want to be beautiful and stylish all the time, so try to understand the intricacies of fashion changes that await us in the spring-summer season of 2013. He painted with rainbow colors, which we'll talk.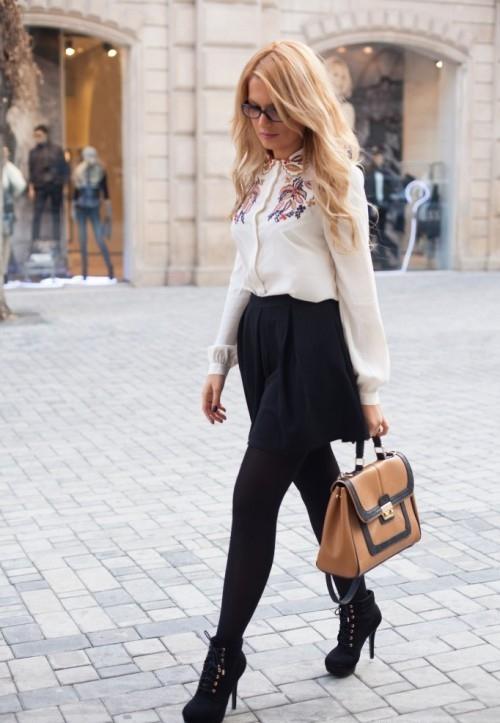 1. Trends Spring-Summer 2013: the colors and shades
How many times told the world about the benefits of bright colors ... any girl to face juicy saturated color, it apart from the crowd, emphasizes individuality. Here and in the spring-summer season bright colors are on the top of popularity in the fashion world. However, the designers decided to keep the measure and not to wear their models like parrots - were presented to the public homogeneous stylish outfits without any frills, attention is due to its brightness. By the way, the designers also tried to call these colors quite special. Appeared on the catwalks of dresses and suits the color with the mysterious name "Monaco Blue" by Elie Saab, evening and casual dresses by Carolina Herrera color "nectarine", appeared in the collections of DKNY "fragrant" shade "lemon peel" and Valentino dresses surprised viewers color " red poppy. " I advise you to pay attention to models from the collections of the designers - exquisite, elegant, but bright outfits - exactly what you need to focus and fashionable women in 2013. Well, clothes from Gucci highlight the greatest variety of colors in plain clothes - glossy magazines counted about a dozen.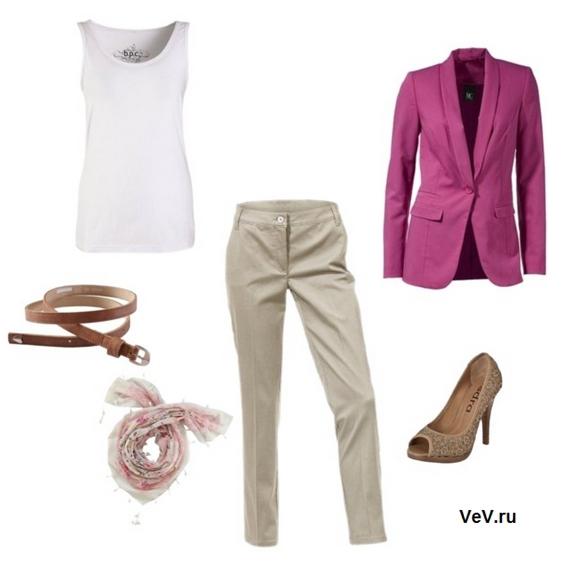 BUY PRODUCTS FROM SETH
Blazer quelle
2 199 rubles.
Top quelle
699 rubles.
Pants quelle
1 799 rubles.
shoes esdra
5299 rubles.
belt quelle
1899 rubles.
handkerchief quelle
899 rubles.
Despite the abundance of colors, all the same, there are two most popular colors that are reflected in the works of almost all the designers - it's black and yellow. What about black is clear - this color is versatile in any situation, suitable for all styles of business and before the evening. Yellow is the color designers in large numbers began to use recently, but this trend has become fashionable. However, we are with you will only better - the positive and the sun is not enough to everyone so that the yellow clothing is designed to brighten up the gray days. The yellow and black in popularity followed by orange, white, turquoise and fuchsia. Suddenly became fashionable shades of green - green, pale green and other grassy color. Them on the podium can be found in combination with other shades such as pink. By the way, the combination of contrasting colors - is another trend of the season spring-summer 2013. As planned by the designers, the two colors should be diluted with a third, neutral - white or beige to outfit did not look like a traffic light.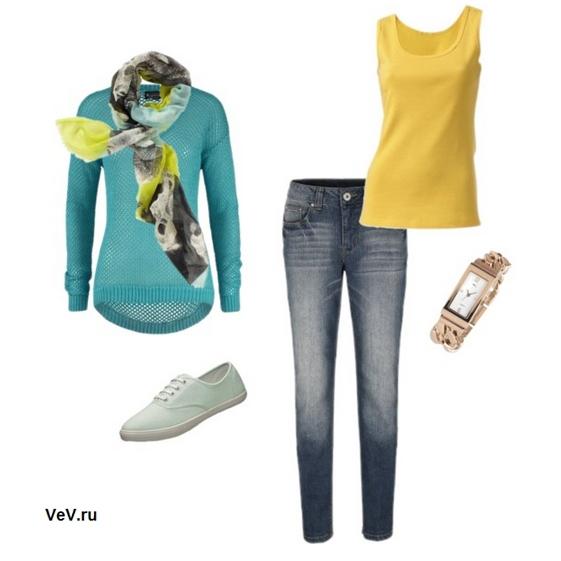 BUY PRODUCTS FROM SETH
pullover quelle
1299 rubles.
Scarf quelle
999 rubles.
Top quelle
799 rubles.
Jeans quelle
1899 rubles.
sneakers quelle
699 rubles.
wristwatch quelle
2399 rubles.
2. Trends Spring-Summer 2013: prints
Not only bright monochromatic clothing will be a trend in the spring and summer of 2013. Prints also captured the imagination of designers and fashionistas minds. Particular attention should be given to displays of romantic style - namely, gentle floral prints on clothes. Large and small, bright and gentle colors designed to emphasize femininity and sensuality of the girls, and for that they should not be gaudy and tasteless. Enough and dresses in small rosettes or jacket with flowers on the back and insert lace to show your girl's charm. And, of course, you can decorate yourself brooch in the shape of flowers. As an example may be guided by the pattern shown Zac Rosen and Phillip Lim.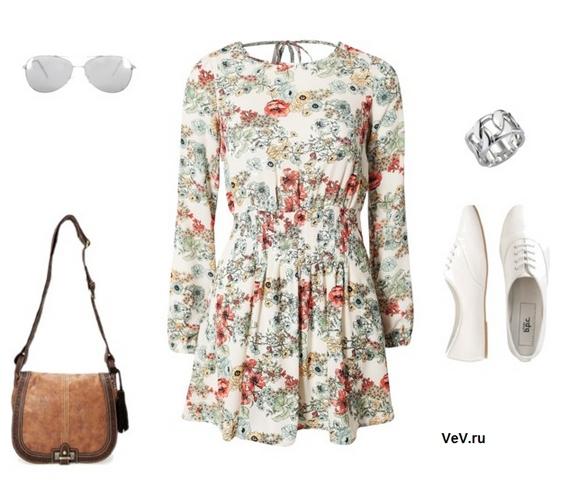 BUY PRODUCTS FROM SETH
Dress Pepe Jeans
4450 rubles.
shoes with laces quelle
799 rubles.
Bag quelle
1 699 rubles.
Sunglasses quelle
899 rubles.
ring quelle
1499 rubles.
Another interesting print, which has remained popular for several seasons - geometric. However, it, in turn, emit more optical print. This is, in fact, the same geometric print, but it creates a kind of visual illusion of type 3D, as, for example, Armani and Balmain. Among the varieties of geometric prints can also be isolated strips of all sizes and colors, which peaked in the models from the collection of Dolce & Gabbana, and peas, almost became a religion in fashion, appearing on the catwalk by Armani and Chanel in classic black and white. Such a print looks very coquettishly, designers use this fact in every way and create a charming mini-dresses. The most popular colors for geometric prints - black and white, but the designers love to experiment and combine their clothes incongruous. By the way, with the help of such prints designers try to emphasize the growing popularity of retro style, which I also will tell.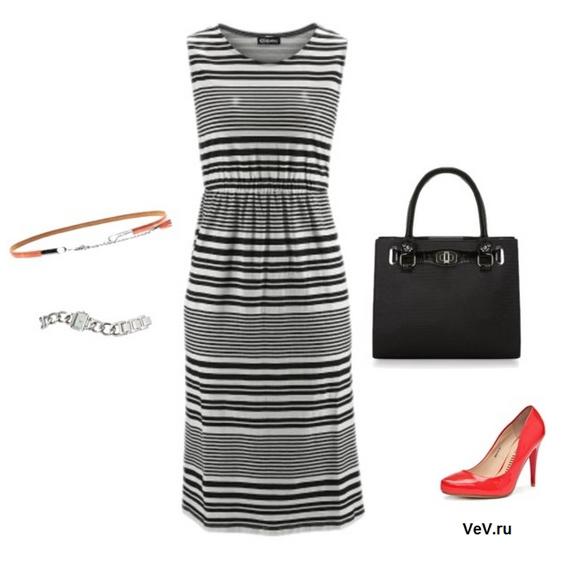 BUY PRODUCTS FROM SETH
Dress quelle
1199 rubles.
Bag quelle
1 799 rubles.
shoes inario
2100 rubles.
belt dispacci
549 rubles.
wristwatch quelle
2699 rubles.
3. Trends Spring-Summer 2013: the length and shape of
Length - one of the values ​​of fashion, which this season has not committed to something average on the podium. The most popular are the extremes: long maxi skirts to the floor and daring mini, which is expressed in a super-short dresses and tops. By the way, he and the other option skirts and dresses share a common goal - to emphasize our lovely slender legs. That is why the long skirts are light, flying and flowing, and mini-dresses, despite their length, not even hint at the vulgarity - by contrast, looks very cheerfully! For example, you should pay attention to the satin dresses from Marc Jacobs, yubki- "a casual" by Hermes or clear-cut stunning dress by Andrew Gn. But this does not mean that in everyday life the girls have to wear only a mini and maxi. With midi skirt, too, can make a trendy set!
By the way, the shape of clothes became as simple as possible - the designers do not create a multi-layered outfits and try to avoid complex cut. Minimalist forms - the best choice for the upcoming season. However, it is also possible to revive a bit - asymmetrical dresses, for example. One shoulder dress conjures up thoughts of the Greek goddess and gives similarities with them. In the trend will also trousers and skirts cut free, emphasizing the waist, on which the emphasis in the coming season.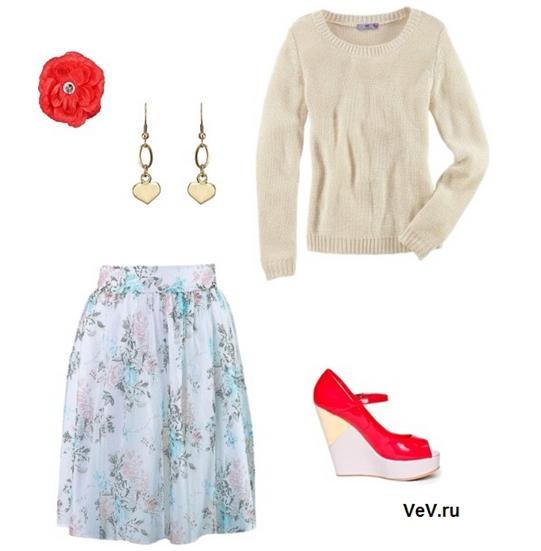 BUY PRODUCTS FROM SETH
pullover quelle
1299 rubles.
skirt quelle
1299 rubles.
shoes Silvian Heach
4000 rubles.
brooch Lady Collection
390 rubles.
earrings fashion history
230 rubles.
4. Trends Spring-Summer 2013: materials
After several seasons of calm on the catwalks reappeared flying blouses, dresses and suits with ruffles and flounces. However, this is not the romantic style, which was before. Now, designers are looking for something new and decorated with ruffles short sleeves, cuts, line the chest and hips. Proceedings of the season - light, airy and delicate fabrics. The most commonly used silk, organza, chiffon, lace. They can symbolize both the ease and wealth and luxury. A striking example can serve as a luxury model from Roberto Cavalli, combining the luxury of silk, embroidery and Art Nouveau. Some designers use inserts of lace to add zest to the image. This light clothing, gracefully enveloping shape, fit each girl, the main thing - to choose the right way to get noticed as well. Of course, cotton clothing, knitwear and leather is also present on the catwalks, but these materials are rather a kind of constant nomadic from season to season.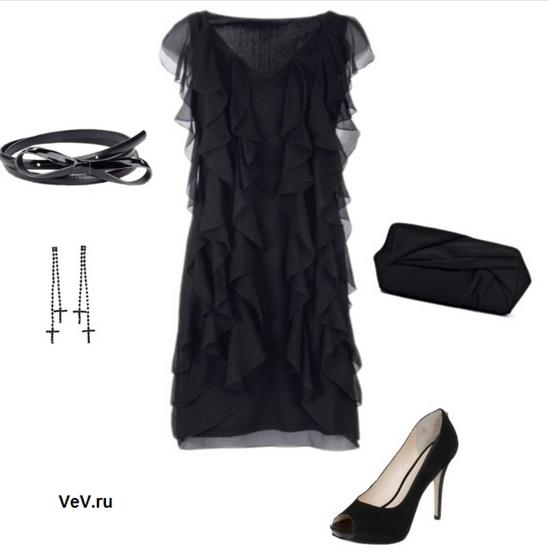 BUY PRODUCTS FROM SETH
Dress quelle
1 599 rubles.
clutch ICE Iceberg
15,270 rubles.
earrings Art-Silver
390 rubles.
belt quelle
499 rubles.
shoes anna ray
4799 rubles.
5. Trends Spring-Summer 2013: Styles
Everything is new - it is well forgotten old. Designers using this principle, enliven the last century. Models on the podium went like in the 50s, 60s and 70s - so realistic outfits were created to display. Together with these styles have come to the podium bohemian dresses, cheering spectators, dresses free cut and solid colors. For example, the collection of Gucci spirit permeated the 70s. A collection of Louis Vuitton and Moschino easy spirit soars 60s. Outfits presented to the public, was reminded of Jane Birkin and Twiggy.
Retro style is evident not only in clothing, but even in the hair and makeup that are designed to complement the image of the past century. Most fully reflect the trends of the XX century in the collection of Moschino, which should be explored and girls who expect to retro-bows. The most striking model of the last century are dresses in the style of "Charleston" from the 20s and model, referring to the stars partying 70s. Accents on the fringe did Nina Ricci and Versace.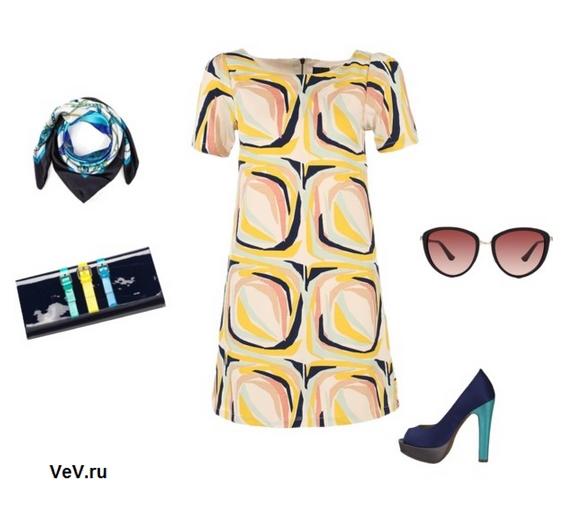 BUY PRODUCTS FROM SETH
Dress ichi
2460 rubles.
Sunglasses Moschino
8920 rubles.
Bag Gianmarco Lorenzi
23,770 rubles.
handkerchief dispacci
375 rubles.
shoes quelle
2899 rubles.
6. What you should pay attention: the accents and details
Motifs from distant lands. Firstly, in many collections can be seen oriental motifs. References to India, Japan and China expressed interest in a pattern that resembles mehandi, prints with dragons and lotus, hibiscus and peony. Also, some designers presented bold outfits, shape resembling a kimono. Second, the military and safari styles, so popular in the last heat of the season, did not leave the scene and continue to delight fans of khaki and features cut. Third, due to the popularity of bright colors, and settled on the podium are the real Hawaiian model - juicy, summer, bright large flowers and hummingbirds. For a good mood during the walk - the most it!
The maximum sparkle and shine. Gloss is expressed by all available means - from rhinestones metal parts. Dazzling jackets, dresses and skirts that can blow up the dance floor, appeared in the collections of Fendi and Saint-Laurent. But metal in his work is not afraid to add Burberry and Dior. But, despite the fact that the designers have produced models on the catwalk in nearly all sparkling and shimmering, I advise you to show common sense and "shine" only some one thing or accessory.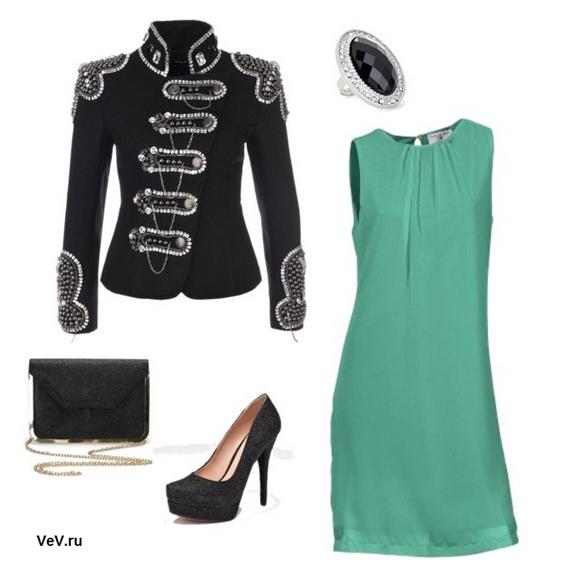 BUY PRODUCTS FROM SETH
jacket Tutto Bene
10,294 rubles.
Dress quelle
2 299 rubles.
clutch quelle
1499 rubles.
shoes schutz
5400 rubles.
Ring Lady Collection
290 rubles.
Two in one. Gaining popularity bags transformers, which at one time may increase in size, and bilateral dresses that can be worn "wrong side" out. For this purpose, they even have different colors on both sides.
Hidden zipper and buttons. One of the new features of the upcoming season. Zippers, buttons and buckles hidden on dresses, skirts, bags and clothing. These fasteners are allowed to wear a lot of accessories, which used to be unacceptable because of the buttons of different shapes and sizes and visible lightning.
7. Summing up
All variety of ideas in the spring-summer season 2013 is reduced to several areas: bright colors, retro style, femininity and motives of exotic countries. Seemingly quite different trends perfectly coexist on the podium and combined with each other. But girl, I still want to repeat already, perhaps, all the boring truth - to observe moderation in everything! It is not necessary to be a parrot, dressed in colorful odezhek hundred, and forty, stole all blestyashki from a jewelry store. Focus on one thing and support a range of classic colors and simple cut of clothes to look elegant and thoughtful.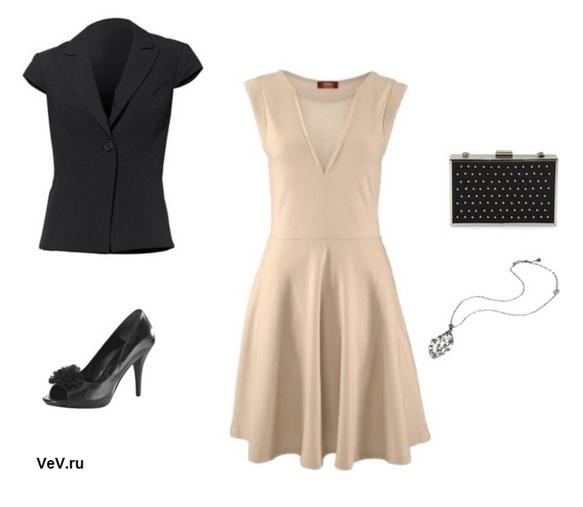 BUY PRODUCTS FROM SETH
Blazer quelle
3299 rubles.
Dress quelle
1 799 rubles.
clutch quelle
1 799 rubles.
shoes quelle
6999 rubles.
necklace quelle
1999 rubles.