Bag - a necessary element of a woman's wardrobe, like a pair of luxury shoes. Better still, when the number of elements increases exponentially. There is one unwritten rule - Bag - the holy of holies, but there may be lost anything. That is why most men desire to fashion handbags disappeared altogether. And this is no joke! So it will be quieter, and most importantly - cheaper. But the girl would not agree, especially when they see a variety of shapes and colors is preparing a new fashion season, spring-summer 2014.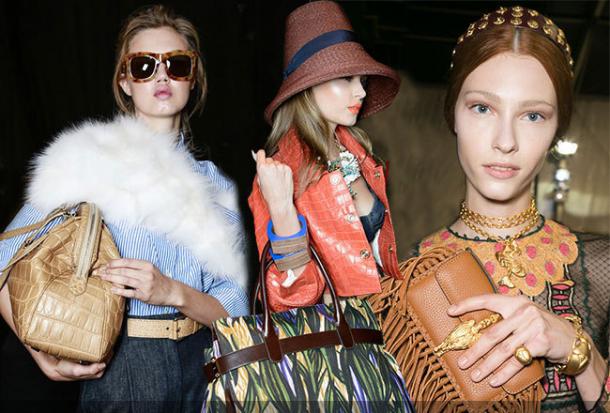 I must say, opt for one or two models will be extremely difficult to do. However, no matter what bag you choose - designers recommend still betting on a moderate size. But also for admirers of large bags, designers have something to offer.
1. Fashion bags 2014: Short handle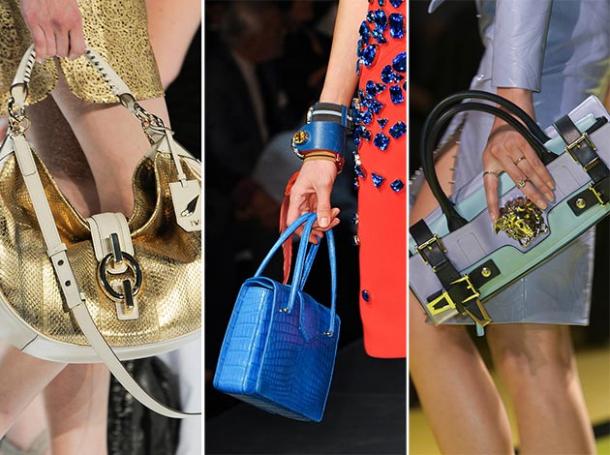 Bags with a short handle can be called universal classic. They look very elegant and designed to wear them on the wrist or hand. Miniature model will be an excellent match for the secular exit. You can be inspired by looking at the items in the hands of the models at shows Versace, Diane Von Furstenberg, Rochas, Prada and Missoni.
2. Fashion handbags 2014: Long strap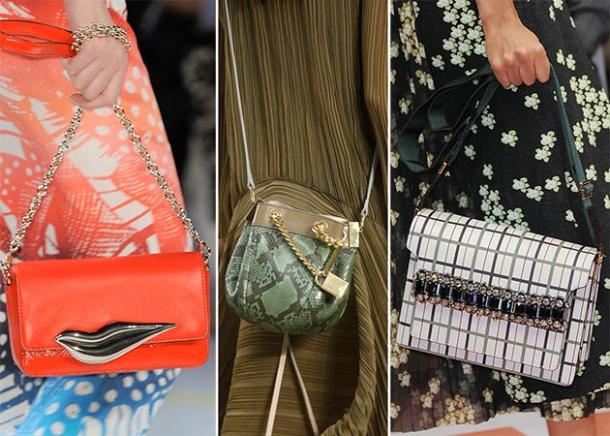 If you think a bag with a short handle uncomfortable, then take a look at the options with a long strap. It can be narrow or broad, in sporty style. Handbag on a long chain will look more relevant than ever this season, especially if extra flirty wrap around the wrist, as in the show Diane Von Furstenberg.
3. Fashion bags 2014: Bag-frame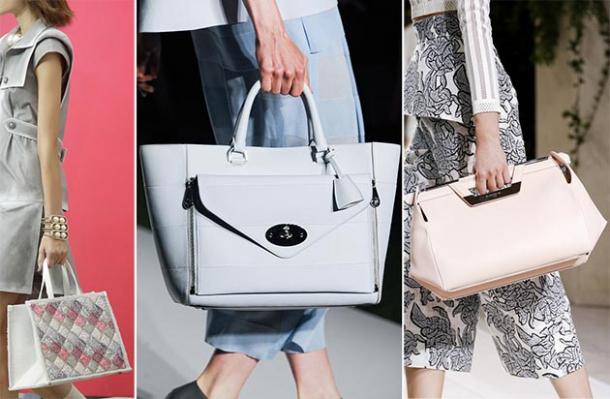 Bag a distinct form like a frame at a premium this summer. Fashionistas will appreciate the variety of textures and sizes. This bag does not lose shape and looks great as a walk if it is roomy as Balenciaga, and a business meeting.
4. Fashion Handbags 2014: Kelly-inspired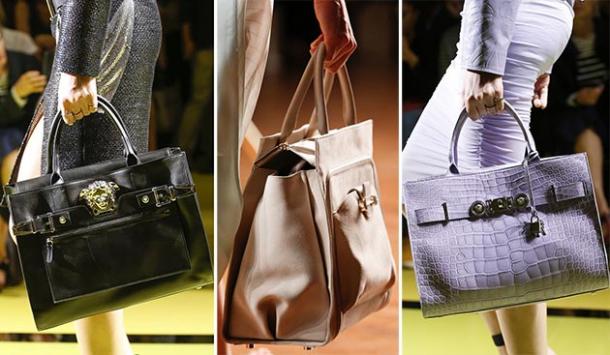 Model Kelly bag from Hermes - refined classic. Name given because of the well-known actress, and later the Princess of Monaco, Grace Kelly, who preferred bag of this brand. Variations on a favorite celebrity bags this summer exhibit at shows designers around the world. However, best of all it turned out at Versace and Jason Wu.
5. Fashion Handbags 2014: Bag-bag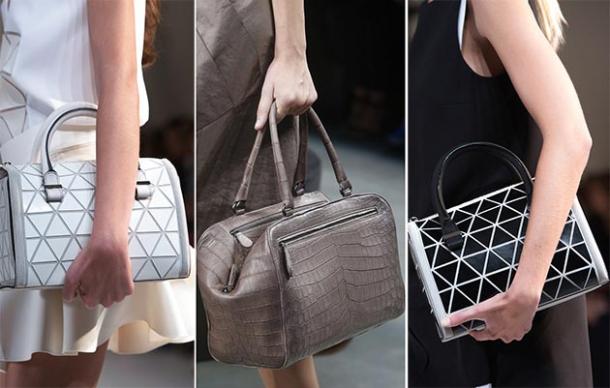 A miniature version of the bag-sac another obvious must-have for spring-summer 2014. Most often this form is appropriate in an office environment, but this season designers have clearly taken care of those fashionistas who conduct their business in a more creative atmosphere. Inspiration should look at Bottega Veneta and Victoria Beckham.
6. fashionable bags 2014: Soft roomy bags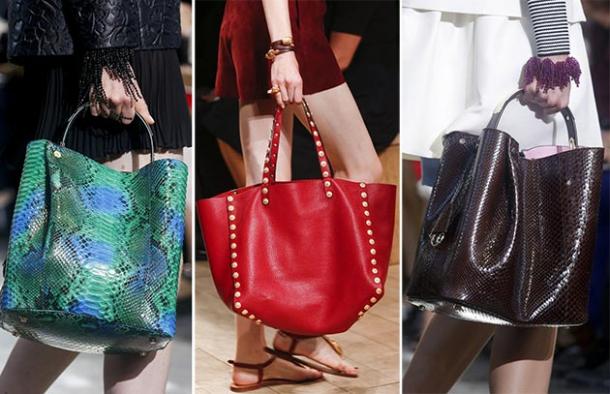 Comfortable, spacious, and perhaps the most popular model of the bag - tote (trunk) and this season is not lost its relevance. Soft leather makes it almost indispensable when traveling, and its main advantage - it fits almost everything you need to have on hand. For lovers of larger bags is clearly the best choice. Valentino and Christian Dior have prepared their own versions.
7. Fashion Handbags 2014: Complementary bags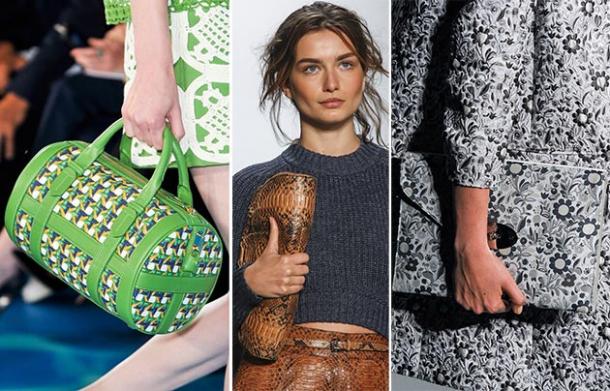 During the fashion show, I noticed an unusual idea, which should take note fashionistas. Choose a bag to match your favorite clothes again becomes relevant. It may be some similarities color palette or absolute complementarity. Mulberry, Michael Kors and Tory Burch offered their version.
8. Fashion Handbags 2014: Emphasis on texture and detail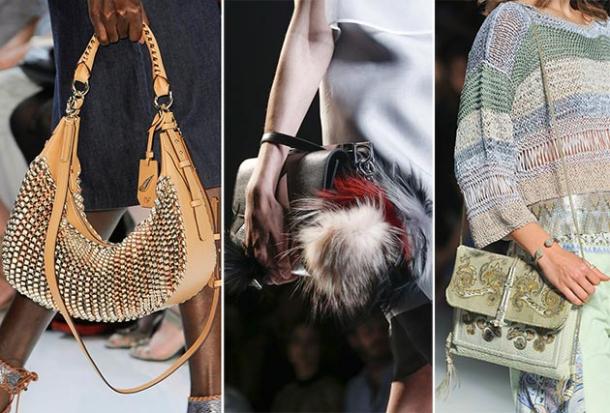 The variety of textures and all sorts of details is amazing as ever. Exotic leather, metallic or glamorous shine. Welcome the most daring experiments.
9. Fashion Bags 2014: Backpack
From now on, wearing a backpack supposed not only to school - with one voice declare Karl Lagerfeld and Tory Burch. Little or more, it all depends on your preference, but this is exactly the perfect solution for walking. But do not forget to add the image elements of sports style.
10. Fashion Handbags 2014: Retro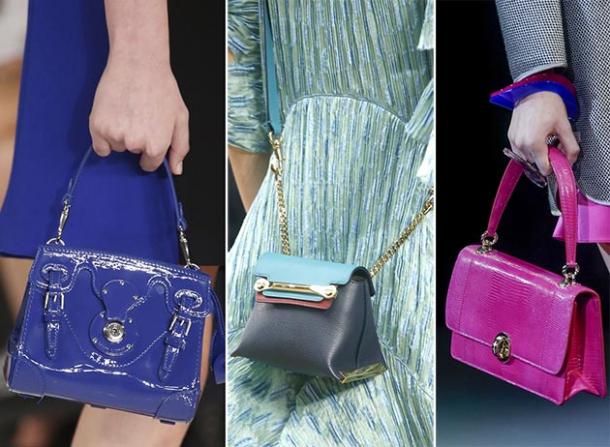 A new way to treat the offer retro models handbags designers this spring and summer. A variety of shapes and textures will satisfy the most demanding fashionistas.
11. Fashion Handbags 2014: Bag purse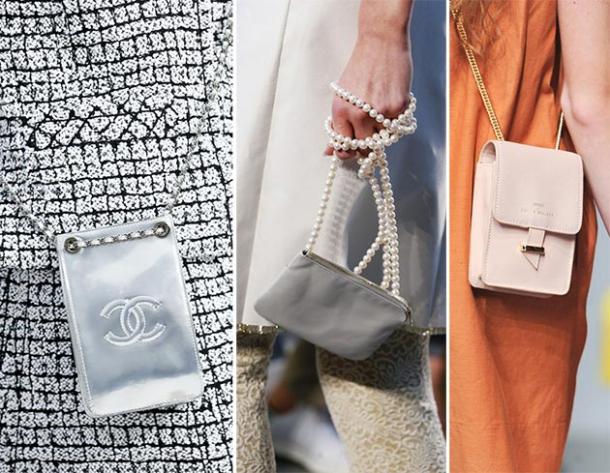 Bag purse has become a fashion accessory for most shows from New York to Milan. This handbag is unlikely to be a useful companion, but useful as a case for a mobile phone or lipstick. Choose a model on a chain like Chanel or pearl thong.
12. Fashion Handbags 2014: Fringe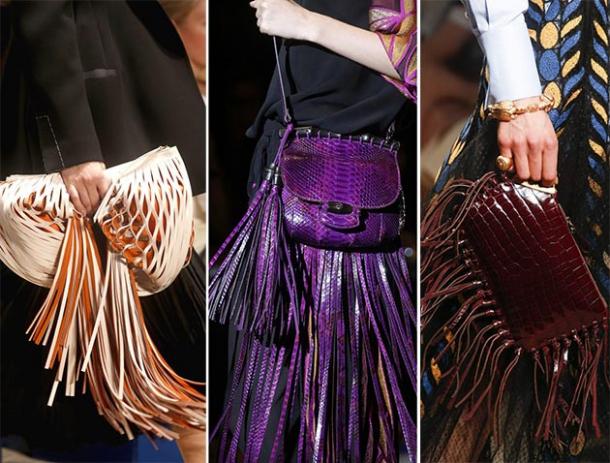 Luxury fringe is difficult to overestimate. There is in this trendy little ethnic element, and a little Indian, and even something from boho-style. But these bags will obviously bright accent any way. A whole collection of bags with heavy fringe can be found in the collection of Gucci and Valentino S / S 2014.
13. Fashion Handbags 2014: Let there be color!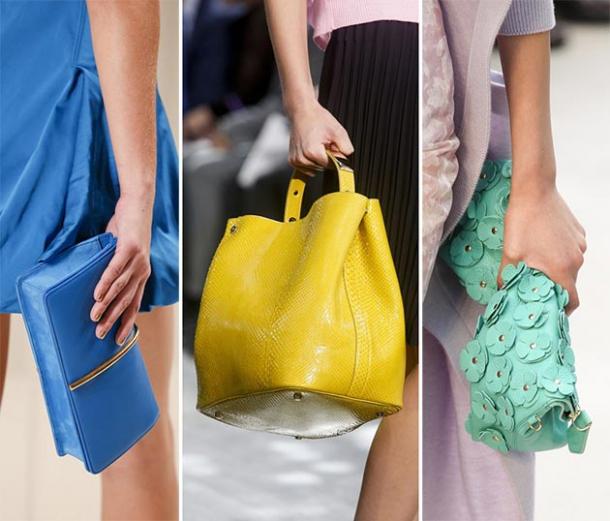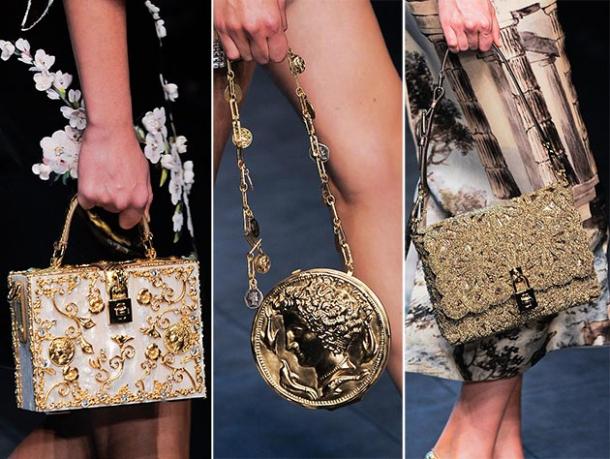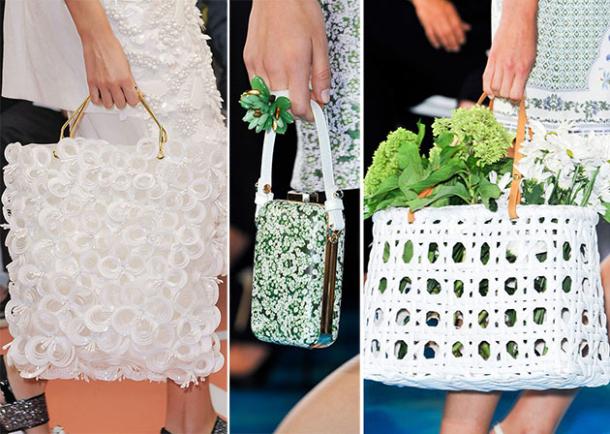 All kinds of color variations on the theme of accessories could not go unnoticed. Whatever the size or texture you do not have preferred this summer color is clearly decides everything. Innocent white, shades of azure or luxury gold - a choice only for you.